A mere nine days to go until the big man departs MoM HQ and embarks on his epic present-flinging voyage around the globe! It's time to continue our own journey with Drinks by the Dram's Whisky Advent Calendar. And on Day 16, we're taking a trip up to the Highlands of Scotland with Andrew Lennie, brand specialist at Fettercairn Distillery.
And, just like that, we're on the single-digit countdown to Christmas! It's still not entirely clear what celebrations will look like this year (tiers, bubbles, households…), but one this is certain. Today's dram hidden behind Door 16 is a treat indeed. It hails from a distillery that once slightly lesser-known is now often found at a pub or bar near you (when they're open). But it's still something of a discovery dram, and it's got our mouths watering. Behold: Fettercairn 12 Year Old!
Here to share more about the dram and its distillery is Andrew Lennie, Fettercairn's brand specialist! 
Master of Malt: Tell us a little bit about Fettercairn's history…
Andrew Lennie: Fettercairn is a beautiful distillery on the east coast of the Scottish Highlands. The name literally translates as 'Foot of the Mountain', which will give you an indication as to where our distillery is in relation to the Cairngorm mountain range, which provides a stunning backdrop. The distillery is truly picturesque: whitewashed walls, an iconic pagoda roof, and the rolling Grampian Hills in the background. If you asked anyone to paint or imagine a typical Highland distillery, I'm sure it wouldn't look too dissimilar to Fettercairn.
North of the distillery is an old drovers route known as the Carin O Mount where, historically, farmers would march their cattle down into the market towns of the south. They were a thirsty bunch as you could imagine, and this area became infamous with illicit distilling. Fettercairn was the second legally registered distillery in Scotland. Founded in 1824 by Sir Alexander Ramsay who converted Nethermill cornmill into the distillery. Ramsay also brought with him the iconic unicorn, Scotland's national animal, which was part of his family crest and now proudly adorns each bottle of our single malt whisky. Sir Alexander Ramsay capitalised on the popularity of illicit distilling in the area and employed a well-known illicit distiller named James Stewart to be the first whisky maker at Fettercairn.
MoM: Fettercairn has the most amazing stills! Give us the lowdown on the cooling rings…
AL: The cooling rings were invented in the 1950s by the distillery manager at the time, Alistair Menzies. He fitted a ring of copper around the head of the spirit still which would drench it with cold mountain water during distillation. This was his way of creating a lighter and cleaner version of the spirit. Today we have two spirit stills both fitted with copper cooling rings which are seen nowhere else in the industry. When I show guests around Fettercairn, this is a real focal point. The cold water slowly flowing down the stills and the hot steam rising upwards is quite hypnotic. It has also turned the copper almost black with beautiful hints of teal, cream and gold shining through.
MoM: Can you describe the signature Fettercairn distillery character?
AL: I would describe our house style as funky tropical fruits. The new make spirit is vibrant and fresh with notes of ripe banana, mango, pineapple, and a malty spice which is derived through the ingenuity of the copper cooling ring distillation process. We predominantly mature this spirit in ex-bourbon American white oak casks. This helps retain and enhance as much of the distillery character as possible, and adds layers of vanilla, white chocolate, and soft spice.
MoM: Fettercairn 12 Year Old is today's dram! How has it been produced? 
AL: Fettercairn 12 Year Old was released in 2018 as part of a new collection of single malts from the distillery. It is a celebration of our new house style: fresh, vibrant, and approachable. This is a non-peated whisky and is fully matured in ex-bourbon American white oak barrels. On the nose, the first thing that comes across for me is a fresh pear and green apple followed by dried pineapple and soft spice. If you hold this dram on the palate for 10-15 seconds there are loads of tropical fruit flavours dancing around, which begin to turn slightly creamy like passion fruit cheesecake or mango Panna Cotta. The finish brings in sweet vanilla and coconut with a lingering hint of cinnamon.
MoM: What will be in your tasting glass this Christmas Day?
AL: This Christmas I am very much looking forward to a few glasses of sherry or a wee Port in the evening. As long as Home Alone is on in the background, I'll be happy with anything.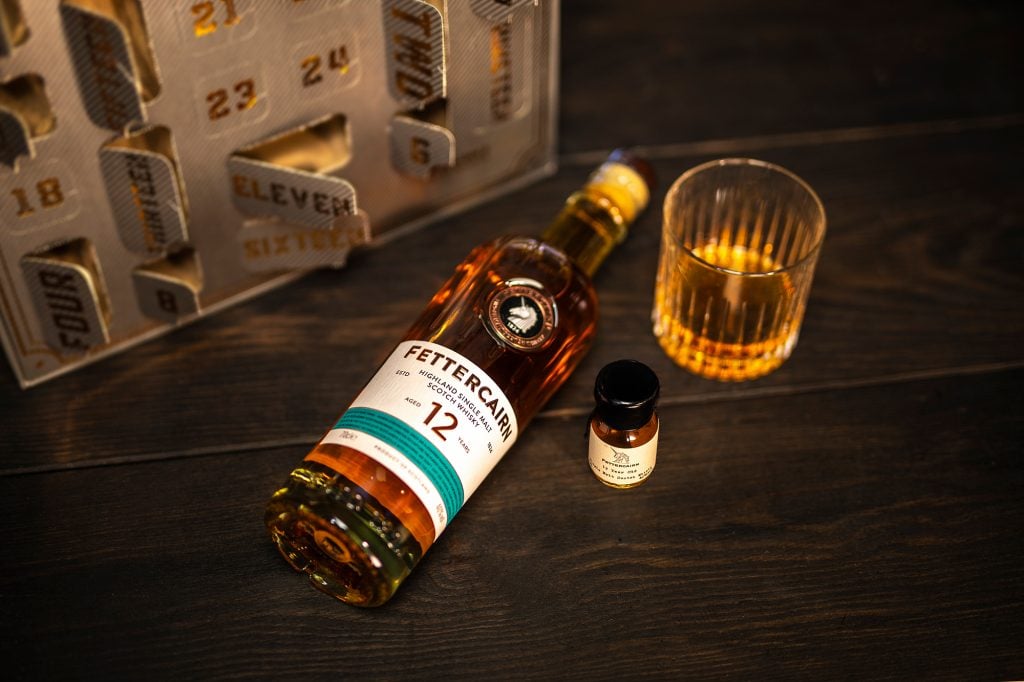 Tasting note from the Chaps at Master of Malt
Nose: Refreshing nectarine, white flowers and milk chocolate emerge initially. Black toffee and subtle roasted coffee provide darker notes underneath,
Palate: Tropical fruit and sticky Jamaican ginger cake add a sweet and spicy depth which a flicker of bitter herbs and vanilla complement.
Finish: Orchard fruits and soft spices linger.