On the 11th day of Advent, Drinks by the Dram decided to treat us with a category-crossing whisky that brings together the humble brew with the water of life. It's Glenfiddich Experimental Series – IPA Cask Finish!
It's Friday! Or 'Fri-yay' if you're posting on Instagram, which you may well be – and don't forget to tune into #WhiskyAdvent if you are. Anyway, there's lots of reasons today is a 'yay' rather than just simply a 'day'. But the main one is that there's yet another delicious dram squirrelled away in your Drinks by the Dram Whisky Advent Calendar! Beer lovers, whisky lovers, it's time for you to put your differences aside and come together with this top release from Glenfiddich, finished for three months in casks which previously held IPA. Is that a 'yay' we can hear? Of course it is.
Called Glenfiddich Experimental Series – IPA Cask Finish, it was released as part of the Speyside distillery's Experimental Series – it's not every day you see beer and whisky coming together so literally. We turned to brand ambassador Mark Thomson (whose official title is 'ambassador to Scotland – Glenfiddich Single Malt Whisky', which is awesome but must be hard to fit on a business card) to chat about this unique release, the year that was, and his favourite Christmas sipper!
Master of Malt: An IPA-finished whisky! Can you talk us through this release?
Mark Thomson: Sounds strange doesn't it? Well, we've had a long history of experimenting with whisky at Glenfiddich and this particular release fitted into our Experimental range launched in 2016. It came around from a conversation between a brewer and Brian Kinsman, our malt master. Rather than taking a beer cask, we infused a cask at Glenfiddich which had already contained our whisky with a bespoke-brewed hoppy ale. Then removed it from the cask and added back Glenfiddich whisky to allow a conversation between the two creations to begin. It's a light style of Glenfiddich in general, being fully matured in American oak, there is sweetness with classic fruit notes. However, the influence of the ale is not lost with a hoppy, zesty overtone and delicious lingering aftertaste. It's perfect enjoyed on its own, but I often find myself pairing it with a beer on the side. A traditional serve known as a Hauf 'n Hauf in Scotland.  
MoM: You can only pick either beer or whisky – which one is it?
MT: Whisky of course, because it's always appealing to me, can be mixed into cocktails or lengthened into a highball. Far more flexible than beer if I was to be forced down such a path – you have to play the long game. 
MoM: What was a 2020 highlight for Glenfiddich?
MT: I suppose in any other normal year it would be difficult to choose because we are always forging ahead with new releases, activations or events. As we all know, this year wasn't anything close to "normal". So I'd say our highlight was the charity drive we did over the year with fundraising events, challenges and auctions. Our own Standfast programme which was set up to support the hospitality workers of the UK to raise £300k and we are still coming up with other initiatives to support charities such as the Benevolent in Scotland and the Drinks Trust elsewhere in the UK. In addition to this, the ambassadors of William Grant & Sons all made a huge effort to support hospitality workers wherever possible. Even if that was simply having a coffee (safely) and letting them voice their concerns and worries. 
MoM: Can we expect more releases along these beer-y lines from Glenfiddich?
MT: Perhaps not so much beer related, but you never know. Brian has a number of experiments maturing in the warehouses of Glenfiddich and the Experimental Series was always a playground for us to try new things. We aim to always have three releases available in the series -there have been four so far, however Winter Storm, a 21 year old finished in Canadian ice wine casks, was a limited edition. There should have been a new release in the series for 2020, but we've popped that back in the warehouse for now until things return or settle to a new normal. Keep an eye out over the next year to 18 months for some new and exciting Glenfiddich releases. But I'm afraid my lips are sealed for now on what those may be.
MoM: Which Glenfiddich dram will we find you enjoying at Christmas?
MT: I'll be celebrating Christmas this year with an indulgent drop of our luxurious Grand Cru whisky. A 23 yr old Glenfiddich allowed to rest for a time in French cuvée wine casks before being bottled. It's fast becoming one of my favourite available whiskies in our range. The character is quite unlike anything else we have out at the moment. The whisky, before hitting those final French oak casks, is already delightful with a subtle sweet/salty note, delicate floral elements and classic Glenfiddich white fruit. Then it is elevated into an incredibly complex yet approachable whisky by those fabulous French casks. Quite simply, a perfect whisky for any celebration, not just Christmas.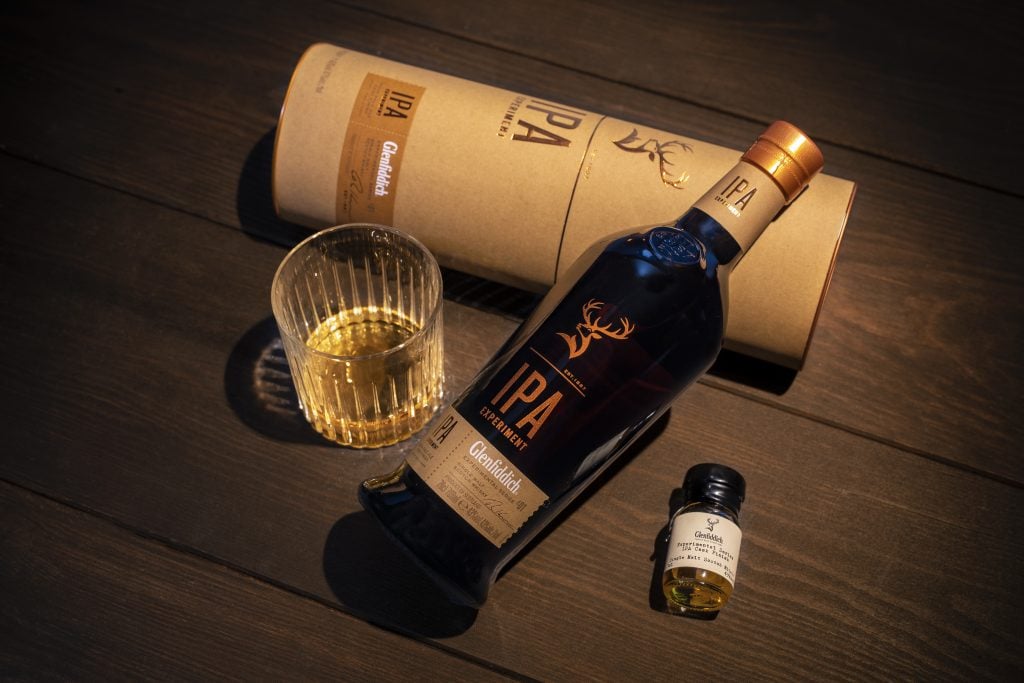 Tasting Note from the Chaps at Master of Malt
Nose: An elegant harmony of fresh green apple, William's pear and spring blossom. Complimented with aromatic hops and fresh herbs.
Palate: Vibrant with a zesty citrus note followed by creamy vanilla and a hint of fresh hops.
Finish: Enduring sweetness with an echo of green hops.