Opening door number ten of the Drinks by the Dram Whisky Advent Calendar takes you on a journey across the flavours of Scotch whisky with a blend called Green Isle.  
Day ten already?! There's only two weeks to go! By now the panic should be setting in. You promised yourself "I'm going to be really organised this year" but you've eaten more mince pies than you have bought presents… But enough about that, time to find out what's behind door number 10!
Open today's door and you will find something special from the Character of Islay Company. Called Green Isle, it's a blend of Islay and Speyside malts with Lowland grain whiskies. While Islay may be synonymous with ferociously peaty flavour, the Lowland and Speyside influence give Green Isle a delightfully sweet, and fruity quality that pairs with the subtle smokiness coming from the Islay malt. This really is a journey through Scotch whisky. It also makes the perfect dram for anyone who is Islay curious but not quite ready to take on the peated big hitters. It's absolutely delicious neat, or in a Highball.
Like other whiskies from the Character of Islay Whisky Company, there's hidden meaning in the name Green Isle. We had a few ideas, but we thought we'd ask Sam Simmons for the full story… 
Master of Malt: Tell me about the make-up of Green Isle?
Sam Simmons: Green Isle is a blended Scotch whisky with an Islay heart, but it's so much more than the iodine, brine and peat the island is typically associated with. It does, I hope, capture the full range of Islay whisky; the numerous styles produced by the island's distilleries and the very experience of being there: the food, the weather, the people. Green Isle is blended in the tradition of the great blends of old that used Islay in their flavour make-up, such as White Horse, Islay Mist, Johnnie Walker, and hopes both to invite new drinkers to Islay and to satiate the palates of the Islay-initated.
MoM: We've seen Aerolite Lyndsay already, how does Green Isle fit into the Character of Islay range? 
SS: We like to think of it as an approach to Islay, like taking the CalMac ferry or even flying in on Logan Air, it's an approach to Islay for those who are turned off by what they've heard of Islay (peaty, medicinal, etc.). Green Isle is sweet, smooth and smoky. For those who may fear the heavy, sometimes medicinal smokiness so commonly associated with Islay whiskies, Green Isle is instead a representation of what in reality is a much more complex and wide flavour profile offered by the distilleries of Islay. For those who know and love Islay, it has an aroma that conjures up everything we love about Islay, the sea, the damp, the wellies, the sweet memories of new friendships and old companions, and that whiff of peat that is always in the air.   
MoM: Any hidden meaning in the name 'Green Isle'? 
SS: The name was inspired by Neil Gunn's 1944 Green Isle of the Great Deep, a Scottish parable told fully in dialect that takes its protagonists to a parallel Highland universe called the Green Isle. Green Isle is a sweet, smooth and smoky dram that speaks to the glory days of blending when Scotch took on the world, before anyone outside Scotland really knew what Islay was. When it was still a mystery to most. Green Isle hopes to entice the new drinker into this previously unknown universe, and provide transport for the experienced drinker who longs for it. 
MoM: Any more plans for blends from Character of Islay?
SS: There are currently no plans for more blended whiskies inside the Character of Islay range, but as a lover of the history and art of blended scotch, you never know…
MoM: What's the best Christmas present you've ever received? 
SS: Hanukkah, innit. Though I did marry into the best Christmas I could find. So perhaps Norwegian Christmas is the best gift I could have asked for…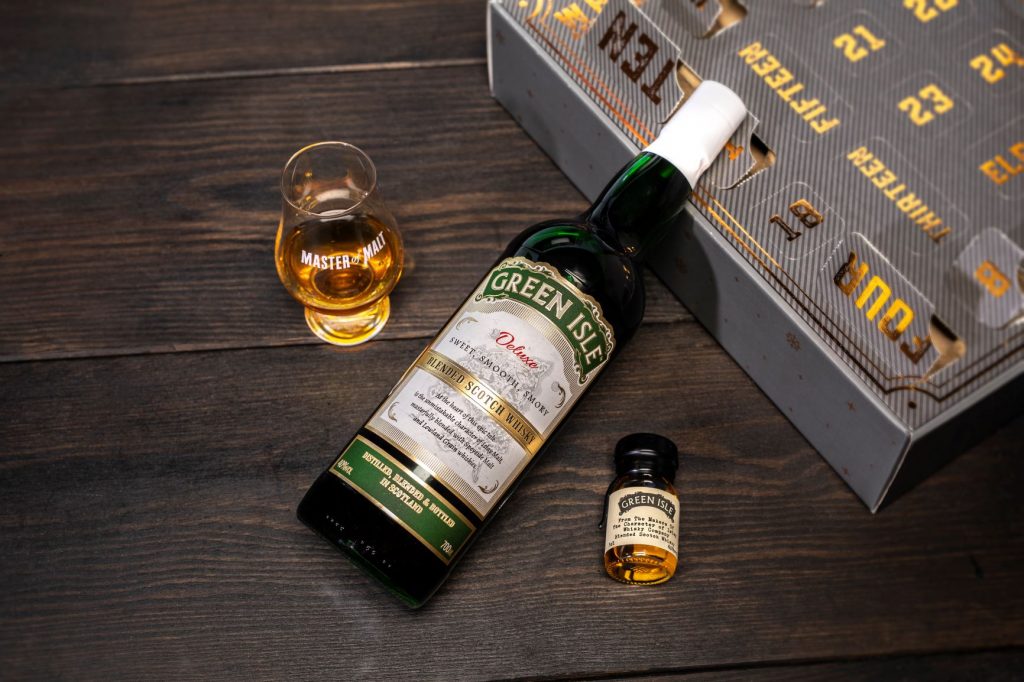 Tasting Note by The Chaps at Master of Malt
Nose: Softly toasted barley, warming oak, honey glazed apples and cut grass.
Palate: Vanilla pod earthiness builds on the palate, paired with coastal peat, pear drops and crushed peppercorns.
Finish: Lingering wafts of dry smoke and buttery biscuits.