It's Festive Friday! At least that's what we're calling it. As the big day hurtles ever closer, it's time to tuck in to Day 21's dram. And it's a Highland corker…
Aberfeldy is one of those distilleries that doesn't necessarily spring to mind when you think 'single malt Scotch'. Known as the home of Dewar's and with the liquid a key component in the White Label blend, single malt expressions have historically been limited to 12 and 21 year old bottlings. But all that has changed!
Bacardi (yep, of rum fame) bought the Highland distillery and brand (along with the rest of the Dewar's portfolio) back in 1998. As the single renaissance took hold, Bacardi invested in broadening the portfolio, introducing the 16 Year Old and even a 25 Year Old (although that is now sadly discontinued).
Today the distillery produces around 3.5 million litres of alcohol and remains a core part of Dewar's White Label, but single malts are a much larger focus. And the distillery itself, with its visitor centre and really rather wonderful archive is well worth a visit.

But enough about the distillery – today's dram is… Aberfeldy 12 Year Old!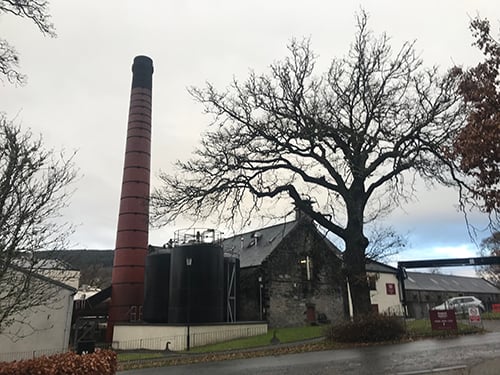 It's Aberfeldy!
And here to tell us more about it is Matthew Cordiner, Dewar's Aberfeldy distillery brand ambassador! We travelled up to the distillery to have a chat with him right next to the distillery water source, the Pitilie Burn.
Master of Malt: Tell us a bit about Aberfeldy. What sets the distillery apart?
Matthew Cordiner: Oooh where to start! Aberfeldy has such a great rich history and story centred around the Dewar's family. The distillery was built here for three main reasons: the first is that we're very close, just up the hill, to the ancestral home [of the Dewar's family], in one of the best named-places in Scotland, Dull, where John Dewar himself was born. Reason two is the beautiful, raging current of water, the Pitilie Burn. Before his death, John and Tommy's father John Dewar earmarked the site to build the distillery; after he died his two sons decided to build the distillery. Of course, you can get your barley delivered anywhere; you can get your yeast delivered anywhere. But with the amount of water you need, you need a good supply of water on-hand, and that's what the Pitilie is. And then finally we also refer to Aberfeldy as the Golden Dram, and that comes down to the special water here. The Pitilie is known to be laced with alluvial gold, which makes it another unique water source, hence the name the Golden Dram.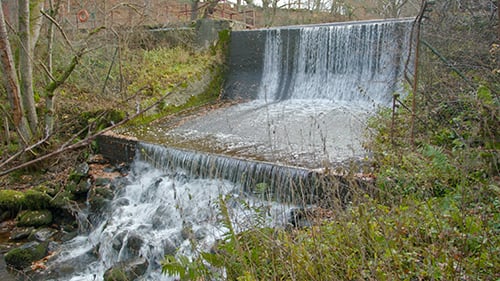 The Pitilie Burn, Aberfeldy's water source
MoM: Are there any distillery myths or legends?
MC: I think the biggest legend in the area would have been Tommy Dewar himself! He was a real character. He was the storyteller for the distillery, the bon vivant, the raconteur, the travelling salesman. And he was a local legend, even today.
MoM: Tell us about the Aberfeldy signature character…
MC: Again, with the Pitilie at the heart of it, we talk about the Golden Dram, and that is our honeyed, sweet smoothness. Whichever Aberfeldy you taste across the range you will get that beautiful honeyed sweetness. And again, if you think of why Aberfeldy was built, it was to be the base component of the heart of the Dewar's blend, and what they were looking for back then was something consistent, something sweet, mellow and easy-drinking that would help pull all those other flavours from around Scotland together. And that's exactly what you get with Aberfeldy.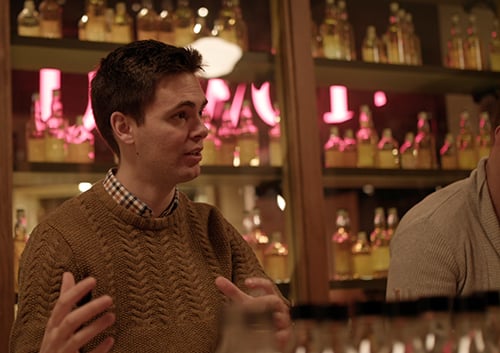 Matthew takes us through a tasting
Mom: What are Aberfeldy's plans for 2019?
MC: Oh, I think just keeping up with demand! We really only started focusing on Aberfeldy as a single malt in 2014 as part of our Last Great Malts series, so I think it's just trying to keep up with that demand. And again, I think in duty free and things, it's always about focusing on exceptional casks, how well we're finishing and how well we're using casks. So watch that space!
MoM: And what will you be drinking this Christmas?
MC: Oh, whisky of course! I do love Aberfeldy, it's a cracking dram, but I'm a local boy to Craigellachie [an Aberfeldy sister distillery] so I'm very biased! I guarantee when I'm back with my family in Craigellachie it will be a local dram we're drinking! I would love to say I had some of the 51 to have by the fireside, that stuff is liquid gold and if you get hold of a dram, well played, But I think it will be for me the Craigellachie 13. You can't go wrong, it's a classic Speyside, the bad boy of Speyside as we call it. It's one of my favourite drams of all time!
Thanks, Matthew! Now to play on with Aberfeldy 12 Year Old!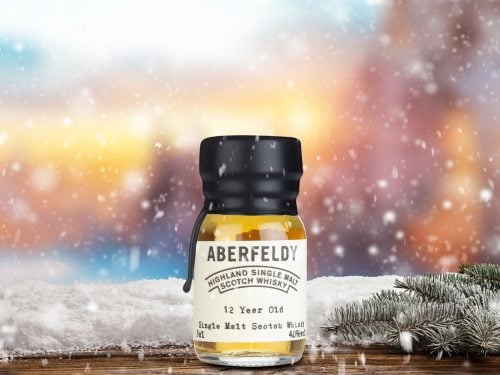 Time for a dram of Aberfeldy 12!
Nose: Creamy. Some sherried fruit with a trailing hint of smoke. Prune, custard and espresso bean.
Palate: Sweet, malty, a gentle peat but nonetheless the mouth feel is very clean. Vanilla, peaches in cream and subtle oak.
Finish: Ginger, malt, nutty nougat and maybe a little grapefruit zest.