Not long to go now until Santa Claus comes sliding down the chimney. To enjoy while you wait, we have a seriously smoky malt behind door #20 of Drinks by the Dram's Whisky Advent Calendar…
On the 20th day of Advent, we have whisky that's peatier than Peter the Great, smokier than Bill Hicks, and has more TCP than a 1980s boarding school. It's a single malt from Fox Fitzgerald Whisky Trading, an independent bottler and blender. The boys at FF are being very secretive about it. They won't tell which distillery or even part of Scotland it comes from.
All we know is… it's called Peat's Beast!
Fox Fitzgerald is based in Hereford which sounds like about the least whisky-y place in the world (though Chase Distillery is set to change that when it releases its first single malt.) The location makes sense when you learn that the people behind the company, Eamon Jones and Aidan Smith, met working at Bulmers cider in the '90s. They then both worked at Whyte & Mackay Ltd before Jones set up Fox Fitzgerald in 2010 with Smith joining as co-director three years later.
The company produces a range of rare bottling from established names such as Macallan and Tomintoul, as well as own labels like Peat's Beast which was Fox Fitzgerald's first whisky. As well as being great whiskies, all products from this company have packaging a world away from the traditional Scotch norm. Peat's Beast has a suitably monstrous label by Brazilian artist Doug Alves.
To tell us more we have Eamonn Jones: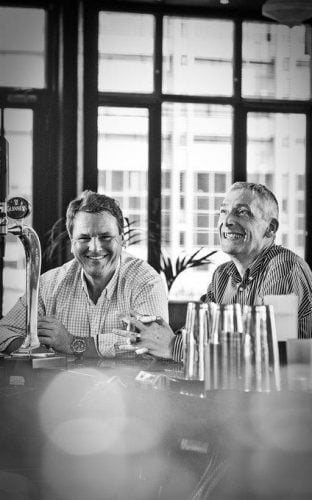 There's Eamonn Jones! (on the left)
Master of Malt: What sets you apart at Fox Fitzgerald Whisky Trading?
Eamonn Jones: Aidan Smith and I have been working together in the drinks industry since 1989; we've both worked in 90+ markets and have worked with lots of big brands. We love the whisky industry – an industry based on a liquid slowly maturing provides the best example of taking a long-term strategic view of business. I think what sets us apart is the network of contacts we have built over the combined 60+ years we have been in the industry. Years of honest and ethical dealings with both suppliers and customers all over the globe, means that we have unparalleled reach in terms of both sourcing amazing whiskies of all ages and types and in terms of distributing the brands we create all over the world.
MoM: Describe the flavour of Peat's Beast. What casks have you used in its maturation?
EJ: Peat's Beast is a heavily peated single malt. It is matured in first fill bourbon casks and the rich buttery vanilla notes of the casks combine beautifully with the round peaty phenolic taste of the whisky. It's a truly stunning dram; it must be for our old mate Richard Paterson to endorse it and write the tasting notes.
MoM: Why and when did you release this product?
EJ: Peat's Beast was first launched in late 2011. My first client that I worked with as a consultant was Bruichladdich and the integrity of that business and the quality of their spirit has had a lasting impact on me. It was my first exposure to a different type of peated whisky, the softer, more flavoursome notes of Port Charlotte and the fierce yet surprisingly complex Octomore. I wanted to create a heavily-peated single malt that could hold its own alongside these incredible whiskies.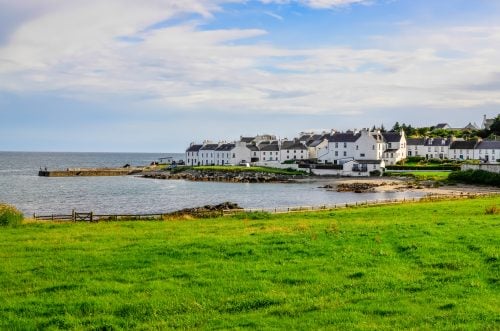 A view of Islay, the spiritual home of peated whisky
MoM: What's next for Fox Fitzgerald?
Well, we've now launched regular Peat's Beast Batch Strength finished in PX casks. Last year we launched the limited edition Peat's Beast 25 year old Islay single malt. We hope in 2019 to launch a Peat's Beast 32 year old Islay single malt. We also have our range of independent bottlings under the Rest and Be Thankful brand and will launch a new range for 2019. And we aim to launch a range of fantastic blended malt whiskies under our Scottish Sunshine range (whiskies as rare as the Scottish sun!) Given the ever increasing prices of whisky we wanted to offer a range of fantastic quality blended malts at an extremely competitive price. This is very much a work in progress so watch this space…
MoM: What trends and developments do you think we'll see in the whisky industry in 2019?
The question on our lips is, can the boom continue? Can the market continue to absorb the myriad of new launches of whiskies from the global players, ever increasing number of independent bottlers and the multitude of new distilleries from around the world that will seek to launch their products? And can prices continue to seemingly rise exponentially? I think in time – whether in 2019 or beyond – there will have to be a degree of consolidation in the industry. Prices will have to stagnate and any new products will have to have a very clear USP to survive. Many consumers may turn their attention to other categories such as rum and the gin bubble surely has to burst sometime soon. For me this is precisely why authenticity and taking the long view and not compromising on quality is key. As the old Levi Strauss strapline used to say "quality never goes out of style".
Right, let's drink the bloody thing!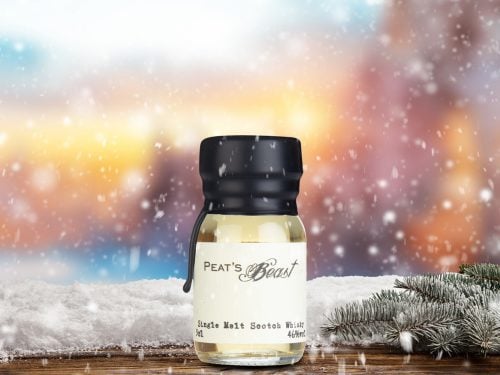 Peat's Beast
Nose: Ahhhh that bracing sea air! Then lots of wood smoke but buried underneath, there's an apple or two, and maybe a lemon.
Palate: Salty and smoky with vanilla and butter notes from the casks. Again there's some fruit here too when the smoke clears.
Finish: Long finish with dark chocolate and chilli.