Behind the 18th door of Drinks by the Dram's Whisky Advent Calendar lies a classic sherried Speyside single malt bottled at cask strength…
In this ever-changing world of whisky, where it seems that not a week goes by without the announcement of a new distillery, and drinks companies are constantly consolidating, amalgamating, and mutating, Glenfarclas is an anomaly. Just look at those labels, they haven't been anywhere near a Shoreditch-based graphic designer. What worked in the 1940s works now. Visiting the distillery is a similar experience. It's not glitzy and polished, the equipment is neither antique nor brand new. It's the same attitude: if it ain't broke, don't fix it. Glenfarclas is one of the last distilleries in Scotland to use direct-fired stills, and all its whiskies are aged the traditional way in ex-oloroso casks in a dunnage warehouse.
This immunity from the whims of fashion has a lot to do with being in the hands of one family, the Grants, since 1865. The current chairman, John Grant, is the fifth-generation family member in charge. This continuity extends to stocks as well. The family are able to offer very old whiskies as well as vintage-dated expressions dating back to the 1950s.
These whiskies are some of the most highly-regarded in Scotland. Along with Macallan, Glenfarclas is the apotheosis of the sherried Speyside style. And despite all that tradition, the family isn't immune to a spot of innovation. In the 1960s it was one of the first distilleries to shift business away from supplying blends to bottling its own single malts.
Glenfarclas also pioneered cask-strength whiskies, the famous 105, named after its proof strength (that's 60% ABV to you and me). And it's the dram behind the 18th door of our Whisky Advent Calendar. To tell us more, John Grant's son, George Grant, who looks after the sales side of the business, kindly agreed to answer our questions… very briefly. Well, he's a busy man.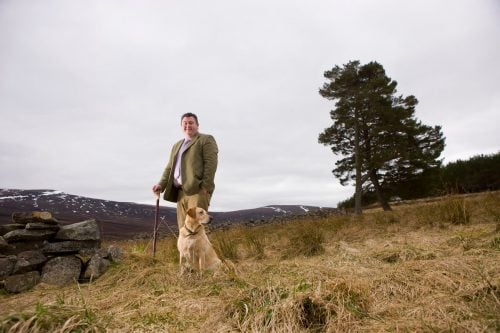 I'ts the dapper George Grant (and his very fine canine pal)!
Master of Malt: Tell us a bit about Glenfarclas. What sets you apart?
George Grant: Glenfarclas is still family-owned and family-run. All our whisky is distilled using direct-fired stills, matured in dunnage warehouses and all casks are matured on-site at Glenfarclas.
MoM: Do you have any quirky stories, myths or legends about your distillery's history?
GG: Many.
[Tumbleweed. We're left in suspense.]
MoM: Describe the flavour of Glenfarclas 105…
GG: 105 is big, it's bold, it's brash. Yes, it's 60% alcohol, but if don't tell people no one suspects it is so strong.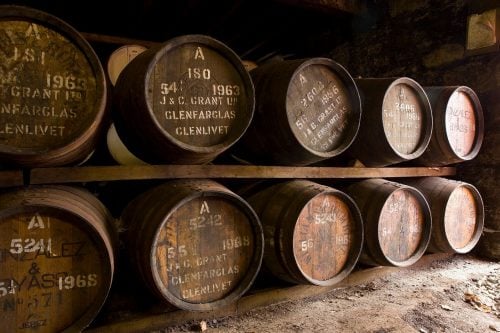 Delicious Glenfarclas whisky, maturing in barrels
MoM: What casks have you used in its maturation?
GG: All is matured in oloroso sherry casks. 60% first-fill and second-fill, and 40% third- and fourth-fill casks.
MoM: Why/when did you first release this product?
GG: 105 came out in 1968. We have just done a 105 22 Year Old to celebrate the 50th anniversary this year. It was first released by my grandfather. As he said, we make cask strength whisky, why do we dilute it down? He thought it strange we make a product here and dilute it here to send it thousands of miles around the world. He found it funny that people couldn't add their own water if they needed it. 105 can be found in the Guinness Book of World Records in the early '70s as the strongest whisky. Still to this day it has an amazing following behind it.
MoM: What will you be drinking this Christmas?
GG: 105, of course!
Right, let's try some, shall we?
Glenfarclas 105
Nose: There's toffee and fruitcake, it's rich and inviting.
Palate: Smooth, sweet and fruity with notes of leather and tobacco. It's powerful but, George Grant is right, you don't really notice all the alcohol.
Finish: Walnuts and molasses, and some spicy heat.