Time to take a peek behind the 12th door of the Drinks by the Dram's Whisky Advent Calendar where you will find a dram from Islay's youngest distillery. . .
If you like a bit of elegant smokiness (and let's face it, who doesn't?) then you'll love this next dram. It comes from Kilchoman, the first new distillery built on Islay in more than 120 years (another new distillery Ardnahoe, is just about to start production). It was founded in 2005 by Anthony Wills and family, and is based at Rockside Farm not far from Bruichladdich. The team produces a "barley to bottle" single malt whisky called 100% Islay where the entire process from the growing of the barley to malting, maturing and bottling, is carried out on the farm. Kilchoman also distills whiskies from bought-in malted barley like its bestseller, Machir Bay, our dram of the day.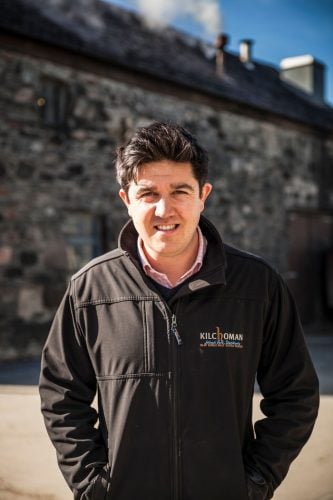 Say hello to George Wills!
Overall the distillery produces around 200,000 litres of alcohol a year, which makes it a small player compared with its neighbours. It is that rare thing in Scotch whisky: an independent family-owned distillery. The Kilchoman style is peated in the traditional Islay way and most distillery releases are aged in a mixture of bourbon and sherry casks. George Wills is Anthony's son and he looks after sales and marketing. We caught up with him recently to get the latest about the family business:
MoM: Tell us a bit about Kilchoman, what sets you apart?
George Wills: Kilchoman is a small family-run distillery on Islay, set up in 2005. The main thing about the distillery is when it was built, it was founded by my father and my mother; we were looking to take whisky making back to traditional roots. So we're a small, very much hands-on distillery and one of our main products, 100% Islay, is made from barley that we not only grow on the farm at the distillery, but we also malt it through our maltings before we distil, mature and bottle. So that was the main thing about the distillery, it was taking whisky making back to its traditional Islay roots and the 100% Islay is one of our main products that sets us aside. The other products, we buy the malted barley in before hand-distilling, maturing and bottling.
MoM: Can you describe your whisky's signature character?
GW: We have the typical Islay peat smoke in there but our peat smoke comes across in a lighter, softer manner. Our spirit itself is very light with a lot of citrus sweetness to it. And that comes through in our whiskies, especially with the fresh bourbon barrels and fresh oloroso sherry casks that we use. You really get the sense of the peat being not too overpowering in a far lighter, more approachable manner.
MoM: When did you first release Machir Bay?
GW: Machir Bay was released in 2012 and it's actually named after the bay, Machir Bay, which is a quarter of a mile from the distillery. It's a beautiful beach, just under two miles of gorgeous sand, and then next stop, North America. So in the summer, it can be stunning and in the winter it can be spectacular with the storms as well. Machir Bay is matured mainly in bourbon barrels – so 90% bourbon casks, 10% oloroso sherry casks. What you get from that is typical Islay peat smoke but also this lovely sweet butterscotch characteristic coming through with the signature Kilchoman citrus notes as well.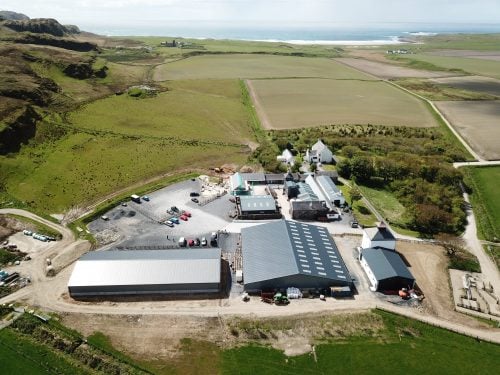 A birdseye view of Kilchoman
MoM: What's your role at the distillery?
GW: I work with my two brothers – the whole family is involved in the business. Myself and my brothers look after all the sales and marketing for the UK and abroad. So between the three of us we do all the travelling and everything to do with releases and building the brand as we move forward.
MoM: What trends or developments do you think we'll see in the whisky business in 2019, or in the future?
GW: That's a question! I mean for us, ourselves, we are expanding. We've seen the growth in malt whisky sales over the last few years and that's prompted us to double production. So we are currently building a new stillhouse which will take us up to just over 400,000 litres. So we see the whisky industry moving in a good direction and we feel that our style of whisky and our style of distilling, small artisan craft distilling, is becoming increasingly popular. 2019 for us will be exciting because we'll be having an older release – we're putting an age statement out there for 2019 that shows the progression of malt whisky and it's an exciting time, especially with all the new distilleries coming online at the moment. On Islay alone, Ardnahoe, which is coming up to production any time now, shows the excitement within the industry and in 2019 we should carry on that excitement as well.
Enough chat. Let's tuck into Kilchoman's Machir Bay!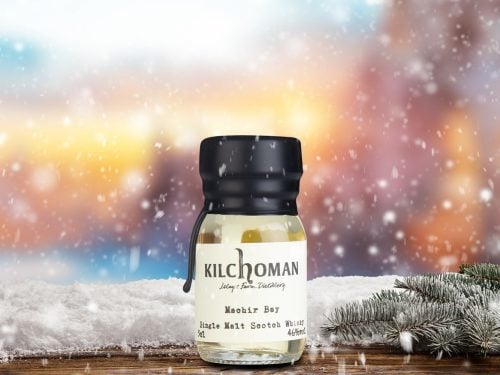 Kilchoman's Machir Bay
Nose: Delicate wafts of wood smoke, this is not a peat monster, with notes of orange and vanilla.
Palate: The elegant theme continues on the palate with a warming gentle smokiness, tropical fruit and some raisins.
Finish: Long layered finish with dried fruit and black pepper.