Open Door No. 11 and you'll find that Drinks by the Dram has treated us to the first dram of English whisky in 2018's Whisky Advent Calendar…
Christmas in an exciting time, isn't it? There's all kinds of amazing food to look forward to, you've got some days off work and who knows, you may even get a present you absolutely adore on the day itself. But even more exciting than waiting for Santa is the burgeoning English whisky scene. First expressions from interesting and innovative new distilleries are hitting the shelves (virtual or otherwise) seemingly all the time, joining an ever-growing list of impressive bottlings to sample. It's fair to say things are looking very bright for the category, as a superb distillery in the Cotswolds countryside demonstrates. It released its first whisky this year to much acclaim and today you can find out what all the fuss is about yourself.
Behind window 11 is…
Cotswolds Single Malt Whisky!!
The story of Cotswolds Distillery begins with founder Dan Szor. Tired of selling financial derivatives in London, Szor wanted to create something more tangible. As a big fan of whisky and the Cotswolds, setting up a distillery there seemed the natural solution. The aim was to create an intensely local, soft and fruity whisky that mirrored the landscape it would be created in.
The result is Cotswolds Single Malt Whisky. The first whisky ever distilled in the Cotswolds, it is crafted using 100% locally grown (within 10 miles of the distillery), floor-malted barley, aged in first-fill ex-bourbon barrels and reconditioned red wine casks. Since its launch last year, Cotswolds Single Malt Whisky has been received incredibly well and continues to go from strength to strength – and now it's in the Whisky Advent Calendar! We had a chat with Nickolas Franchino, head distiller and operations manager at Cotswolds Distillery, to find out what you can expect from the exciting English whisky.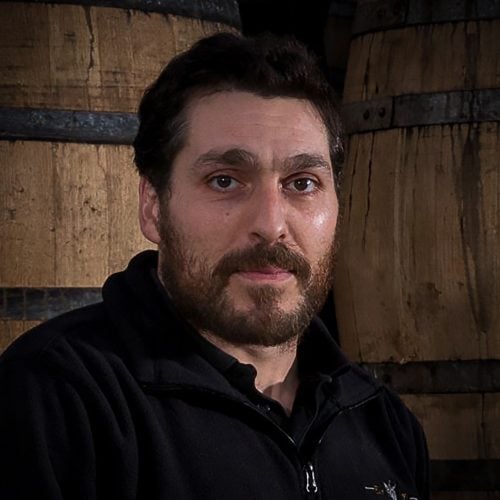 Say hello to Nickolas Franchino!
Master of Malt: Tell us a bit about The Cotswolds Distillery. What sets you apart?
Nickolas Franchino: On the face of it, our distillery is actually really traditional – we're making single malt in the same way, on the same kit as they have for hundreds of years. And we're very conscious that we're standing on the shoulders of giants too – we're making single malt whisky out of a deep love of the stuff, not to fly in the face of what's gone before or change things past the point of recognition. That said, I do firmly believe we're the hardest-working distillery in the UK. It's a big claim to make, but when you look at what our small team achieves on a daily basis, it's pretty incredible. An entirely manually-operated site, daily production of both gin and whisky (minimum, plus usually at least one extra project on the go at any time), two production shifts each day, seven days a week, and the whole range of other tasks all done in-house too – from bottling to marketing to peeling the grapefruits for the gin. It's a non-stop operation, in which we're paying utmost attention to every little detail to make sure we're putting flavour and quality above cost or convenience. We're not the only ones doing that in the world of distilling, but it is unusual.
MoM: Describe the flavour of Cotswolds Single Malt Whisky. What casks have you used in its maturation?
NF: This is a rich and fruity dram. From the start, we were aiming to make a delicious, easy-drinking, approachable whisky, but one that had proper depth and balance to it too. Achieving all that in a three-year-old single malt isn't easy, but a couple of things really helped. Firstly, our new make is top quality. I know everyone would say that about their own new make, but ours is genuinely fruity, creamy, malty, smooth, dangerously drinkable stuff. Secondly, we're putting it in some excellent quality casks; first-fill ex-bourbon, shipped whole from Kentucky, and shaved, toasted and re-charred (STR) red wine casks. The STR casks were designed by Dr Jim Swan to draw the best possible flavour and colour from the oak and they're insanely active casks. We mature the two types of cask concurrently and then 3 months before bottling, we empty them into our marriage vessel, stir them up furiously, drop the ABV to 50% ABV (so that the final proofing down to 46% for bottling is just a gentle nudge) and then recask, so that the spirit can spend its final 3 months marrying nicely – emerging balanced and settled when it hits the three-years-and-a-day mark.
MoM: Why/when did you release this product?
NF: We launched the whisky in October 2017, so just over a year ago now (probably the quickest year of our lives). Following that Inaugural Release (and the big party in the field next to the distillery, and the subsequent recovery) we've then released roughly a batch per month.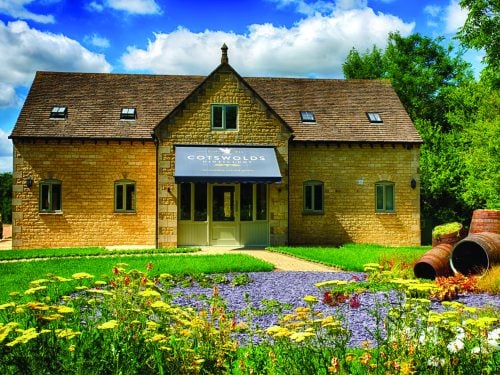 The wonderful, scenic Cotswolds Distillery
MoM: Tell us a bit about your role at The Cotswolds Distillery…
NF: Well, it really does vary day to day. I oversee a number of departments (Production, R&D, Bottling, Warehouse and Logistics), so can either be hands-on production (my favourite thing to do), or generally checking that everything is under control elsewhere. That may sound easy, but we've had our foot to the floor from day 1 and it hasn't let up. Also, I am one of the few licensed to drive our truck for transporting casks between warehouses so I can be on the road for a while at times. When I do get a spare moment, and they are very, very few, I like to reflect on how proud I am of the team I oversee. I would hold my distillers up against any in the world, not just for their technical ability but their grit (Angus, Leon and Tom I salute you).
MoM: What's next for The Cotswolds Distillery?
NF: There's always a couple of things in the pipeline here, we've had some fun recently experimenting with rum distillation… we've also just launched our first cask strength release – Founder's Choice – which is a bottling purely from the shaved, toasted and re-charred red wine casks. We're excited to show off the cask in its own spotlight, and we've got a few more exotic casks maturing in the warehouse that we're hoping to release over the next couple of years too. In the meantime, it's all go here with the new visitors centre currently under construction and plenty of gin to be made. We've come a long way in the four years since we opened the doors, and I don't expect that rate of growth to slow down any time soon.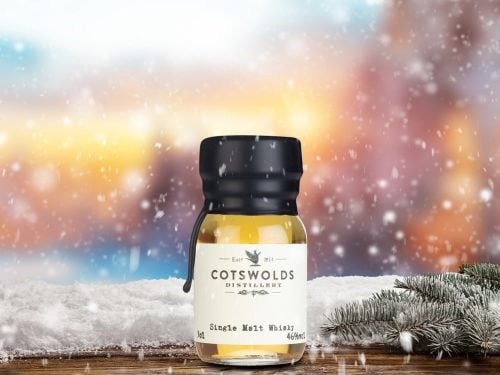 Cotswolds Single Malt Whisky
Thank you very much to Nickolas Franchino for speaking to us. Now let's crack open this dram of Cotswolds Single Malt Whisky and taste what's inside (presumably whisky)!
Nose: Toasted almonds and a little marzipan complement light fruity notes from peaches and apricots. There's a layer of honey and butterscotch there too.
Palate: Fresh malt, marmalade and dark fruits combine before plenty of baking spice and dark caramel emerge.
Finish: Long and resinous, with plenty of treacle and a little tannic oak.