It's our first Nightcap of 2019 so it's a special bumper edition. We've got a lot to get through so without further delay, ado, procrastination or beating about the bush, here's what we've been up to since the last Nightcap way back in 2018.
Cast your mind back to New Year's Eve, we know it seems like a long time ago, Adam came up with some top tips to drink on the night. Between Christmas and New Year, we rounded up our most-read stories of 2018, and looked at Glenkinchie's exciting plans to become a top tourist destination. Then as January began, Annie fell in love with grain whisky and learned how your other senses affect how you taste. Adam produced a list of mouthwateringly-refreshing drinks and got all seasonal with winter-y botanicals. Kristy peered into her crystal ball (yes, she really has a crystal ball) to see what we'll be drinking in the next few years and spoke to some bigwigs at Johnnie Walker about the future of whisky. And finally, Henry put in a plea for fortified wines, introduced a new regular feature, Cocktail of the Week, and got all bitter and twisted over amari. See what we mean about bumper edition?
And that's not all. We had our first Dram Club of 2019 and announced a competition to win a VIP trip to Ardbeg!
Such content. Now we can't hold back the tide of news any longer. Here it comes!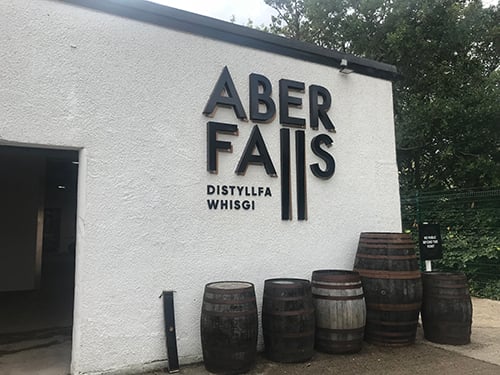 Things are looking good for Halewood International, owner of Aber Falls
Aber Falls owner sees profits soar 319%
New year, new set of financial results. And it's been a busy period, with both good and bad news from the bean counters at the world's' drinks groups. Let's get up to speed. First up: Halewood International. The parent company of Whitley Neill, Aber Falls and Crabbie's says its revenues climbed by 19.5% for its financial year ending in June 2018. Profits meanwhile exploded by an impressive 319%. Another sizeable development? The company said it had sold off its stake in West Cork Distillers, which produces its own and third-party liquid for Irish whiskeys. The plan now? To focus on all things gin. Which, if the continued fascination with flavoured gins is anything to go by, could prove a shrewd move indeed.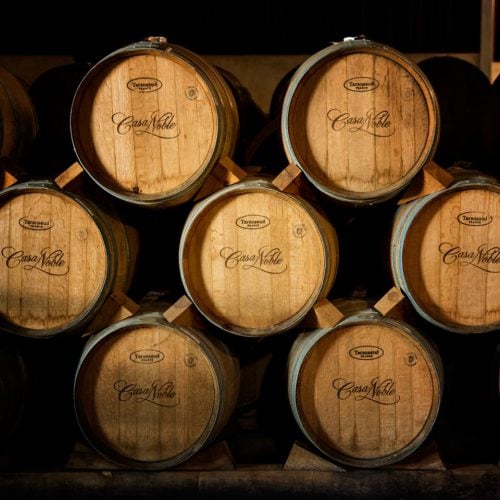 Things are less optimistic for the owner of Casa Noble Tequila
Constellation Brands says it expects to make full-year losses
Not such good news for US-based wine and spirits group Constellation Brands, which owns the likes of High West Whiskey, Casa Noble Tequila and Svedka Vodka. While its wine and spirits third-quarter sales (to the end of November) increased by 0.4% to US$762.8 million, there could be trouble brewing. "The wine and spirits business now expects net sales and operating income to decline by low-single digits for fiscal 2019", its financial statement reads. In other words, sales are slowing. The antidote? Constellation says it will "drive increased focus on the high-end priority brands". "Our focus on innovation is driving incremental growth," insisted Bill Newlands, president and chief operating officer at Constellation Brands, noting that it had recently launched Mi Campo Tequila, among other brands. Will it be enough to see a return to growth in fiscal 2020?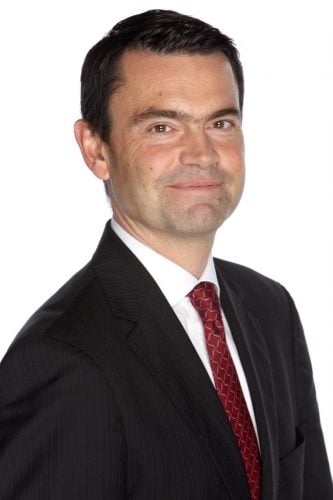 It's a sticky situation for Marie Brizard's Benoît Herault
Marie Brizard takes drastic steps as profits slump by 25% in 2018 H1
Beleaguered French drinks group Marie Brizard Wine & Spirits (MBWS) has made some major changes after posting its less-than-stellar financial results. Its much-delayed full-year 2017 and first-half 2018 stats showed that net sales fell by 1.8% in 2017, and by a further 7.6% for the first six months of the 2018 financial year. Even worse, profits tumbled by 25.9% during 2018 H1. The response has been to appoint an independent expert, Ledouble, and an ad hoc committee has been created by the Board of Directors to assess the proposed resolutions presented by several of the Group's shareholders. Perhaps the most significant outcomes are that chairman and member of the board of directors, Benoît Herault, intends to resign, and that MBWS has backtraced on plans announced in Septembe r 2018 to sell some non-core brands to cover the group's losses. Hérault declared: "These past five years as an independent Board member and then as Chairman of the Board of Marie Brizard Wine & Spirits have been very intense. In 2018, given a sharply deteriorated financial situation, I accepted – at the request of the members of the Board of Directors – to take on the role of Chief Executive Officer on an interim basis, with the main objectives of finding a new Chief Executive Officer for the Group and securing a solution for ensuring its status as a going concern. These objectives have now been accomplished. A new strategic plan will be presented over the course of Q1 2019 and the backing of our Group by a solid industrial player opens a new chapter for Marie Brizard Wine & Spirits." Let's hope this is the beginning of a revival in the company's fortunes.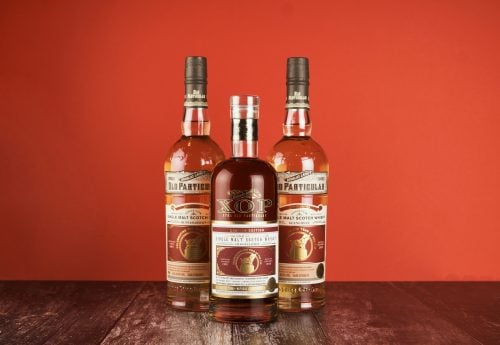 The Year of the Pig limited edition bottlings
Douglas Laing launches 3 limited edition bottlings for Year of the Pig
World famous indie bottler Douglas Laing is back for the Year of the Pig, with three exclusive bottlings in celebration of the Lunar New Year. Look out for an XOP (Extra Old Particular) single cask of a sherry-matured 1995 Craigellachie, and two Old Particular single casks, a Bunnahabhain 2007 and a Glengoyne 2007. Don't be fooled into thinking that these are random selections, as both 1995 and 2007 were previous Years of the Pig within the Chinese Zodiac calendar. Douglas Laing hasn't held back on the presentation of these whiskies, with each individually-numbered bottle of XOP presented in a wooden gift box, accompanied by a hand-signed New Year message from father and daughter duo Fred and Cara Laing. These whiskies aren't just glam on the outside, they sound delicious too. Having rested for over two decades in a sherry butt, the Craigellachie has a "rich mocha, cocoa character." Meanwhile, the Bunnahabhain reveals "sweet peat alongside honeycomb", and the Glengoyne has a "spiced warmth" at its core. Completing the porcine theme, each bottle has a golden pig on the label which is said to bring good fortune. All this good fortune won't cost you a small fortune: a boxed set of all three whiskies is available in Taiwan for NT$19,999 (£510).

The future is Fernet Branca
Fernet Branca has big plans for US market with new CEO
Hot on the heels of our amari round-up comes some news from the baddest, bitterest of them all, Fernet Branca. The family owned drinks company, Fratelli Branca, has just appointed Steve Brecher as chief executive officer of a new business, Branca USA. Brecher has worked at Diageo and was formerly president of Infinium Spirits. The company behind such legendary brands as Fernet Branca and Carpano Antica has big plans for the US market. Fratelli Branca Distillerie's Global CEO Patrick Piana said, "Fratelli Branca is proud to have Steve Brecher driving operations for our new venture, Branca USA. We are confident that his invaluable experience and proven track record of success in brand growth will result in significant sales expansion for our iconic portfolio." Let's see if Brecher can build on Fernet Branca's cult status among US bartenders.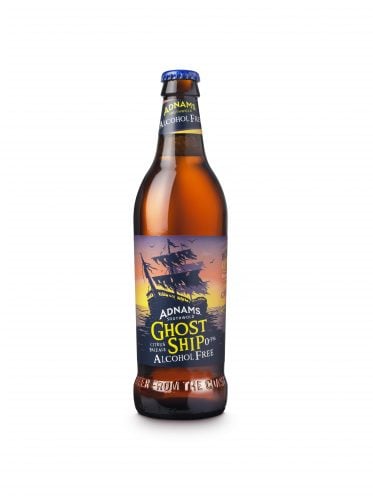 Adnams' alcohol-free Ghost Ship pale ale
Non-alcoholic beer pioneer Adnams will be at the Mindful Drinking Festival
Whether you're doing Dry January or not, one of the most interesting trends in drinking is low or no alcohol drinks. We now even have a page for them at Master of Malt. So we thought we should let you know about the Mindful Drinking Festival that's taking place at the Old Truman Brewery in east London from 12-14th January (this weekend!). The festival is run by Club Soda, which describe itself as a 'Mindful Drinking Movement.' One of the producers taking part is Suffolk brewers Adnams; its alcohol-free Ghost Ship pale ale is one of the best beers in this burgeoning category. Entry is free and you can drink as much as you like without getting a hangover (though you will probably need the loo a lot.) And for those who aren't taking the mindful drinking thing too seriously, don't forget that you are in Shoreditch which has some of the best bars and pubs in London in case you fancy nipping out for something a little stronger.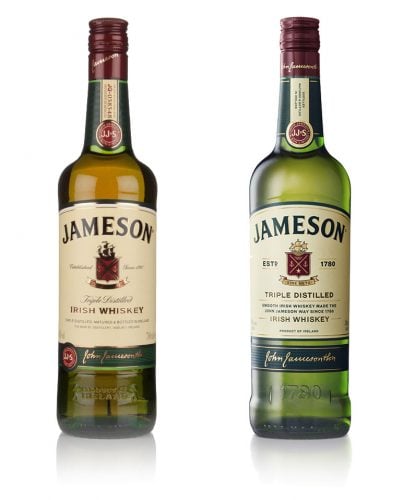 Spot the difference…
Jameson Irish Whiskey unveils evolution of bottle and label design
The world's number one Irish whiskey has refreshed its look. The new design comes over 50 years after the world famous green Jameson bottle was first introduced in 1968. Some key elements of the original, such as the Jameson family crest, have been reinterpreted, while aspects such as Jameson's provenance and the triple-distillation production method have been given greater focus. The bottle shape has been also been updated to be more tactile and the new bottle has got a more vibrant colour palette. It's safe to say this is quite a subtle evolution, like when your partner gets their hair cut. If you're observant enough you might actually notice a difference. But, like most of us, you'll probably struggle to realise what's changed, and will be forced to straight-up lie for their sake (I never do this, if my partner is reading). The new Jameson Irish Whiskey bottles will be available in Ireland from January 2019 and in other markets from March ahead of St. Patrick's Day. Jameson Caskmates, Black Barrel and Crested will adopt the updated look throughout the year. Simon Fay, international marketing director for Jameson, commented: "Jameson Irish Whiskey is the world's favourite Irish whiskey and is leading the renaissance within the category that we have seen over the past ten years. As such, we are committed to investing in the brand and we are confident that our new smooth pack, with the same triple distilled Irish whiskey inside is the winning combination to drive distinctiveness and relevance with whiskey drinkers and bartenders." That's assuming they notice the changes.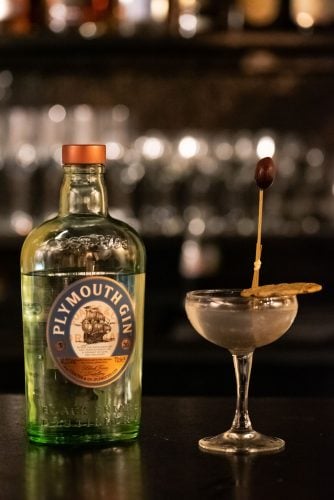 Who doesn't enjoy a good Martini?
World's Best Martini competition final in London
Next week, Martini lovers should head down to 100 Wardour Street in London for the final of the World's Best Martini Challenge. Last year, producers from around the world entered their gins into the competition, and the entrants have now been whittled down to five: Conker Spirits Navy Strength Gin, Plymouth Gin, HMS Spirits Mary Rose Gin, Marylebone Gin and Campfire Gin. On Tuesday 15th January, these finalists will be judged by a panel including Rebecca Milford of Bar Chick and Ivan Dixon of Entroria&Coe in two categories: classic and showcase Martini. Co-founder of the event James Thomas said: "The 2019 challenge event will be our best yet. Each year we try to make it bigger and better and we're so pleased to have the support of these great gin-makers, bartenders and bars. And of course, it's our Martini-loving crowd that makes it such a great night out." Tickets cost £25 and for that you get to taste the finalists' Martinis as well as getting to rub shoulders with the great and good of the booze world (and frankly, who doesn't like a good shoulder rub?).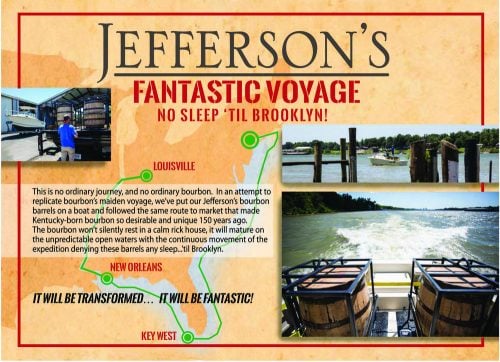 Jefferson's bourbon had one hell of a journey
Rolling on the river with Jefferson's bourbon
The effect of time, climate and travel on certain drinks is well known. It's there in the stories of Madeira, rum and IPA. Trey Zoeller, founder and owner of Jefferson's Bourbon, suspected that these factors also played a part in the evolution of bourbon. The white moonshine-like spirit would have evolved into something rich and mellow by the time it reached northern cities. To prove his point, Zoeller took two barrels of his whiskey on a long voyage from Kentucky, down the Ohio and Mississippi Rivers, through the Gulf of Mexico to Key West and up the Atlantic Coast to Brooklyn. The whole voyage took a year and the bourbon barrels were exposed to extremes of temperature as well as rough seas and rapid rivers. As a control, Zoeller left two identical barrels in a warehouse in Kentucky. Is there going to be a difference? Well, you can tell for yourself as Zoeller is throwing a launch party on 31st January in conjunction with the Frazier History Museum in Louisville, Kentucky. Drinking n' history, it doesn't get better than that.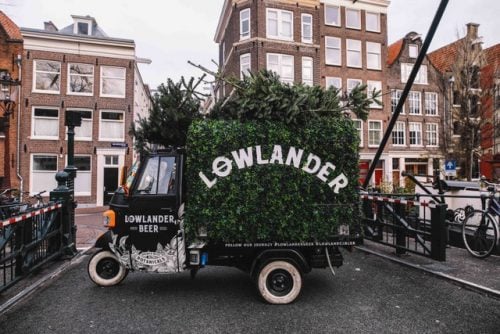 From feasts to yeasts, these trees have seen a lot!
And finally. . . . a beer brewed from old Christmas trees
Spare a thought for the poor Christmas trees: once they were feted and decorated, the focus of festivities, but now they have been cast out and doomed to wander the streets until the council tidies them up. If only there was a better way. Well, the team at Dutch brewer Lowlander have come up with a genius idea for what to do with unwanted trees: turn them into beer. Brilliant! Why hasn't anyone done this before? The brewery is currently collecting trees from around the country to make its Winter IPA. It needs at least 600 kilos of needles to make one batch. Chief botanical officer (how many breweries do you know with a chief botanical office?) Frederik Kampman said: "Every December, about 2.5 million real trees bring Christmas spirit into our homes. By New Year, most of these end up in the chipper, on bonfires or piled at the roadside. We have found another use for them: in beer." But that's not all, the brewery plans to use other parts of the tree in its products including Lowlander Botanical Brut, a limited-edition sparkling beer made with spruce and Champagne yeast, smoked cheeses and smoking chips. The brewery has launched a 'Tree to Table' crowdfunding campaign so that everyone can get involved. Top work Dutch beer people!