Don't let your bottles of Port, sherry or Madeira gather dust. Our guide to getting the most out of these underrated classics will keep you drinking through the winter and into spring and summer.
What's Christmas Day without a decent drop of Port with your stilton? For me, it's the highlight of the festive season, so much more delicious than bland old turkey. But like turkey, for most of us, fortified wines are a once a year thing. Which is a shame as they are some of the best value and most versatile wines known to mankind. Fortified wines are great with food including difficult flavours like blue cheese and chocolate, they make useful cocktail ingredients, and the richer ones are a great lighter alternative to brandy or whisky for post-meal sippage. So here's a guide to keep you fortified throughout the year with three recommendations at the end.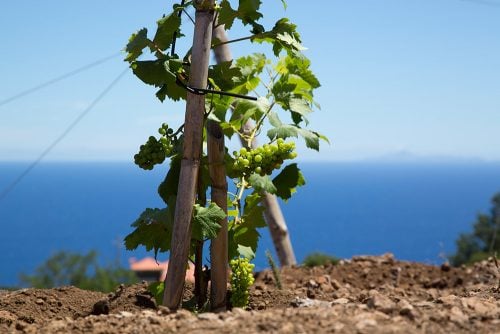 Grapes soon to be converted into fortified wine
What is a fortified wine?
It's simply a wine fortified with brandy. The big three are Port, sherry and Madeira (see below for our bluffer's guide) but there are excellent fortified wines made all over the world, like in Australia (liqueur Muscats), in France (Rivesaltes) and in Sicily (Marsala).
They're all sweet, right?
Wrong! Sherry runs the range from intensely sweet to bone dry. Madeira has a similar range of styles. Port, though, is always sweet.
Ok, tell me more about the big three.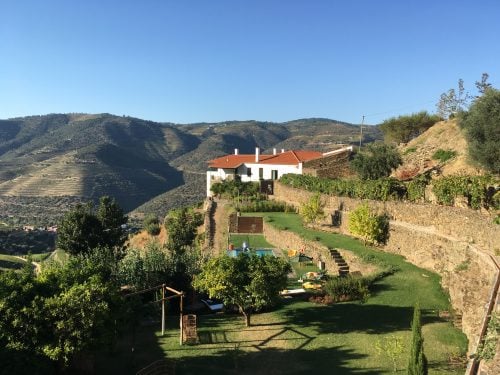 The magnificent Douro valley, the home of Port
Port:
Port is a sweet (usually) red wine from the Douro valley in northern Portugal. It was shipped from the city of Porto, which is where it gets its name from.
There are lots of different types. Ruby Ports are the cheapest. They're simple, sweet and fiery. The poshest are vintage Ports which are essentially very high quality rubies from a single year stuffed full of fruit and tannin which need ageing in bottle (often for 20 years or more) to mellow and become delicious. Then you have late-bottled vintages (LBVs); these have some of the character of vintage Port but are aged for longer in wood before bottling and are sold ready to drink. Tawny Ports are aged for even longer in wood so that they lose colour, and exposure to oxygen gives them a nutty taste. Tawnies usually carry an age statement or they might be from a particular year (in which case they are called colheitas). Finally you have white Ports which can be simple and fun, or long-aged like a tawny. All Ports are a blend of different native grape varieties.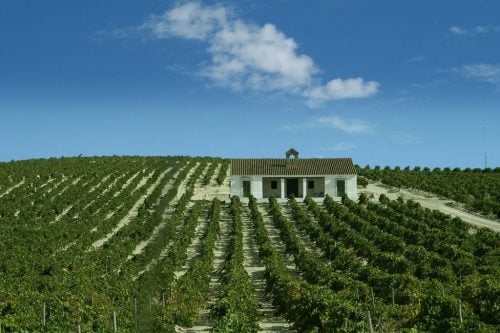 Croft vineyards in Jerez in Andalusia
Sherry:
Sherry is made from grapes grown between the towns of Jerez (the word 'sherry' is an attempt by English speakers to say 'Jerez'), Sanlúcar-de-Barrameda and El Puerto de Santa Maria in southern Spain. Most is aged in a solera but occasionally you might see vintage-dated wines.
The driest type, fino, is aged under a layer of yeast called flor which protects it from oxygen. It is very lightly fortified to about 15% ABV. Manzanillas are finos but aged by the sea in Sanlúcar-de-Barrameda. An amontillado starts off as a fino (or manzanilla) until after many years, the flor dies or alcohol is added to kill it, and it begins to age with oxygen. An oloroso is a coarser, dry style which doesn't develop flor so ages entirely with oxygen contact. It is fortified to about 18% ABV. Then you have a strange, rare style called a palo cortado which is an amontillado that has some of the body of an oloroso or an oloroso that has some of delicacy of an amontillado. These are all dry wines. There are super-sweet wines made from either the Pedro Ximénez (PX) or Moscatel grapes. There are also blended sherries, like Harvey's Bristol Cream, which are made from dry wines sweetened with PX or Moscatel. Apart from the sweet styles, almost all sherries are made from one type of white grape, Palomino Fino.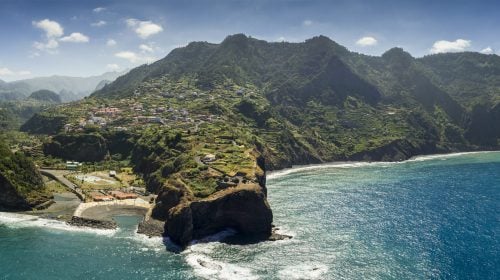 Glorious Madeira
Madeira:
Wine from the subtropical Portuguese island of Madeira; it's the world longest-lived wine with the best examples capable of ageing for 200 years. As part of the ageing process wines are either left out in the sun or gently heated, which gives the wines a slightly cooked taste.
The best quality wines are made from single grape varieties: Sercial, the driest, followed by Verdelho and Bual, and then finally Malmsey/Malvasia which is intensely sweet. You might also see Terrantez if you are very lucky – this grape is exceedingly rare. Wines from Madeira can have age statements or come from a single vintage. Cheaper wines will be made from a blend of varieties usually predominantly, Tinta Negra, a red grape. All Madeiras are very high in acidity which makes them taste drier than they really are.
What should I drink them with?
Blue cheeses especially Stilton are great with vintage and tawny Ports, and sweeter Madeiras. Chocolate puddings go well with young vintage or LBV Ports. Bual Madeira is excellent with seed cake. Fino sherry and drier Madeiras are great with tapas: salted almonds, prawns, olives, that sort of thing. Darker sherries suit more powerful food – think amontillado with Jamon Iberico or oloroso with hard cheeses. PX sherry is great with puddings made from dried fruit and is delicious poured over ice cream.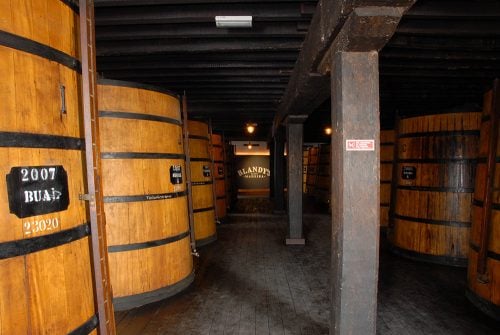 Madeira wine ageing in barrels
What temperature should I serve them?
Generally the older and richer the wine, the warmer it should be served. Lighter, fresher styles like fino sherries are best served straight out of the fridge, whereas a vintage Port tastes best just a bit cooler than room temperature.
What about cocktails?
Now you're talking! Sherry should the secret ingredient in your cocktail cabinet. You can use fino instead of vermouth in a Martini then add a dash of orange bitters. Sweeten your Old Fashioned with PX sherry, especially if you are using a heavily-sherried whisky. In a Negroni, substitute some of the Italian vermouth for tawny Port for added richness. Fortified wines are great in longer drinks too: white Port or a cheaper Verdelho Madeira work really well with ice and tonic water as a lighter alternative to a G&T. Darker sherries and Madeiras make excellent Cobblers; simply add crushed ice, fruit and sugar.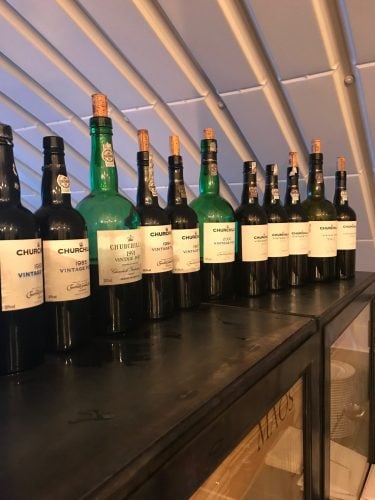 A fine selection from Churchill's
How long should a bottle last when open?
The more exposure to oxygen the wine had when ageing, the longer it will last after opening. A fino sherry or vintage Port should be drunk within a couple of days, whereas a tawny Port or amontillado sherry will last months. Madeira once opened doesn't really go off at all.
Can I cook with it?
Yes, you can. Your kitchen should not be without at least one type of sherry or Madeira. Fino sherry instead of white wine will take your roast chicken to the next level, and a splash of a richer fortified wine will do wonders for stews and gravies. Try adding a small glass of Port to your boeuf bourguignon.
Here are three that no home should be without in 2019:

Taylor's 10 Year Old Tawny Port
Taylor's 10 Year Old Tawny Port
Made by one of the most famous names of the Douro valley. This bottling is aged for ten years in wood so that it takes on notes of tobacco and walnuts, but still offers plenty of sweet strawberry fruit.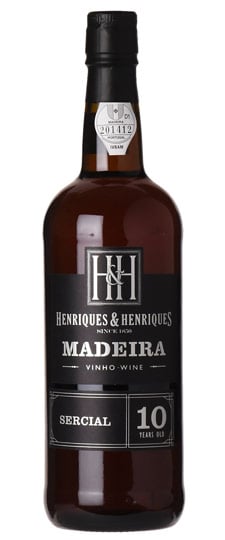 Henriques and Henriques 10 Year Old Sercial
Henriques and Henriques 10 Year Old Sercial
The driest form of Madeira actually has quite a bit of sugar, but there's so much acidity you won't notice. This has a salty, lime quality, with notes of burnt marmalade. It's superb with a salty cheese like Comté.

Gonzalez Byass Tio Pepe Palomino Fino
Gonzalez Byass Tio Pepe Palomino Fino
The world's bestselling fino sherry is also one of the best; it's very dry with a taste of almonds, green apple and long nutty finish. Served cold with a bowl of salted nuts. It's absolutely irresistible.