The ninth day of Advent is here – and Drinks by the Dram is looking to Japan for today's Whisky Advent Calendar dram!
It just wouldn't be the same if the Drinks by the Dram Whisky Advent Calendar didn't feature a Japanese whisky, would it? Thankfully there's one waiting behind window #9. And what a Christmas cracker it is. Not literally, obviously. Please don't try and pull this dram apart after Christmas dinner. You'll want to savour this one. It's a whisky with history, personality and the kind of rich, full-bodied flavour that we've come to love from Nikka. Today's dram is…
It's Nikka Whisky From The Barrel!!
Nikka first launched Whisky From The Barrel in 1985, and it's just as good today as it was then. It's one of the finest blends on the market currently, as awards from the likes of the International Spirits Challenge Trophy in 2015 and the World Whisky Awards in 2007 and 2010 demonstrate.
Behind this great whisky there is a great story. Nikka was founded in 1934 by Masataka Taketsuru, who is often referred to as the 'Father of Japanese Whisky'. Taketsuru established his vision for Japanese whisky after he embarked alone on a long voyage to Scotland to learn about Scotch whisky. It's safe to say it was a successful trip. He returned with enough knowledge to build distilleries and create his own whisky, and he met his wife, Jessie Roberta (Rita) there, too. Nikka has since risen to become Japan's second-largest distiller and boasts a wide range impressive whiskies, from single malts to blends.
To find out more, we caught up with Stefanie Holt, UK brand ambassador for Nikka. As you can imagine, she was only too happy to talk about this acclaimed Japanese whisky.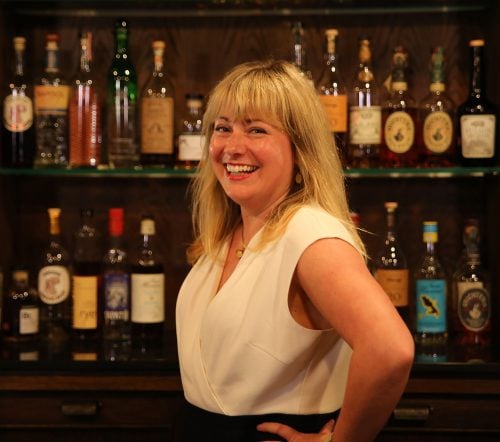 Stefanie Holt, UK brand ambassador for Nikka
Master of Malt: Tell us a bit about Nikka Whisky. What sets the brand apart?
Stefanie Holt: Nikka is pretty special in that it was set up in 1934 by Masataka Taketsuru – he's the guy who went over to Scotland in 1918, spent a couple of years learning about how to make whisky, met and married a Scottish woman and then went back to Japan (with his new wife) and built the first Japanese whisky distilleries. His passion was the art of blending, so he built himself two distilleries in order to make many different flavours of single malt, and shipped over Coffey stills to make grain whisky and therefore have all the components to create a wide variety of blends. That's what Nikka From the Barrel is made from – grain whisky from the Coffey stills and single malts from the two distilleries that Taketsuru built in Japan.
MoM: Do you have any quirky stories, myths or legends about your Nikka's history?
SH: There's a funny one about Taketsuru when he set up his second single malt distillery, Miyagikyo. He was obsessed with what he'd learned in Scotland about how important water, climate and landscape were to making whisky and was determined to find somewhere very similar to Scotland to build his distillery. He apparently spent two years travelling Japan tasting rivers (and mixing their water with the whisky from his first distillery!) before finding one that reminded him of rivers in Scotland and promptly built the distillery there.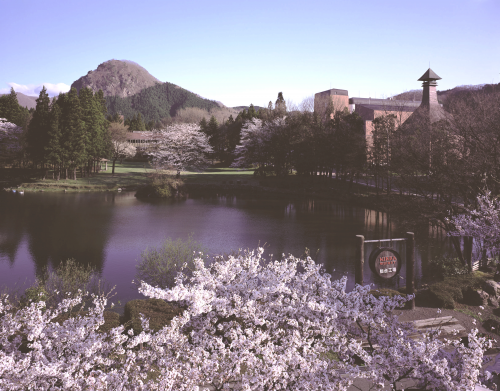 The stunning Nikka Distillery in Japan
MoM: Describe your whisky's signature character…
SH: Nikka from the Barrel is a powerful combination of Coffey grain whisky (which gives it flavours of coconut, marmalade and a buttery texture), single malts from Miyagikyo (which gives flavours of honey, apricot, raisin and herbaceousness) and single malts from Yoichi (which gives flavours of smoke, earth, seaside and an oily texture), so it tastes of many things! The main thing about it is how easy it is to drink despite the 51.4% ABV bottling strength, and how balanced it is.
MoM: Give us some ideas/serving suggestions for how Nikka Whisky From The Barrel could be enjoyed…
SH: This is beautiful neat, but in Japan the classic thing to do would be to build a mizuwari with it. The standard mizuwari recipe is just 50ml Nikka From The Barrel with 100ml still water in a tall glass over ice, but I like adding a dash of peach bitters and a slice of cucumber to that as it suddenly transforms a very tasty whisky and water into something much more summery and fragrant.
MoM: What's next for Nikka Whisky?
SH: Nikka launched Coffey Vodka and Coffey Gin last year, which are both doing extremely well (Coffey is the name of the still, and nothing to do with coffee beans or flavour!), and we are looking forward to the new Nikka Days whisky which will be arriving in the UK in early 2019. It's light, elegant and a great base for making refreshing cocktails as well as having enough body to sip neat.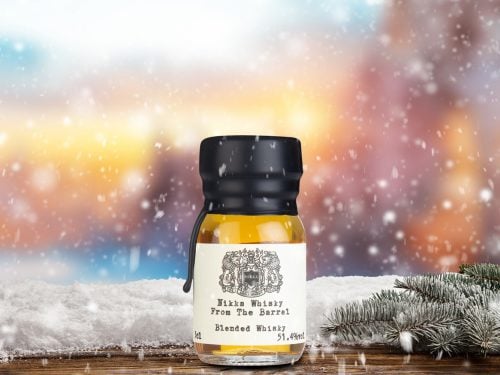 Nikka Whisky From The Barrel
We very much appreciate Stefanie Holt speaking to us. We're sure she doesn't mind if we get stuck in straight away to the absolutely sublime Nikka Whisky From The Barrel!
Nose: Aromas of black peppercorn spice, cut flowers, fresh orange and a little oak emerge in a medium-body nose with good balance
Palate: Full-bodied with rich winter spice, soft vanilla, sticky toffee and a candied orange peel.
Finish: Long and warming, with prickles of oak spice and delicate fruit notes.