Nineteen days into Drinks by the Dram's Whisky Advent Calendar and still no rye whiskey? Good thing that's all about to change…
Rye whiskey is enjoying something of a renaissance in recent times. As bartenders and consumers become more adventurous, rye's resurgence can be attributed to its powerful, punchy profile and ability to satisfy the increasing desire for spirits with provenance and history. It's no surprise then that both new brands and expressions from established distilleries are popping up all over the place, keen for high-rye interpretations to become the new go-to for whiskey lovers.
One such example comes from the stalwart that is Jim Beam, whose rye bottling is today's dram in the Whisky Advent Calendar. It's sure to please both fans of the style and new converts in-waiting.
It's Jim Beam Rye!!
Described as a pre-Prohibition-style rye whiskey, Jim Beam Rye was made from one of the Beam family's oldest recipes. While we know that the mashbill is at least 51% rye, the rest is a closely-guarded secret. Thankfully there was still plenty we could learn about the dram from Michael Green, senior whisky specialist for Edrington Beam Suntory UK Ltd., who was happy to talk about today's treat.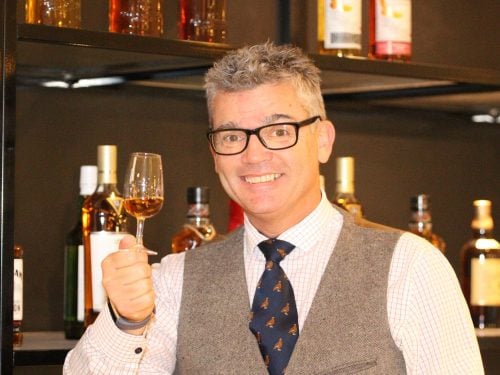 Michael Green, senior whisky specialist for Edrington Beam Suntory UK Ltd.
Master of Malt: Describe the flavour of Jim Beam Rye. What casks have you used in its maturation?
Michael Green: Made from one of the Beam family's oldest recipes, the pre-Prohibition-style liquid is distilled to the exact same standards that have governed Jim Beam for more than 200 years. Matured in Kentucky in new charred oak barrels for a minimum of four years Jim Beam Rye is bottled at 90-proof. It has a distinctively spicy flavour with notes of vanilla, black pepper and oak – perfect served neat or as part of a classic or contemporary winter cocktail.
MoM: When and why did you release Jim Beam Rye?
MG: Replacing Jim Beam Rye Yellow Label, Jim Beam Pre-Prohibition Rye was released in 2015 in response to demands from bartenders and whiskey fans around the world for a bolder rye that stands up in cocktails.
MoM: Give us some ideas and serving suggestions for how Jim Beam Rye could be enjoyed…
MG: During the winter months Jim Beam Rye is perfect as part of an Old Fashioned Highball. Made using Angostura Bitters, soda water and sugar – it is a simple yet warming cocktail perfect after a long day in the cold. And, for a truly pre-Prohibition experience, why not try the Jim Beam Rye Manhattan. Made using sweet vermouth, a dash of Angostura Bitters and Jim Beam Rye, it is a modern twist on an old classic and sure to be a hit with cocktail lovers.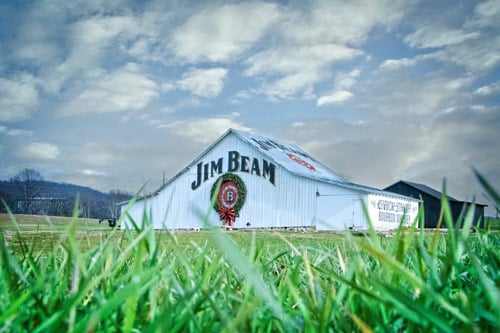 The legendary Jim Beam Distillery
MoM: Do you have any quirky stories, myths or legends about your distillery's history?
MG: Jim Beam wasn't always called Jim Beam. The bourbon, in fact, began life as Old Tub Bourbon in 1795. It was in 1943 that "Old Tub" changed its name to "Jim Beam" in honour of Colonel James B. Beam. After Prohibition, at the age of 70, Jim Beam began building the new distillery by hand with help from brothers Earl and Carl Beam, plus son Jeremiah, and it was up and running in just 120 days. In 1894, Jim Beam took over the family distillery from his father, David M. Beam. He was so protective of his bourbon's yeast strain that he brought a jug of it home with him every weekend. Fearing an accident would take place at the plant, he always had a sample to keep the strain alive. Today, Jim Beam still uses the same yeast strain he started back around Prohibition.
MoM: What trends or developments do you think we'll see in the whisky industry in 2019?
MG: As consumers become more inquisitive, we've found that bartenders too have become more adventurous, exploring more unusual flavour profiles and ingredients. A great example of this is the impact veganism has had on the drink's industry. More and more we are seeing milk and egg alternatives such as Aquafaba (chickpea water) used in cocktails. Ingredients like this can help to give cocktails a beautifully smooth and foamy mouthfeel without impacting on taste. What's more, as interest in the category continues to grow, we have seen its audience diversify to include much younger consumers. In order to maintain their interest, both bartenders and brands should experiment with different types of whisky – smoky, peaty, spicy, sweet – to create new and interesting cocktails.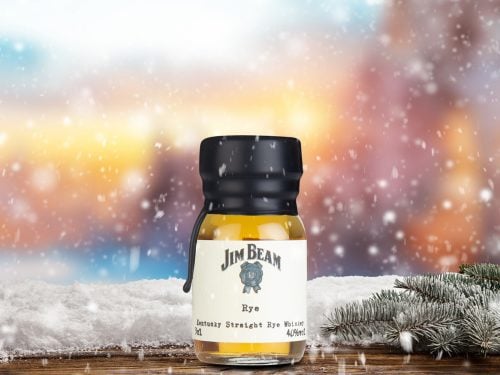 Jim Beam Rye
We offer our sincere thanks to Michael Green for speaking to us. Now it's time to open this dram of Jim Beam Rye and taste what's inside!
Nose: Nutmeg, cloves, freshly-ground black pepper prickle through caramel, butterscotch and some maraschino notes.
Palate: More caramel and vanilla lead, with brown sugar and biscuity grains. A pleasant, fiery warmth then develops.
Finish: Sawdust and spice, with hints of smooth cherry and a slightly citric sweetness.