The final full week of Advent is upon us, and we're kicking things off in lovely, lovely, lovely fashion with a tasty indie dram from the Drinks by the Dram Whisky Advent Calendar…
Following on from yesterday's punchy and peaty treat (the excellent Rock Oyster), you might be in the mood for something equally as delicious but a bit more laid-back. If that's the case, you're in luck, as behind window #17, you'll find a whiskey that is mellow in every sense of the word. In fact, you might go so far as to describe it as lovely (lovely, lovely)…
It's Irish Single Malt #1 13 Year Old bottled by That Boutique-y Whisky Company!
That Boutique-y Whisky Company have had an action-packed 2018. Being an independent whisky bottler, this has of course involved many excellent bottlings (our favourites include the first Boutique-y bottling of Three Ships, a cracking Octomore, and a mysterious Speyside single malt with a doge on the label). On top of this, That Boutique-y Whisky Company celebrated its sixth birthday, got a new sibling in the shape of That Boutique-y Rum Company, and brand ambassador Dave Worthington was crowned Rest of the World Whisky Brand Ambassador of the Year by the Icons of Whisky judges! Speaking of…
We caught up with That Boutique-y Whisky Company's brand ambassador Dave Worthington to find out a little more…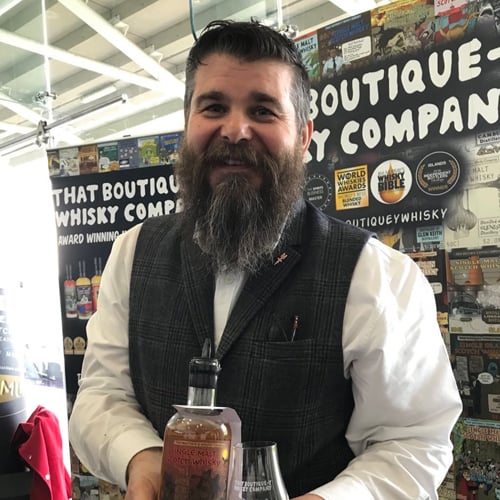 It's Dave Worthington!
Master of Malt: Tell us a bit about the brand? What sets it apart?
Dave Worthington: TBWC are passionate whisky fans, always seeking great whisky from Scotland and around the world.
MoM: What's your favourite bit about working with the brand?
DW: I love people! Sharing my passion for whisky with people gives me great pleasure, especially when you turn somebody else on to whisky. Our vast and continuously changing portfolio means every time I go out to share our whisky, I normally have something that even I haven't tried before.
MoM: What's next for the brand?
DW: More of the same! We've now bottled 72 of the established 95 (2005 and older) distilleries, and we're hoping to tick off a few more of these Scotch Malt whiskies soon. There's some exceptional whisky being made around the world, and we're always looking for new distilleries to work with, as well as bringing new releases from distilleries we've worked with previously.
MoM: What do you love about your whisky in the calendar?
DW: This Irish Single Malt is delightfully fruity, almost tropical, and the label always raises a smile before you've even opened the bottle.
MoM: What will you be drinking this Christmas?
DW: I'll be looking forward to a few drams from our latest batch of Blended Whisky #2. Our 3rd batch is a 22 Year Old and it's my favourite release of the three so far. It's a fabulous fireside whisky, one to sit back and remember what a great year we've had in 2018.
Many thanks to Dave Worthington for taking time to chat! And now, let's get stuck in to this excellent Irish single malt…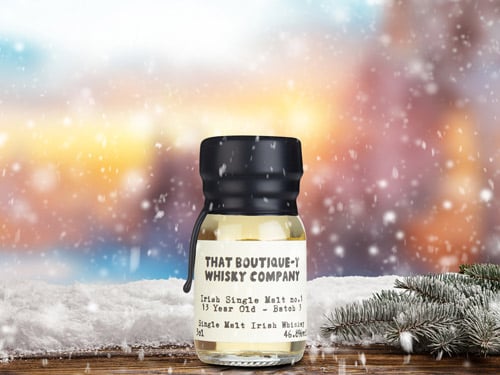 Irish Single Malt #1 13 Year Old (That Boutique-y Whisky Company)
Nose: Seriously fruity. Lots of creamy apricot, raspberry, strawberry, and apple. Floral and grassy, freshly cut hay notes, Shredded Wheat breakfast cereal.
Palate: Apple and apricot again, along with sweet spices: cinnamon, a touch of nutmeg and even some root ginger. Some darker fruits creep in too: plums and figs. Slightly hoppy. Creamy, mouth-filling texture.
Finish: More apricot and lots of wood spices.