The wait is over. You are now allowed to open the 14th door in your Drinks by the Dram's Whisky Advent Calendar! Inside you'll find a whisky from Taiwan, I wonder if you can guess what it is…
Like the Three Wise Men, only much tastier, this whisky comes from the east. Taiwan to be specific. It could only be. . . .
Kavalan, and Kavalan Single Malt Whisky to be specific!
Since it was founded in 2005, Kavalan has won awards left, right and centre including the International Wine & Spirit Competition Worldwide Whisky Trophy in 2017 and the International Spirits Challenge Trophy in 2016 and 2017.
And no wonder because the late, great Jim Swan, distiller and blender extraordinaire, was involved at every stage in Kavalan's development (more on that later). The sub-tropical climate in Taiwan means that the spirit matures four times faster than in Scotland and it loses twice as much to the angels' share. The climate, the fruity new make and the use of sherry and bourbon casks give the whisky its signature style which is rich, sweet and crowd-pleasing.
It's no boutique operation; the distillery produces around five million litres of spirit per year. Kavalan is owned by an enormous Taiwanese conglomerate, King Car, which also makes Taiwan's most popular coffee brand, Mr. Brown (that's a great fact to share with the family at Christmas).
To tell us more, we spoke with Jim Swan's protege, Ian Chang, master blender and distiller at Kavalan.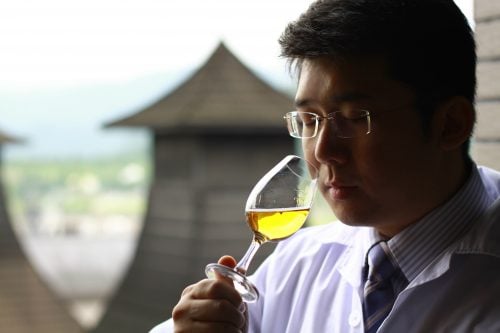 It's Ian Chang!
MoM: Tell us a bit about the Kavalan distillery. What sets you apart?
Ian Chang: Kavalan Distillery in Yilan County has been pioneering the art of single malt whisky in Taiwan since 2005.
Our water source is a major influence on the quality of our whisky. We use the purest naturally-refined water from Snow Mountain and Central Mountain Ranges, which is slightly hard, and especially sweet and mineral-rich as well. This creates optimal conditions for our yeasts to ferment and lends our whisky the Kavalan signature silky smoothness and creamy mouth-feel. It also creates the fruity and floral new make characteristic of Kavalan whose core fruity flavours are green apple, mango, pineapple, and cherry.
We would say our subtropical climate in Yilan hugely impacts maturation. It enables us to develop a rich and complex whisky in just a few years. It's not just the heat of Yilan's summer that causes the accelerated maturation and the smoother, softer finish, but also the cold Siberian winds in winter, which maximise the process of oxidation. Yilan happens to be the first place in Taiwan where the Siberian winds hit, making it the best place on the island to make whisky.
Moreover, we pay attention to every detail of our whisky making. For example, during the mashing process, we precisely control the temperature of the hot water, applied in three rounds, to extract the very sweet wort. This is critical to influencing the flavour of the new make.
In the fermentation process, we use two kinds of yeast in order to convert the sugar into alcohol and carbon dioxide as well as to create the aromatic flavours. In addition, we only use a very narrow cut from the spirit run, removing a greater amount of foreshots and feints to accommodate a complex and rich flavour profile.
MoM: Describe the flavour of Kavalan Single Malt – what casks you have used in its maturation?
IC: We use the world's finest refill casks with the highest proportion being ex-sherries followed by ex-bourbons to achieve the fullest and richest possible flavour. To give our whisky the purest flavour, Kavalan is non-chill filtered and there are no added colourings.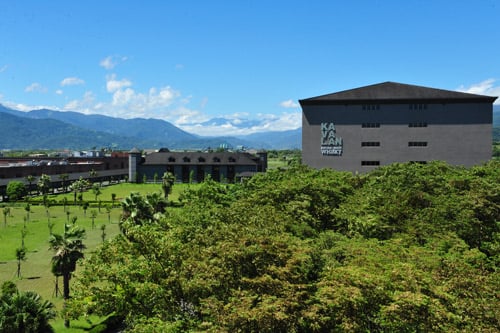 The magnificent Kavalan Distillery
MoM: Tell us a bit about your role at Kavalan.
IC: My role is to ensure these flavours and textures all blend together. I am also in charge of fermentation, distillation, formulation, blending, sensory evaluation, research and development, and quality assurance. Everyday a number of whiskies will be nosed and tasted, and then I will decide which compliments another. I think a master blender is actually like a quality controller, he or she is responsible for maintaining the quality of the spirit in terms of "complexity" and "consistency."
MoM: What's next for Kavalan and the wider King Car company?
IC: We are working on our peaty whisky range, to offer a variety of lightly peaty whisky expressions of less than 30 ppm. In addition, we've been carrying out some experiments that further improve the quality of our whiskies matured in Taiwan's subtropical climate. We cannot reveal more other than to say this research was something Dr Jim Swan and the R&D team began together and will form a major part of his legacy within Kavalan. This year we'll also complete the global roll out of Kavalan Distillery Select, a 40% ABV single malt at around £45 a bottle, at a price that could give more people a chance to try Kavalan. If we go by the markets it's already launched in, this whisky could become Kavalan's best-selling product.
Thank you for taking the time to talk to us, Ian. Now to try the delectable dram!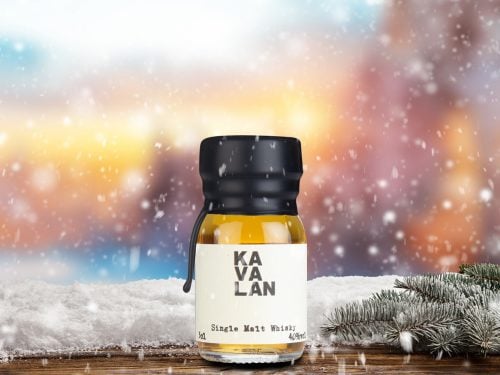 Kavalan Single Malt Whisky
Tasting notes for Kavalan Single Malt Whisky:
Nose: Delicate nose, notes of tropical fruit, floral with a little waft of vanilla.
Palate: Floral, fragrant and spicy. Gentle sweet notes of toffee and vanilla make it wonderfully easy to drink.
Finish: Sweet and malty with a delicate spiciness.