Thank heavens it's the end of the week. It's time to dust off your dancing shoes and head to your local discotheque to strut your funky stuff, perhaps whilst wearing novelty reindeer antlers. It's up to you. But first, the Nightcap!
A great way to make those winter days go a bit quicker is with a Drinks by the Dram Whisky Advent Calendar. We've been counting down the days and this week we had a surfeit of K sounds in our whiskies: Kilchoman, Kirkwall Bay, Kavalan, Cotswold, Cardhu and Nikka. Plus Glenrothes standing aloof refusing to have anything to do with all those noisy Cs and Ks. For the Super Wish on Monday, #WhiskySanta was giving away a bottle of The Macallan M worth £3,300. And there was an opportunity to win £250 to spend at Master of Malt by finding #WhiskySanta in a Where's Wally-style game. Head on over to our YouTube page to join in!
And that's not all. Round 3 of the Master of Malt Auctions is under way; Annie talked to the people behind the Port of Leith distillery, Edinburgh's first single malt distillery in more than 100 years; Henry wrote a bit about his favourite cocktail, the Negroni; and picked the best booze books of the year. Some excellent stocking fillers there.
Now on with the news!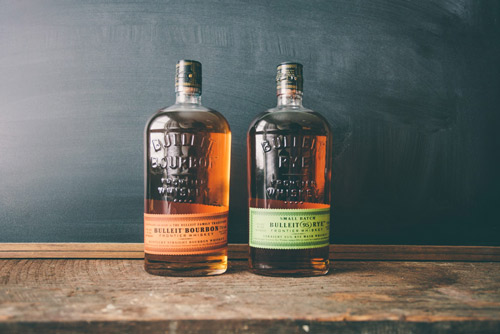 More Bulleit whisky on the way
Diageo to build $130 million distillery in Kentucky
Massive American distilling news just in. Diageo has just announced that it will be building a $130 million distillery in Lebanon, Kentucky. The plant will produce various Diageo bourbon and American whiskey brands. Kentucky Governor Matt Bevin said: "We are proud to further our relationship with Diageo, and of the job growth associated with these announcements. On behalf of the state, our thanks go out to Diageo for its commitment to the commonwealth." American whiskey is booming at the moment. One of Diageo's brands, Bulleit, is enjoying double-digit growth. The new distillery will be working alongside Diageo's other Kentucky distilleries, Bulleit Distilling Co. in Shelbyville which opened in 2017, and the Stitzel-Weller distillery in Louisville, home to the Bulleit Frontier Whiskey Experience. Doesn't look like we'll be running out of Bulleit any time soon.
The astonishing Macallan 52 Year Old
Macallan launches 52 Year Old whisky
When we received an invite to meet new Macallan brand ambassador David Sinclair, we thought we were going to be told off for taking the mickey out of the baffling new Make the Call marketing campaign (see Nightcap from 23 November). But instead Sinclair gave us a taste of an exclusive new expression, The Macallan 52 Years Old. Hurrah! It comes from a single sherry-seasoned European oak cask and only 250 bottles will be available worldwide. The very special whisky is presented in a classic Macallan bottle rather than a decanter but the solid oak box is pretty special, and each bottle costs £38,000. No, there isn't an extra zero in there. Thirty-eight thousand pounds! So how did it taste? Well pretty bloody special, to be honest. It has the freshness and fruit of a much younger whisky but with incredible rancio notes that only come from great age. The flavour lingered for hours. It was an incredible privilege to try such a drop, but we're still not convinced by that advert.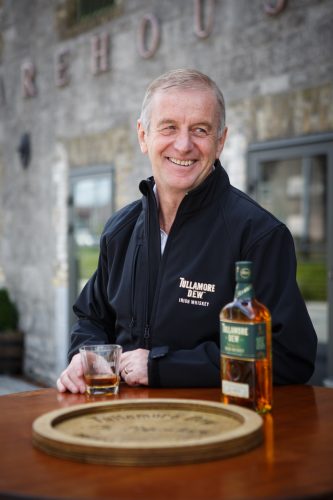 Congratulations, John!
William Grant & Sons announces John Quinn as new Vice Chair of the Irish Whiskey Association
William Grant & Sons got on the emails this week to let us know Tullamore D.E.W global brand ambassador John Quinn has been elected Irish Whiskey Association Vice Chair! From January, he'll be helping the Association and its members share expertise and cooperate in building the category. And make sure it all tastes great, obviously. John began working for Tullamore D.E.W. in 1974 and has been with the brand ever since. "I'm delighted to represent William Grant & Sons and Tullamore D.E.W. in this role, but also to work hard on behalf of the Irish whiskey category," Quinn said. "The role takes on more significance with added responsibility as we witness the huge growth in the Irish whiskey business globally. But with this growth comes a responsibility to ensure the long-term health of the category is protected from short-term expediency by players who may not necessarily take the long-term view." Very wise! Chin Ru Foo, William Grant's associate brand director, Irish American whiskey and trail blazer brands, added: "John can tell you the story behind every label and shed light on every note you taste. He's an open book – his knowledge is your knowledge; his wisdom yours for the taking. The Irish whiskey category will certainly benefit from John playing an active role in the future steering of the industry." Congrats John!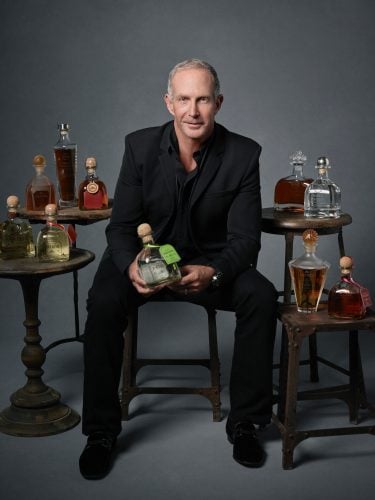 Thanks for everything, Ed!
Patrón president and chief executive officer Ed Brown to retire
More people news, and Ed Brown, Patrón Spirits International's president and CEO, has said he will retire on 31 December 2018. He has spent nearly 20 years in the role, and piloted the brand to become the world's largest ultra-premium Tequila, with case sales growing from 118,000 in 2001 to more than two million! Brown says that despite stepping down, he still plans to provide advice and assistance to Patrón, which was acquired by Bacardi Limited in April 2018. "It is only fitting that we should describe the career of the man who created the enduring tagline, 'Simply Perfect' as nothing short of that," said Barry Kabalkin, vice chairman of Bacardi Limited and a Patrón board member since 2008, "On behalf of Bacardi and our newest colleagues from Patrón, I would like to offer Ed our heartfelt thanks for building one of the best brands in the spirits world and beyond. We wish Ed all the best on his well-deserved retirement." Goodbye Ed, and thanks for all the Tequila!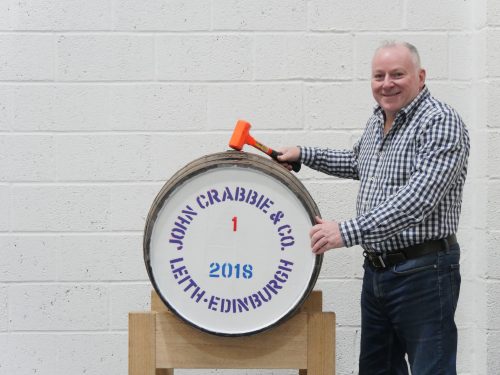 John Crabbie & Co. cask #1, ready for a good slumber!
Single malt whisky production returns to Edinburgh after 100 years
Halewood Wines & Spirits has won the race to produce the first whisky in Edinburgh for almost 100 years! This week spirit, destined to become single malt whisky, flowed from the stills at the company's new Crabbie distillery. There were once many whisky distilleries in the capital but the last, Sciennes, closed in 1925. The Crabbie whisky business itself was established in 1801 and was relaunched in January 2018. It has since released a range of award-winning independent bottlings from distilleries around Scotland. "The 'Chain Pier' distillery in Granton is the first in a series of investments in Scotland," said Halewood CEO Stewart Hainsworth. "Added to this, construction is currently underway of a larger whisky distillery in Leith, Edinburgh. This will be the new home of John Crabbie & Co. These two distilleries are part of our £50m investment programme in artisanal spirits in the UK." David Brown, managing director of John Crabbie & Co, added: "Laying down our first cask of spirit is a significant milestone for the rejuvenated business and signals the return of single malt whisky production to Edinburgh after an absence of nearly a century". Great to see Edinburgh back on the malt map. And expect its prominence to grow – don't forget Port of Leith Distillery is on the scene now, too!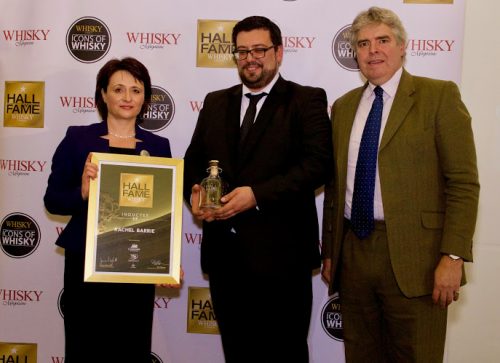 Congratulations, Rachel!
Rachel Barrie inducted into Whisky Hall of Fame
Very exciting news came through the MoM HQ fax machine this week (yes, we're still using fax machines. They are more secure, can't be too careful these days). Rachel Barrie has been inducted into Whisky Magazine's Hall of Fame! Barrie, master blender at GlenDronach, BenRiach and Glenglassaugh, joins such legends as David Stewart (not him from the Eurythmics), Michael Jackson (not the pop star), and Jim Beveridge. Christopher Coates from Whisky Magazine, said: "This was a particularly special occasion as Rachel is our first female inductee from the Scotch whisky industry and only the 55th individual to be elevated to the Hall of Fame in the twenty-year history of our publication." We imagine that Barrie celebrated with something suitably fancy like the just-released The GlenDronach Grandeur Batch 10, a 27 year old whisky limited to 2,293 bottles. See what we did there? Two news stories in one.
Glasgow revealed as 2019 location for World's Biggest Bartending Comp final
The Diageo Reserve World Class Bartender of the Year will be crowned in Glasgow, Scotland in September 2019, the cocktail competition has confirmed. The very brightest and best of the drinks community will descend on the city famous for its culture, booming nightlife and bar scene. The city has previously played host to internationally-revered events, including the 2014 Commonwealth Games and MTV EMAs. It's a fitting setting, as Glasgow is where the story of many Diageo brands began. Those who compete in Glasgow will be the best of 10,000 bartenders from every corner of the world who are expected to take part in the competition. In October 2018 it was Australia's Orlando Marzo who clinched the 2018 World Class Bartender of the Year trophy in Berlin. Making the announcement, Emily Wheldon, global head of world class, said: "We are hugely proud to be bringing the World Class Bartender of the Year Global Finals to Scotland, the home of so many of Diageo's much-loved spirits. Glasgow will be an exciting hub for festivities, and the perfect backdrop for the world's best bartenders to show off their incredible talent."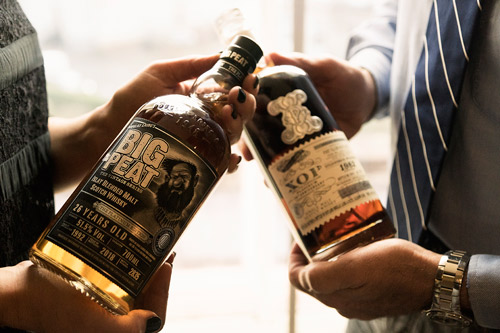 Yet more absurdly exciting whiskies to celebrate Douglas Laing's 70th anniversary!
Douglas Laing rounds off 70th anniversary fiesta with new duo
Independent whisky bottler Douglas Laing has had a platinum year: not only has the company marked its 70th anniversary, released more details about its distillery build, and hosted MoM (SURELY a highlight in the calendar year?!), but there's been a ginormous haul of celebratory bottlings too! And the final two do not disappoint. First up is the second release of Big Peat's aged limited edition trilogy: the Platinum Edition Aged 26 Years Old. Bottled at 51.5% ABV (cask strength, naturally), the expression is bursting with all kinds of barbequed meat and smoke notes – it lives up to its name. Then there's the XOP Platinum Port Ellen 1982 Vintage Single Cask. Wowzers. It's got tar, salt, coal dust and a coffee note in there, AND there's just 273 bottles in existence. Special stuff. "It's been a genuinely landmark, momentous and unforgettable year at Douglas Laing," said Cara Laing, director of whisky, "from the launch of our Old Particular "double pack" in February, collectively delivering 70 years of Whisky excellence with a 35 Years Old Single Cask Single Malt and a 35 Years Old Grain, to our global distributor conference followed by a very memorable gala dinner in August, the release of our XOP Platinum Single Cask series and now Big Peat's Platinum bottling, we've truly honoured this significant milestone in our family history in more ways than my grandfather could ever have imagined. Here's to the next 70 years of whisky adventures!"
Pantone's Colour of the Year 2019 – in cocktail form
William Grant turns Pantone's Colour of the Year into cocktails
Every year, the official colour people at Pantone choose a 'colour of the year' – and this week it was decreed that the shade of 2019 is… Living Coral! According to Pantone, it is an "animating and life-affirming coral hue with a golden undertone that energizes and enlivens with a softer edge". We were fairly nonplussed until the folks at William Grant got in touch to say they'd already concocted a whole range of Living Coral-coloured serves! Quite how they managed the precision is beyond us. But if you fancy getting ahead of the times and sipping the colour of 2019 in the dying weeks of 2018, we can help with that. We love the sound of the Celebración Punch, created by Milagro's National Brand Ambassador, Jaime Salas:
Serves 4
Ingredients:
6 parts Milagro silver
12 parts guava nectar (pink)
2 parts ginger simple syrup
3 parts lime juice
Glassware:
Punch bowl
Rocks glasses
Combine all ingredients in a punch bowl and mix. Top with Club Soda (Top Chico) or Prosecco. Garnish with lime wheels and white edible flowers to resemble guava flowers
A distillery that looks good enough to eat…
And finally… Estonian couple build the Ardbeg distillery out of gingerbread!
A distillery you can eat, isn't that every whisky fan's dream? Well, it certainly is for an Estonian couple, Priit Rebane and Kadri Liblik, who have built a replica of Ardbeg out of gingerbread. Rebane is a proper whisky nut; he has visited Scotland the last three years in a row taking in 17 distilleries. But Ardbeg is his favourite. "Ardbeg is and always will be close to the heart for me," he told us. According to Rebane: "The pagodas were quite difficult to get them just right. Creating the curve for them was not the easiest part, but finally we mastered it!" All in all, the distillery took 10 hours to build. I hope they celebrated with a glass of Ardbeg Kildalton, from the picture. Though Rebane told me that Ardbeg isn't his wife's favourite, she prefers Aberlour 12 Year Old. Perhaps they can build that distillery next year.
Well that's it. Time to put on those reindeer antlers and hit the dance floor. But before we go, we just want to say congratulations to this week's #WhiskySanta Super Wish winner David Evans. You win a bottle of The Macallan M, you lucky man, you.