Oh hi there! You've made it to Friday. Well done. Pull up a comfy chair, pour a dram, and give yourself a pat on the back. But before you go into full weekend mode, we have one final thing for you. Yep, The Nightcap is here with the week's booziest developments in one super handy digestif!
In case you hadn't noticed, we've has LOADS on this week. MoM Towers has been buzzing. It all kicked off on Monday with #WhiskySanta's Craigellachie 31 Year Old Super Wish! Then we received news that Brora's stills have been whisked off for refurbishment ahead of the closed distillery's reawakening. We kicked off our mega Ardbeg competition on Tuesday (want to visit the distillery? Check out the blog post and you could be away on a jet plane/train/ferry/alternative mode of transport and be Islay-bound!)
That's not all. Henry got the lowdown on Dandelyan's final cocktail menu (sob!), Annie caught up with New York Distilling Company's Allen Katz, and we introduced our delicious Black Friday Deals. Oh, and we launched a tiny little thing called Master of Malt Auctions… Phew.
Enough for now, though. Here are the other need-to-know drinks stories from the week that was!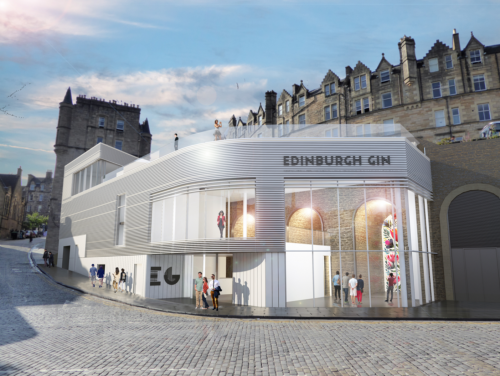 This is what the Edinburgh Gin distillery will hopefully look like
Edinburgh Gin plans shiny new distillery!
Super exciting distillery news to kick off Nightcap proceedings with this week. Ian Macleod Distillers, the company that acquired Edinburgh Gin back in 2016, is planning a "multi-million-pound" build to give the brand a shiny new home and boost the amount of gin it can make by a whopping 200%! The proposed site for all the gin-making is on East Market Street in Edinburgh's Old Town, and the plan is to convert it into a three-storey distillery and visitor centre. Along with a rooftop terrace and tasting room, there will be floor-to-ceiling glass windows, showing the stills off to all and sundry out on the street. The plans still require approval from the local authority, but we're SUPER excited by the prospect of another drinks destination in Edinburgh!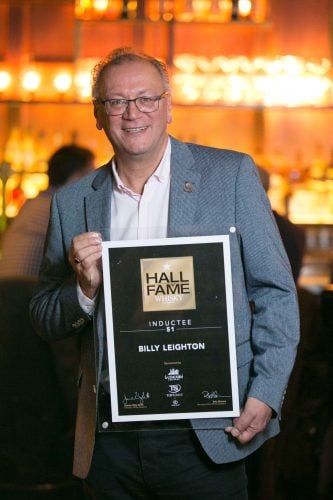 Brillaint Billy and his deserved award
Huge congrats to Whisky Magazine Hall of Fame inductee, Billy Leighton!
Hurrah and huzzah! Billy Leighton, master blender at Midleton Distillery (AKA whiskey genius), has just been inducted into the Whisky Magazine Hall of Fame! The honour recognises his 42 years of work in the industry, and the incredible contribution he's made to the growth of Irish whiskey. He's been a master blender for almost 10 years and looks after all the mature stocks at the County Cork distillery – and he reckons one of his greatest achievements was the revival of the Redbreast brand. He is not wrong. "I'm deeply honoured to join the pantheon of whiskey greats in the Whisky Magazine Hall of Fame, not least an old mentor of mine, Barry Crockett," Leighton said. "It has been a pleasure to watch Irish whiskey regain its rightful place amongst the world's leading spirits and I hope I've been able to make a contribution to this. Finally, I must thank the rest of the production team, past and present, whose dedication to craft and excellence has supported in the creation of some of the finest Irish whiskeys of all time, it's been a pleasure and I look forward to what we can conjure up next." Rob Allanson, Whisky Magazine editor, added: "Billy Leighton is an Irish whiskey legend. His contribution to the revival of single pot still whiskey has re-shaped the Irish whiskey landscape and whiskey fans around the world owe him a debt of gratitude." We do indeed. Three cheers for Billy!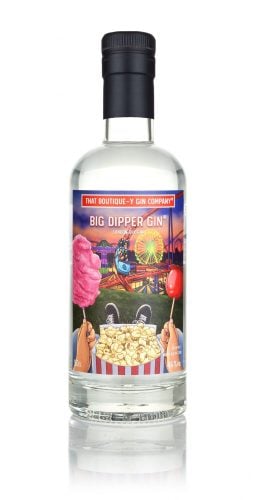 The sweet smell of success – and gin!
Boutique-y Gin launches perfumed gins
That Boutique-y Gin Company has launched a range of gins in partnership with perfume expert Odette Toilette (real name Lizzie Ostrom.) Making gin is a lot like making perfume. They're both about capturing natural flavours such as fruit, herbs, spices and flowers and blending them into a consistent and harmonious whole. So why there haven't been more perfume and drink collaborations is beyond me. Launched this week, this collaboration is called Olfactor-y and comes in four guises: Big Dipper Gin, "sweet cocoa, earthy cardamom and smoky botanicals capture the nostalgic smell of the funfair''; Fresh Rain Gin, "inspired by the science of petrichor (the smell of the first rainfall after a hot, dry period), combining beetroot and edible clay"; Beware of the Woods, with "wood-y botanicals such as Icelandic moss, nutmeg and cubeb"; and finally Dead King Gin made with "botanicals commonly associated with the Egyptian embalming process – rosemary, honey, moss and myrrh". These are gins so fragrant that they make the phrase "darling, you stink of gin" sound romantic. Want them in your gin haul? Olfactor-y is due to land at MoM Towers at the end of the year.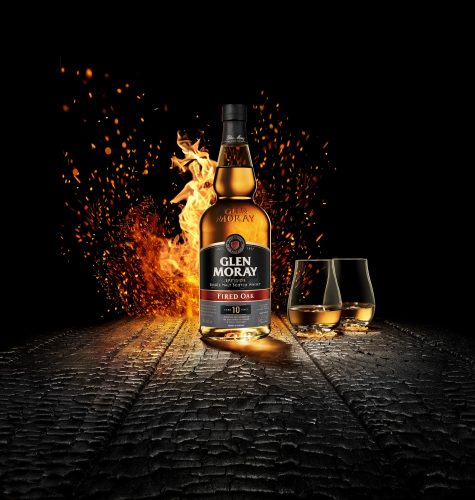 The Glen Moray Fired Oak Single Malt Whisky
Glen Moray launches 10 year old Fired Oak Cask
Speyside distillery Glen Moray has launched a new single malt Scotch whisky with an American twist. Master distiller Graham Coull was inspired to create an intensely sweet and smooth expression due to the success and popularity of American bourbon. Glen Moray Fired Oak Single Malt Whisky was matured for 10 years in ex-bourbon casks and finished in heavily charred American oak to mirror the production of bourbon, which by law must be aged in charred virgin oak. Coull used a 2008 vintage Glen Moray Elgin Classic as the basis of the new spirit. He also worked closely with the distillery's cooperage to implement a precise firing regime to achieve exactly the right level of char. Glen Moray Fired Oak Single Malt Whisky is said to possess notes of vanilla sweetness, smokiness from the oak, butter toffee, dark chocolate and blackcurrant jam. "Fired Oak is all about enhancing flavours rather than adding different character," said Coull. "The virgin oak intensifies the existing vanilla and spice flavours which have come from the ex-bourbon barrels. Two elements are key – quality of cask and timing, both are crucial to obtaining just the right flavour infusion. To create a balance I have selected virgin oak casks with differing lengths of finish to ensure that the final whisky is consistent." Sounds delish to us!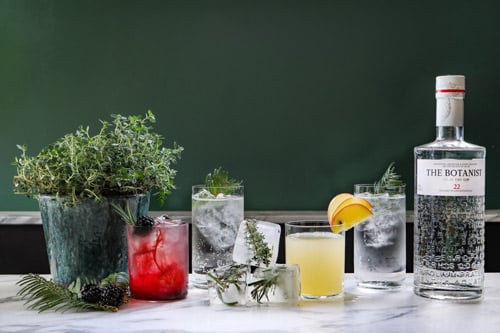 Delicious gin and sensational serves await
The Botanist gin brings a taste of Islay to London
Foraging is all the rage these days but it's not so easy to do in a big dirty city. Happily, The Botanist Gin has brought the wilds of Islay to London with a pop-up which runs from 29-30 November in Finsbury Avenue Square. It's called the The Botanist Frozen Foraged Garden and features wild herbs and other botanicals from the Scottish islands. There will even be a wall of ice from which you can chip your own cubes. "But what am I going to put my ice cube in?" I hear you ask. Don't fret, you can have a Botanist Gin and Tonic or more elaborate drinks like the Grapefruit Highball and the Botanist Brambles, naturally all made with ingredients found on Islay. Well, not only from ingredients grown on Islay, but you get the drift.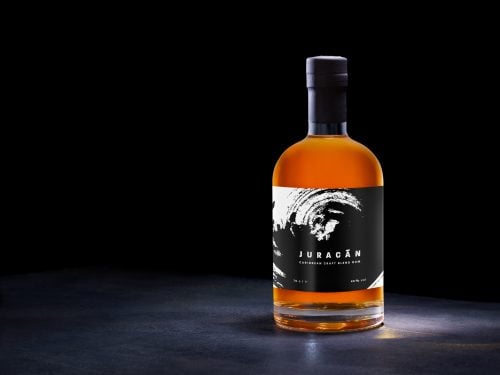 A great rum for a wonderful cause
A new rum helps hurricane victims
A very special rum has been launched that not only promises to taste good, but to actually make the world a better place, too. It's called Juracán Rum Blend #001, it's a blend of five premium rums from around the Caribbean, distilled in both column and pot stills, and aged in oak. Best of all, £8.50 of each bottle goes towards helping those affected by natural disasters around the world. It's produced by the Hurricane Rum Company, an organisation that was founded following the devastating 2017 hurricane season. This first release costs £56 and only 3,000 bottles have been made so you'll have to hurry if you want one. The rum is described as having "a rich depth and notes of smokey caramel, light ginger and vanilla spice". And remember that each sip you take actually helps people so you can feel virtuous as you pour yourself another glass. Everybody wins.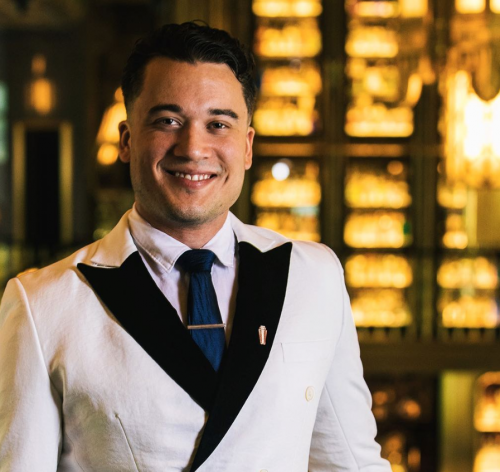 Jesse Vida is all smiles – and for good reason!
Gin destination Atlas hires Jesse Vida as head bartender
HUGE bartending news from Singapore this week! Jesse Vida, off of actual mega award-winners Dead Rabbit and BlackTail, is heading east to Atlas, Singapore's much-lauded gin bar, as head bartender. Vida has worked in and managed bars in New York and San Francisco for more than 10 years, perhaps most notably seeing BlackTail named Best New American Cocktail Bar at Tales of the Cocktail's Spirited Awards in 2017. "A passionate mentor and inspired leader, Atlas looks forward to welcoming Jesse to set a strong direction behind the bar and across the organisation," Atlas said in a statement. "His drive for excellence and passion for providing an outstanding guest experience further elevates what Atlas is known and loved for." Cheers to that!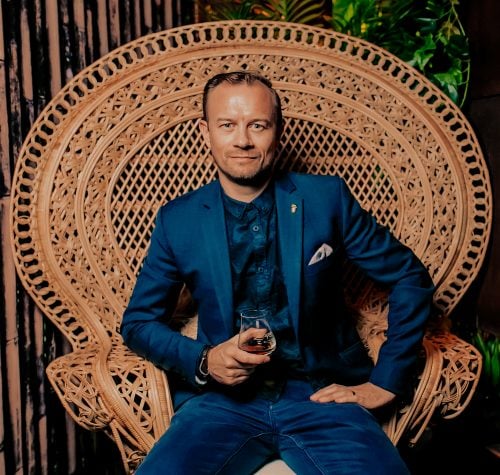 Jason Clark, drinking Talisker in a better shirt than you own
Talisker appoints Jason Clark as brand ambassador
More people news now, and Diageo Reserve has named bar veteran Jason Clark as its shiny new Talisker brand ambassador! Clark, who hails from New Zealand, has more than 20 years in the on-trade under his belt and has represented his country in various international cocktail finals, including Diageo Reserve World Class, where he finished fourth overall in 2013. For the last three years, he's been based out of Dubai working as a spirits ambassador for all manner of drinks companies, including Diageo Reserve, William Grant, Rémy Cointreau and Beam Suntory. In his new role, Clark will help raise awareness for Talisker's single malts, host events and tastings, including the Race to Skye cocktail competition, and be a spokesperson for the brand. He'll also support the 2019 World Class programme. "I'm really excited about my appointment as brand ambassador for Talisker," he said. "I've always been a fan and it's a huge privilege for me to be at the forefront of such an established brand. With activations such as the Race to Skye for me to become fully immersed in, I can't wait to begin my journey in the role." Congrats from all at MoM Towers!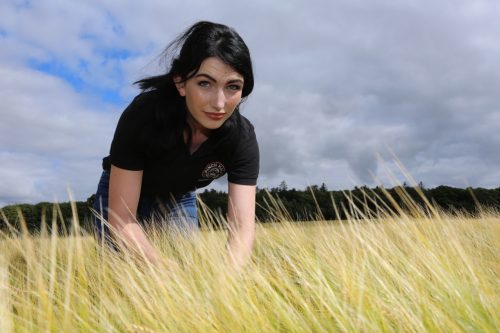 O'Reilly gets stuck into some barley
Waterford Distillery appoints terroir agronomist
They say things come in threes: this week's new jobs news certainly does! Wrapping up the recruitment update, Grace O'Reilly is about to join Irish single malt whisky producer Waterford Distillery as an agronomist in charge of terroir (a French word used to describe the interaction between soil, microclimate and place). O'Reilly will help the brand better understand its own barley and figure out how all the variables influence the different flavours found in the terroir-derived distillates. She will also oversee the distillery's relationship with its barley growers. This probably doesn't sound like the classic distillery appointments you're used to hearing about, but given that Waterford has a self-confessed obsession with barley and is constantly trying to pioneer exploration into whisky terroir, it's hardly surprising to see the team recruit a specialist in this field (ha!). "Terroir, provenance and traceability may be trendy buzzwords frequently bandied about by marketing men, but to us they actually mean something," said Waterford CEO Mark Reynier. "Heretical as it may seem, we can show that a whisky's flavour can indeed be influenced by where its barley is grown. While large distillers understandably are reluctant to accept this inconvenience, we find it both compelling and intriguing. Grace's appointment is a kind of 'putting money where our mouth is' thing." O'Reilly added: "From the beginning, I really enjoyed collaborating with the team at Waterford Distillery and I'm thrilled to be joining at this exciting stage. Waterford Distillery are leaders in a what I hope becomes a barley movement."

More like, Wine-minster, am I right guys? Guys?
UK Government quaffs 20% more wine in a year
Forget Brexit debates and actually sorting stuff out: the 2017-18 Government Hospitality Wine Cellar Annual Report is in and we reckon we know exactly what those lawmaking types have been up to. According to the foreign office report, government departments worked their way through 3,935 bottles of booze over the 12-month period – up 20% year-on-year! Perhaps even more shockingly, just 31 of those bottles were spirits! They were at least supporting the local economy: 57% of all the wines were English or Welsh. The report says the reason for the volume increase was because the government hosted more large-scale jollies that in previous years. Nearly 4,000 bottles of booze is one way to schmooze…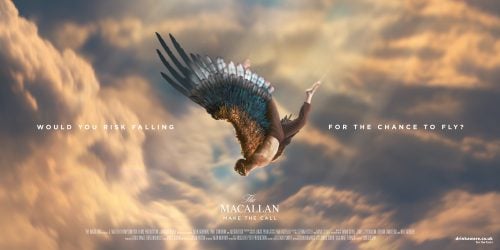 Would you risk falling… for this advert
And finally… The Macallan releases baffling advert
Is it a bird? Is it a plane? No, it's superMacallanman. Whisky lovers around the world will be scratching their heads when they see Macallan's first global advertising campaign which has just been unveiled. There is a short film which features a man jumping off a cliff who then sprouts feathers, turns into a sort of Icarus-esque manbird, and flies off into the sun. As a metaphor for corporate hubris, it's unbeatable, but as an advert for whisky, it's more than a little baffling. The slogan is no help either: 'Make the Call'. What does that mean? The campaign was dreamed up by the boffins at J Walter Thompson London and is part of a long-term campaign for the brand. Lucas Peon from J Walter Thompson said: "To get the attention of people who wouldn't necessarily drink single malt, you have to be ready to do something more provocative yet authentic." That's certainly one way to look at it. The other is to think of when Homer Simpson commissioned an arty advert for his Mr Plow snow-clearing business. Look it up on YouTube, it makes more sense than the new Macallan ad.
And we round off this week's Nightcap by sending our huge congratulations to Femke Van Damme, the lucky person who's good behaviour obviously impressed #WhiskySanta this year. That's why #WhiskySanta did what only #WhiskySanta can do by granting her this week's Super Wish! As such, a bottle of Craigellachie 31 Year Old worth £1,500 is now on its merry way to her. Enjoy! And for the rest of you, don't forget to keep your eyes peeled on Monday for #WhiskySanta's next Super Wish…