Get those fingers of yours crossed, for #WhiskySanta has yet another spectacular Super Wish lined up. This week, he's giving away a bottle of Craigellachie 31 Year Old worth £1,500!
If you've been keeping track of my stupendous Super Wishes, you'll have seen me give away an Old & Rare Whisky Advent Calendar and an awesome 1967 secret distillery indie bottling from Douglas Laing. Both wonderful things, we can agree. How am I going to follow this? There are two roads to choose – I could keep upping the stakes and give away something even more amazing, or I could go full-on disappointment and give away four slightly tatty boxes of animal-shaped ice cream wafers. As much as I love those crunchy little devils, I reckon I should keep on impressing you all with my next Super Wish prize – it's a bottle of Craigellachie 31 Year Old worth £1,500!
That's correct, chums. Along with my continued efforts to give away over £250,000-worth of tip-top booze-based gifts to Master of Malt customers and fans, this week I'm giving you a chance to get your hands on a gloriously well-aged single malt from Craigellachie. For a long while, you couldn't get your hands on a distillery bottling of Craigellachie's whisky. Heck, if you stretch your mind back to the pre-1890 days, there wasn't even a Craigellachie to make its whisky! Those were some dark days. (Wait, am I also immortal? I kind of just assumed that I'm immortal, considering all the historical things I've seen…) However, Craigellachie is back in the game, and I've got a 31 year old bottling to give away.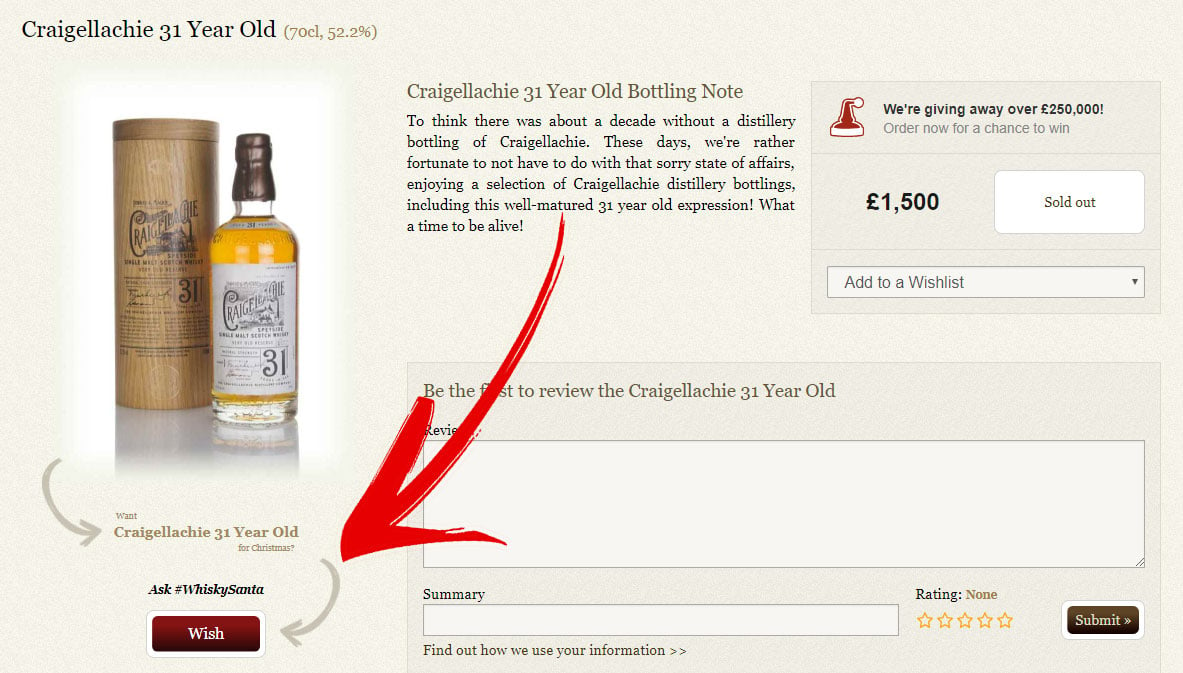 Get your wishes in on Twitter, Facebook or Instagram (or even G+) now!
How could you get your hands on this bottle? Well, whack out your preferred internet-accessing gadget and head over to the Craigellachie 31 Year Old page on Master of Malt. Give that wonderful 'Wish' button a click to share your wish on Twitter or Facebook using the #WhiskySanta hashtag. If you prefer, you can do this on Instagram too by taking a screenshot of Master of Malt's Story or one of their posts (you can also wish on G+ if you're so inclined). You have until the end of Thursday to get your wishes in, so hop to it!
Update: Congratulations to @FemkeVD1, whose wish for a bottle of Craigellachie 31 Year Old was granted!
#WhiskySanta