The legendary Brora Distillery moves a step closer to reopening as the original copper pot stills have just been removed for refurbishment.
Whisky lovers know that the shape of the still is a crucial factor in creating the unique flavour of their favourite drams so it is a relief that the old Brora stills have been pronounced in sound condition. The pair were removed from the closed distillery and have been taken 200 miles to Diageo Abercrombie coppersmiths in Alloa where they were checked over using ultrasound. The careful restoration process can now begin.
Overseeing the removal was Jim McEwan who said: "Abercrombie coppersmiths last worked on these very same stills in the early 1980s before the distillery closed its doors, so it's a great privilege for us to work on them now and to get them ready to produce spirit again. They are beautiful stills and they are actually in really good condition, but after 35 years of rest they do need a bit of loving care to get them ready to distill again."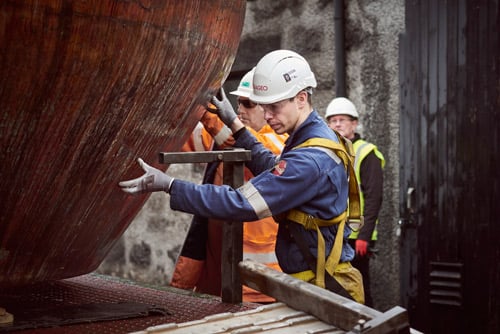 Careful, now
The distillery at Brora has an illustrious if slightly confusing history. It was originally known as Clynelish. Located about 60 miles north of Inverness on the north east coast of Scotland, it began distilling in 1819. In the late 1960s an entirely new distillery was built on the site, which is now called Clynelish. For a time the old distillery, now renamed Brora, continued making small quantities of highly-peated whiskies for blending. But sadly it ceased production entirely in 1983 as demand for Scotch, and in particular peated whiskies, was in decline. Since then Brora, along with Port Ellen on Islay which was closed in the same year, has become highly-prized. Diageo bottles a little most years (though not this year) under its Special Releases range with prices always well north of £1,000 a bottle.
In October last year, Diageo announced that it was reopening both Brora and Port Ellen at the cost of £35 million. There's still plenty of work to do including dismantling and rebuilding the original Brora stillhouse from 1819 stone by stone. This will preserve the historical look but make sure the building is structurally sound and conforms to modern distillation requirements.
Stewart Bowman, Brora Distillery project implementation manager, said: "This is another important milestone in our journey to bring Brora Distillery back to life. Work is now well underway to meticulously restore the distillery buildings back to their former glory, and it is quite an emotional moment to see the stills beginning their journey back to full time spirit production."
Production is scheduled to begin again by 2020 though finished whisky won't be ready for a long time. Expect demand and prices to be high.