As Brooklyn-based New York Distilling Company approaches its seven-year anniversary, distillery co-owner and industry legend Allen Katz delves into rye heritage, historic mashbills, and creating "a new American whiskey that tastes of more than just wood".
"When I was 17, I started going to a particular hotel bar in Maryland with my grandmother; a magnificently social person," recalls Katz. "We would have Manhattans made with the white label of Pikesville Rye 80 Proof, one of the juniors of Rittenhouse. I have always been fascinated with rye. It's resolutely part of my personal heritage."
Towards the end of his illustrious and storied bartending career, Katz witnessed "an explosion of rye" in New York. The gears started turning. "We would kick the proverbial keg of rye whiskey," he explains. "We would run out of rye three or four times a year. That was the signal to me: if I ever have a distillery, I'm going to look into making rye whiskey.
"If you go back to the original recipes of Manhattans and Old Fashioneds and Sazeracs post-Cognac and Whiskey Sours, they're made with rye. And so, as we ran out of stock in these burgeoning cocktail bars, that was the lightbulb over my head."
He founded New York Distilling Company in 2011 with Tom Potter, co-founder of the Brooklyn Brewery, with a view to producing all-American spirits with cocktails in mind. They began producing what would become Mister Katz's Rock & Rye and Ragtime Rye, as well as three gins: Dorothy Parker, Perry's Tot, and Chief Gowanus.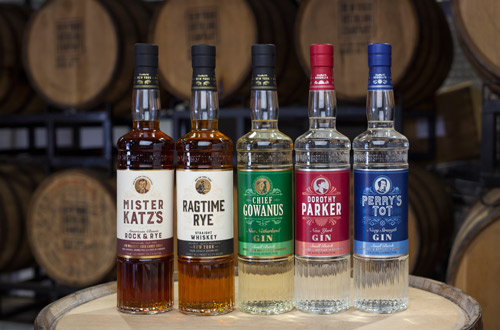 The gang's all here
"As a young bartender, all of the ryes we used were 51% rye," recalls Katz. "Rittenhouse, Wild Turkey, all of the Jim Beam ryes. However, the first commercial rye whiskey distillery, [which was] founded and operated by George Washington, did not have mashbills of 51% rye. They were closer to 65, 70%."
The team wanted to produce a spirit that had a sense of this American rye whiskey heritage, and settled on a mashbill comprising 72% rye, 16% corn, and 12% malted barley. Katz wanted "a straight American rye whiskey, on an American still, big American flag in the rafters," he says. "I wanted a two year old straight rye whiskey, because there just aren't that many [of them]."
A grand plan indeed. But in business, as in life, things rarely turn out how you expect them to. Two years came and went, time for Katz to taste the fruits of his labour: what would eventually become Ragtime Rye.
"It wasn't bad, very honestly, but it just wasn't as good as I wanted it to be," he continues. "The still, by the way, is actually from Germany. It's fantastic, I love it. You make decisions along the way as you learn and grow."
By year three, Ragtime Rye was ready to rock. Katz was happy with how the flavours developed, and, by his own admission, he needed to start recouping some money. "It's a business after all," he says.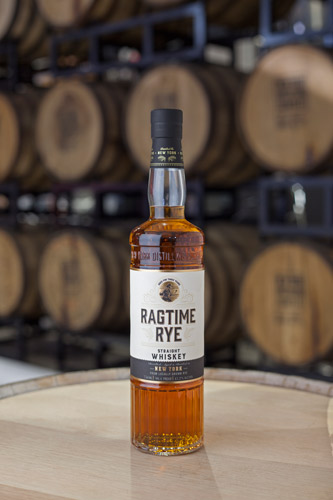 Ragtime Rye Whiskey – available on masterofmalt.com
Today, the recipe is a blend of three, four, and five year old whiskeys from approximately 13 to 15 barrels pulled from different warehouse spaces. Though the warehouse stands only one and a half stories high (around eight to 10 barrels), there are huge differences in flavour.
"There's a drastic difference from the barrel at the top compared to the barrel at the bottom," Katz says. "From the barrel against the wall that has the sun beating down on it all day, to the barrel in the middle of the warehouse that maybe doesn't getting as much airflow or light. That's the fun for us, blending single barrel whiskeys together to achieve an interesting finished product."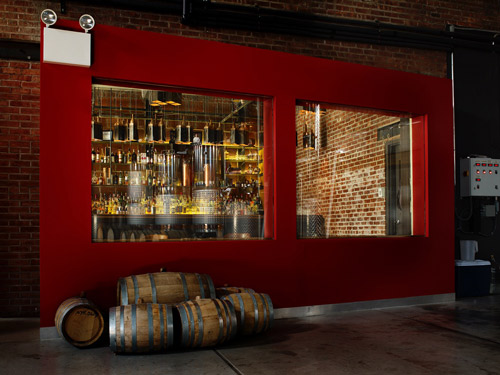 A distillery with a view – you can see NYDC's Shanty Bar right where the whiskey is distilled
When they're blending the barrels, the team has three objectives. A high note (both aromatic and flavour profile) – "a little sweet on the nose, maybe a little honey, the brightness of peach skin", says Katz – a middle note, the "the body of the whiskey, racy rye", and the base, which has "a little more dark fruit or stone fruit".
"We've gone from filling 26 barrels in our first year to 68 barrels our second year," Katz continues. "In our, third year we filled 380 barrels. Our fourth year, we filled 600-plus barrels, our fifth year we filled 800-plus barrels, and our standing goal now is to try and fill 1000 barrels per year.
"To give you context, if you're talking about a major producer, they're probably filling north of 1,000 barrels every day. We're trying to come into the same field of reference in a year as what they might produce in one day."