The thirteenth might be unlucky for some – but not if you're following Drinks by the Dram's Whisky Advent Calendar! Continuing with the theme, there's another delectable whisky hidden away behind today's window…
Phew! After all the smoke of yesterday's Kilchoman, you'd think it might be time to chill those taste buds out. Not so. While it doesn't pack a peaty punch, today's dram is a much-loved expression, bursting with Speyside charm and all-round honeyed, fruity, luscious loveliness. The whisky in question?
It's Cardhu Gold Reserve!
Cardhu is a key component in blended Scotch behemoth Johnnie Walker, and in recent times hasn't been all that active on releasing its own single malts. This was partly due to being a victim of its own success – back in the early 2000s, so much single malt from the distillery was being consumed by our thirsty neighbours in continental Europe that demand put pressure on Johnnie Walker supplies! A period of confusion followed when Cardhu became what's today recognised as a blended malt (with single malt liquid from multiple distilleries), but that's all been and gone. Today, Cardhu has a core range of age statements in its portfolio and this tasty little number, Cardhu Gold Reserve, is a no-age statement expression celebrated for its smooth grassiness and honeyed fruit richness.
Enough from us. We caught up with Ewan Gunn, Diageo's global whisky ambassador, to get the Cardhu particulars in full.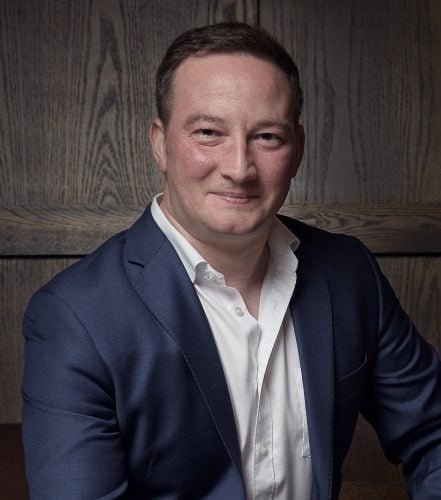 It's Ewan Gunn!
Master of Malt: Tell us a bit about Cardhu. What sets the distillery apart?
Ewan Gunn: Cardhu is known for giving a truly deluxe experience to whisky drinkers around the world, from the pop of the cork to the pour and swirl in the glass. It's also very special to Diageo because it is the first distillery of John Walker & Sons. It is celebrated as one of our "Four Corners of Scotland" distilleries, highlighting the important role it plays in the flavours of Johnnie Walker.
Do you have any quirky stories/myths/legends about your distillery's history?
EG: One of my favourite stories is about Helen Cumming, one of the early female distilling pioneers, who started making illicit whisky at the then Cardow farm. Legend has it when the customs officers visited the farm, Helen would distract them and run a red flag up a pole alerting their neighbours (who were also distilling illicitly).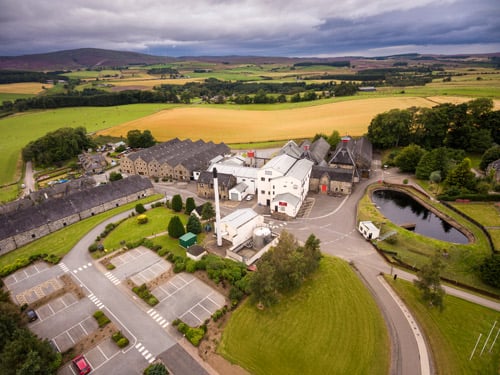 Cardhu – from above!
MoM: Describe Cardhu's signature character…
EG: It is distinguished by a gentle grassy distillery character at its heart, achieved through long fermentation and slow distillation encouraging interaction with copper. This is balanced beautifully by some silky-smooth honey and rich fruit notes from the maturation.
MoM: What trends and developments do you think we'll see in the whisky industry in 2019?
EG: I have definitely seen a rise in social media this past year, which has had a great impact for both brand ambassadors and fans of Scotch alike. Fans of whisky have access to information about Scotch from so many mediums right now and whisky fans can share their passion with people from all over the world.
What will you be drinking this Christmas?
EG: The recently launched White Walker by Johnnie Walker will definitely make an appearance. This was created in collaboration with Game of Thrones and is best served straight from the freezer, which will no doubt make a great talking point over Christmas dinner.
Cheers, Ewan!
There's just one thing left to do: crack open the dram! Here's what we make of Cardhu Gold Reserve…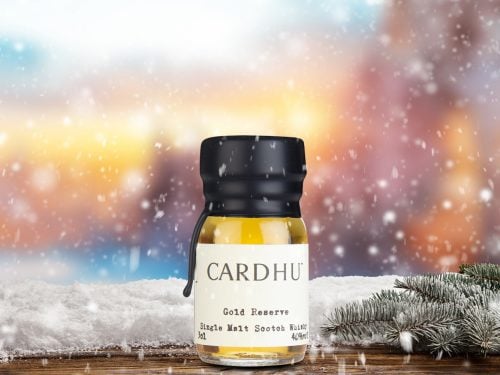 Cardhu Gold Reserve
Nose: Honeyed tinned stone fruits, toffees and a hint of strawberry with red apple and ginger coming through with a little water.
Palate: Fairly dry with biscuity oak and a little cinnamon as well as some development of those toffee and apple notes.
Finish: Gentle oak and (milk chocolate) caramel digestives.
Enjoy, team!