Need an excuse for festive Negronis? How about a whopping £20 off all three key ingredients and a fancy Riedel tumbler to sip from, with our super-duper Bathtub Gin, Martini Rosso and Campari Negroni Bundle?!
This is the late great Anthony Bourdain on the pleasures of the Negroni: "I'm not a gin drinker. I don't like sweet vermouth, I don't like Campari, but together they form a sinister yet lovely and inspired hell broth. Like a marriage, it's a true everlasting love. This is not a cheap date; this is not a one night stand."
Bourdain is right, the Negroni is a drink that really shouldn't work. Mixing three strongly-flavoured alcoholic drinks in equal proportions sounds like a recipe for disaster. But, somehow, something wonderful emerges from the wreckage. Or perhaps it's not that strange after all. I've been reading Cocktail Codex, a new book by the team behind legendary New York bar, Death & Co. It shows how various drinks are related to each other. According to the Codex team, the Negroni fits into the Martini/ Manhattan family being spirit + vermouth + some sort of bittering agent (lemon peel, bitters, Campari.) The Negroni isn't such a maverick after all.

Its invention is usually attributed to Count Camillo Negroni in the 1920s, who wanted his Americano (Campari and Italian vermouth with soda water) made a little stronger in a Florence cafe. I was introduced to its joys back in 2006 by an uncle who, like Bourdain, is no longer with us. At the time the Negroni was something of a secret, drunk only by the cognoscenti, or so I liked to think. I remember feeling like Marcello Mastroianni when ordering one ten years ago. Now they are everywhere. I've had Negronis made with Port, English vermouth and Buckfast (not all at the same time). I've had some wonderful Boulevardiers, Negronis made with all kinds of whisky from rye to single malt Scotch. I've had Negronis that use Cynar or Aperol instead of Campari. I've had strawberry Negronis, white Negronis and barrel-aged Negronis. Almost all have been wonderful, even the Buckfast one. Once you have chosen your ingredients, you can shake your Negroni and serve it straight up or over ice, or just stir in the glass. Then what to garnish it with? So much choice!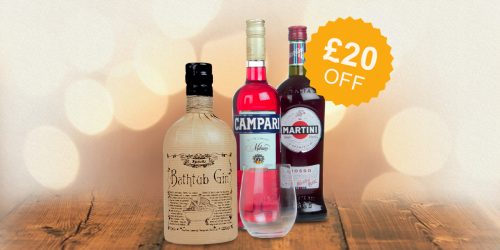 £20 off the key Negroni ingredients? Yes please.
And yet sometimes you just want to keep it simple: equal measures of Campari, Martini Rosso vermouth (not to be sniffed at, it's excellent) and a good strong gin like Ableforth's Bathtub Gin stirred in a tumbler full of ice. To make it even simpler, we've put them together in a Negroni Bundle which you can order with one click. That's easy peasy shopping, and we've even thrown in a handsome Master of Malt Riedel tumbler to sip your resulting Negronis from, saving you a huge £20 on if you'd bought it all separately! All you have to provide is ice and piece of orange peel to create an "inspired hell broth" of your own.