Behind the 10th door of the Drinks by the Dram's Whisky Advent Calendar lies a mysterious single malt from the island of Orkney…
Some of the most interesting whiskies in Scotland aren't famous brands, nor do they have the names of distilleries on them. Instead, they come from small bottlers and blenders who sniff out interesting whiskies and sell them under their own labels. One such company is Morrison and MacKay. It is based in Perth, a place with a rich whisky heritage. This [incredibly beautiful, you should visit] city on the banks of the river Tay was ideally located between the Highlands, home of strong-tasting malt whiskies, and the Lowlands, home of more delicate spirits, to produce, market and sell blended whisky around the world. Such great firms as Matthew Gloag & Son (of Famous Grouse fame), Arthur Bell & Sons, and John Dewar & Sons were all founded in Perth.
By the 1990s, most had left the city as the whisky industry consolidated. But Perth's whisky tradition has been kept alive by Morrison and MacKay. The company was created by Brian Morrison from Morrison Bowmore, and Kenny Mackay, who worked with Morrison and previously for another old Perth firm, Peter Thomson. The Morrison and MacKay range includes Bruadar and Columba Cream whisky liqueurs (Scotland's answer to Bailey's), Old Perth blended malt (a revival of a Peter Thomson brand), rare cask bottlings and its own-brand single malts.
Which brings us on to the dram behind the 10th door of the Whisky Advent Calendar…
Behold – it's a single malt called Kirkwall Bay!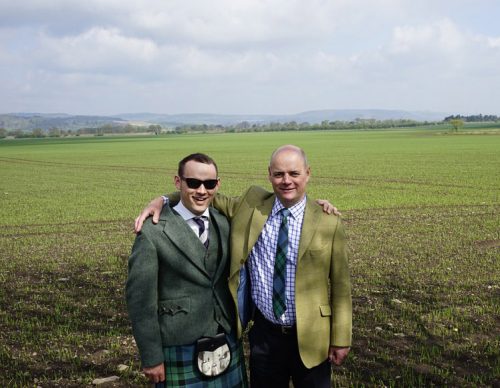 Father and son team Peter MacKay (left) and Kenny Mackay (right)
Kirkwall Bay comes from Orkney which means it was either distilled at Highland Park or Scapa. Sales director Peter MacKay, son of Kenny Mackay, wouldn't tell us which but he did agree to answer some questions about the expression and the family business.
Master of Malt: Tell us a bit about Kirkwall Bay. What sets it apart?
Peter Mackay: Kirkwall Bay is an Orkney single malt with a very distinct style, typical to the whisky that is produced there. It has a wonderful character with gentle smoke and notes of cracked black pepper and sea salt. The term "small batch" is perhaps over-used nowadays in our industry but with Kirkwall Bay this is genuinely the case. We only produce batches of Kirkwall Bay with 10 casks or less, which compared to other similar products is very small. This smaller batch size allows us to maintain the quality level of Kirkwall Bay.
MoM: Why and when did you release this product?
PM: The product was released in October 2017. Our business in the past has been focused on single cask bottlings, our Càrn Mòr range which continues to thrive and grow. However, the only drawback with these products is that when they are gone, they're gone! So, therefore, we wanted to develop some additional products that our customers could purchase all year round.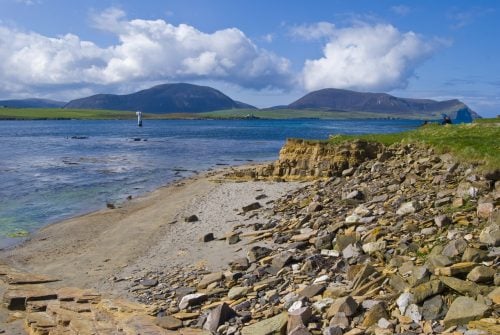 The scenic Orkney island, where Kirkwall Bay is made
MoM: Give us some ideas for how Kirkwall Bay can be enjoyed…
PM: Kirkwall Bay is excellent to have with a generous helping of Scottish smoked salmon. Or even as a splash when making Marie Rose sauce!
MoM: Tell us a bit about your role at the company.
PM: I joined the family business in 2010 at the age of 20 and now perform the role of sales director. I oversee the sales department of the company and directly work with some of our UK customers. I also travel to Canada, Holland, Belgium, France and Italy to develop the business in these countries
MoM: What trends/developments do you think we'll see in the whisky industry in 2019?
PM: One trend I have been very pleased to see is the continued growth in young people getting a chance in all areas of our industry. I was very fortunate to be able to join my family business, but it makes me incredibly happy to see many other people of a similar age getting a chance in exciting and stimulating roles throughout the industry. Long may this continue!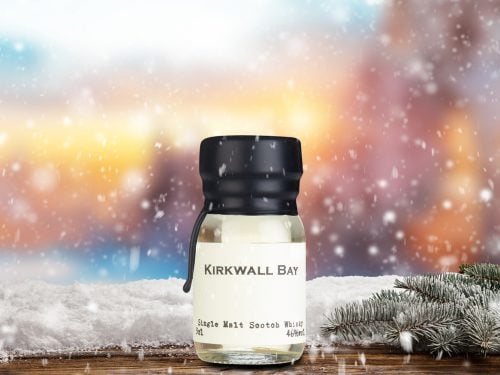 Kirkwall Bay
Nose: Oranges and lemons with some zest and blossom thrown in for good measure, followed by wood smoke and bracing sea air.
Palate: Lots of fresh fruit, green apple and peach, with malt and vanilla.
Finish: Almonds, spicy ginger and a rumour of coffee.