Mere months from breaking ground on what is set to be Edinburgh's first single malt whisky distillery for more than 100 years, Port of Leith Distillery co-founders Paddy Fletcher and Ian Stirling have introduced their very first boozes. We took a peek inside the bottles…
When we heard that childhood friends Paddy Fletcher and Ian Stirling had designed Scotland's first vertical distillery, our ears pricked up Alsatian-style. Set in (where else?) Edinburgh's historic Port of Leith district, the project is a real labour of love, as Stirling told Kristiane on the blog back in April.
Now, eight months on, finance and planning permission has been secured, and an 18-month construction programme is scheduled to begin in March 2019, with an opening date of Autumn 2020. So far, so exciting.
As you can imagine, the Port of Leith Distillery's inaugural single malt won't emerge for a good few years, so to whet our collective appetites in the meantime, the duo has kicked off the range with Port of Leith Distillery Sherry and Lind & Lime Gin.
The curious among you may wonder how a distiller goes about distilling… without actually having built a distillery yet. Well, the gin is produced at The Tower Street Stillhouse near the site of the future distillery; a co-operative set-up shared by fellow local producer Electric Spirit Company (creator of Achroous Gin!).
Port of Leith's sherry, meanwhile, is sourced from Bodegas Baron in Sanlúcar de Barrameda. The future distillery site is also home to the experimental whisky development programme, where the team will test yeast strains and fermentation styles over the coming months before settling on the final recipe.
Thirsty for more information, we asked Fletcher to talk us through the releases. Here's what we learned…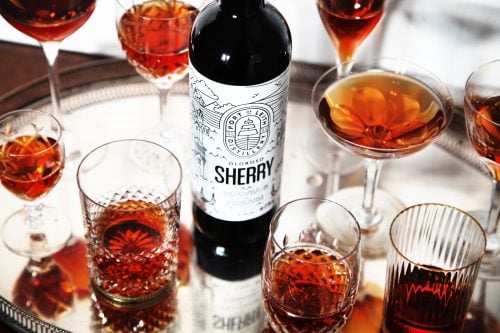 Look at all that delicious sherry…
Port of Leith Distillery Sherry
Us whisky fans love a sherry bomb, don't we? It's an appreciation that Fletcher and co also share, not least because Leith was integral to the development of the style. Once the epicentre of Scotland's whisky trade, Leith has a long history in trading wines, sherries and ports, the most valuable commodities to pass through the docks from the 14th century onwards.
Whisky merchants based in The Shore area began to use empty sherry casks to store their spirits, unknowingly laying the foundations for some of the world's future favourite drams.
Since the team plan on replicating this process with their single malt – using casks that previously aged Bodegas Baron Oloroso wine for 18 months in Sanlúcar de Barrameda – they decided to go one step further and bottle the stuff too.
The Palomino grapes in Port of Leith Distillery's sherry are grown in vineyards near Jerez, located in the South of Spain. They are fermented, fortified with grape spirit and then matured in a 50-year-old Solera system, resulting in a vibrant Oloroso sherry with notes of citrus and dried fruits.
For many people, the category has an air of mystery surrounding it; something the folks at Port of Leith Distillery hope to change. Fletcher says there are plans to expand the range in 2019, potentially to include Fino and Pedro Ximénez sherries.
"There are so many different sherry varieties," he explains. "They range from bone dry to treacle-sweet, and people find it difficult to buy without quite a lot of education. Sherry producers haven't been very good at explaining it to the world, or working out what to do with it."
The bodegas may not be big on cocktails, but bartenders are certainly big on sherry. "I've seen loads of bars in Edinburgh and in London really pushing sherry as a cocktail ingredient because it's a flavour that most people haven't really tasted before," he continues. "The style we use, Oloroso, has this lovely delicate raisen-y, nutty undertones. It's very versatile."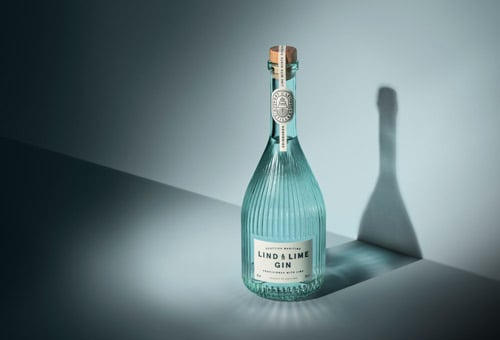 Say hello to Lind & Lime Gin!
Lind & Lime Gin
It's gin all right, but isn't that a… wine bottle? If you hadn't already guessed, the bottle shape is a nod to Leith's wine-trading history. But it's not the only historic link to years gone by. Limes have a long history with Leith too*, says Fletcher.
The gin is named after Edinburgh's Dr. James Lind, who discovered that citrus fruits prevent scurvy in the world's first recorded clinical trial; selecting 12 sailors and dividing them across six different treatments for two weeks.
"He observed in his studies that sailors who ate the citrus fruit had the best chance of survival," says Fletcher. "In fact, they nursed all the rest of the sailors who were dying of scurvy."
To make the gin, the team take organic neutral grain spirit at 96% ABV (sourced from Kimia UK in Essex) and re-distil it with seven botanicals, including juniper, lime, and peppercorn.
The site may be a shared space, but there's no competition. Far from it – in fact, Port of Leith Distillery is still in the process of recruiting a gin specialist, so Electric Spirit Company founder and distiller James Porteus pitches in with distilling know-how.
"There are plenty of craft gins out there," says Fletcher. "Effectively, the market is all craft gins against Gordon's and the big boys. I don't think we take a sale from him or he takes a sale from us. James really knows brewing and distilling so it's been amazing."
So far, the gin has proven popular – so much so, the first batch completely sold out on the first day. "We had a second production run sitting in a tank waiting to be bottled and labelled, so we rushed it out," adds Fletcher. "Then that sold out the next day. It was supposed to last us until Christmas! We've been furiously manufacturing gin ever since to keep up with demand."
*There's also Rose's Lime cordial. The syrup, which dates back to 1867, was invented by Lachlan Rose of Leith as a means to preserve fruit with sugar instead of alcohol (usually rum, FYI). Leith really does love a lime.