Another week comes to a close, so it's time for a round-up of booze stories to help you start your weekend with a brain full of knowledge – it's The Nightcap!
It's Friday! Unless you're in Australia, where it's probably next Wednesday. For those of you in Oz, keep powering through hump day. For everyone else, it's time to grab a tasty beverage and have a gander at the booze news from this week with The Nightcap.
And today has been a news fest! If the Nightcap wasn't enough for you, Macallan owner Edrington announced its financial results with a bit of a bang: as well as posting 7% growth, it also announced plans to sell Glenturret and Cutty Sark. Wowzers.
Elsewhere on the Master of Malt blog this week; Annie looked at the world of Bourbon alongside Jim Beam master distiller Fred Noe and picked out the blends you'll want to boast about. Sam took a glance at Tomatin's turnover (of the money variety, nothing to do with delicious baked goods). Kristy headed (just) north of the border to taste the first whiskies from the Annandale Distillery, and looked at how everyone goes to the pub when it's sunny.
Henry didn't quite share the enthusiasm for the sunny weather this week, as he introduced us all to Light Strike Awareness Day (it's a thing), as well as showing off his knowledge of popular Scotch whiskies around the world, and exploring an upcoming Island distillery.
Phew. On the with booze news!

Bourbon tariffs are go – sad faces all round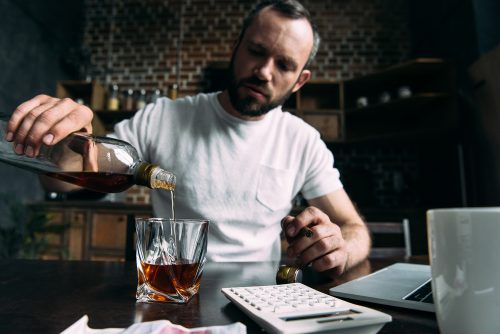 It's not great news…
Earlier this month we gave you an update on the US administration/rest of the world trade tariffs situation: that the EU (and some others, notably China) were planning on bumping up duties on a range of products, including American whiskeys, in retaliation to Trump & Co slapping tariffs of 25% and 10% on steel and aluminium imports respectively earlier this year. Well… the bad news is it's happened, and the new EU duties will apply to bourbon and American whiskeys from today. The good news? There isn't any. This move will hit the good people who love bourbon (all of us!) and those wonderful humans who make it (you tip-top blender and distiller types) hardest of all. Which, let's face it, makes for a pretty rubbish policy all-round. Actually, there is a smidge of good news. As soon as the tariff rumours hit MoM Towers we stocked up, so in the short-term we can hold pre-tariff prices. You know what to do if your whiskey stocks are running dry…
Wales says yes to minimum unit pricing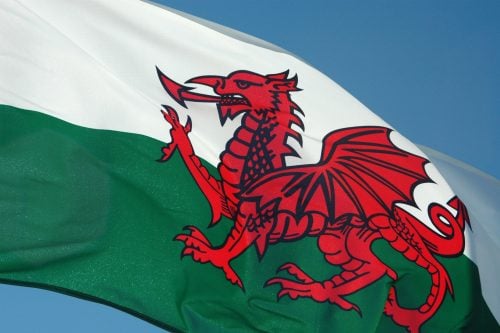 A minimum price for alcohol, measured per unit, will soon be a thing for Wales
In the second political booze story of the week (we preferred it when it was all about making spirits from tofu and KFC's 'Stocktails'), the National Assembly for Wales has followed Scotland's lead and said yes to setting a minimum price for alcohol, measured per unit. There's no word yet on what that price floor in Wales might be, but in Scotland it's 50p per unit. The move is part of a Welsh government strategy to tackle harmful drinking and reduce the affordability of cheap-yet-strong alcohol (essential) but whether MUP (as minimum unit pricing as come to be known) will be effective is yet to be seen. If you're at all worried about your drinking, check out Drinkaware for help and advice.
Dave Pickerell to write the ultimate cocktail book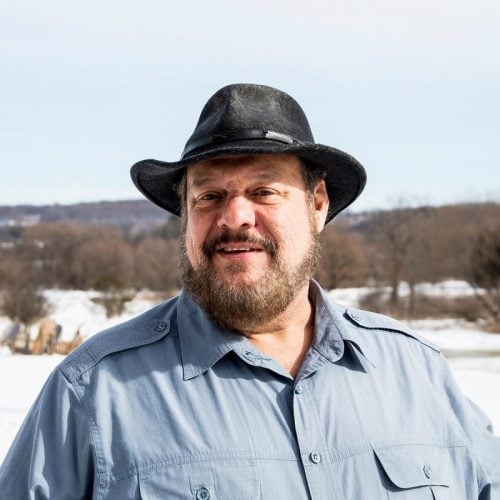 Look, there he is! Dave Pickerell!
One-man rye whiskey marketing machine Dave Pickerell from WhistlePig was in town this week. We were the first in "the Kingdom", as he put it, to try the brand's latest FarmStock release (about which there is exciting news to come soon). As well as being a distiller of some note with 14 years at Maker's Mark under his belt, Dave is also a cocktail nerd of epic proportions (if you want to hear his special technique for making a whiskey sour, make sure you don't have a plane to catch) and tantalisingly he told us that he's working on a rye whiskey cocktail book called, naturally, "Rye Not?". It will feature recipes from top bartenders; in fact the whole book will be based around their needs, with features such as wipe clean pages and a spine that folds flat. But it won't just contain recipes: the first half will consist of a history of America told through rye whiskey. The greatest American of them all – no not Rodney Dangerfield, George Washington – used to make rye at his Mount Vernon distillery. And the publication date for this magnificent tome… TBC
Hennessy recruits Vhils for latest VS design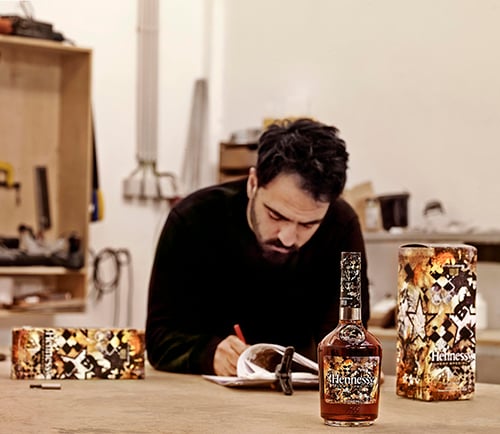 Vhils and his Hennessy VS label
Top Cognac producer Hennessy has revealed the latest collaborative effort released under its VS Limited Edition series. This time, Hennessy is working with Portuguese artist Vhils (AKA Alexandre Farto) to create a special edition label for Hennessy VS, to be released in the US in July. Vhils' art takes many forms, from early work as a graffiti writer to wall carvings, installations and 3D modelling. Previously, Hennessy has worked with artists like JonOne, Futura, Scott Campbell and KAWS on the series, with incredibly striking labels the result every time.
We have a winner: Warren wows Diageo Reserve World Class!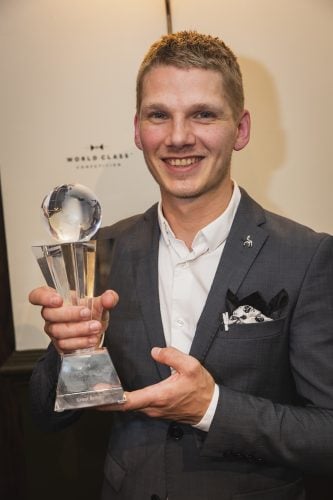 Look at that clear ice ball on top of the trophy! How is it not melting?!
Congratulations are in order for the brilliant Daniel Warren from Last Chance, Nottingham, who was crowned Diageo Reserve's World Class GB Bartender of the Year 2018! Warren ultimately came out on top after he bested his peers across a two-day final consisting of trials in Edinburgh, designed to test hospitality skills, and the task to create a perfectly balanced smoked cocktail showcasing Johnnie Walker Black Label at Gleneagles Hotel. Ahead of the competition, the finalists were asked to prepare a different smoky cocktail in a 'ready to go' hip flask, which was pitched and served to the judging panel which included Simon Difford (Difford's Guide), Sandrae Lawrence (The Cocktail Lovers); Diageo Reserve GB Brand Ambassadors Ali Reynolds and Colin Dunn, and Diageo Reserve GB Bartender of the Year 2017 Jamie Jones. Warren clearly impressed, scooping not only much acclaim, but a prize package including nationwide media exposure and PR throughout the year, a two-day Malts Advocate course in Scotland with Dave Broom or Charles MacLean, a £300 voucher for a personalised Cocktail Kingdom Kit, and the chance to represent GB in the World Class Global Finals 2018 in Berlin. Can he bring the grand trophy home? What this space!
The Macallan breaks records at Christie's in New York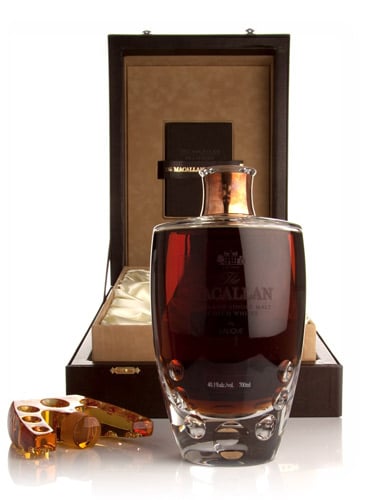 More records for Macallan
14-15 June were a record-breaking couple of days for The Macallan at Christie's in New York. A bottle of Macallan 57 year old in a Lalique decanter with crystal stopper (housed inside a presentation case, numbered 212 out of 400 made, and with an estimate of between $45,000 to $65,000, no less) went for a record $73,500. That's around £55,000. Just to give you some idea of how bananas Macallan prices have gone in the last few years, a decanter from the same release was valued at £15,000 as recently as 2015. In the same auction, a bottle of Macallan Lalique 55 year old went for even more: $79,635! These eye-watering prices make a case of Bollinger RD 1961 sold at the same auction seem a positive bargain at $11,638. Works out at about £700 a bottle. Perfect breakfast Champagne.
The ultimate '80s bar opens in Singapore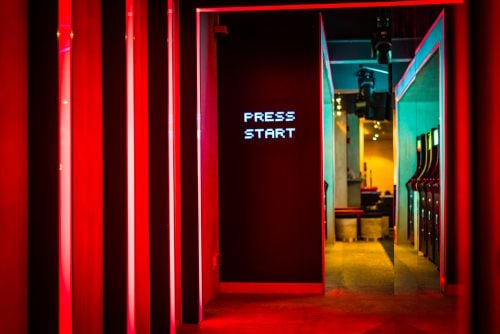 Delicious nostalgia…
A new bar inspired by everything 1980s opened in Singapore this week. We won't spoil the team's fun by pointing out that there were nostalgic '80s clubs in the mid-'90s (I'm showing my age here). Mind you, I don't think Planet Earth in Leeds ever looked as good as this place, even after four pints of snakebite and black. Nineteen80 is the brainchild of entertainment consultancy A Phat Cat Collective which consists of Joshua Pillai, Yafith A. Hamid (aka YA5TH) and Francesca Aurora Way. They've enlisted the help of Denmark-born designer Tina Fung to create the space, which features rows of classic '80s arcade machines and reclaimed materials (think: original cassette tapes) as part of the interior. There will be DJs and regular club nights so you can "bop the night away to a collection of favourite anthems". And the drinks? According to the press release the "cocktail programme is inspired by the so-called 'dark ages of drinking' when the cocktail scene didn't take itself too seriously". Drinks include vodka, Ribena and soda, rum and Malibu-based Club Tropicana and Bacardi Breezers(!). Probably not the best place to take Dave Pickerell.
Creative bartenders wanted: Auchentoshan's New Malt Order returns!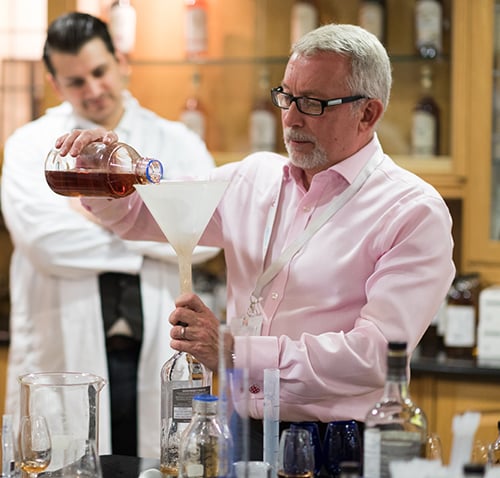 New Malt Order is the name of my whisky-themed New Order cover band, too.
Lowland single malt brand Auchentoshan's New Malt Order 2018 competition is back for 2018! Since launching two years ago, New Malt Order has challenged a growing international bartender collective to create a cocktail that captures the essence of Auchentoshan's triple-distilled malt whisky and take inspiration from the participant's home city. Bartenders from the UK, Canada, Russia, Australia and Germany are encouraged to enter via Instagram by 30 June. Successful applicants will visit Auchentoshan, located close to Glasgow, and be immersed in the city's culture. The most exciting aspect is surely the chance for the winners to go behind the scenes at the distillery with master blender Ron Welsh, and try their hands at cask selection, blending and bottling, and even have their say on the packaging of a new single malt expression specifically developed for use in cocktails. What are you waiting for? Get those applications in!
Cub heads to the great outdoors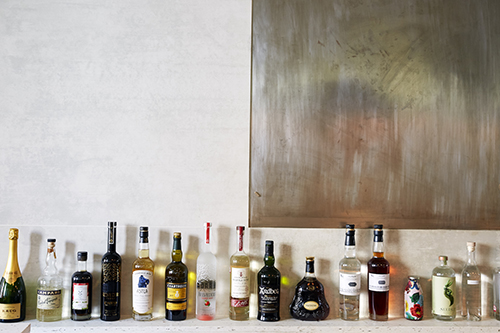 Al fresco dining with Cub
Eating outside is scientifically one of the only enjoyable things about summer (along with being able to blast the Beach Boys at full volume unironically), so bartending marvel Ryan Chetiyawardana (of Mr. Lyan fame) and Douglas McMaster are bringing Cub to the great outdoors. The drinks-led dining experience will be throwing Secret Garden Supper Clubs throughout the summer, hosted at gardens across London and making use of produce grown on site for the menus. Postcodes will be communicated when booking, but the exact locations of the Secret Garden Supper Clubs will be revealed the day before. It's a bit like geocaching, except instead of finding a lunch box filled with Lego and books, you find a delicious meal (and, of course, cocktails).
And finally… Moscow is running out of beer due to parched footie fans, according to reports
No one has told this group of people that the beer has ran out yet…
Now. Forecasting is a tricky task, but you'd think if you were a bar owner in the midst of the World Cup action you would have upped the ordering at least a tad. Not necessarily, according to Reuters, which this week reported on a perilous situation: pubs and bars in the Russian capital are running dry as thirsty football fans roll into town. "We didn't think they would only want beer," one waiter in a fancy Moscow watering hole told the news agency. Another claimed that fans in his bar had powered through 800 litres of beer in three days. Reinforcements are coming in, apparently, but the restocking isn't quick enough to satiate the parched supporters. Remember: always drink responsibly, folks!
That's a wrap for now. Enjoy the weekend, and savour that bourbon in particular!