The only thing more exciting than a new distillery is a new distillery's first whisky coming of age! We popped over the border into Scotland to meet the Annandale Distillery team on a very special day…
What a difference a century makes. It's 1918, and the Annandale Distillery, a historical Johnnie Walker production site, has just produced its final drop of spirit. Founded way back in 1836, the distillery is about to fall into disrepair, then dereliction. Located just 10 miles or so from the English border, what once made Annandale a convenient alternative to Island whiskies for blenders has seen it forgotten as other routes opened up. The distillery will soon be picked apart for salvage, its stills shipped off to Speyside. It's a bleak scene.
Until David Thomson and Teresa Church come along. Fast forward to 2007 and the pair buy the dilapidated distillery, all crumbled stone and sylvan, sinuous weeds. Thomson grew up in nearby Dumfries and, buoyed by a passion for single malts and a background in sensory science, sets about the restoration project alongside Church.

Fast-forward again to 2018 and not only is that mammoth £14 million project complete, the first whiskies are just that – legal Scotch whiskies. Spirit produced between 2 November and 31 December 2014 has been bottled and is ready for tasting. Which is why we're up at Annandale Distillery.
"The first challenge we faced was sympathetic restoration," Thomson said over lunch at the distillery before the big tasting reveal. "We needed to make the type of whisky we want to make in an existing footprint, as it's a listed building."
And that's where this project gets really fascinating – because Thomson and Church pretty much designed the whisky they wanted before the restoration project even went ahead.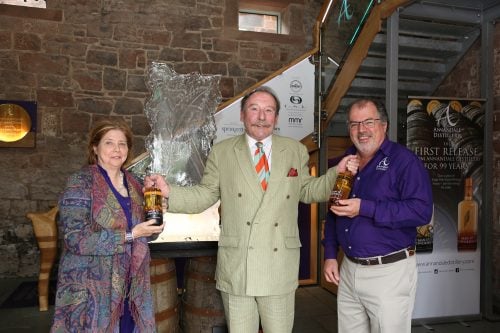 David Thomson and Teresa Church with Charles MacLean, who was also in attendance for the launch of the whiskies
The pair founded MMR Research, a sensory branding, packaging and product development consultancy, back in 1989. They've approached developing Annandale – the style of the whisky, the brand, and indeed the distillery itself – from the analytical, consumer insight standpoint that they've perfected over the years. It's an unusual approach for distillery owners that started with deciding on the end flavour profiles first and foremost.
Let's face it: whisky is a crowded market. "The last thing we wanted to do was simply add to the noise," Thomson said, showing us a complex flavour chart conceptualisation which plotted existing single malt brands and expressions (think: Cardhu, Aberlour, Glenmorangie, Glenfiddich, Lagavulin, Ardbeg) against not only aromas and flavours (vanilla, confectionery, orchard fruit, smoked food, ash) but sensory perceptions, too (friendly, comforting, genuine, distinctive, dominating). From this he spotted a gap for a friendly, free-spirited expression and one for something powerful, serious and distinctive; one unpeated, one peated.
What should be consistent between the two was an 'Annandale character', he continued, plumping for a fruity commonality between the two. "Then we had to design a plant that could readily make both."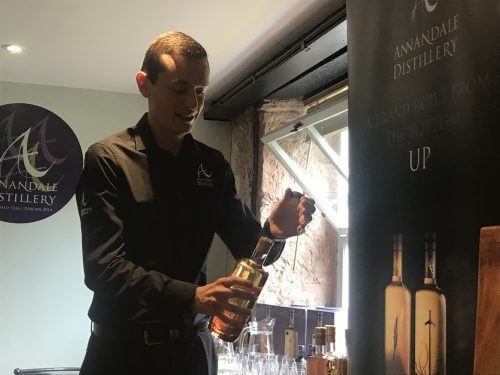 And the bottle is… OPEN!
The Annandale Distillery
Lots of distilleries make both peated and unpeated liquid – what sets Annandale apart is perhaps the intention to do so from the get-go. The late, great Dr Jim Swan consulted on the plant build, so we knew we were in for something good.
Here at Annandale you get monthly cycles of peated (45PPM) and unpeated concerto malt coming in, allowing for separation [almost!] the whole way through the process. There's a 2.5-tonne mash tun, which produces a 12,000-litre wash (Thomson's background as a cereal chemist comes in handy here). Six Oregon pine wash backs take over the labour (fermentation time: 62-66 hours; both Fermentis and Mauri yeast strains are used. "It's unusual to have a blend of yeast," Thomson says) before we move on to the three-still set up.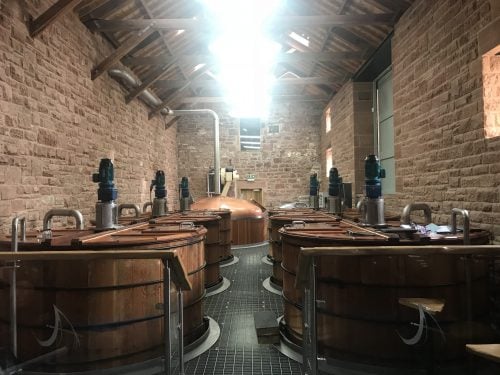 Inside the Annandale Distillery
Peated or unpeated, the first distillation happens in the same 12,000-litre wash still. But then there are two identical 4,000-litre spirit stills, with boil balls, where things separate out. Peated low wines head to one dedicated still, unpeated to the other. The resulting heads and tails? Each have their own separate receiver, so there's no muddling here. [That said, we did detect a subtle whisper of ash on the unpeated expression – but more on that shortly].
And the maturation? All ex-bourbon barrels, with "a few" shaved, toasted and re-charred casks thrown in for good measure. No hiding behind heavy wine finishes here! A small portion of the casks remain at Annandale, but the distillery has already outgrown its duty-paid warehouse. Most reside elsewhere, but plans are currently being drawn up to build a 20,000-cask capacity warehouse adjacent to the distillery courtyard. "Within one year, everything should be back on-site," Thomson confirms.
The whiskies
Enough about the distillery – Annandale's first whiskies are ready to be tasted! And this is where the branding story continues.
Thomson and Church decided they wanted a peated and unpeated expression – but where to go next? They were emphatic that the output shouldn't represent what's become known as a typical Lowland light style: "I'm not the greatest supporter of that idea," Thomson said of 'typical' regionality in Scotch.
Instead he looked to historical figures, local to the area so authentic and trustworthy, but stories that could be told in a way that would have international relevance. King Robert The Bruce was chosen, with the name 'Man O' Sword' attached to the peated expression. Meanwhile local man and Scottish national poet Robert Burns gave the unpeated 'Man O' Words' its name. Happily, 'Sword' and 'Words' happen to be anagrams, playing into the wider Annandale marketing. Both are single cask bottlings – "We don't have enough for vatting, to be truthful," he says.
The casks were chosen for bottling by Thomson alongside whisky consultant Dr Gordon Steele and Annandale's cask specialist James Rogerson. And we were there for the grand unveiling!

Unpeated expression Man O'Words
Man O'Words
The unpeated Man O'Words bottlings were from Annandale's second and third production of unpeated spirit, filled into once-used ex-Buffalo Trace 200-litre charred American oak barrels on 19 and 29 December 2014 numbered 138-140, 142-145, 168 and 173-174.
Our tasting notes:
Nose: Cream soda, strawberries and cream, pecan nuts, dessert wafers, cashew nuts, pencil sharpenings, a hint of menthol and a whisper of smoke
Palate: Tropical fruits including pineapple and papaya, red cherry, apple pie and custard, unsalted peanuts, a maltiness, caramel, strawberry laces, nutmeg, honeycomb, earthy rhubarb and some more of that smoke.
Finish: Dominated by that nuttiness that we think will form an Annandale character. Sweet spices, too.

Peated variant, Man O'Swords
Man O'Sword
Peated Man O'Sword (which has a resulting phenol count of around 18PPM, Thomson reckons), came from the second-ever production run of peated spirit, filled into the same spec ex-Buffalo Trace barrels. The resulting whisky was drawn from casks 97-100, 102, and 105-109.
Our tasting notes:
Nose: Quiet on the smoke front at first, more sooty than anything. But then it comes through later on! There's also salt dough, caramel, fresh apple, oaky pencil sharpenings, petrichor, pecan sweetness and walnut creaminess.
Palate: Cinnamon spice, pineapple, a clean, almost gentle smoke, cashews, apple, more rhubarb and rich custard.
Finish: This is where the smoke lingers along with that earthy rhubarb quality.
Rascally Liquor
We also tasted Rascally Liquor, Annandale's new-make spirit, bottled at 63.5% ABV. It's a fruity new-make, also offering that Annandale oiliness. It's pretty tasty stuff, and is the result of Thomson and Church purposefully choosing not to go down the gin route. "We're a Scotch whisky distillery, and we're constantly focused on making Scotch whisky to the best of our ability," he says.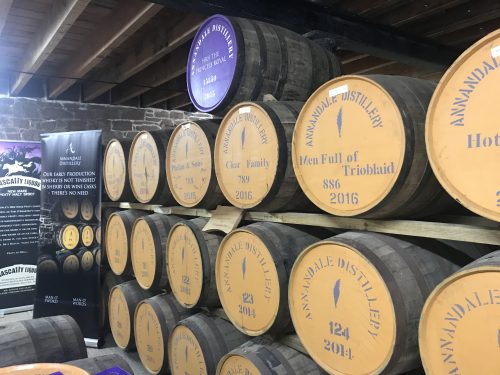 Annandale Distillery's current on-site warehouse
So! Two thoroughly modern whisky expressions released a century (almost to the day) after the distillery was closed. It was an honour to be there for the occasion. Congratulations to the whole Annandale team – the whisky has come of age!
Both Man O'Words and Man O'words first single cask bottlings are bottled at around 61% ABV (depending on the cask) are sequentially numbered and are only available from Annandale Distillery and its site, priced at £300.