The Tomatin distillery has just released its results for the most recent financial year, showing its turnover climbed by an incredibly impressive 24.6%!
It was a good year for Tomatin in Inverness-shire. Financial results released by the Scotch whisky distillery covering the period between 31 December 2016 to 31 December 2017 show that Tomatin's turnover grew by 24.6% year-on-year – tantalisingly close to 25%!
Percentages are great and all, but let's get down to something we all understand – cold hard cash. Turnover grew by 24.6% year-on-year to £18 million for Tomatin, compared to the previous year's £14.5 million. As if we needed more proof of Tomatin's great year, the results also showed that the distillery's profit before tax grew by 14% from £3,534,870 to $4,030,422. We can only assume when Tomatin's accountants jammed those numbers into a calculator, it fired out a load of confetti.
There are a few things that could have helped lead to this good news. For starters, Tomatin scooped up the Icons of Whisky Scotland 2017 Brand Innovator of the Year award just before the financial year started, and the previous year it won the Icons of Whisky Scotland 2016 Distiller of the Year award. Not only was 2017 the first full year with Tomatin's stylishly rebranded bottles on the market, it was also the year that the distillery introduced the initial three expressions (Wood, Fire and Earth) of its Five Virtues series.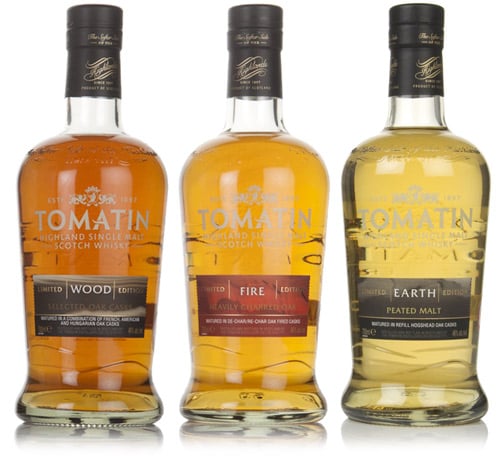 Three of Tomatin's Five Virtues – Wood, Fire and Earth
"This is a very exciting time for Tomatin. In the past few years, we have gained a solid foothold in the international whisky market, particularly with our branded products," said managing director Stephen Bremner. "Following a couple years of decline, the whisky market is back on its feet and Tomatin is steadily seducing the new wave of whisky drinkers – not just on Scottish soil, but globally."