Have you heard of Light Strike Awareness Day? If not, Henry is here to give you the low-down…
Today, the 21st June, the longest and potentially sunniest day of the year, is Light Strike Awareness Day. What, you didn't know? Well, I'll grant you it doesn't have quite the same level of recognition as Movember or British Sausage Week, but if you're a rosé drinker in particular (and these days who isn't) then you should be paying attention.
What is light strike?
Light strike is what happens when strong light damages the contents of a bottle and produces unpleasant aromas. If you've had a wine, beer or cider that smells of cabbage (or even just a bit unpleasant) then you've been light struck. This can happen in an instant in your glass in intense sunlight, or when the wine is in bottle.
I went on a course last year with Tom Stevenson from the CSWWC (Champagne and Sparkling Wine World Championship) to identify wine faults and the sparkling wine suffering from light strike was the most revolting.
That seems simple. Could you make it more complicated?
The French call it Goût de Lumière and it is caused by ultraviolet and visible light (wavelengths below 510 nm, particularly between 370 nm and 442 nm) reacting with the amino acids in wine (and other drinks) to transform them into sulphide compounds (ie. stinky). It's not just direct sunlight – fluorescent tubes, xenon and metal halide lamps can ruin wine.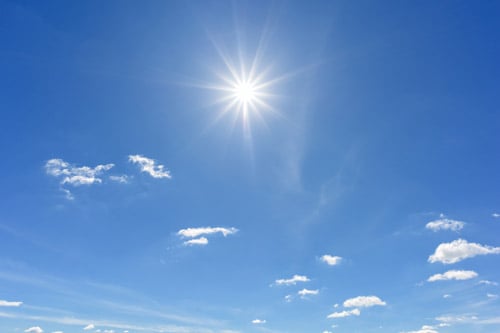 Sunlight. The rosé enemy. The rosénemy? We'll keep workshopping that.
Should I just stick to whisky then?
No need. Dark glass bottles, especially amber, protect the contents. Which is why light strike is most common in rosé – both still and sparkling – because they usually come in clear glass to show off the pretty colour. Many producers including Nyetimber have switched to dark bottles. "Once one learns to recognise the sulphury smell of a light affected bottle, you'll be amazed at how prevalent it is in wines filled into transparent packaging!" Brad Greatrix from Nyetimber said. Louis Roederer's Cristal Champagne comes in a gold wrapper – that's not to just look fancy, but to prevent light strike.
What if my favourite wine comes in a clear bottle?
Buy your drinks from trusted sources who have a high turnover of bottles. Avoid wine merchants who fill their windows with bottles of rosé when the sun comes out. Good merchants will keep their stock out of direct sunlight (and indeed extremes of temperature). When you have it at home, don't leave it on the balcony. On a picnic keep your wine out of the sun, even better keep it wrapped up in one of those cooler jackets.
What do I do if my wine smells of cabbage when I open it?
Take it back to the shop. You don't have to get all technical, just tell them that it has been damaged by sunlight. They should give you a replacement.
So why do I need a special day for this? I'm still recovering from World Gin Day.
The people behind Light Strike Awareness Day are Plumpton College, England's top wine school, and the CSWWC. Their aim is to persuade producers to switch to darker bottles, persuade the trade to stock these bottles rather than clear ones, let the consumer know that dark bottles are safer and also to not to be afraid to complain when their delicate Provencal rosé smells of cabbages.
So this summer when the sun comes out, keep your wine in shade. And try to buy drinks that come in dark bottles. Think of them as sunglasses for your booze.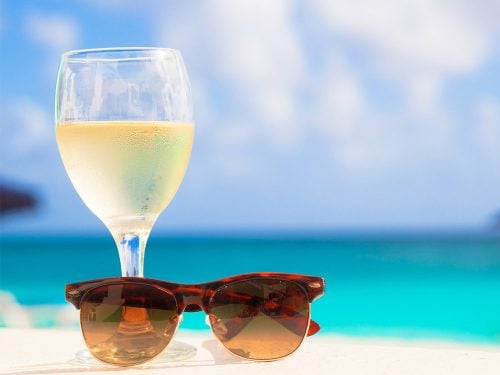 OK, maybe this stock image took that too literally…