Another work week is coming to a close, which means it's time to open up a treasure chest of booze news – it's The Nightcap!
It's Friday once again, folks. We're certain many of you will be taking this weekend as a chance to continue working on those intricate Halloween costumes (I'm going to be dressed as a hogshead this year – still lots of coopering and hot glue application to be done). However, we're also sure that there are a few of you with plenty of space in your plans to swot up on the latest booze news, which is exactly what The Nightcap is here for!
As ever, let's have a gander at the goings-on with the MoM blog this week. Annie chatted to the folks from the UK's first alcohol-free brewery and had a nose around Bache-Gabrielsen's cellars. Henry took a trip down the Old Fashioned memory lane and looked to the future of Irish distillers. Adam wrapped up warm with a selection of toasty tipples perfect for autumnal nights. We also announced the winners of our VIP BenRiach trips – congratulations to the winners once again!
Now on with the news! Although it starts on a sombre note this week.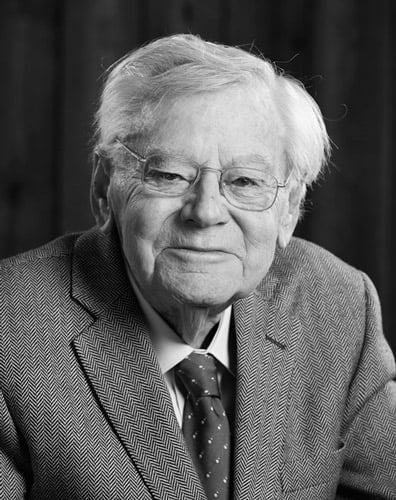 Tom Jago
1925 – 2018
The man behind Johnnie Walker Blue Label and Bailey's Irish Cream, Tom Jago, dies aged 93
Sad news came in this week with the death of Tom Jago at the grand old age of 93. He was the man behind such varied drinks as Baileys Irish Cream Le Piat D'Or wine, and Johnnie Walker Blue Label, when he was head of product development at International Distillers & Vintners (IDV), the forerunner of Diageo. In 2008 aged 82, when most people would be thinking about taking up lawn bowls, Jago founded The Last Drop Distillers with James Espey to find and market rare spirits and fortified wines. "He had a natural creative flair and was quite happy to try things that were completely different and go against the stream," Espey said in a statement. "It is this trait which informed his career from the early days right up until he died." Tom's work will be carried on by his daughter Rebecca who is joint managing director of The Last Drop, and his son Dan who is chief executive at Berry Bros & Rudd. So let's raise a glass of rare whisky, or Bailey's if you prefer, to Tom Jago, a drinks industry legend.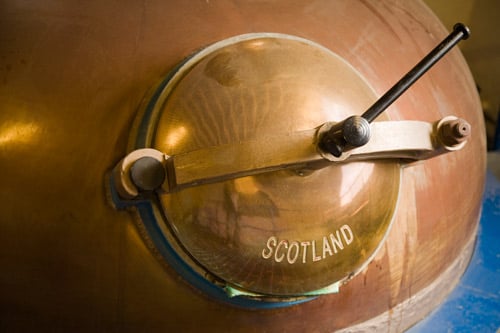 Whisky from Scotland is proving popular indeed – who'd have thought it?!
Scotch whisky exports soar!
Much cheerier info reached the MoM Towers doors this morning. Scotch whisky exports soared by 10.8% to £1.97 billion for the first six months of 2018! The year-on-year stats, compiled by the Scotch Whisky Association (SWA), also showed that Scotch is being shipped to major emerging markets at a faster rate than ever – the whisky love is well and truly spreading. Single malt is doing incredibly well, with exports climbing by an enormous 14.4% to £550 million, with blended Scotch (by far the biggest segment of the market) growing by an impressive 8.9% to £1.26 billion. But where's it all going?! £400 million-worth headed to the US, the largest value market, while 90 million bottles popped over the Channel to France, the leading volume spot. The EU retained its importance, accounting for 39% of all Scotch volume exports and 31% of the total value. "It's hugely encouraging to see Scotch whisky exports continue to grow – and at double-digit rates – in the first half of this year," said Karen Betts, the SWA's chief executive. "Scotch whisky is a luxury spirit, crafted with care in Scotland, and enjoyed all over the world – in established markets like the EU and emerging markets like India and China." She also used the news to shoehorn in the 'B' work – not 'booze', 'Brexit'. "As the UK leaves the EU, the industry wants to continue to trade with the EU as easily as it has while being able to pursue growth opportunities globally." Well, I should hope so. The good people need their delicious drinks!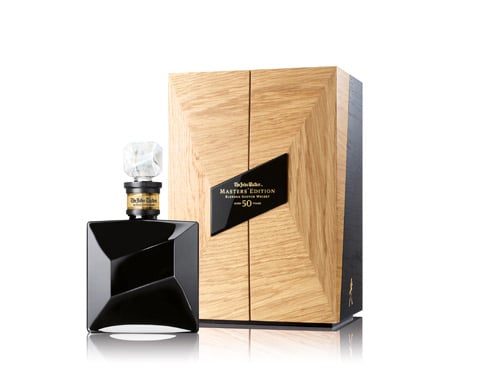 Very old John Walker whisky
New John Walker 50 year old blend includes five lost distilleries
It's been a busy few months at Johnnie Walker what with the scary White Walker Game of Thrones special edition, and the spooky Johnnie Walker Blue Label Ghost & Rare and Port Ellen. This newest release, however, trumps them both as it's the first 50 year old in Johnnie Walker's history. You can tell how serious this whisky is because it's called the John Walker Master's Edition. John, not Johnnie, if you don't mind. This special whisky is made only from distilleries that existed during the lifetime of founder John Walker (1805-1857) including two closed malt distilleries, Glen Albyn and Glenury Royal, and three closed grain, Caledonian, Cambus and Port Dundas. Just 100 bottles have been made. Johnnie Walker master blender Jim Beveridge said: "Each drop of this whisky has been hand-selected from some of the most valuable and precious casks of malt and grain whiskies to be found in our reserves." And the packaging? Oh, nothing fancy, simply a black crystal Baccarat decanter housed in a cabinet made by N.E.J. Stevenson. Yours for $25,000.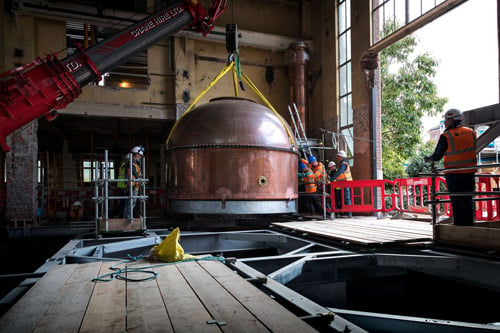 Roe & Co is coming together nicely
New Roe & Co distillery in Dublin starts to take shape
Pictures just released by Diageo show that the new Roe & Co distillery in Dublin is well on its way as three large copper stills are delivered to the building. Roe & Co is an historic name from when Dublin was the whiskey capital of the world along with such famous distilleries as John Jameson & Son, William Jameson & Co, and John Power & Son. All were closed by 1975, but distilling returned to the capital with the arrival of Teeling in 2015. Then in 2017 Diageo began work on the new Roe & Co distillery in an old power station on St. James's Gate that belonged to the Guinness brewery. Distillation is due to start next year, so you'll have to wait a good long while before the Dublin-distilled spirit is ready.
Glen Moray's Graham Coull!
Glen Moray launches Cider Cask Project Whisky
In a first for the world of Scotch whisky, Glen Moray has released a whisky that was finished in casks that previously held cider. While there have been other cider-cask aged whiskies released (Tullamore D.E.W. Cider Cask Finish, for example), this is new ground for Scotch whisky, giving us an idea of the experimental treats Glen Moray has in store with its newly introduced Elgin Curiosity series. The casks used for this expression firstly matured Glen Moray whisky, then sent over to Scottish cider makers Thistly Cross to house its Whisky Cask Aged Cider, and then finally sent back to Glen Moray for maturation. Will this usher in a new age of cider cask-matured whiskies? Will cider casks become the new sherry cask? Only the future knows…

You can expect this sort of deliciousness at Mrs Fogg's Maritime Club
Mrs Fogg's Maritime Club and Distillery to open in London
Who wants to go to a distillery with a steamer ship and where guests can distil their own gin to take home with them? Everyone? OK, good, because that distillery is about to open. You may already know the Fogg name from the fantastic bars opened by Charlie Gilkes and Duncan Stirling's Inception Group. Now a new establishment, Mrs Fogg's Maritime Club, is upon us. It was inspired by Aouda, explorer Phileas Fogg's wife, in Jules Verne's classic adventure novel, Around The World in 80 Days and is primed to serve inventive cocktails and dishes. Mrs Fogg's Maritime Club will be complete with all of the sights and sounds of a faraway port, including the Rangoon Steamer (the ship Mrs Fogg travelled back to England on, of course) and a large central bar surrounded by lush foliage, large wooden fans and antique nautical items. Downstairs there will be an engine room with a custom-designed Rickshaw (courtesy of Monkey Shoulder), and Mrs. Fogg's fully working gin distillery, which will be modelled on the underground Victorian distilleries of the period. Groups will even be invited to produce in-house gin which can be taken home as a souvenir as a part of regular masterclasses.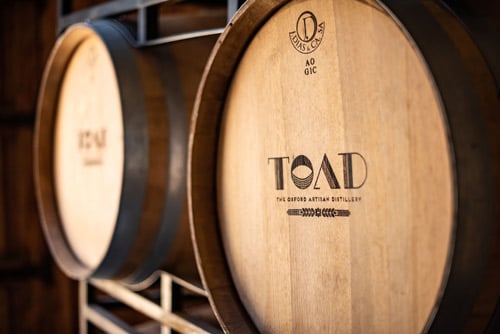 This cask could be yours…
Buy a cask of Oxford rye whiskey from The Oxford Artisan Distillery
The Oxford Artisan Distillery (charmingly referred to as TOAD, like someone exclaiming at a surprise amphibian) is offering whiskey enthusiasts the chance to own a barrel of the distillery's English rye whiskey. These 225-litre new-charred American oak barrels will be filled with spirit made predominantly from rye along with barley and wheat, grown at four organic farms from the area surrounding TOAD. After three years, these casks are expected to yield approximately 300 bottles of English rye whiskey. The price per cask is £6,000 plus duty and delivery. If you ask nicely, they might let you name it. Personally, I'd name my cask Terrence.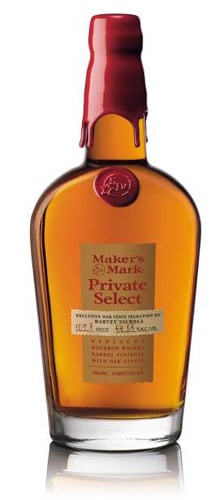 Maker's Mark Private Collection
Maker's Mark Private Select to launch in the UK
Top bourbon brand Maker's Mark is readying to launch its single barrel programme Private Select in the UK in collaboration with department store Harvey Nichols. Taking inspiration from Maker's 46 (which features seared French oak staves inserted into the barrels), the Private Select programme allows for ten specially treated oak staves to be placed into the barrel, with five different types of stave available. This allows distributors and bars the chance to work with Maker's Mark and create a bespoke whiskey for their customer base – which is very exciting indeed. This launch is a limited run of 252 bottles, landing on 22 October.

A quartet of new Lakes Distillery whiskies
The Lakes Distillery introduces The Quatrefoil Collection
The Lakes Distillery certainly knows who to make our weekend – as it has introduced a four-year, limited edition, single malt whisky range! The Quatrefoil Collection is filled with four expressions that feature a distinctive sherry-focused, multi-oak ageing process that was led by whisky maker Dhavall Gandhi. The collection spans four bottles named Faith, Hope, Luck and Love after the quatrefoil, an ancient Celtic symbol that represents the four concepts. It's a reference to the 26 depictions of the symbol that were unearthed in the original masonry during the distillery's extensive renovation. A bottling will be released each year from 2018 to 2021: Faith (2018), Hope (2019), Luck (2020) and Love (2021). Each expression will be bottled at 56.5% ABV with no additional colouring or chill-filtration. The first release, Faith, was matured initially in American and European oak casks before it was maturated in PX hogsheads made up of American and European Oak. The Quatrefoil Collection is limited to 3,500 bottles, and will be available to purchase at The Lakes Distillery or on online.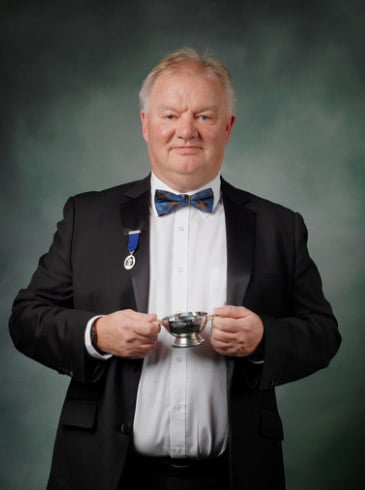 Alan McConnochie!
New Keeper of the Quaich alert: GlenDronach, BenRiach and Glenglassaugh distillery manager!
Congratulations to Alan McConnochie, who was honoured for his contribution to the global success of Scotch whisky by being inducted as a Keeper of the Quaich! The distillery manager for The GlenDronach, BenRiach and Glenglassaugh attended a private ceremony at Blair Castle in Blair Atholl where he received the Scotch whisky industry honour. McConnochie started his first job in 1973 in the bottling hall at White Horse Distillers before taking roles in distilleries including Laphroaig, Bunnahabhain and Tobermory. He joined BenRiach in 2004 and since global drinks company Brown-Forman purchased The GlenDronach, BenRiach and Glenglassaugh in 2016, McConnochie has played a pivotal role in maintaining standards and making lots and lots of delicious whisky (hooray for McConnochie!). Welcoming his induction into the international society, McConnochie said: "I don't really like to be the centre of attention and I am far happier making whisky, but I have to admit it is a privilege to be recognised by the industry. Being inducted into the Keepers of the Quaich was a really special moment I will treasure."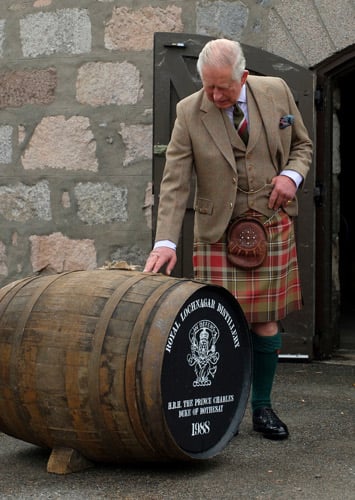 Prince Charles and his new cask
Prince Charles visits the Royal Lochnagar distillery
And finally… the younger Royals have been hogging all the limelight recently getting pregnant, married, or visiting Australia. Prince Charles, in contrast, is taking it easy, visiting distilleries and, err, visiting distilleries. Last month it was the Moorland Distillery in Northumberland, and this week it's the appropriately named Royal Lochnagar in the Highlands. Here he was presented with a rare cask of 30 year old single malt Scotch whisky. The distillery has been a great favourite of the Royal Family ever since Queen Victoria visited in 1848. Prince Charles even wrote a children's book called The Old Man of Lochnagar in 1980. Which distillery will he visit next? We'll keep you posted.
Have a great weekend, folks!