'No-alcohol' is the biggest beer trend since 'craft', and the UK's first alcohol-free brewery, London's Nirvana Brewery, is proof. We stopped by for a chat with co-founder Steve Dass, to discover how and why a passionate beer lover would choose to brew sans booze…
If magic happens when barley meets water, hops and yeast, the work of Dass and his team at Nirvana Brewery, the UK's first alcohol-free brewery – and the only organic brewery in London, as certified by the Soil Association – is entirely cosmic.
The Nirvana story starts with Dass, who has worked in the drinks industry since 2008. He previously sold beer on behalf of a Belgian brewery, and was struck by the number of requests for "an alcohol-free option". When a stomach issue prevented him from drinking alcohol for a little while, the cogs started whirring.
"I couldn't find anything nice to drink," says Dass of his search for a decent alcohol-free beer. "I was thinking, 'why can't you just put some blooming hops in it? That's all you need to do!'. Around that time movements like Club Soda were starting to make noise, and alcohol-free spirits like Seedlip. We managed to get investment and the rest is history."
Steve Dass!
Unlike multinational breweries, which might use reverse osmosis, vacuum distillation, or heating and cooling techniques to produce alcohol-free beer, Dass and the team modify various stages of the brewing process to create their signature range.
"We brew our beer with a low grain recipe – so you've got less fermentables – and a mixture of around five speciality malts. We boil for a slightly longer period, so there's more of an angel's share, but not so long that it'll damage the beer. We have a specialist yeast, as well, and a couple of other little tweaks in between. But from the beginning, our beer doesn't actually have much alcohol.
"Unlike other alcohol-free beers, we don't add any chemical enhancements. To make it look and feel like a normal beer, some people add enhancements like lactose, to that give the beer body. So far every bottle we've brewed, we've sold, so people ain't moaning! We're lactose free, we're vegan friendly, one of our beers is gluten free."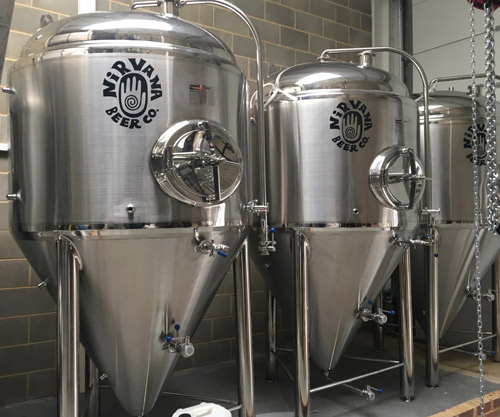 Where the Nirvana beer makin' happens
Naturally, brewing alcohol-free beer poses its own unique (and expensive) challenges. In conventional beers, the alcohol acts as a preservative, ensuring a lovely long shelf life. At Nirvana, says Dass, it's a "totally different ball game".
"We run [the beer] through a very fine sterile filtration to make sure it's completely safe," he says. "But you also lose some flavour and aroma, because the membranes are so small. So we've added more hops. We started off the recipe by putting in 10 kilos, now we put in 15 kilos. Then you've got the grain and other overheads. Even minus the alcohol duty, it's not cheap. But you've got to have the flavour."
The range is comprised of Kosmic, a stout; Tantra and Karma, both pale ales; Sutra and Chakra, both IPAs; Mantra, a pale ale made with organic English hops; Zen & Berries, a sour beer made in collaboration with nearby London Fields Brewery; and Ananda, a 'buchabeer', created by blending a pale ale with green tea kombucha. ABV varies from 0%, as seen in Kosmic and Tantra, to a maximum of 1% in Chakra.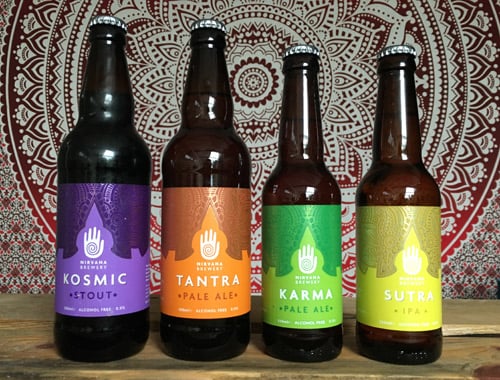 The beers of Nirvana
"We're trying to be as creative as we can be given the challenges around brewing these sort of beers, but like everything we're still learning," says Dass. "No brew is exactly the same. We can do about 2,000 litres in one brew and we're brewing every other week. We're not at full capacity, it's still early days, but it's getting out there."
The colours of each label are based around the seven chakras; the logo reveals the kundalini, a "serpent coil", set on a hand symbol, denoting peace. A huge hand-painted teaching buddha adorns the brewery wall, and once a month, the brewery becomes a yoga space, with brunch afterwards. Nirvana's spiritual vibe is no millennial marketing stunt; it's a huge part of Dass' life.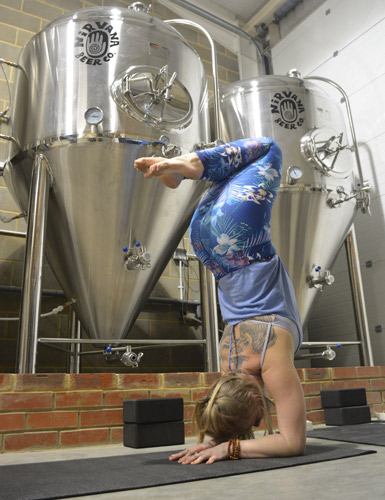 We'd make a joke about people being head over heels for Nirvana's beer, but it seems a bit obvious
"About three years ago my mum passed away, and I wasn't well at the same time, so I went over to India, up north to the Himalayas, and spent some time in ashrams," explains Dass. "Now, I was never spiritual, I'm an east London boy!
"But I got into yoga, meditation, all that stuff, and I thought, 'what the hell have I been missing?'. I never thought I'd get into it. I came back a different person. I actually felt happy, after what I went through, and I came back with a little bit of a bounce in my step."
Nirvana's ethos isn't anti-booze, far from it. It's about inclusivity, helping to make the pub environment accessible for all – teetotallers, designated drivers, and those of us who fancy a sensible option that doesn't involve clutching a Coke. Its burgeoning success is also a sign of the times.
"Before 2008, it was the 'lager, lager, lager' generation," Dass says. "Then craft came in, and people started looking at hops as if they were grapes. That was 10 years ago, now things are changing again. People are getting into mindful drinking, yoga, health food. We've got customers from all age brackets, millenials are loving it, people in their fifties are loving it. We want to create a brand that people can say, yeah, it's good vibes, it's good karma."