Join us as well celebrate all things autumn with a round-up of sensational seasonal spirits!
Autumn is a season loved by many. It's all about comfort food and drink. It's a chance to make the most of the produce from the seasonal harvest. It's the time to attend bonfire nights and Halloween parties. It's the season when we welcome the darkening nights and browning leaves with a hearty tipple and, let's face it, heaps of bloody pumpkin spice.
But what makes the perfect autumn drink? Summer refreshers and cocktails are now out of the question. But winter warmers aren't the required tonic just yet. In autumn, or 'fall', for our exceptionally literal friends in the United States, it only seems right to celebrate brown spirits: whisky, Armagnac, Cognac, Calvados and darker or spiced rums, as well as liqueurs and cocktails packed with seasonal fruits and colours.
In this spirit, we've produced a list of appropriately autumnal boozes. Each comes with a seasonal serve if you want to get creative. These ought to keep you going until the snow starts to fall.
Poetic License Baked Apple & Salted Caramel Gin Liqueur
Poetic License Baked Apple & Salted Caramel Gin Liqueur
Gin liqueurs are almost as popular as royal babies these days, so we just had to include something from the fab folks at Poetic License. The fragrant aromas of baked apple just scream autumn, and that syrupy sweetness of caramel makes the perfect partner. This is a gin liqueur for people who essentially want a liquid dessert. My kind of people. Indulge!
Seasonal serve: Apple Spritz
Put a couple of cubes of ice into 2 glasses and add a 50ml measure of Poetic License Baked Apple & Salted Caramel Gin Liqueur to each. Then divide 150ml of Molvino Valdobbiadene Prosecco between the glasses (you can top up with soda, if you like) to mark the transition from summer to autumn in sparkling style.
.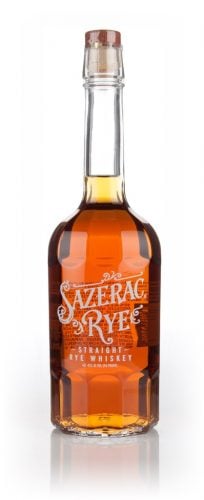 Sazerac Straight Rye
Sazerac Straight Rye
Hop on the rye bandwagon this autumn and enjoy its new golden age in style. Rye is a complex grain with rich spice notes, power and a delightfully chewy texture. When it's distilled right, it can make a truly wonderful whisk(e)y! Sazerac Straight Rye is a perfect example. It was named after the New Orleans coffee house which was the birthplace of the eponymous cocktail – the one and only Sazerac, which just so happens to be a fantastic serve for this tipple. Although – *curve ball alert!* – we've resisted that urge and suggested something a little different below…
Seasonal serve: The Autumn Leaves
A Sazerac just seemed too easy! Instead, try this Manhattan-style cocktail, a hearty blend of seasonal flavours resembling the iconic autumn imagery of falling, browning leaves. Simply combine 55ml of Sazerac Straight Rye, 15ml of Bols Dry Orange Curaçao, 1 bar spoon of maple syrup, 2 dashes of Regans' Orange Bitters No. 6 and 2 dashes of Fee Brothers Black Walnut Bitters and stir until cold and diluted. Serve over ice with a flamed orange peel garnish.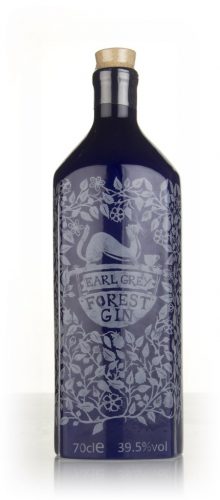 Forest Gin Earl Grey
Forest Gin Earl Grey
This time of year a cup of tea really comes into its own, to the delight of the British, Irish and countless other populations. If you're partial to a 'cuppa', then perhaps you'd consider indulging in this tea-influenced gin? Forest Gin Earl Grey was made using locally sourced botanicals ground by hand in a pestle and mortar and distilled in a tiny 30-litre pot still. A blend of Earl Grey Tea from Cheshire blenders Quinteassential was then added, along with spring water from the Peak District. Just what you need for those cooler evenings…
Seasonal serve: Tom Collins
This gin just shines in the classic Collins cocktail, as the tonic and citrus elements make it taste almost like an iced tea. Combine 50ml of Forest Gin Earl Grey gin, 25ml of lemon juice, and 25ml of simple syrup in a cocktail shaker. Add a cup of ice, cover and shake until chilled, before straining into a chilled Collins glass. Top with 125ml chilled soda water and garnish with a lemon wedge.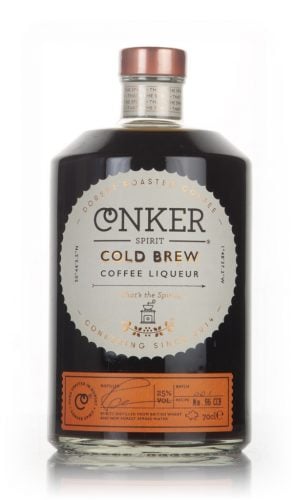 Conker Spirit Cold Crew Coffee Liqueur
Conker Spirit Cold Brew Coffee Liqueur
While folk flock to cafés for pumpkin-spiced lattes or whatever the new seasonal craze is, you could be savouring this sensational coffee liqueur in the comfort of your own home! Conker Spirit created it using a combination of Brazilian and Ethiopian coffee beans from Dorset's Beanpress Coffee Co, as well as natural vanillas, caramels and demerara sugar. The Cold Brew Coffee Liqueur is an earthy and enjoyably bitter alternative for those who prefer an espresso to an Earl Grey.
Seasonal serve: Espresso Martini
It may be delicious on its own over ice, but this coffee liqueur also makes a killer Espresso Martini. Just put 25ml Reyka Vodka, 35ml of Conker Spirit Cold Brew Coffee Liqueur and lastly 35ml of fresh espresso (you can add more liqueur if you have a sweet tooth) into a cocktail shaker with ice. Shake vigorously for 20 seconds before straining into the chilled glasses (20 minutes in the freezer should do it) and top with coffee beans. Serve immediately to rounds of applause…
Ledaig 18 Year Old That Boutique-y Whisky Company
Ledaig 18 Year Old (That Boutique-y Whisky Company)
Autumn really is the perfect time for a good, hearty dram. With the change in temperature and all those bonfires and fireworks, a big bodied and smoky Scotch seems like the ideal choice. That's why we've pointed you in the direction of this well-peated single malt from the Tobermory distillery, which was released under the Ledaig name by That Boutique-y Whisky Company. Not only is it seasonal, but it's also sensational! This beauty won Gold at the Scotch Whisky Masters 2018 (The Spirits Business).
Seasonal serve: The Penicillin
You can't go wrong with The Penicillin. Add 60ml of Monkey Shoulder Blended Malt Scotch Whisky, 22.5ml of fresh lemon and 11ml each of William Fox Ginger Syrup and Monin Miel (Honey) Syrup into a shaker with ice. Strain into a glass over ice, then float a splash of Ledaig 18 Year Old on top. Garnish with candied ginger and you're good to go!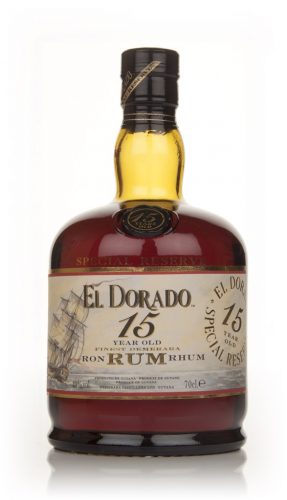 El Dorado 15 year Old
El Dorado 15 year Old
Long-acknowledged as a premium Caribbean rum of some distinction, El Dorado 15 year Old is good enough to turn even the biggest rum doubter into a believer. It's crafted from a blend of rums matured for 15 to 25 years before they were married together in bourbon oak casks and has received numerous accolades and awards. El Dorado 15 year Old was even named the best rum in the world at the International Wine and Spirit Competition for four years running. It's superb all year round, but with those thick, gooey toffee notes and plenty of sweet spice, it shines on a cold autumn evening…
Seasonal serve: Neat!
El Dorado 15 year Old is simply a sublime sipping rum, it needs no additions.

Ilegal Joven
Ilegal Joven
If you're not a fan of peated whisky, but want to recreate those classic smoky evenings spent around a bonfire through the medium of a delicious spirit, then Mezcal may well be the thing for you! Ilegal Joven was produced in Tlacolula, Oaxaca, using a traditional method, roasting agave plants in an earthen pit before they are distilled twice in a copper still.
Seasonal serve: Bitter & Smoke
Mezcal shines among Italian Amari in this beauty. Add 25ml of Maverick Tequila, 25ml of Cynar Liqueur, 10ml of Fernet-Branca and 15ml of Ilegal Joven to a mixing glass and stir with ice. The simply strain into a chilled glass and garnish with grapefruit peel.

Pere Magloire VSOP Pays d'Auge Calvados
Pere Magloire VSOP Pays d'Auge Calvados
'Tis the season for apples! All across the land people are picking the fruit of the apple tree for use in pies, crumbles, tarts and – of course – apple-based spirits. Not to mention all the bobbing! So, why not enjoy the fruits of their labour with this delicious VSOP Calvados from Pere Magloire. It was crafted using apples taken exclusively from the Pays d'Auge area of Normandy and aged in oak casks for at least four years before it was blended and bottled.
Seasonal serve: Harvest Moon
This after-dinner sipper combines Calvados and rye whisky to create a cocktail that bears a striking resemblance to the reddish-orange moon that inhibits the sky during harvest. To make it just stir 45ml Sazerac Straight Rye, 30ml Lillet Blanc, 15ml Pere Magloire VSOP Pays d'Auge Calvados, 7.5ml Chartreuse Green and 3 dashes Bob's Abbotts Bitters with ice and strain into ice-filled glass. Garnish with a twist of orange zest.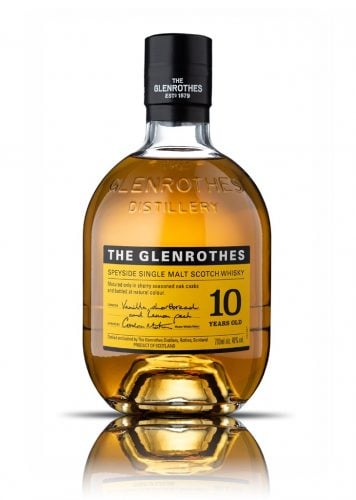 Glenrothes 10 Year Old Soleo Collection
Glenrothes 10 Year Old Soleo Collection
A great place to conclude our autumnal journey, this 10-year-old single malt Scotch whisky was matured in sherry-seasoned oak casks. Sherry casks bring that distinctive reddish hue that resembles the falling leaves and plenty of sweet spice making it another archetypal seasonal spirit. The Glenrothes 10 Year Old was released as part of The Soleo Collection, which pays homage to the sun-drying process for grapes destined to become sherry in Jerez, Spain.
Seasonal serve: On The Rocks
Just add a few cubes of ice, or perhaps a drop of water – whatever you fancy. This is one to sip and savour…