Whisky is coming! After much teasing by Diageo, it has finally been revealed what the new White Walker whisky will be and when it will appear.
As you can imagine, those in the intersection where Game of Thrones and whisky fans meet are quite excited. Jeff Peters, Vice President, Licensing & Retail at HBO, said, "We knew there was fan appetite for a Game of Thrones whisky and once we saw the vision from Johnnie Walker for a way to collaborate we knew the idea was perfect and the time was now. From the beginning, they understood that we wanted to create something special, and they've accomplished that with White Walker by Johnnie Walker. We're confident fans will enjoy sipping this delicious whisky as they wait for season eight and beyond."
The new Johnnie Walker expression is inspired by the White Walkers (hence the very clever name). For those who haven't watched the series these are are demon-like creature from the frozen north who lead an army of the dead. Chilling!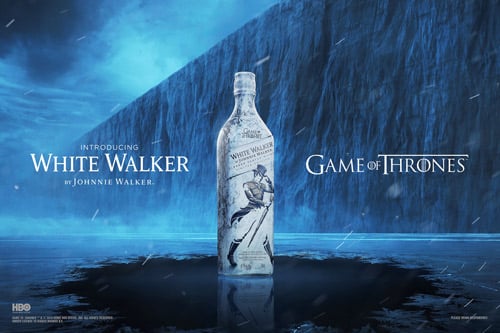 White Walker by Johnnie Walker
The new whisky was created by whisky specialist George Harper and his team at Diageo, and is best served just like a White Walker, really bloody chilly. To make sure you're serving it cold enough, a temperature-sensitive graphic will spell out the words "Winter is here" when the bottle is at the right temperature. The blend contains malts from Cardhu and Clynelish.
Getting a bit carried away, George Harper said, "whiskies from Clynelish have endured long, Scottish winters, not dissimilar to the long periods endured by the Night's Watch who have ventured north of the wall – so it was the perfect place to start when creating this unique whisky." Ok George, if you say so! White Walker will be available this October retailing at around £32 ($36). Just in time for winter, which we hear is going to be particularly chilly. Brrrrrr!