It's Friday, which means the weekend is here – and with it we've got another edition of The Nightcap! Read on for your handy digest of the week's biggest booze news, all in one useful place!
It's Friday, folks! Congratulations on making it through another week. It's been a busy one in the world of all things sippable, so we suggest you get comfy, pour yourself a dram/G&T/anything else that takes your fancy, and join us as we recall another busy seven days in drinks.

On Tuesday we spent some time investigating the science behind the perfect whisky Highball – and just in time, too. The temperatures are set to soar for us in the UK and the Highball is the perfect go-to refreshing sipper. Then on Wednesday we took a trip to East London Liquor Company to catch up with the team following the news that they had smashed their crowdfunding target. Celebratory Negronis all round!
Then, on Thursday, it was time to get ahead for World Whisky Day (it takes place tomorrow, Saturday 19 May) – Adam headed on up to Speyside to get a preview of the Malt Whisky Trail, and explore two of its distilleries: Glenfiddich and Benromach. And that takes us to today, when we announced an exciting Johnnie Walker F1 competition: take part and nab yourself and a lucky plus-one tickets to the British Grand Prix!
Now… before we proceed, plug in your headphones and listen to this. Either you're obsessed with all things royal wedding-related or you've run screaming at the mere mention of the name 'Meghan'. We've observed that there's no middle ground. That rather brilliant tune should help both camps as you read through the first part of this week's Nightcap. The world of booze, like every other, has been all about all things Windsor this week, so naturally the events of tomorrow are reflected here. Whether you've got the bunting and face paints out or have scarpered to foreign lands, let's get stuck into this week's Nightcap…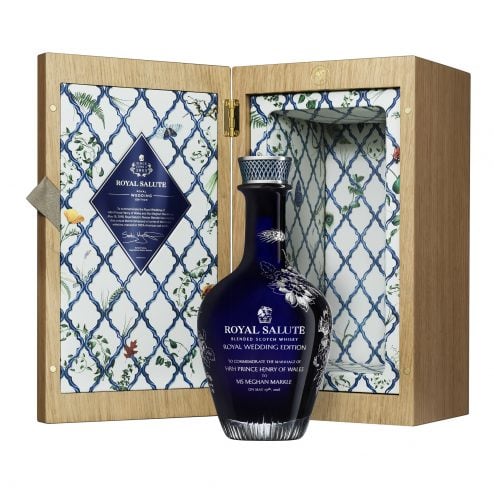 Royal Salute looking super shiny
Introducing: Royal Salute The Royal Wedding Edition
Royal Salute has continued the brand's legacy of commemorating British royal milestones and, fittingly, has a brand new bottling! Limited expression The Royal Wedding Edition has been launched to commemorate – you guessed it – The Royal Wedding of Prince Harry and Meghan Markle. Master blender Sandy Hyslop created The Royal Wedding Edition with a some of the rarest whiskies from the Royal Salute collection (the oldest being 55 years old; 33- and 36-year-olds were also included) to create the unique blend. In a first for the brand, this edition was matured in 100% American Oak casks as a tribute to the bride's origin (wait – is she American? Why hasn't anyone mentioned that?). Just 70 bottles have been created, each housed in an elegant Dartington Crystal decanter and suitably displayed in a hand-crafted American Oak box. The price? A fairly epic US$10,000 per flagon. Not a dram we'll be raising this weekend…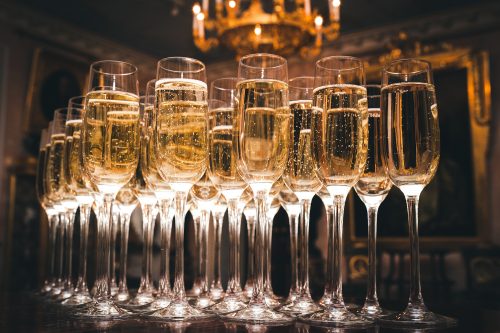 Cheers!
What are the odds that Markle will raise a glass of English Sparkle?
More and more royal wedding details are being revealed but we still don't know the answer to the most important question of all: forget the dress, what fizz will be served?! Apparently William and Kate selected an English sparkling wine to toast their day, which got the Wine and Spirit Trade Association (WSTA) thinking. The drinks body has already teamed up with some of Britain's best wine-makers to send a hamper of English sparklers to help with the difficult decision. And naturally, bookmakers Ladbrokes and William Hill have issued the latest odds on who will triumph. Kent-based Chapel Down is currently the favourite with odds of 2/1 and 1/1 respectively. You can get also get Nyetimber for 3/1 and 4/1, as well as Camel Valley at 5/2 and 3/1. However, if you really fancy a punt, Rathfinny's Sussex Sparkling comes in as a long shot at 16/1 and 25/1 (please gamble responsibly).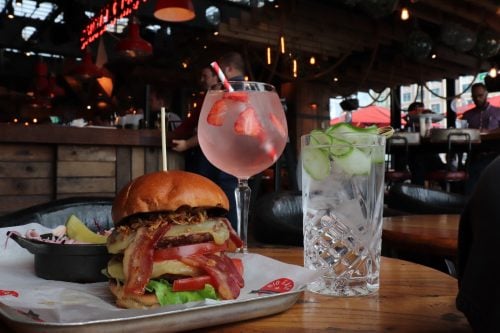 Gordon's jumps on the royal wedding bandwagon
Big Easy celebrates with classic British cocktails from Gordon's
And to round off the royal news, America-themed London bar and restaurant Big Easy is paying tribute to the 'special relationship' between the US and UK (and Meghan and Harry, obvs), which sees some very British cocktails paired with all-American food – all in partnership with Gordon's Gin. The menu includes classics like the Gordon's Gin & Tonic as well as showstoppers such as the Pink Spritz, a cocktail made with Gordon's Premium Pink Gin, lemonade, Prosecco and sumptuous strawberries. The latter is paired with Big Easy's house-smoked BBQ and fresh lobster and shrimp. We're hungry thinking about it.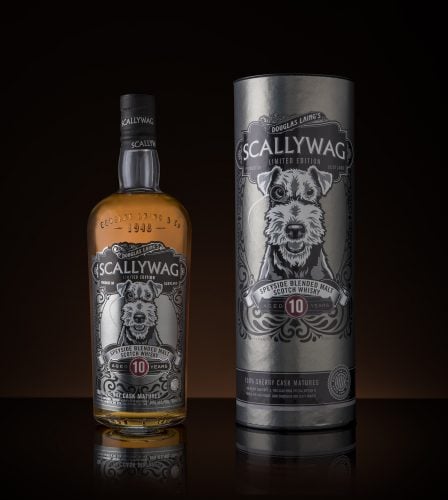 10 year old Scallywag is en route!
Scallywag 10 Years Old Limited Edition is on its way!
As part of Douglas Laing's ongoing 70th anniversary celebrations (check out our interview with director of whisky Cara Laing for more on that), the marvellous Glasgow-based bottler has released a special edition variant of its Scallywag blended malt. This expression boasts an age statement of 10 years, which would be 70 years in dog years – a reference to the fox terrier on the label. All the whiskies within this blended malt have been drawn from ex-oloroso and Pedro Ximénez sherry casks, resulting in a flavour profile of "…rich cocoa, stewed plums and sweet mocha". Keep your eyes on our New Arrivals page for this one…

Who might buy Halewood?
Whitley Neill and The Pogues Irish Whiskey maker explores sale
Big corporate news in the world of UK booze this week: Halewood Wines & Spirits, which makes Whitley Neill gin, West Cork Distillers and The Pogues Irish whiskey, and even Lambrini, among others, is (almost) up for sale. "I can confirm that Rothschild has been appointed to explore strategic options for the shareholders of Halewood Wines & Spirits," the company's CEO Stewart Hainsworth said in a statement. "This is an exciting time for the business, which our management team have been working towards for three years. We have refocused the business on artisanal spirits and craft beers, which has driven a significant upturn in profit." Who might buy the brands? Will they all go together to the highest bidder, or be separated out and sold by category? Who knows. It's an intriguing time for British booze though, and we are promised updates as soon as they are available.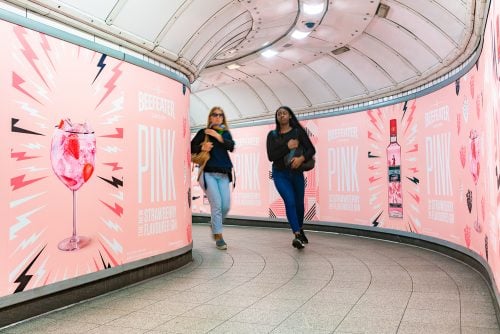 The scent of strawberries comes to Oxford Circus tube station
The London Underground smells a bit sweeter thanks to Beefeater!
Back in February we brought you news that Beefeater Pink was on its way. Well – it's here, and it's certainly making an impact! Brand owner Pernod Ricard has teamed up with Impero Design, Posterscope and media planner Havas to create a thoroughly impressive and immersive first-of-its-kind experience at Oxford Circus underground station – while making life smell that bit sweeter for the station's thousands of passengers. How? Beefeater has installed four strawberry-scented exit corridors, plus a vinyl-wrapped escalator for a two-week stint that will literally envelop commuters in the brand world – and in strawberry scent. Apparently the magic is in the scented ink – and we're impressed.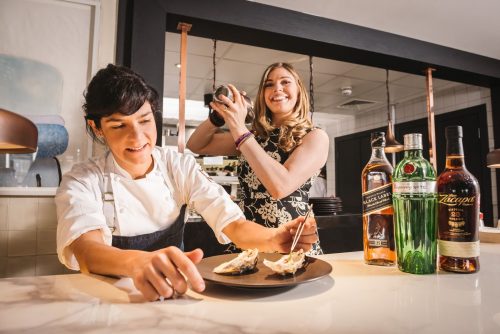 Diageo goes all foodie
Diageo buddies up with Taste Festivals far and wide
Drinks giant Diageo and IMG's Taste Festivals have teamed up like some sort of Voltron or Megazord (depending on your preference of robots that fit together to create larger robots) to offer unique views on how spirits and culinary delights can come together like a… Well, yeah, like a Voltron or Megazord. Festival attendees can expect to get stuck in with immersive experiences based around top Diageo brands like Johnnie Walker, Tanqueray and Ketel One. They'll also be showing off cocktail and cuisine combinations at their new Taste Tuesdays (a monthly international in-restaurant event series) and Taste Residencies (exclusive chef's table experiences). Sign us up!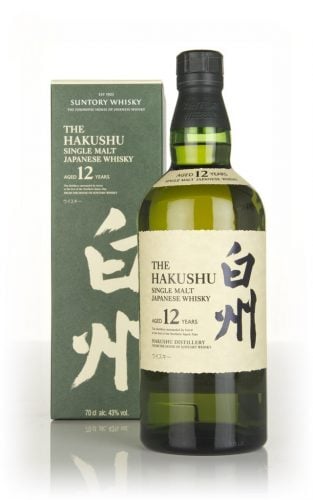 Bye bye sweet whisky
It's official: The days are numbered for Hibiki 17 and Hakushu 12
Sad news reached us at MoM Towers this week: two of our favourite expressions have fallen foul of the great Japanese whisky shortage. Soon, Hibiki 17 Year Old and Hakushu 12 Year Old will be no more! The discontinuing gets under way in Japan from June, with export markets following shortly after. "As Hibiki 17 years old is comprised of whiskies aged for at least 17 years, it cannot be made in an instant," a statement reads. "At the moment, demand outweighs supply, making continued sale difficult." We knew we should've kept our love for Japanese whisky quiet… and maybe reined in all those Highballs.
Bombay gets botanical at Dandelyan
Bombay Sapphire opens Botanical Suite at Dandelyan
Everyone's favourite bar Dandelyan is expanding! Sort of. The team has palled up with gin brand Bombay Sapphire to open a Botanical Suite within the Mondrian London (where Dandelyan lives), which will comprise a tasting room, botanical terrace and what sounds like an ingredients library. Guests will be able to explore an array of cocktails in detail, including the chemistry, biology and history behind the drinks, while relaxing in the outdoor patio-type area. Bombay Sapphire has curated the space, which features live plant walls, luscious trees and a tasting table, and there will be a different cocktail menu each week. It all kicks off on 4 June. You know what to do!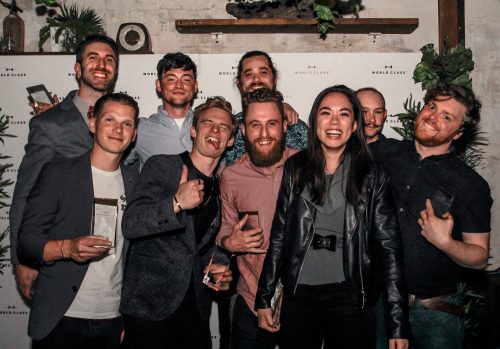 The World Class GB finalists are in!
And the Diageo Reserve World Class GB Finalists are…
It's one of the biggest global cocktail competitions in the world – kind of like the bartender Olympics. So when Diageo Reserve announces the finalists for its World Class contest you listen up – these are the bartending stars of the future. Markets around the world will send their top bartender to the rigorous global finals in Berlin later this year, and the UK contingent has been whittled down to the final 10. And being named Diageo Reserve World Class GB Bartender of the Year comes with its own kudos, and prizes include a 12-month contract worth at least £5.000 to tour with the World Class team, nationwide media exposure and all kinds of educational courses, in addition to that plane ticket to Berlin. So who are we cheering for? Congrats to the final 10: Dave Hall from Terrior Tapas, Kieran Grieves from Bonbar, Georgia Billing from Sexy Fish, James Bowker from The Wilderness, Adam Day from Peggy's Bar, Manachain Monaghan from Below Stairs, Luke Robinson from Cub, Daniel Warren from Last Chance, Daniel Bovey from Hyde & Co. and Cameron Attfield from Dandelyan. Good luck to you all in the next round!
And that's it for today! Enjoy World Whisky Day tomorrow, the FA Cup final, or even that wedding… until next week, folks!