It's a mega year for Douglas Laing. Not only is it the independent whisky bottler's 70th anniversary, the family-owned business is also in the process of constructing its very own distillery. We caught up with director of whisky (and third-generation family member) Cara Laing for the very latest developments in a milestone 12 months.
Cara Laing embodies the very definition of whisky enthusiast. We're tucked away up in the cosy Sample Room at Douglas Laing HQ – all squishy Chesterfield sofas, plush cushions and walls stacked near-floor to ceiling with countless samples, all gleaming like stained glass in the sunshine – when she comes bounding in. Some industry folks (inadvertently, I'd hope) give the impression that they're simply done with the never-ending roster of inquisitive drinks journalists, nosy, interfering and thirsty with questions. But not Cara. She's positively beaming.
"I love what I do and I'm very lucky," she says as we settle down on one such sofa to chat all things Douglas Laing. "I relish coming to the office."

In her Twitter bio Cara even describes herself an 'all-round whisky enthusiast!', and she's so immediately animated that it is clear it's not a spun line to appease the many whisky fans that worship at the altar of Douglas Laing. If you're reading this, you're likely already familiar with the company's product range, from the beloved blended regional malts of Timorous Beastie, Scallywag, Big Peat and the likes, to the encyclopaedic selection of single cask bottlings and beyond. How does a director of whisky keep on top of it all? What does such a job title even mean anyway?
She laughs at the question. "Our CEO, who is also my husband, Chris [Leggat], hates my title because it's so ambiguous, but for me, in a small-ish family business, it's actually quite beneficial because you do have to dip into various things," she says. These various things include heading up marketing and brand management, tasting samples, writing tasting notes, dealing with the packaging, and of course, the new distillery (more on that shortly). "I think that's the case for everyone at Douglas Laing; you never know what will be thrown at you!" She laughs again.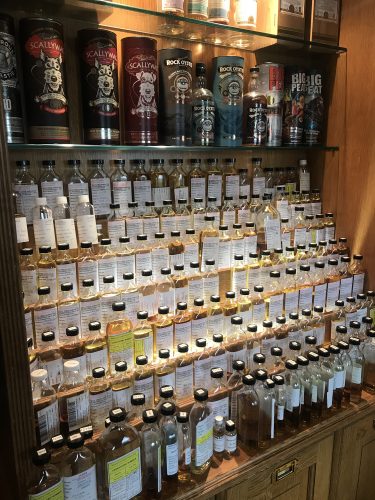 Inside the Douglas Laing Sample Room
It might have been easy for Cara to join the family business straight off the bat, but whisky wasn't always the main focus, she tells me. "I can't say it was always my intention to go into the whisky industry, because it wasn't at all." Unusual perhaps, for someone whose upbringing must have been so interlinked with the industry. Her grandfather, Fred Douglas Laing, founded the business in the immediate aftermath of the Second World War. Her father, Fred Hamilton Laing, officially joined the business in 1972. "I think it would have been wrong for so many reasons," she says on the topic of going straight in to Douglas Laing. Instead she had seven years of learning her craft out in the wider industry.
"I ended up at Whyte & Mackay because I fancied working on their vodka portfolio. I had no real interest in whisky, and quite resented that I was then moved on to Jura. 'This is so dull and boring!'" She's laughing again. "And then I very quickly discovered that wow, I love this whisky, I love the island of Jura, and I love dealing with global distributors and all that a brand entails."
After that epiphany she moved onto Morrison Bowmore, working on Bowmore and Glen Garioch. "It was a wonderful time in my career and an amazing learning curve," she recalls. "I worked with great people and I was so upset to leave! But at that time various things were going on at Douglas Laing meant that it was the prime time for me to join the family business."
70 years of Douglas Laing
Now fully immersed in the company, Cara has a real passion for new product development (NPD). "I mean Rock Oyster, our Island vatted malt was something Chris and I sat talking about one day at traffic lights on our way to work," she remembers the process. "We then started outlining an idea for the pack and we started talking about spirit options and now it's a great brand for us that's loved around the world. And to see a product develop from a rough thought one day sitting at traffic lights to now being in France, or Germany, or Taiwan, and seeing it in a retailer or behind a bar is quite special. You still get that tingle-down-your-spine moment which is lovely."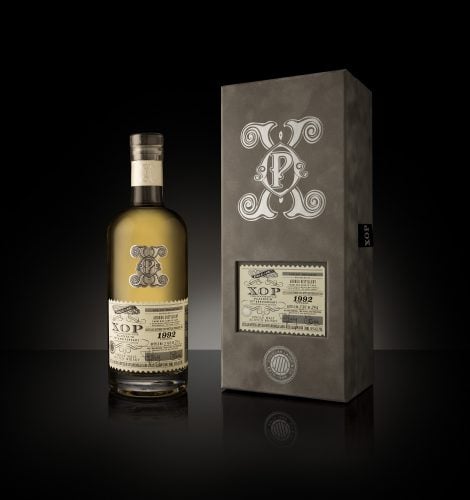 Platinum XOP Ardbeg 25 Year Old 1992
It's a never-ending process. "We used to have some great ideas – we still do! – over weekends. We are always bouncing off each other and it probably is only a good thing. There are times when we're like 'ooh we should really stop talking about work', but I think the fact Chris and I are in each other's company so much is [great]. It's great to be able to go 'I was thinking about this, is this a good idea? Has it got legs?'. Then we sort of build on it, and it means by the time you come in on a Monday morning you've got a fully fleshed out idea that you can go to marketing and production and finance with."
And, with Douglas Laing in its 70th year, NPD has continued apace, with all kinds of commemorative bottlings. There was the launch of [the now sold out] Platinum XOP Ardbeg 25 Year Old 1992, one of four such expressions to be released this year, and the pair of 35-year-old whiskies in a pack: a Cambus and a Caol Ila ("very serious juice", Cara remarks). There's a 10-year-old Scallywag coming out shortly ("In dog years, 10 is actually 70"), and there's a 26-year-old Big Peat due soon, too. How did Douglas Laing strike the balance of commemorating the big occasion with something collectible, while remaining accessible?
"We've been very mindful of not pricing everything at a ridiculous level, that people feel it's unobtainable," she says. "I mean from the Ardbeg up at £900 to the anniversary [twin] gift pack, more reasonably priced, and then the 10-year-old Scallywag, more reasonably priced again. I think there's something at every level, which is important."
The Douglas Laing distillery
Which brings us on to something else super important: the Douglas Laing distillery. In July 2017, the company confirmed it was to build a £10.7 million distillery and office complex on the banks of the River Clyde in the heart of its native Glasgow. It's thrilling whisky news. How have plans progressed in the nine months following the announcement?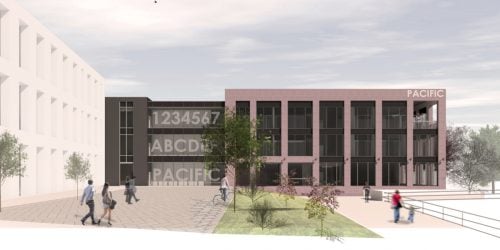 An artist's impression of the planned Douglas Laing distillery
While Cara is reluctant to go into too much detail ("We'd prefer to quietly go about our business, get the distillery built, and then, once we actually have some spirit to show, we'll absolutely be shouting about it,"), she does disclose some developments.
"We have started investing in casks already, the stills are ordered, so there's a lot of behind-the-scenes work going on," she says. While the team has decided on a name, they're not quite ready to share it yet.
"We are currently working on the creative look for the brand because obviously that will very much feed into the distillery look. And I guess the whole ethos of this distillery," she continues. It's being built in Govan, an edgier part of Glasgow, a city she describes as "gritty". "It's urban, obviously – and we think there's something really interesting in that." Where others perhaps in Speyside or the Highlands play into the lochs and hills, Douglas Laing's will be a "down-to-earth, very honest distillery".
There will be a bar, bistro and visitor centre on-site, as well as "everything from the barley to the finished bottle". Even some key casks will be matured at the location.
"It's a mammoth project for us, and it is a challenge doing everything on the one site," she continues. "It's definitely got a lot of people's brains ticking away overtime!" The Laing laugh comes out again.
But what about the whisky itself? "Our approach is to have it quite heavily sherried," she details. "So this won't be a typical Lowlander; we'll be proud of our Glasgow Lowland roots but we will be not a Lowland style. Not light, floral, elegant [but] far more syrupy and with the heavy sherry influence coming through. It will be much more of that macerated fruit, dark fruit, chocolatey cocoa character." Delicious.
The 'family' link
The day-to-day must be a complete whirlwind, from the rate of NPD to planning a distillery, and even just keeping the day-to-day ticking over in a rapidly-growing business. What does it mean to Cara to be leading whisky development in her family's company at such a pivotal moment?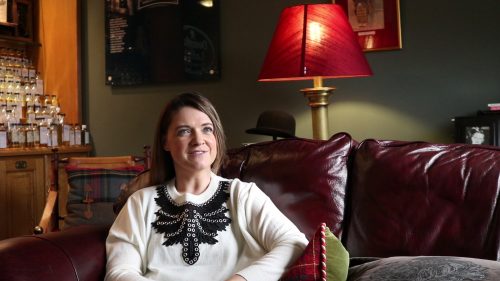 Cara Laing, director of whisky at Douglas Laing
"Sometimes you have to take a step back," she says, adding that she's also mummy to two small children as well as everything that comes with being director of whisky. "Sometimes life is so busy it's very easy to forget that the company is doing so well because you get immersed in the day-to-day. It's easy to lose sight of 'wow, it's amazing, these brands that we sketched on the back of a notepad are now global brands'."
The family link gets lost in the hecticness too, she adds. "It's easy to forget probably how rare it now is in the whisky industry, and what a unique position I'm in that I work with my dad and my husband in a company my grandpa established. I think I've often said whisky is in the blood and I'm lucky that, as a family – Fred, Chris, myself – we all share so much passion and enthusiasm for this company but also for whisky. And from that point of view it's amazing to be here when the company's turning 70."
Alongside the bottlings, there's a whole range of activities planned throughout the year, so keep those eyes peeled. "It cements our credentials – that we have been around for 70 years, but also to celebrate the fact that we are very proud of our Glasgow roots and heritage, and bring it all back to that as well. So it's an exciting time; it's just when you take that slight step back and go 'god, it is our seventh decade', and it is lovely to be here when you're not in among to-do lists and NPD meetings and everything else!"