Leave your preconceptions at the door – the pink gin trend is going nowhere. Beefeater has become the latest distillery to jump on the bandwagon with the launch of its new strawberry-flavoured variant, Beefeater London Pink. Spoiler alert: it's delicious.
It's nigh-on impossible to have missed the flurry of pink gins that have entered the category over the last year, so kudos to you if you managed it. Keen to capitalise on the 'millennial pink' movement, a plethora of producers have concocted their own rose-coloured creations, sending juniper purists shouting unintelligible swear words into pillows (probably).
You might think Beefeater is a little late to the party, and you'd be right – but it turns out there's a pretty good reason. As with any fledgling spirits trend, there have been some excellent pink gin releases, and there have been others with, shall we say, questionable flavours (read: saccharine sweet, artificial, a bit naff). Beefeater has been busy refining the recipe to get it bang on.
"What was important for us was to have the integrity of Beefeater in terms of a real gin with juniper and citrus but also fresh, natural strawberries and not too much sweetness," said Sophie Gallois, managing director of Pernod Ricard's Gin Hub, speaking at the Beefeater Distillery this morning. "We're feeling confident we have something quite spectacular."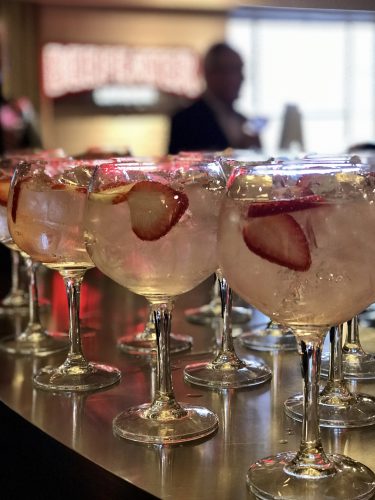 The new variant is made with strawberries
Inspired by the inventive nature of the distillery's founder, James Burrough, Beefeater master distiller Desmond Payne MBE experimented with different techniques as he worked on the new variant, which is made using the original Beefeater London Dry Gin recipe.
"We looked at I don't know how many different ways of doing it," he explained. "Soft fruits don't distil very well, you have to deal with them in a different way. So we add the flavour of strawberry after distillation."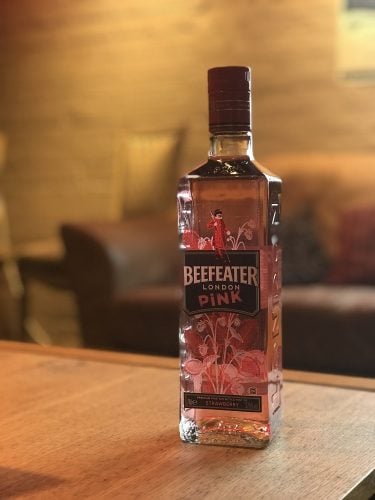 Beefeater London Pink
Why strawberry? It "works really well with the other flavours that are in Beefeater," added Payne. That said, honing the final flavour profile was no mean feat. "When I look at making a new product, I look at how things balance and how they show in a different way when you add a different ingredient. When you're dealing with flavour, one plus one doesn't necessarily make two."
Bottled at 37.5% abv, Beefeater London Pink offers a hit of bright, fresh strawberry, balanced by prominent juniper and citrus flavours resulting in a really well-rounded, flavourful expression that is unmistakably Beefeater at its core.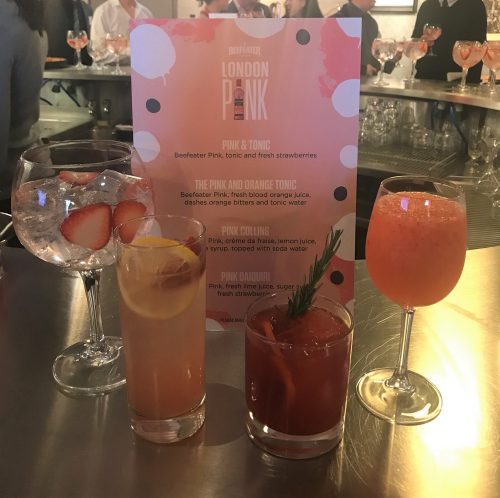 The serves
Not many of us tend to drink gin neat, of course, so Beefeater has created a few cracking serves for Beefeater London Pink. These include the Pink & Tonic (garnished with fresh strawberries!), The Pink & Orange Tonic (made with blood oranges and orange bitters), a very moreish Pink Collins, and our favourite, the Pink Daiquiri, which we will most definitely be serving up this summer.
If you remain dubious, fret not – classic Beefeater is going nowhere. "We're never going to stop making traditional Beefeater gin," asserted Payne. "James Burrough will be happy about that. I'm happy about that. But we need to look at new things.
"[Beefeater London Pink] is about rebalancing traditional Beefeater London Dry Gin so it shows in a different way – a little sweeter, a little fruitier, and adaptive to a new generation of drinkers."
Beefeater London Pink will be winging its way to MoM Towers soon, stay tuned!