With World Whisky Day taking place this Saturday, here at MoM Towers we thought we'd showcase The Malt Whisky Trail, a wonderful trek through stunning Speyside featuring classic distilleries and plenty of sublime Scotch whisky…
How are you planning on spending this World Whisky Day (Saturday 19th May – come to think of it, I have a feeling there's some big event on that day…*)? I'm sure we'll all enjoy some great whisky first and foremost, maybe even schedule a distillery visit, or try a new expression or style.

You could do something truly spectacular though, like experience the only malt whisky trail in the whole world. That would be The Malt Whisky Trail, a tour through Speyside that connects nine iconic whisky locations in an area with the largest concentration of whisky distilleries in the world. Among the golden beaches, deep pine forests and snow-capped hills there isn't just an abundance of wildlife, but some of the world's most recognisable brands of Scotch whisky, both boutique and global, the UK's only dedicated cooperage, and a host of amazing whisky bars.
The Malt Whisky Trail will intrigue those who love Scotch and wish to learn more about its rich history from the very craftspeople who are the guardians of more than 250 years of knowledge. We do, however, appreciate that not everybody will be able to hop on a plane or train to Speyside. If that's you, why not join us as we take you through two of the distilleries on the trail before presenting a selection of seven bottlings from the seven active distilleries featured on the tour. You too can then celebrate World Whisky Day with a taste of The Malt Whisky Trail in superb Speyside style!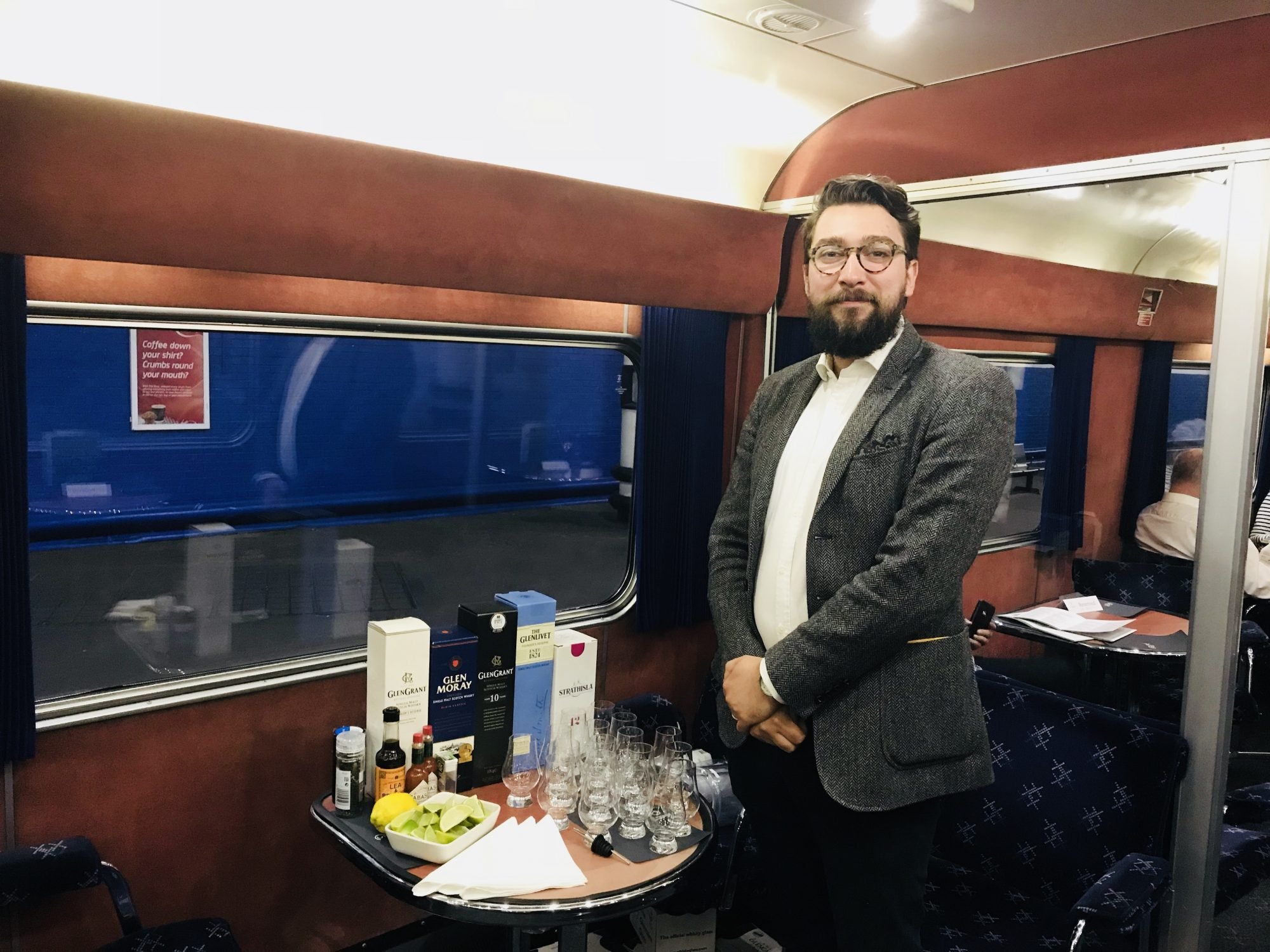 World Whisky Day founder Blair Bowman and a host of expressions found on The Malt Whisky Trail
The Malt Whisky Trail is a partnership of nine whisky destinations, including Benromach, Glenfiddich, Glen Grant, Glen Moray, The Glenlivet, Strathisla, as well as the historic Dallas Dhu, giving people a taste of what whisky production used to look like, and The Speyside Cooperage, where a great deal of Scotland's whisky casks are processed.
But before we reached the Trail, we were invited on the Caledonian Sleeper train for a tasting hosted by World Whisky Day founder Blair Bowman. The tasting explored expressions from Glen Grant, Glen Moray, The Glenlivet, and Strathisla before we set off to spend actual time at Benromach, Glenfiddich Distillery and The Speyside Cooperage. The two distilleries were fascinating choices, representing opposite ends of the scale when it comes to Scotch whisky production. Benromach is a small, humble and manual distillery that only produces about 380,000 litres of whisky per year, while Glenfiddich is an enormous behemoth of a distillery which creates the world's best-selling single malt whisky in a set-up which has the capacity to produce around 13,000,000 litres of spirit. However, both distilleries were more than able to demonstrate the strength, vibrancy and diversity of the Speyside scene.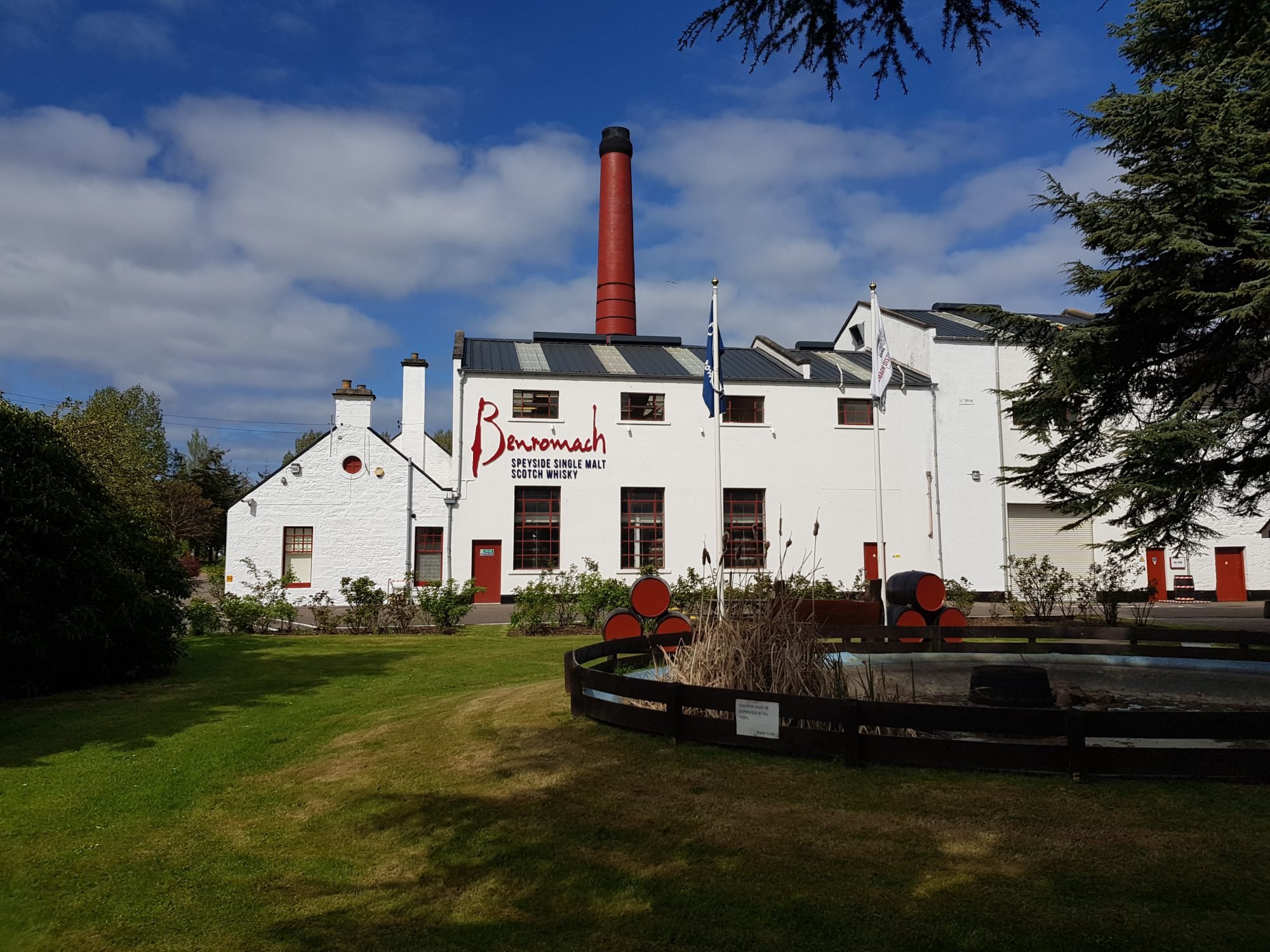 Benromach Distillery
A Tale of Two Distilleries on the Malt Whisky Trail
First up is family-run distillery Benromach, established in 1898 which means it celebrates 120 years of malt magic this year! The distillery is independently owned by Gordon and MacPhail, which brought the distillery back to life 20 years ago. That's two anniversaries in one year!
All that remained from the historical footprint when the distillery reopened was the water source, the Chapeltown springs, and a building designed by the renowned Elgin-based architect Charles Doig, who was also credited for Aberlour, Dufftown and Balblair among many others. Because of this, Gordon and MacPhail was able to impart a new style, which included the revival of a smoky profile to the sweet, floral and chocolatey character Benromach is known for.
Benromach is a manual distillery so every process is carried out and monitored by the small, but dedicated staff. The three different types of barley the distillery uses are sourced from local Scottish maltsters in Inverness with the core variety peated to 12ppm, an organic barley with no peat and a variant which is heavily peated to 57ppm. Benromach is currently the only distillery in Scotland to use both distillers' and brewers' yeast in its fermentation, which lasts three days. There is just one stainless steel mash tun capable of holding 1.5 tonnes of mash and 13 washbacks which hold 11,000 litres each. The four original European Larch wood washbacks remain among nine new additions which were installed in 2016.
Prior to 2013, production was handled by one on-site member of staff and only 125,000 litres of spirit flowed from the two copper stills each year. After 2013 another person joined the team to help increase the capacity to 250,000 litres before a third employee was hired to bring the total volume of spirit created at Benromach to 380,000 litres per year. Of the two copper pot stills, one is a 7,500 litre charged steam heated wash still and the other is 5000 litres charged steam heated spirit still.
The distillation cuts are made manually using a hydrometer and temperature gauge, where most distilleries have computerised this process. The final distillate is produced at 63.5% ABV and is manually transferred into casks in the filling room. These are then rolled by hand to one of the warehouses.
Currently, there are five single-storey Dunnage warehouses complete with earthen floor and stone walls for traditional temperature regulation, but three or four more additions are in the planning stage. Benromach uses three different cask types; first fill ex-bourbon from Jim Beam and Maker's Mark, first still ex-Oloroso sherry, and virgin oak casks sourced from Missouri. Once the whisky is ready, all bottling, labelling and distribution operations are handled in Elgin just 12 miles away.
Benromach is something of a custodian of an almost forgotten time, but this story of the revival of old-school distilling has a lot to teach us. The Malt Whisky Trail wouldn't be the same without an authentic, small-scale, manual distillery.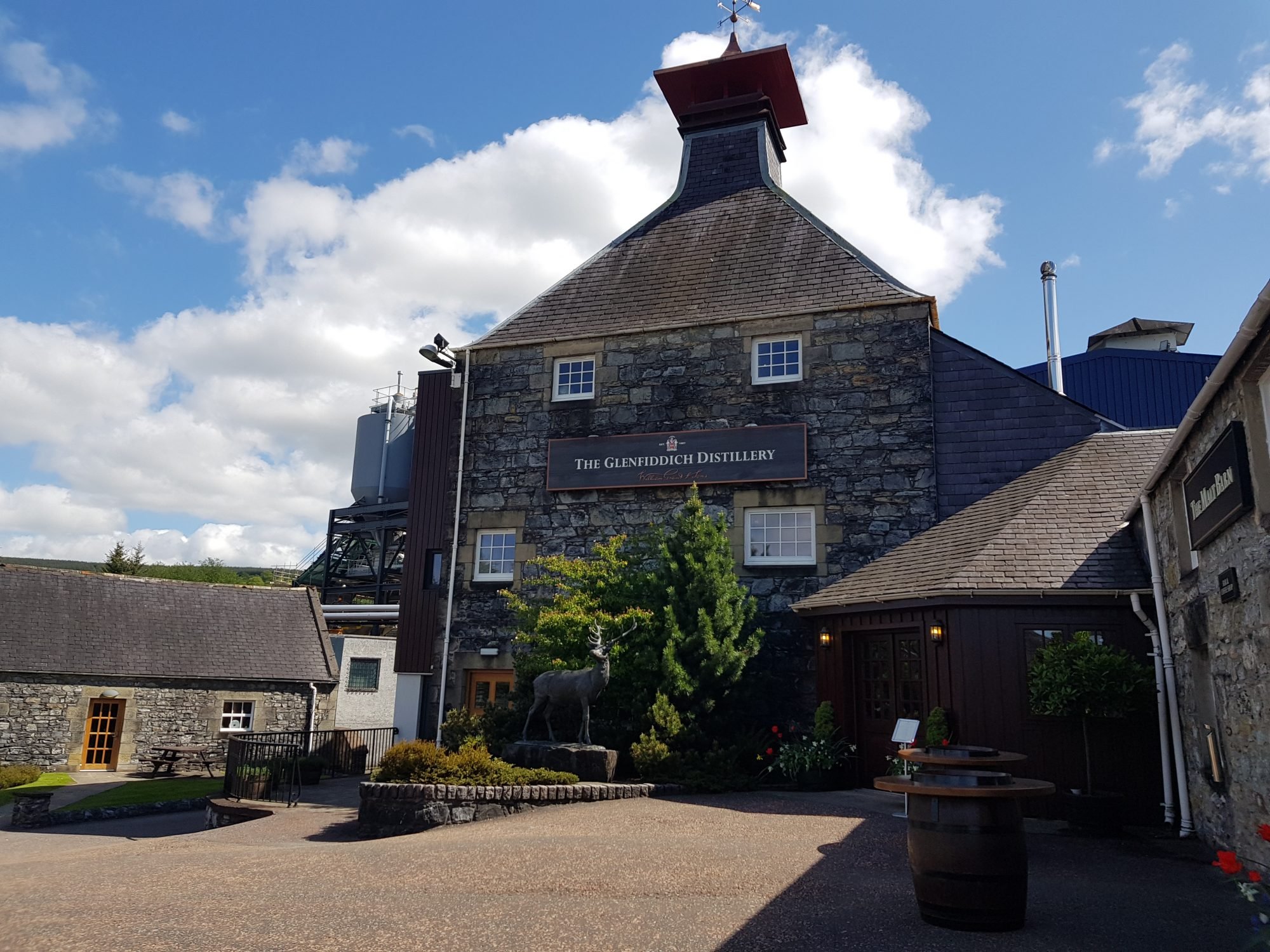 Glenfiddich Distillery
Glenfiddich Distillery was established by the founder of William Grant & Sons, William Grant himself, in 1876. As a former cattle farmer, Grant knew the land and the key Robbie Dhu water supply would help create a successful distillery. The site's growth to become one of the world leaders of Scotch whisky production, boasting the world's best-selling single malt with sales in excess of a million cases a year, proved him right.
As far as Scotch distilleries in Speyside go, the comparison to Benromach is stark. Around 100 tonnes a day of malted barley is brought to Glenfiddich and with 408 litres of spirit produced from this per tonne, it certainly adds up! The two semi lauter mash tuns work 24 hours a day, and the leftovers are recycled through an on-site biomass plant, which 20 years of research went into.
Despite the technology, the brand is clearly aware of its rich heritage and has made great strides to retain the identity that William Grant established all those years ago. The 32 Douglas Fir washbacks are made with same wood William Grant used originally and each stands at a substantial at 41,000 litres capacity. The last washback was installed in 2016 and oldest has been there for 42 years. Glenfiddich solely uses the Mauri liquid yeast strain, churning through 250 litres in each 72-hour fermentation.
A staggering 31 stills in total demonstrate the scale of the operation, with 16 in Stillhouse 1 and 15 in Stillhouse 2. Of the 31, there are 11 wash stills at a capacity of 9,100 litres and 20 spirit stills with 4,550 litres capacity. The stills are heated by direct fire, and – fun fact – Glenfiddich is the only Scotch distillery to have two different shapes of spirit still. One Glenfiddich feature is the impressive number of staff on site with decades of experience, such as dedicated coppersmith Dennis McBain, who has worked at the distillery since 1959.
Once Glenfiddich spirit is distilled it is transferred into casks, with 900,000 ageing at any one time on site. They are maintained by coopers such as Ian MacDonald, who has worked for the company for over 48 years. Earthen floors and stone walls act as traditional temperature regulators, while unique installations such as the famed solera system, implemented by William Grant & Sons malt master David Stewart (now at Balvenie) implementation, reveal the innovative side of Glenfiddich. Influenced by the manner in which sherry is aged, the solera was introduced in 1998 and its 37,500-litre capacity has never been less than half full at any time over the last 20 years. This maturation system is used for a certain 15-year-old bottling, but more on that later…
Glenfiddich is an example of the huge status Speyside Scotch can achieve and how it can retain tradition and heritage through significant growth. It's one of many classic and long-standing independent distilleries on The Malt Whisky Trail, and with its dedicated visitor experience (Glenfiddich was actually the very first distillery to have a visitor centre) it's a sure favourite among tourists and spirits fanatics alike.
Spirits of Speyside: Welcome to The Malt Whisky Trail!
Of course, the whole point of The Malt Whisky Trail is to enjoy great whisky. In this spirit (no pun intended), we've assembled seven interesting and popular bottlings from each active distillery on the trail so you can experience its joys at home!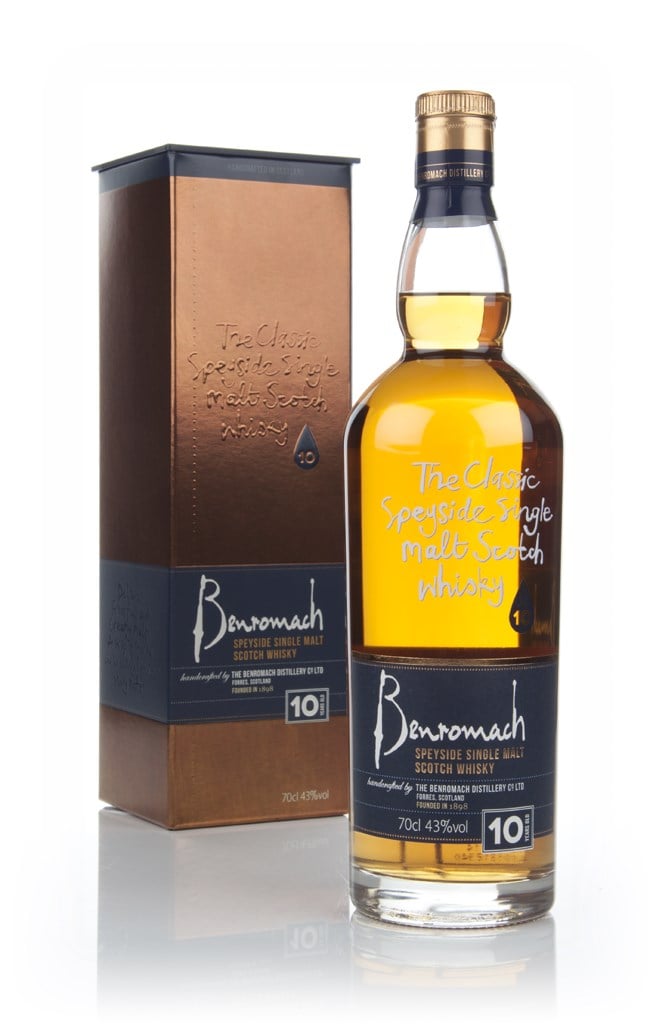 Benromach 10 Year Old
Benromach 10 Year Old
A wonderful expression that represents real value for money, Benromach 10 Year Old was matured for the first nine years in ex-bourbon (four-fifths) and ex-sherry casks (one-fifth) before a final year in sherry casks to give it a delicious profile filled with notes of dry barley and pine, sweet ginger spice, sherried fruits and maple fudge.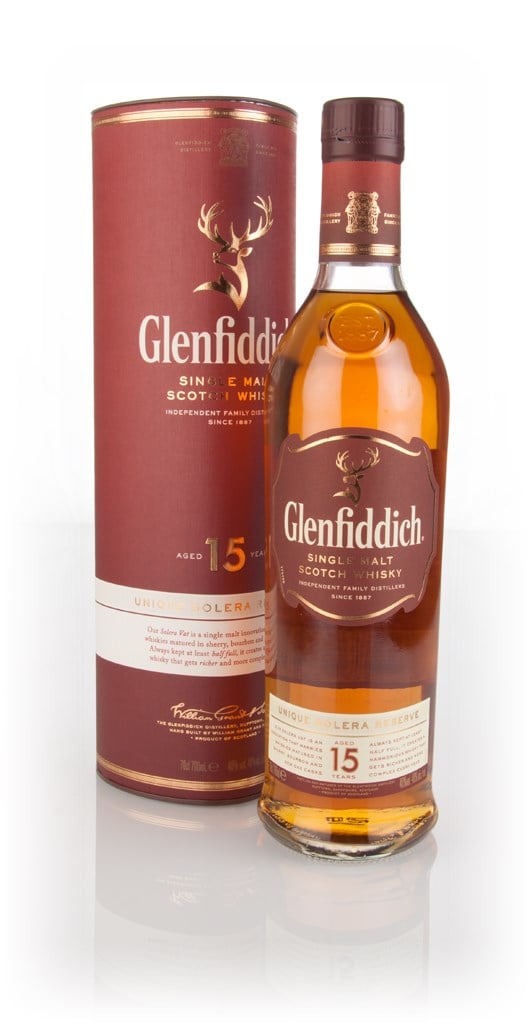 Glenfiddich 15 Year Old Solera
Glenfiddich 15 Year Old Solera
A quite brilliant expression from Glenfiddich, the 15-year-old expression was matured in American bourbon, Portuguese sherry and virgin oak before it was then married in the aforementioned solera vat to give it notes of dry wood, smoke, fruitcake, candied fruits and winter spices

Glen Grant The Major's Reserve
Glen Grant The Major's Reserve
This accessible, approachable entry-level malt from Glen Grant is ideal for beginners. A no age statement malt, The Major's Reserve is both delicious on its own and is highly mixable, plus it's teeming with notes of delicate apple, vanilla and dry hazelnut.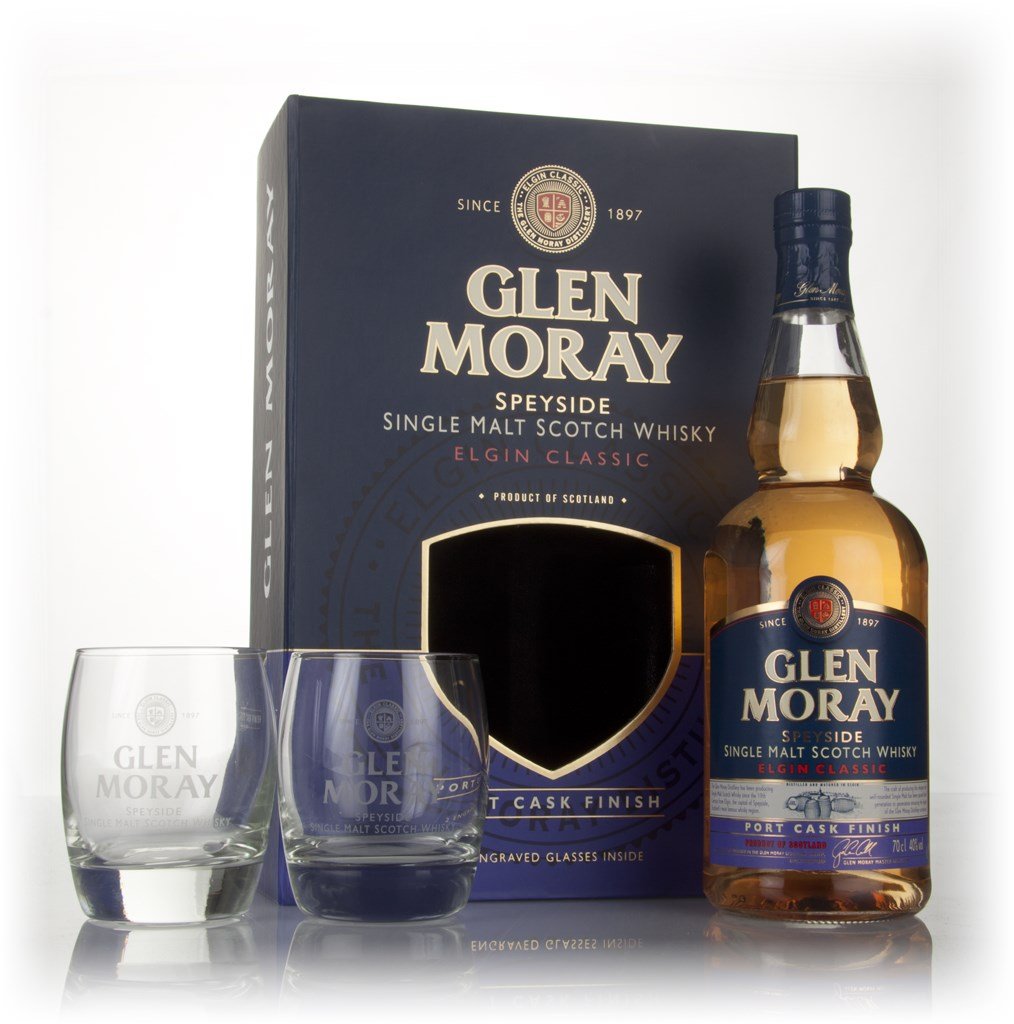 Glen Moray Port Cask Gift Pack with 2x Glasses
Glen Moray Port Cask Gift Pack with 2x Glasses
A wonderful little gift for the whisky lover in your life to celebrate any occasion, this Gift Pack from the Glen Moray distillery features a 70cl bottle of its Port Cask Finished single malt and a pair of branded glasses. The whisky itself benefits from its distinctive finish and has a profile that combines notes of creamy vanilla, jammy red currants, toasted oak, butterscotch candies, golden barley and a dusting of cocoa.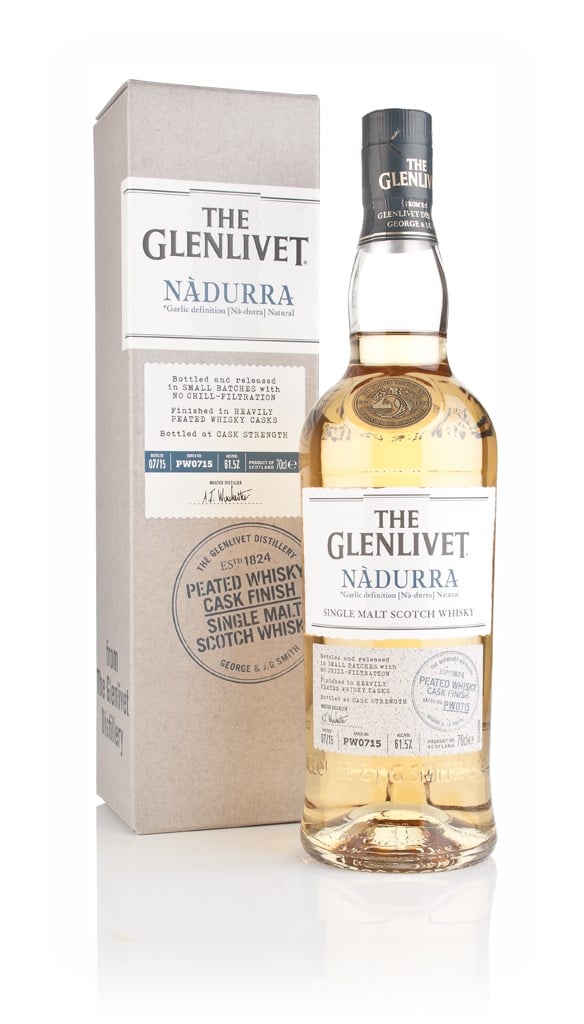 The Glenlivet Nàdurra Peated Whisky Cask Finish
The Glenlivet Nàdurra Peated Whisky Cask Finish
This expression from the superb Glenlivet was matured in first-fill ex-bourbon casks before it was finished in casks that previously held heavily peated Speyside Scotch whisky. The third no age statement Nàdurra release carries notes of earthy peat, pleasantly bitter cocoa, pear drops, gooseberry and a touch of rhubarb and foam banana.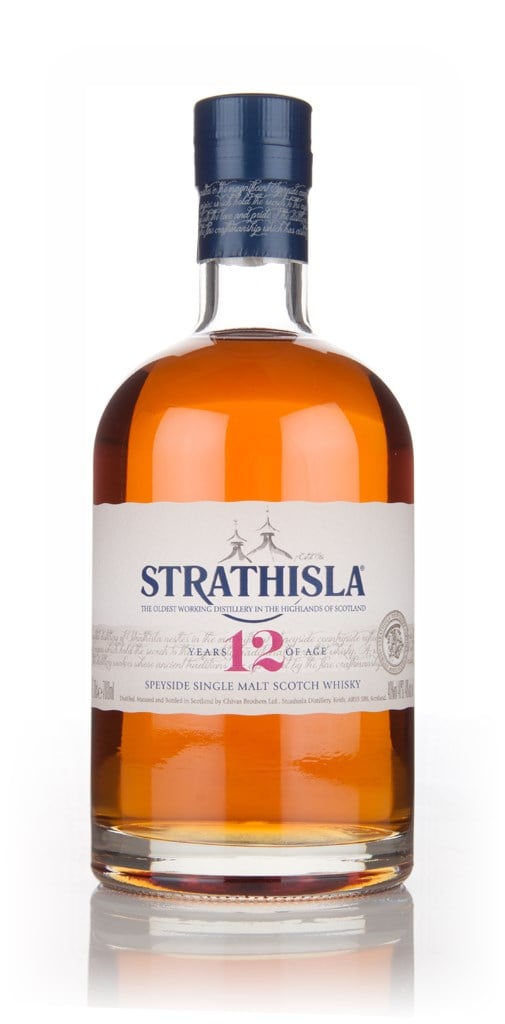 Strathisla 12 Year Old
Strathisla 12 Year Old
The Strathisla 12 Year Old does the legendary distillery of its name proud and makes for a solid choice for a World Whisky Day dram. The fruity, sherry-rich single malt demonstrates all that's great about Speyside with notes of soft oak, candied peel, mince pies, allspice and cooked apple.
Make The Malt Whisky Trail your own this World Whisky Day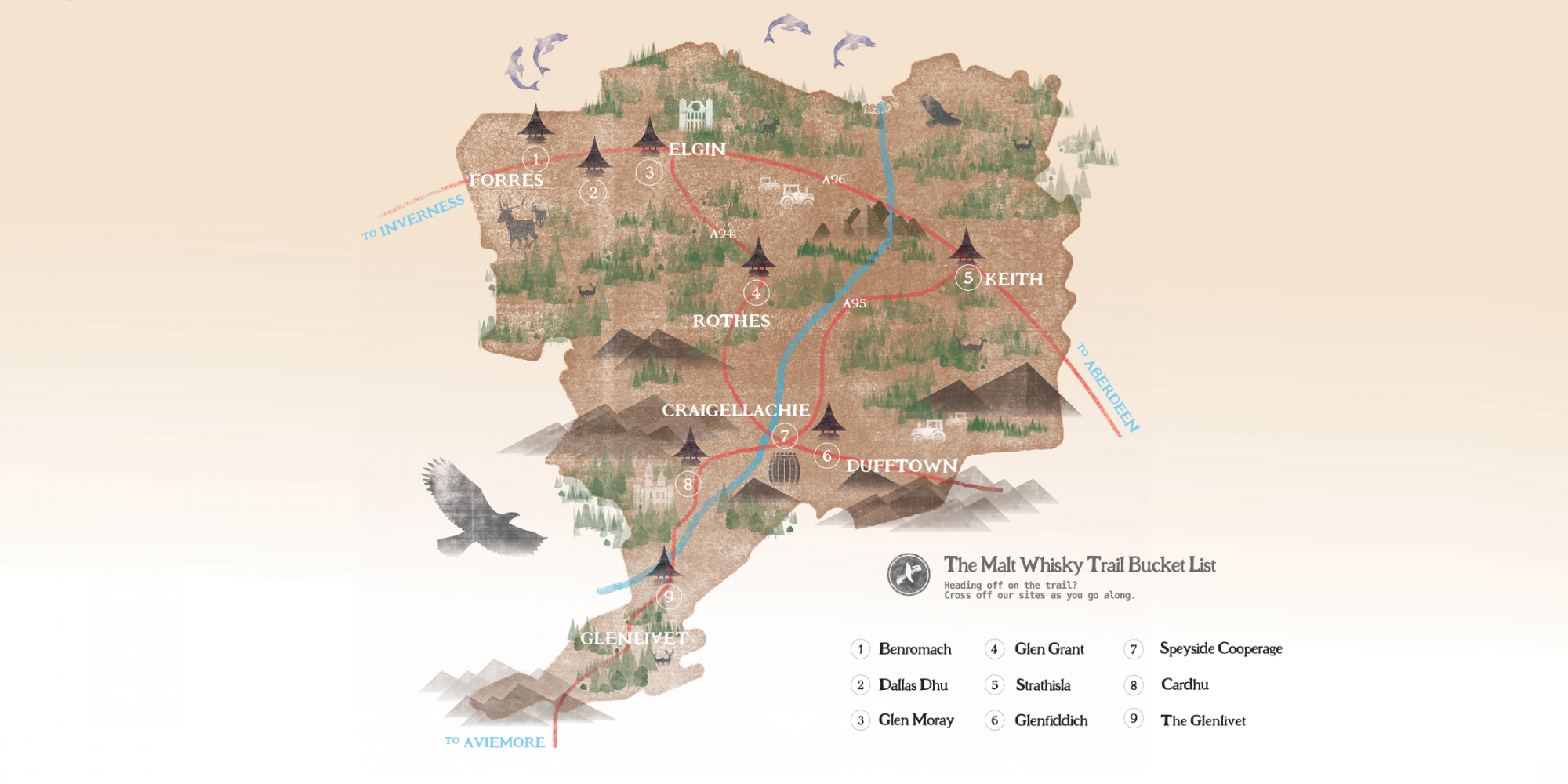 The Malt Whisky Trail
Well, there you have it! There's so much to love and celebrate about Speyside Scotch, so be sure to check out The Malt Whisky Trail and the whole host of wonderful expressions that you can find along the way. You can even build your own tasting set with editions from every active distillery listed! In order to find out about travel, price, accessibility and booking information just visit www.maltwhiskytrail.com, where you can also create your own itinerary. Finally, from all of us at Master of Malt, have a truly wonderful World Whisky Day!
*Oh, that's right – it's the FA Cup Final. I knew there was something.