Speyside single malt whisky distillery Benromach is celebrating its 20th anniversary in the most fitting of ways: with a fabulous new limited edition expression: Benromach 20th Anniversary Bottling!
2018 represents a significant milestone in Benromach's history: it's 20 years since the site was re-opened after decades of uncertainty and a subsequent period of refurbishment. The distillery can actually trace its roots back to 1898, but its chequered past saw it mothballed multiple times. That was until Gordon & Macphail saved the day, buying the site in 1993. In 1998, spirit flowed from its stills once again.
The Benromach 20th Anniversary Bottling (which was bottled just shy of its 20th year in oak) was matured in both first fill ex-sherry and first fill ex-bourbon casks in Benromach's traditional dunnage warehouse, and captures 'the classic character of Benromach Speyside single malt Scotch whisky – rich, smooth and beautifully balanced, with a hint of smoke'.

The result? The Benromach team reckons there's an abundance of fruit cake notes, along with demerara sugar, vanilla, zingy citrus, dark chocolate, warm spice, and of course, that smoky whisper.
"When we began distilling again in 1998, we wanted to recreate the unique Speyside whisky taste which historically had a touch of smoke," explains Keith Cruickshank, Benromach's distillery manager, who joined as a distiller in 1998.
"The 20th Anniversary Bottling uses the finest ingredients to create a gorgeous whisky that has exceptional depth and smoothness.
"This new expression gives Benromach lovers around the world the chance to own and taste a moment in time from the distillery's rich history. Part of the Benromach classic range of single malts, this is a rare and exceptional whisky and a fitting dram to unite Benromach consumers globally to celebrate our 20th anniversary year."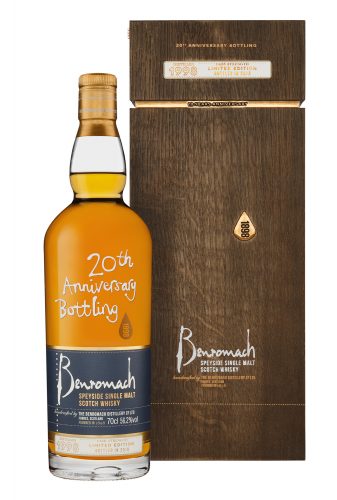 Benromach 20th Anniversary Bottling
The bottle comes nested in a lined wooden box, alongside a hardback book charting the distillery history and the traditional production methods employed by the team there (think: no automated machinery).
One of the best parts of all this? While just 3,000 bottles of the Benromach 20th Anniversary Bottling have been released into the wild globally, with just 200 in the UK, we've kindly been allocated a stash! As soon as the bottles are in the building, you'll be able to pick one up here.
Whether it's with the 20th Anniversary Bottling or any other thoroughly delicious expression from the distillery, let's raise a glass to 20 years of Gordon & MacPhail's Benromach!