No matter how devoted to the dram, pragmatic drinkers will admit there's little joy in warm whisky on a baking hot day. Let London's top bartenders equip you with expert tips and tricks to finesse your summer BBQ staple: the whisky Highball.
As the mercury rises in the UK, our thoughts turn to park picnics, beach BBQs and other sun-kissed gatherings. Straight whisky and searing heat do not happy bedfellows make, so honing your Highball technique is imperative.
The good news? You don't need loads of fancy kit to craft this super-simple apéritif. "You can make a Highball anywhere, from your own kitchen to the fanciest bar you can imagine," says Sean Fennelly, head of Fitz's bar at The Principal hotel. "It should be as satisfying in your local pub as it would be from the American Bar at The Savoy."

This sophisticated serve has mass-appeal. Not only has the Highball captured the taste buds of tentative whisky drinkers, says Simon Chan, co-owner of Shoreditch's Bull in a China Shop – it's inspired existing dram fans to broaden their whisky repertoire with new flavours and styles. "Antiquated views on how whisky should be enjoyed are on the decline," he observes.
Former Milk and Honey bartender Fennelly agrees. "The more ways that we can think of to get people drinking whisky that isn't just the prescriptive 'nosing glass or nothing', the better," he says. "Explaining to people that whisky can be refreshing through any means necessary is the key, and a Highball is one of the best possible ways that you can do that."
No matter whether you're an occasional Scotch-and-soda sipper or a full-blown Mizuwari maestro (Japanese for 'mixed with water'), this formula will transform your favourite dram into a sunshine serve you'll want to savour.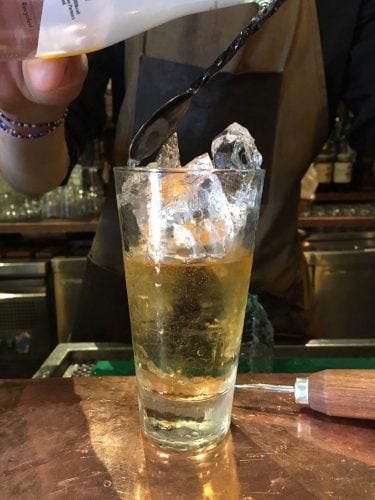 Behold the whisky Highball
The whisky
The proliferation of whisky regions and styles has given the Highball huge potential – but take care when choosing your fighter, and avoid anything with very active oak.
"As soon as the oak is prized away from the spirit by this massive dilution, strange things can happen," explains Fennelly "For that reason, anything that is all about first-fill oak, like bourbon or rye, just tends to be a mess."
Port and sherry cask-finished whiskies should be also avoided, suggests Ricardas Plavko, bartender at Bull in a China Shop, which offers a wide range of Mizuwari cocktails. "The structure and intensity of flavour falls apart and there's not much to enjoy after that."
If some of your favourite drams are out of bounds, what should you select? Generally speaking, blended whiskies make for a cracking Highball. "Japanese blends – with their layers of lovely refill oak casks and dense oak influence that is satisfyingly folded away from the spirit character – tend to work really well," enthuses Fennelly.
That's not to say single malts are off the cards. Peated whiskies are particularly well-suited to this serve, adds Plavko. "Adding just the right amount of soda water can turn a peat monster into a soft velvety kitten."
And if you're simply besotted with bourbon (we get it), try switching the mixer for ginger beer. "Bourbon with ginger really complements the sweet, spicy and woody notes," advises Davide Leanza, bartender at The London Edition's Punch Room.
Whatever you go for, don't be afraid to experiment. "Something that you think would make an amazing whisky highball can completely fail and something that you think is a no-hoper can really surprise you," reveals Fennelly.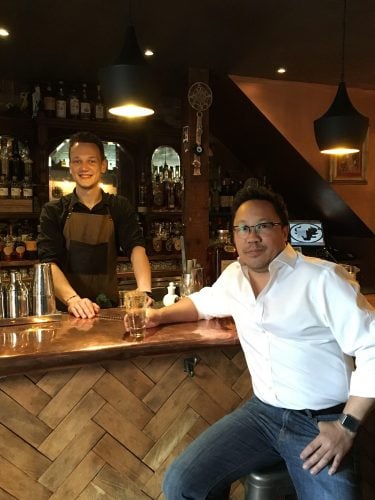 Ricardas Plavko (L), bartender at Bull in a China Shop, and the bar's co-owner, Simon Chan
The ice
If you've ever gazing longingly at the gargantuan, opaque ice block behind your favourite back bar and imagined converting your spare bedroom into a freezer, let me tell you this: you're not alone. It turns out there's a science to this glorious, shiny ice.
"As water freezes, air bubbles are trapped and eventually disperse inside the frozen mass to create a cloudy appearance," explains Plavko. "If you slow the freezing process down, a lake effect sets in as air bubbles rise to the top or sides. The result is crystal-clear, dense ice, which is harder and colder than typical ice. This is the ice you want."
It might be the ice we want, but it's not the ice we can afford. So what's the alternative? Fennelly suggests filling a lunchbox to the brim with ice, freezing it overnight, and cutting it with a bread knife, ideally into large fingers (to fit into your highball glass), or otherwise cubed.
Whatever you go for, surface area is key. "Much like drinking whisky on the rocks, the bigger the better as far as ice goes," he says. "Once you've taken that whisky down to a certain level of dilution, you want to keep it there for as long as possible without it getting too watery."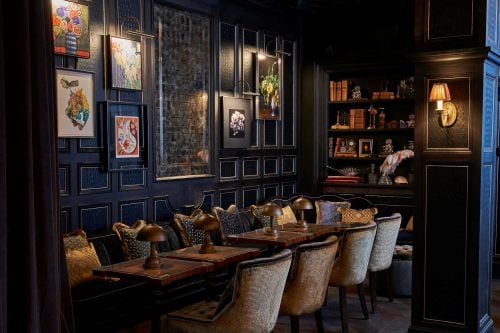 Fitx Bar, where Sean Fennelly's Highballs rule
The garnish
You've topped the whisky with high quality soda or filtered water. Now what? Step away from the tried-and-tested orange citrus for a hot second (unless you went for Leanza's bourbon and ginger combo, that is – an orange twist is the perfect accompaniment).
The final flourish of this subtle, refreshing drink is more than just visual. A garish garnish will disrupt those delicate flavours and undo all your hard work.
"You need to think whether you want something that's going to contrast with what's in the drink, or continue the flavours you've already picked out," details Fennelly. "The whisky Highball is an incredibly subtle drink, so it's better to have something that harmonises aromatically rather than contrasts."
For sweet, spicy or oaky whiskies, Plavko suggests a citrus zest garnish (try lemon or grapefruit) while lighter, fresher whiskies would benefit from a sprig of mint.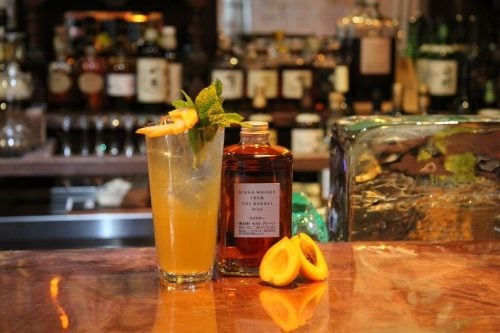 Nikka from the Barrel is a prime Highball candidate
The final word
Freeze everything apart from the mixer before you get building. That includes the glassware, the whisky (yes, the whisky), and your bar tools. Try and make sure everything's as chilled as possible during every stage of the process.
"Cold is the friend of a whisky Highball," hints Fennelly. "It stops the ice from melting and it's got a real textural quality to it. A really cold whisky soda or Mizuwari has got this unctuousness, this thickness, glossiness to the texture."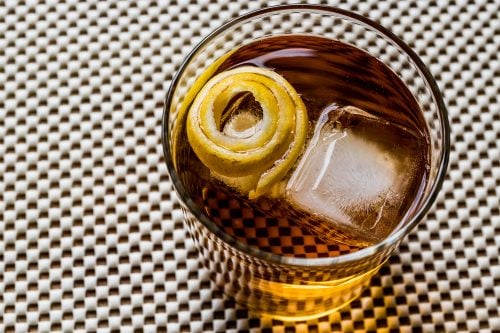 Ice and not-quite-a-slice
Feeling inspired (or thirsty!)? Why not try this tempting pear and cardamom-infused whisky Highball…
Pear and Cardamom Highball
Ingredients: 35ml Amrut Peated Single Malt Whisky, 15ml Merlet Creme De Poire William infused with cardamom, soda water to top.
Method: To make the cardamom-infused pear liqueur, combine 500ml Merlet Creme De Poire William with 40 crushed cardamom seeds in a metal container. Leave the mixture to rest for 6-8 hours, stirring occasionally. Taste test the liqueur throughout, because the strength of the seeds can vary. Then add the whisky and liqueur to a highball glass, stir, then add ice. Gently top with soda water, zest the lemon peel over your drink, then garnish.