Last week, East London Liquor Company steamrollered its original crowdfunding target of £750,000 in a mere 24 hours. Here, founder Alex Wolpert reflects on four transformative years, details the distillery's next steps, and anticipates the future of English whisky with his hyper-local London Rye.
"It's been quite a week," a humble Wolpert tells me over the phone, and I don't doubt him for a second. The gin, vodka and whisky distillery – east London's first for more than a century – exceeded the £1 million marker of its Crowdcube campaign within four days, with investments ranging from £10 to £175,000. At the time of writing, ELLC is making clear headway on its amended target of £1.5m.
Jaded by the "lack of honestly-priced spirits" on the market, Wolpert flung open the doors to his Bow Wharf-based site in 2014 with one objective: 'affordable excellence'. Kitted out with two stills – one for whisky, the other for gin and vodka – the distillery initially brewed off-site in a collaborative effort with Hackney Wick-based Crate, producing a few hundred bottles of gin and vodka for bars "in our own backyard". It was six months before any liquid reached distributors, because Wolpert wanted to "make sure they were consistently great".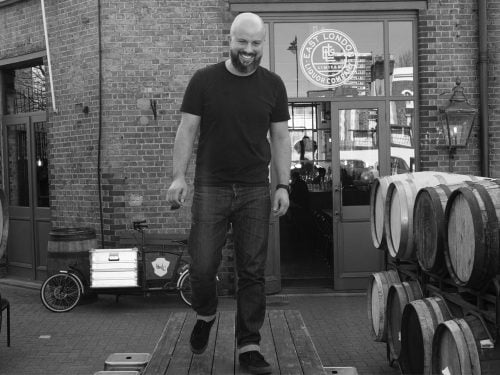 Alex Wolpert, photographed outside ELLC playing 'The Floor is Lava'
Fast-forward four years. Not only has the site doubled down on production with the addition of a second whisky still and a test still ("to run smaller experimental spirits", he says), it's now exclusively a grain-to-glass operation with its own free-functioning brewhouse. ELLC's signature offering of vodka, gin, and (imported) rum has expanded to include two cocktail-oriented gins – "one oily and herbaceous for a Negroni, the other spicy and dry for a Martini" – and an experimental barrel-aged gin programme, which Wolpert describes as "a nice bridge to the whisky".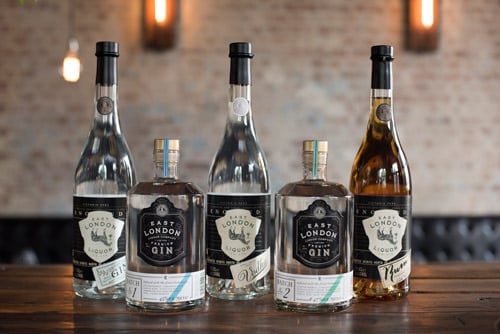 The stunning selection of ELLC tipples
Not just any whisky, mind you. ELLC has mashed, distilled, aged and trademarked the very first London Rye, a "few hundred bottles" of which will hit shelves at the end of the year. It's the first whisky to be produced in London for more than 100 years, and the key focus of the crowdfunding campaign.
"The first three to four years of our whisky development was really very experimental," explains Wolpert. "We were playing around with mash bills, yeast strains, cask types, and fermentations, and fine-tuning the recipes. As with our gins, the focus was on making the liquid delicious and finding out what does that best. Because we'll be releasing a high percentage of our whisky relatively young, we want to make sure that it really is excellent."
Flavour-wise, you can expect "some characteristic spice notes, a rich, fruity element, as well as coffee and cocoa", says Wolpert. "Obviously I'm utterly biased, but I love it. We're incredibly proud of the liquid we've got so far."
Half of the funds raised will scale up whisky production in excess of 100,000 bottles by 2021, he adds, the remainder will bolster the distillery's sales team, equipping ELLC to pursue opportunities in domestic and emerging markets.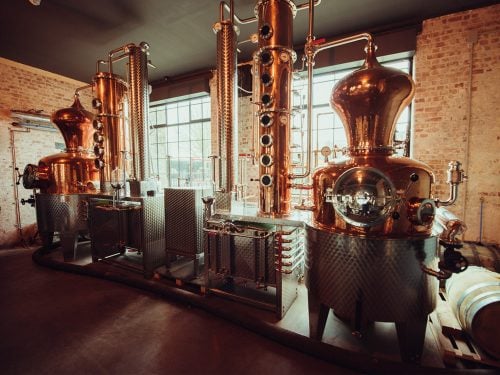 These stills have some busy days ahead
With chestnut wood-aged whisky and rum barrel-aged gin among their many experiments, team ELLC certainly isn't afraid to test boundaries and turn flavour on its head, albeit with a tip of the cap to tradition. Though London Rye will remain the focus, a selection of limited edition single malts are also in the works. Tasty times ahead.
ELLC's endeavour adds to what is quickly becoming a burgeoning category: English whisky. "There's such diversity," acclaims Wolpert, citing The English Whisky Co and Cotswolds Distillery as purveyors of "amazing liquid".
"There's certainly a little bit of gin fatigue out there, but there's a different appetite for whisky," he adds. "There's no chance of overcrowding which is rather brilliant. Everyone's doing their own thing and honing the characteristic of their distillery. The more the merrier."
Driven by hyper-locality, and with no concept of 'tradition' to adhere to, there's potential for English whisky to facilitate innovation in a way its Irish and Scottish category cousins cannot. As distilleries ready to break out their inaugural releases and (quite literally) show the world what they're made of, what does Wolpert hope ELLC will contribute?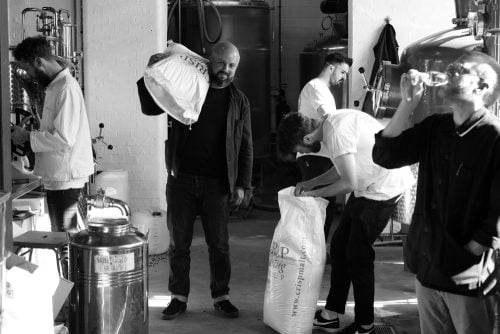 The hustle and bustle at ELLC
"Even though we're [producing] a few hundred thousand bottles of whisky a year, we're still a drop in the ocean compared to what the Scotch industry produces," he asserts. "But it's actually really lovely that we can carve out our own little groove. My hope is that we do carve that groove out and that we are recognised as bringing something different to the category."