WIN a pair of Formula One Grandstand tickets for the British Grand Prix!
Snap up exceptional Johnnie Walker blended Scotch whiskies at an incredible price!
Give your dad the perfect present this Father's Day!
We've teamed up with blended Scotch whisky legend Johnnie Walker to celebrate Father's Day (it's Sunday, 17 June in UK – don't panic, there's still plenty of time to get yourself sorted) by giving one lucky winner (and an even luckier plus-one) that chance to be in sparkling attendance at the British Grand Prix with a pair of Formula One Grandstand tickets!

Johnnie Walker is the instantly recognisable name behind the biggest brand of blended Scotch whisky in the world. Sold in almost every country, Johnnie Walker is bottled at Leven in Fife and Shieldhall in Glasgow, where classic expressions such as backbar stalwarts Red Label and Black Label, as well as fancy offerings such as Gold Label Reserve and the rare Blue Label come to life with the brand's signature smooth and sophisticated character.
Not just at the top of the blended whisky game, Johnnie Walker is also the official whisky partner of Formula One, the highest class of professional motor racing. And it's thanks to this partnership that we have this incredible opportunity that those with a penchant for the fast life and great whisky will love. Are you feeling lucky? It could be you that wins the two Grandstand tickets we have to give away!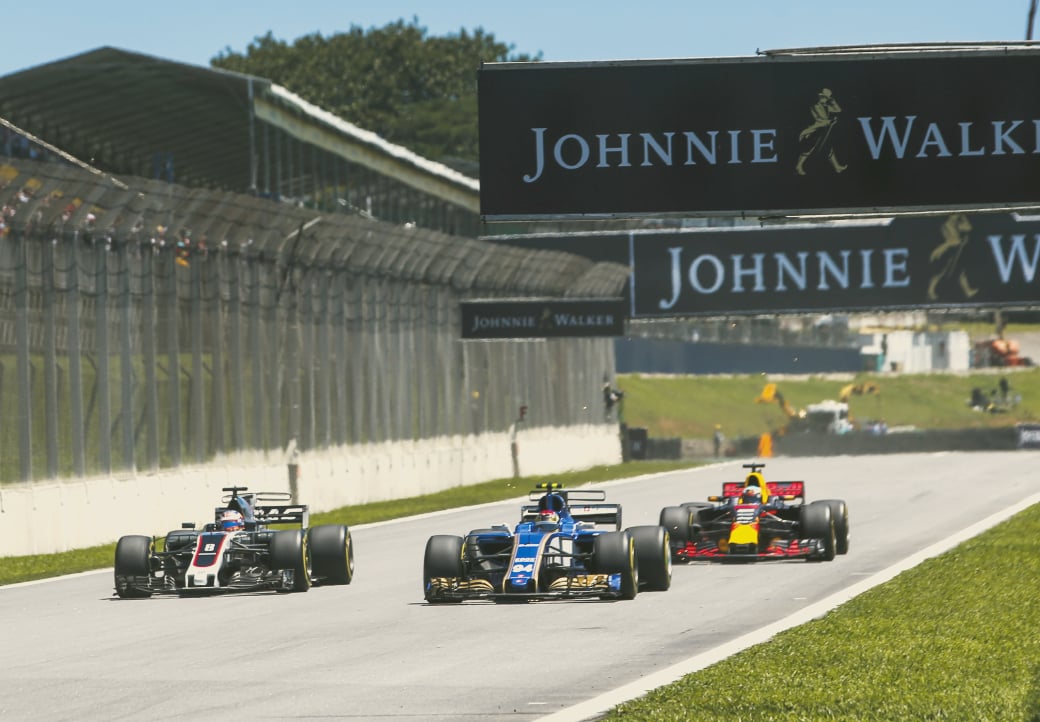 You and your friend could be here. Imagine that! (Not in the cars, obviously).
A Walker whisky adventure awaits…
Naturally, the team at Johnnie Walker will pull out all the stops to make sure the winner and their dad (or guardian/cat really good friend/hot date) have an incredible visit.
In addition to two Grandstand tickets for both the qualifying (Saturday 7th July) and race day (Sunday 8th) of the Formula One British Grand Prix, you'll also receive one nights' accommodation with dinner at the hotel, and arrangements for UK travel will be taken care of. Plus there's a surprise Johnnie Walker welcome gift (a little clue – it's F1 themed…)
"But how can I be in for a chance to win this trip?!", we hear you howl. Everyone who buys any (yes, ANY) bottling from the official Johnnie Walker range between Monday 14th May and Sunday 17th June will be automagically entered into our draw to win two grandstand tickets to two days' worth of Formula One British Grand Prix action.
What's more, you can now purchase the much-loved core range at these exceptional prices, including Johnnie Walker Gold Label Reserve (was £43.96 – now £38), Johnnie Walker 18 Year Old (was £69.80 – now £64), Johnnie Walker Blue Label Winter Edition (was £184 – now £135) and the John Walker & Sons Private Collection – 2015 Edition (was £563.87 – now £450) for that entire time! (No purchase necessary – see Terms & Conditions below.)
Father's Day is the opportune time for you to express your love, gratitude and respect for your dad and strengthen that all important father-child relationship. If you win, you can mark this year as the time you ruled as the most awesome of gift-bestowers. If you don't manage to be the lucky one then, considering all they do for us, surely handing over a quality bottling of the good stuff is an appropriate gesture?
Share the love with your Father this year!
There might only be one grand prize up for grabs, folks, but that doesn't mean we can't all do our best to spoil our deserving dads this year. Spend some quality time, enjoy each others' company and then appropriately toast their achievements with a terrific tipple. With a bottling of Johnnie Walker, perhaps…
Good luck, everyone!
The F1 FORMULA 1 logos, F1 logos, F1, FORMULA 1, FIA FORMULA ONE WORLD CHAMPIONSHIP, GRAND PRIX and related marks are trademarks of Formula One Licensing BV, a Formula 1 company. All rights reserved.