It's Friday and that can only mean one thing: it's the weekend! Oh, and The Nightcap is here! Which is actually two things. Two wonderful things. Let's proceed.
If you dared to check out the news this week you'll have seen all sorts of stories about vaccine politics and US stock trading or how it's been a year since the confirmed case of Covid-19 in the UK. It's all pretty heavy stuff and, we don't know about you, but here at MoM Towers we are pretty fatigued by it. We long for the days when a dog chasing deer made the news. More stories like the Robin Hood society going to bed on Wednesday evening with under 400 Twitter followers and waking up to more than 33,000 on Friday are required. Bring on the wholesome content. Speaking of which, here's The Nightcap. It's got news on exciting whisky launches, new distilleries on the horizon and virtual whisky festivals to look forward to. Oh, and Bacardí doing the Conga! Can you feel the warm glow of lovely, silly escapism yet?
This week on the MoM blog we had the pleasure of unveiling The Buffalo Trace Antique Collection Archive and announcing the results of our third Burns Night poetry competition. My word, you are a creative lot. It was a joy to read the majority of your entries. Apart from the poetry composed by those who insisted on rhyming 'whisky' with 'frisky'. You know who you are. Elsewhere, Ian Buxton revelled in the increasing popularity of rye whisky, Henry delved into the links between history, perfume and booze with BeauFort Spirit, Adam learned about the amazing story behind Masons Gin and Annie got the low-down on Kiwi whisky and more with Cardrona Distillery's Sarah Elsom. We also enjoyed a five-year-old blended malt from Campbeltown, a once-forgotten classic cocktail and looking at some iconic booze bottle designs.
Ardbeg reveals new whisky. Again.
Not content with just appearing in last week's Nightcap, Ardbeg has only gone and released yet another intriguing new whisky. In fact, the Islay distillery has released the oldest expression yet to join its permanent range of whiskies: Ardbeg 25 Years Old. One of the most exciting releases to emerge from the distillery, the spirit was distilled during the 1990s, at a time when the brand was only producing a trickle of new make spirit every year. You know what that means. This is rare spirit, folks, and at that age expect a price tag to match. Of course, while this is incredibly exciting, there are some who will fear that so much maturation will tame Ardbeg's smoky power. Dr Bill Lumsden, director of whisky creation, says this is not the case. "After a quarter of a century in the cask, you'd be forgiven for imagining that Ardbeg 25 Years Old would have lost some of the hallmark Ardbeg smoky punch. I can assure you it hasn't," he commented, adding: "There's also a remarkable complexity and elegance to this whisky that I find utterly captivating. It's unmistakably Ardbeg, but unlike any Ardbeg you've tasted before." The official tasting note reveals aromas and flavours of smoked cream, earthy bonfires, peppermint, sherbet lemon sweetness, creamy toffee and Ardbeg's classic fennel and pine resin note. Sounds delightful. As is the fact that Ardbeg 25 Years Old will be available from this very site soon…
Spirit of Speyside goes virtual. Again.
As you might expect given Fèis Ìle and the Campbeltown Malts Festival were cancelled, the Spirit of Speyside Festival has announced it will be taking its celebrations online this April. An array of delightful virtual events have been put together, including a tour of one of Dalmunach Distillery from master distiller Alan Winchester. There will also be an exploration of Benriach's new portfolio with brand ambassador Stewart Buchanan and a whistle-stop virtual tasting tour of malt whisky country with The Malt Whisky Trail. The full programme will be revealed in the coming weeks and tickets will go on sale online on 16th March 2021. "Given whisky lovers won't be able to come to Speyside for our annual festival this April, we have decided to take the festival to them," James Campbell, chairman at The Spirit of Speyside Whisky Festival, said. "In the meantime, we hope that our online programme of events in April will lift everyone's spirits and give people a taste of what to expect from the festival in November. We will then revert back to our traditional date in 2022." Yes, you read that correctly. The organisers have also said that, as long as it's safe, there will also be a festival in person from 3-8 November 2021. As in a festival with proper humans walking around near each other without hazmat suits on. Hurrah!
New distillery from Speyside Distillers announced
Sticking with Scotland's largest whisky-producing region, Speyside Distillers has revealed this week that it will build a new whisky distillery as part of exciting new expansion plans. While full details of the development are secret, including exactly where it will be located, we have got confirmation that the brand's second distillery will be in Speyside. Which you probably guessed, to be fair. Best known for operating the Speyside Distillery near Kingussie in the foothills of the Cairngorms National Park, Speyside Distillers produce both Spey and Beinn Dubh whisky as well as Byron's Gin. Managing director Patricia Dillon had this to say on the news. "Last year was challenging for us, as it was for most businesses dealing with Covid-19. Our plans for a new distillery will ensure that we can continue to distil the quantities of whisky required, while also allowing us room for further expansion. Although our full plans – including location and design – are currently under wraps, we're looking forward to sharing more as they unfold over the coming months and years." Speyside Distillers has been investing in its future for some time now, having spent £200,000 in creating a visitor centre in the Scottish Highlands of Aviemore in 2018 as well as signing a distribution deal with Luzhou Laojiao International Development in China in 2019. Most recently, the brand has taken on two new members of distilling staff, Martin MacLeod and Raymond MacKay, to assist long-serving employee Andrew Scorgie and distillery manager Allan Findlay. I think we can all agree it's great to see positive news like this!
Regal Rogue unveils bartender training program
To bring a bit of good old Australian positivity to the beleaguered British bar scene, Regal Rogue vermouth has just announced a bartender training program. These online sessions will be hosted by founder Mark Ward and the team from the brand's new distributor, The Liana Collection. The challenge is to create a new cocktail featuring Regal Rogue vermouth with the hashtag: #RogueTipplecocktail. The winning bartender will win a load of Regal Rogue to put to use when the bars reopen. Please let that be soon. Mark Ward commented: "We are all too aware of the challenges facing the industry right now and we are looking to play our part in bringing the industry back to life in a post-Covid world. To that end, we are excited to announce our new partnership with The Liana Collection as our exclusive UK importer. We are looking forward to taking the brand to the next level with the team at Liana and with that, double down on our partnership with the UK bartender community." David Wood from the Liana Collection added: "We believe training and development is something that can really add value while not breaking the rules of furlough while bar teams are stuck at home. Mark's category knowledge is a sought-after resource and if I ran a bar team, I would be quick to jump at the opportunity. The sessions are open to all pubs, bars and restaurants across the UK and will operate on a first-come, first-serve basis." For those not in the trade, we can all indulge in a little amateur mixology at home with Regal Rogue.
Crabbie releases 28-year-old whisky from mystery Speyside distillery
Hot on the heels of the delicious 1994 bottling which we covered last year, John Crabbie & Sons has just released a 28-year-old whisky from 1992. It's all part of the countdown to the day when the revived Crabbie & Co. distillery in Edinburgh can bottle its first single malt. It won't be for some time though as the first single malt distillery in the city for over 100 years only opened in 2018. With the 1994, Crabbie was open about the source of the whisky, Tobermory, but for this new release, the team is being all mysterious. All we have been told is that "it comes from a very famous distillery in the GLENLIVET [capitals theirs] valley." There's a clue in there somewhere. What we can say about it is that it's delicious. The nose is like walking into a patisserie with almonds, vanilla, baking spices and orchard fruits, and it doesn't disappoint in the mouth with a finish you can measure in minutes. We also know that it's bottled at 45% ABV, costs around £350 and will be with Master of Malt soon.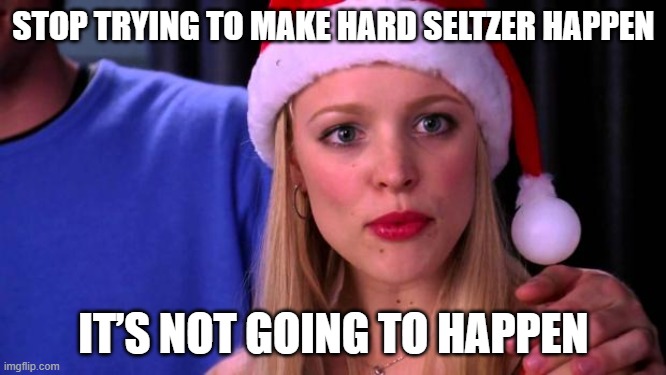 Hard seltzer is happening… apparently
Here at the Master of Malt blog, we've been a bit sceptical about hard seltzers. Whenever we hear those two words we channel Regina George in Mean Girls: "Stop trying to make hard seltzer happen, it's not going to happen." Granted they have taken America by storm, and what are essentially low sugar alcopops are clearly a good idea. Our problem is that the category is based on two words that mean nothing to British drinkers, hard meaning alcoholic and seltzer meaning sparkling water. Hoping to prove us wrong comes hard seltzer brand DRTY which has commissioned a report into the category with comments from various drinks industry veterans. According to its figures, from January 2020 the UK market has grown 947% by value. Sounds impressive, though the category did only appear in 2019 so it's from a very low base. At the moment only 3.3% of households have bought a hard seltzer in the past year. The market is currently worth £10.4 million and if it keeps growing at the same rate it will be worth £75 million by 2023. There are certainly a lot of brands on the market both from multinationals to independent brands; like our own Nate Brown with his Easy Social Cocktail Co. Given a hot summer we think that certain brands will cut through, rather like Hooch and Two Dogs did back in the day. But whether the words 'hard seltzer' will be met with anything except bafflement on the streets of London, Leeds or Leighton Buzzard is another matter. 
And finally… Do-do-do. Bacardí does the conga!
It's a song that has plagued weddings for years but that hasn't stopped Bacardí by putting together a shiny new cover version of the 'Conga'. The rum brand has put a contemporary spin on the 1980s hit by Gloria Estefan and Miami Sound Machine as part of a campaign launched in November which challenged rum fans around the world to "find their rhythm and do what moves them through song and dance". If you did submit a video of you doing your thing to Instagram then you can check out the Conga Feat. You music video above to see if you made the cut. Among the fan submissions from around the world, the song also features Alesha Dixon, Diversity, Leslie Grace, Meek Mill and was produced by the Grammy-winning Boi-1da (it's a play on 'boy wonder'. This man has a Grammy). Ned Duggan, global senior vice president for Bacardí, explained the inspiration behind the campaign. "We've always seen music as such a powerful force in bringing people together, and as the world trended toward division and isolation this past year, we wanted to use music as a catalyst to bring people back together in a way that has never been done before. We can't wait for you to see it." To accompany the release, Bacardí created a cocktail called the Coco Conga, a spin on the classic Mojito. You make it by adding 50ml Bacardí Carta Blanca Rum, 25ml lime juice, 2 tsp sugar and 12 fresh mint leaves to a highball glass. Press that mint with a bar spoon to release the oils, add crushed ice, almost to the top, and churn. Top with some Club Soda and crown with a playful splash (I like to say the word 'splash' out-loud when I do it) of Bacardí Coconut Flavored Rum. Finally, garnish that with beauty with a mint sprig and a lime wedge and find a nice seat to relax in and enjoy it with a good book. Nah, we're just kidding. Go and do the Conga!