Good news everyone! That Boutique-y Whisky Company has bottled up a five-year-old blended malt from Campbeltown. Oh, and it's a Master of Malt exclusive release! 
Anyone who knows their Scotch whisky will be aware that the category is divided into distinct, legally-defined regions. Speyside, Islay, Highland (which the Islands are technically a part of), Lowland and Campbeltown. 
Of all these, the latter is the smallest malt whisky designation. It's home to just three distilleries. The most famous of these is Springbank, which produces three uniquely different Scotch single malts: Longrow (peated and double distilled whisky), Hazelburn (unpeated and triple distilled) and its eponymous releases (medium-peated and two-and-a-half-times distilled). There's also Glen Scotia and the relative newcomer on the scene, Glengyle which releases whisky under the Kilkerran brand.
But, it wasn't always so. The small port town, which you might be familiar with if you enjoy golf, fishing or the music of the band The Beatles could have been, was once known as 'the whisky capital of the world'. Campbeltown was home to over 30 distilleries during its height in the 19th-century.
Victorian writer Alfred Barnard visited 21 of them in 1885 while researching his classic Whisky Distilleries of the United Kingdom. He dubbed the town 'whisky city', reporting on a thriving area home to prosperous farmers and distillers whose industries were the lifeblood of the town. The latter were able to create characterful, full-bodied and smoky whisky that was in high demand for blends thanks to easy access to local barley, peat, coal and considerable trade routes to the US and Ireland as well as a sea link to Glasgow. The town had everything going for it.
Until it didn't. Things went from Millhouse to Milpool in the way it always seems to in this industry's boom-bust cycle. Factors such as the first world war and Prohibition were bad news for the whole of the category. Campbeltown, however, also suffered from problems closer to home. Blenders began to favour sweeter, lighter spirits. Meanwhile, many of the town's distillers had prioritised volume over quality when times were good. The region's reputation slumped. Distilleries began closing at a rapid rate, with 17 shutting their doors in the 1920s alone. By 1935, just Glen Scotia and Springbank were operational.
From this point, it's been a long, patient and increasingly rewarding comeback for Campbeltown. Springbank was able to soldier on manfully and eventually become a cult favourite, providing the backbone for the town's whisky industry to recover. For a time, it was Scotch whisky's hidden gem. But the new boom cycle of the last decade has helped propel Springbank and Glen Scotia further into the spotlight and enable the resurrection of Glengyle in 2004. It was the area's first 'new' distillery for over 125 years. It's actually surprising no new distilleries have been built since given the amount of history and infrastructure there is to latch on to. 
While it's not the centre of the whisky universe again by any means, Campbeltown's reputation has been restored. It's hardly surprising. Distinctive, authentic whisky with heritage is all the rage now.  But more than that, Campbeltown embodies what Scotch whisky is as much as any other region's spirit. It's an unlikely success, an at time divisive product that has commanded a presence on the world stage. It has experienced peaks and troughs. It has impacted the local community as much as any industry, good times and bad. Campbeltown's story is the story of Scotch.
Which brings us to our MoM exclusive bottling. It's a blended malt That Boutique-y Whisky Company bottled up at a hefty 59.3% ABV, so give this one time in the glass and feel free to add a drop of water to bring out some of the sweeter, fruitier notes. It's got plenty of the maritime charm you expect from Campbeltown whiskies and the oily, bold nature of its spirits means that there should be no snobbery about its age. This is a dynamic, fresh whisky that is eagerly bursting with flavour.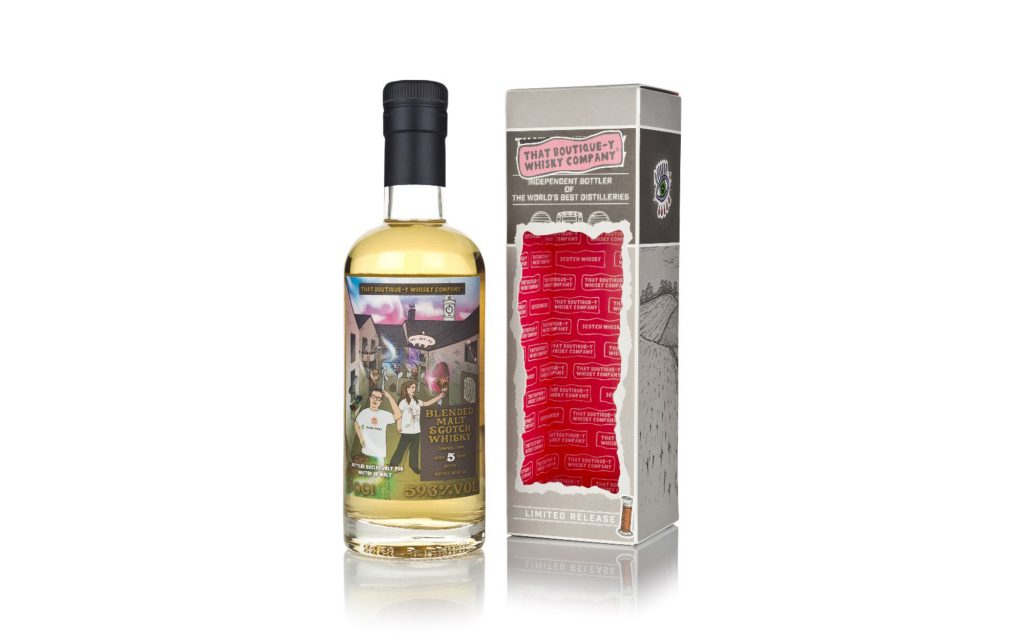 Campbeltown Blended Malt 5 Year Old (That Boutique-y Whisky Company) Tasting Note:
Nose: Sponge cake, marmalade, hay, stone fruits and good sourdough bread with butter.
Palate: Orange and lemon arrive first, shortly followed by oily barley, sea salt and black pepper crisps, sultana, banana and peach.
Finish: Lingering apricot and a hint of toasted coconut.