The sun has gone down, the working week is ending, it's time to pour yourself a glass of something delicious, and catch up with all the news that's fit to drink. Yes, it's time for… The Nightcap!
This week we went Robert Burns crazy with the launch of our poetry competition. We've already been inundated with entries, and the winner will be announced on Burns Night itself (25 January.) Then continuing with the Burns theme, Adam rounded up some Scotch whiskies that would have brought a smile to the Bard's face. Annie looked at some unusual bottles: rye whiskies from Britain, and peat-smoked spirits from everywhere except Scotland (not sure Burns would have approved.) Our Cocktail of the Week was that tiki classic, the Zombie. Kristy visited the Wolfburn Distillery and spoke to top glass maker Denver Cramer about how to get the most out of your nose.
Lots to get your teeth into! And now it's time for booze news. Here we go!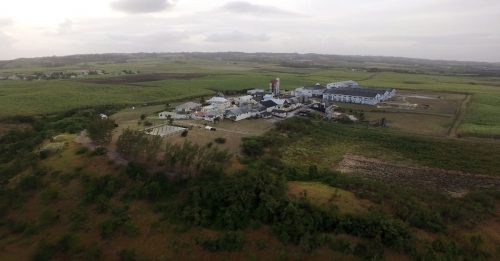 Disaster averted at Mount Gay Rum Distillery
Fire at Mount Gay Rum distillery
A fire broke out at the oldest distillery in Barbados, home of possibly the world's oldest rum brand, Mount Gay, this week. The incident was reported to have started after a half-full 300,000-gallon alcohol tank caught fire. The Barbados fire service briefed that it received a call at 2:18pm local time following reports of an explosion. Mobile phone footage captured from the scene shows firefighters battling the raging flames that engulfed the tank containing 150,000 gallons of alcohol. Fortunately, they were able to bring the situation under control. The Rémy Cointreau-controlled Mount Gay Rum issued a statement on social media commenting: "Earlier today a fire occurred at our distillery home in St. Lucy, Barbados. We're happy to announce that there were no injuries and the fire was extinguished. All's well and the rum's swell." Phew!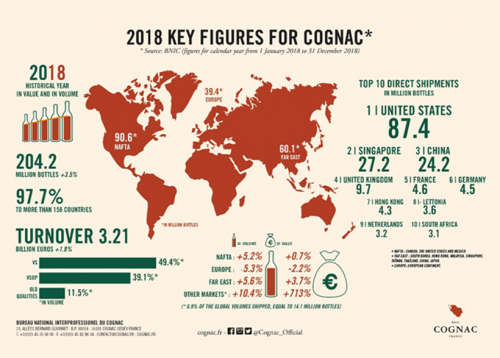 Cognac is on a roll!
Cognac grows global sales (especially in Latvia)
Cognac is on a bit of a roll at the moment with sales growing for the fourth year running. Figures just released by the BNIC (Bureau National Interprofessionnel du Cognac) show that global sales are up 3% by volume and 2% by value. Not earth-shattering, perhaps, but good for a category which five years ago was thought to be in trouble. Inevitably, the drive is led by sales in the Far East (up 5.4% by volume and 3.7% by value) but North America (still the number one market) is also looking strong, growing by 5.2% by volume and 0.7% by value in NAFTA. Europe, in contrast, is slacking a bit when it comes to Cognac consumption which is down by both value and volume. Come on Europeans! A handy info-graphic produced by the BNIC, though, poses more questions than it answers. Such as, why don't Russia or Japan feature in the top ten Cognac-buying countries? And how come the Latvians buy so much? Apparently they're the eighth biggest Cognac drinkers in the world, getting through more than 3.6 million bottles a year (the population of Latvia is only 1.9 million.) Mmmmmm, we wonder.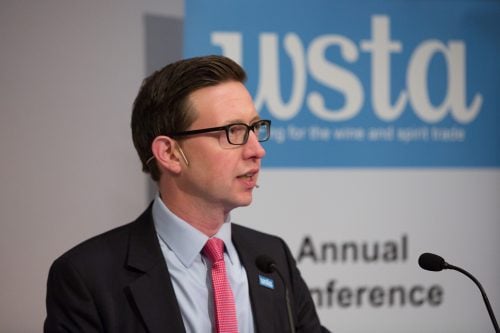 Wine and Spirit Trade Association chief exec Miles Beale
No-deal Brexit 'hugely damaging', says WSTA
Sorry, folks – the Westminster shenanigans have been entirely bonkers this week. Regardless, we feel the need to bring you some of the boozy challenges a disorderly Brexit may bring. Firstly, the PM, Theresa May, lost her vote getting her Brexit deal through, but then managed to survive a vote of no confidence. What happens next? No one really knows. "The WSTA has been consistent in calling on the Government and all MPs to avoid a hugely damaging 'no deal' exit on 29 March and to ensure that business can continue to trade as now," Wine and Spirit Trade Association chief executive Miles Beale comments. "As 55% of wine consumed in the UK is imported from the EU, and 45% of spirits exports are sent to the EU, businesses will need time to adapt to any new future trading arrangements, and time is running out." He adds that extending the Article 50 deadline is "necessary" to make sure Parliament can agree on its future relationship with the EU. Heavy stuff. Drink anyone?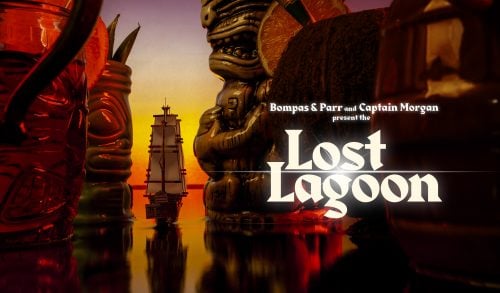 Enjoy a taste of the pirates life with Captain Morgan
Captain Morgan lagoon arrives in west London shopping centre
The high seas will come to Shepherd's Bush next month when Landsec (the commercial property company) teams up with Captain Morgan rum to create an indoor lagoon in West 12 shopping centre. This ain't no glorified pond, customers can take a real boat on it while picking up rum-based rations and learning how to turn them into punches. There's also something about buried treasure and maps and stuff. Basically, it's totally pirate. The lagoon will be in place from February until September this year. The company behind it is 'jelly artist' Bompas & Parr (or perhaps that should be Bompas & Parrrrrr!). Co-founder Sam Bompas commented: "It's been fantastic to work with a team who are willing to embrace the future of retail; we expect the trend for experiences such as this to continue to grow and we're pleased to be able to work with Landsec to deliver an experience which, to date, is one-of-a-kind." Deepan Khiroya, senior portfolio director at Landsec, said: "In a challenging retail environment, innovation is crucial. This activation is a unique use of space which provides a high-quality experiential offering to consumers. Experience sits at the heart of our brand and we're looking forward to seeing guests enjoy their boating trips." Expect to see more 'experiences' when you're out shopping this year.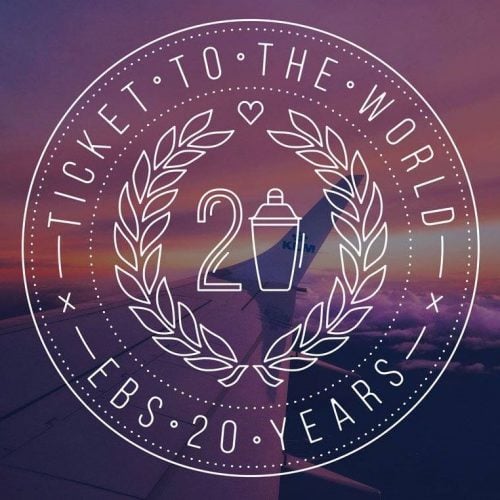 The EBS shows how you celebrate 20 years in style
European Bartender School celebrates 20th birthday with €10,000 competition
Happy birthday, European Bartender School (EBS)! The trade organisation is celebrating 20 years of operations right now, with a new immersive competition giving drinks folks the chance to join educational courses across the globe. 'Ticket to the World', as the promo is known, gives the best bartenders the chance to experience the new. The top prize? A €10,000 purse to travel the world for over two months with flights, accommodation, courses and activities included. The activity kicks off in New York with renowned International Bartender training, followed by a Mixology Course in the same city. Delegates then jet off to Rome before joining an advanced bartender course in Barcelona, and then joining the Scotch Whisky Expedition at the Glenfiddich Distillery. Fancy your chances? Simply check out http://eu-bs.to/pr-tickettotheworld today. Good luck, all!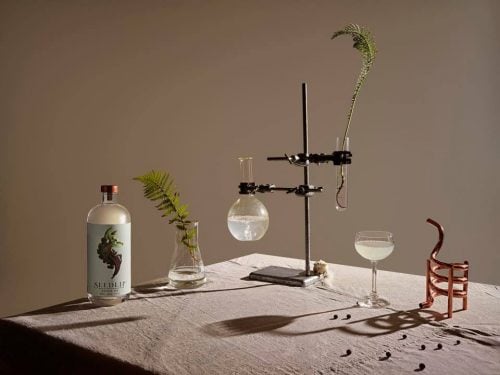 Brands like Seedlip are leading the way for low- and no-alcohol drinks
Low- and no-alcohol drinks to persevere beyond Dry January
Could going dry be more than a passing fad? New data from The Portman Group, a trade-funded body that encourages sensible alcohol marketing and consumption, certainly thinks so. According to the organisation, there has been an "explosion" in the popularity of alcohol-free and low-ABV serves, and it extends way beyond Dry January. Figures suggest that 24% of British drinkers have already switched at least some of their drinking to low-alcohol alternatives, or may consider doing so in the next 12 months. Meanwhile, a YouGov survey reckons that folks between 18 and 34 are the most likely to consider switching. Portman Group chief exec John Timothy said: "These findings are a reflection of the positive trends we are seeing when it comes to declining binge drinking levels and the cultural shift that is happening in the relationship between young people and alcohol. Many producers are already investing heavily in exciting low and no products. Given the importance of this sector to helping people make healthy choices about their drinking, more needs to be done to support its growth." Have you tried low-/no- serves? Let us know your favourite in the comments below.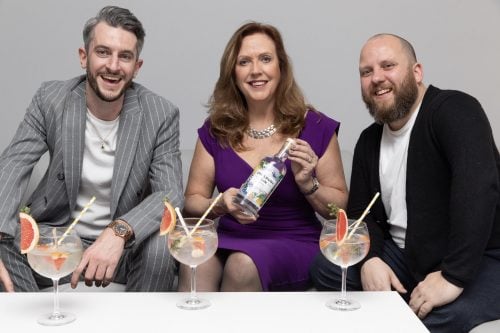 Didsbury Gin wasn't fired – wait, is that the right show?
Manchester gin triumphs on Dragons' Den
Dragons' Den clearly did not get the memo about dry January. Founders of Didsbury Gin, Liam Manton and Mark Smallwood, got the year off to a boozy start by scoring a £75,000 deal with business turnaround specialist Jenny Campbell. The pair created Didsbury Gin in 2017, and when both men were made redundant at the beginning of 2018, they concluded that "the only answer was gin". Words to live by, we say. Their Dragon adventure wasn't all plain sailing, as minutes before pitching the pair realised that their gin glasses smelled of rotten egg due to sulphur in the dishwasher water. After a scramble and some frantic cleaning, they turned it around without cracking under pressure. After scoring two offers, with Tej Lalvani also taking an interest, the pair granted Jenny Campbell a 33.3% stake in the business. Campbell went to school in Didsbury, so it looks like the stars aligned with this union! Didsbury Gin takes a Mancunian citrus twist on a classic London dry gin. There is also a pink Raspberry & Elderflower variation as well as a Christmas edition. As the show was recorded in April 2018, they have already been through a rebrand and an upscale of the business. Campbell believes that Didsbury Gin will be "taking on the classic names by the end of the year" – watch this space.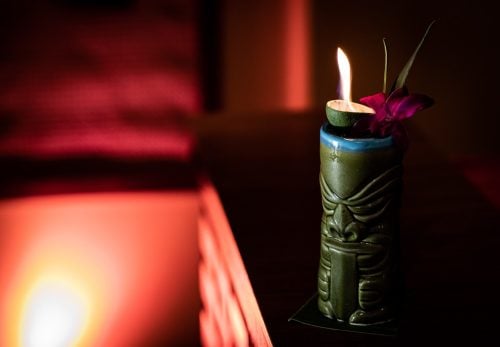 The Zombie cocktail at Pacifica
Singapore bar Junior goes tiki
We told you in the latest instalment of Cocktail of the Week that all things tiki are back, and now more evidence has just emerged to back up our thesis. This week top Singapore bar, Junior, has launched a totally tiki-tastic new menu called the Pacifica which is inspired by Polynesia and other island cultures. The godfather of tiki was Ernest Gantt (aka Don the Beachcomber) whose words of wisdom are quoted on the new Pacifica menu: "With Prohibition officially repealed, and recognising that people hadn't tasted a decent drink during the previous fourteen years of darkness, with the smell of Rhum always in my nostrils, I started to concoct some unusual, and at the time, exotic drinks." Junior's new list is divided into four sections all with evocative names like: 'Legends of Liquid Lore', 'Apertiki', 'Traditional Tipples of the Tropics' and 'Progressive Potions of Pacifica'. You will be pleased to know offers that Junior will be offering such tiki classics as the Zombie and the Mai Tai. If you're not holding an elaborate rum-based cocktail, you are nowhere in 2019.
Hip and historical, mead could be the spirit of romance this year
This Valentine's Day, say it with mead
Think of drinks for Valentine's Day and pink Champagne or fancy cocktails probably come to mind. But Dorset-based drinks company, Lyme Bay, wants you to do things a little differently this year by romancing through the medium of mead. Mead, for those of you who don't know, is fermented from honey and is one of the oldest drinks known to humanity. It has rather been upstaged in the last few centuries by Johnny-come-lately drinks like beer or whisky, but it is now undergoing something of a renaissance. Along with Lyme Bay, there's Gosnells in Peckham that makes superb meads with sophisticated packaging designed to appeal to wine drinkers. It's not just in Britain, mead is one of the fastest growing categories in America. The number of producers in the US has risen from 30 to 300 since 2003. So this Valentine's Day, say to your loved one, "I feel the need, the need for mead."
Hop Chronic IPA. What's next – medicinal malt?
It looks like cannabis beer will be a thing
The US craft brewer Flying Dog Brewery has announced this is week that it plans to partner with Green Leaf Medical Cannabis to release a THC-infused beer in Maryland. This is real news, not a story-line from South Park or the plot of a Seth Rogen film. Named Hop Chronic (nice), the revolutionary new beer will be a non-alcoholic India Pale Ale that will serve as a medical delivery system to provide cannabis patients with therapeutic cannabinoids including CBD, CBG and THC without the patient having to smoke or vape. It's important to stress two things here: 1) Only people who have a medical recommendation for the use of cannabis will be allowed to purchase, and 2) release of this new product is subject to regulatory and legal approvals. If it passes these checks, Hop Chronic IPA (or High-PA, am I right?) will be available at licensed dispensaries throughout Maryland in six packs or single serve 12 oz cans. Flying Dog CMO Ben Savage commented on the plan: "We see a lot of interest in cannabis from the craft beer community, and we jumped at the opportunity to partner with Green Leaf on a product that captures the passion and energy you see in fans of both craft beer and cannabis." This truly is Snoop Dogg's world, we're all just living in it.