It's arguably the most punk rock cereal of all time, and now rye is causing anarchy in the UK. Here, MoM chats with a handful of British distillers who have managed to tame whisky's most rebellious grain…
For at least as long anyone reading this has been alive, rye-heavy mash bills have been the domain of US producers. Here in the UK, we're a nation of single malt lovers – we always have been – but lately, British distillers are increasingly turning their attention to the bad boy of the crop world.
"Rye is gritty, real, and a bit punk," says Cory Mason, master distiller at The Oxford Artisan Distillery (TOAD), which has focused on rye since it opened its doors back in July 2017. "As a comparison, I've always seen single malt as a Cognac, and rye more as an Armagnac, rough around the edges, a bit more hardcore, but still a stunning product in its own right."
The question perhaps is not 'why rye?', but 'why now?'. Mason highlights growing interest and demand for craft spirits, which he believes is prompting "a real willingness to step outside of traditional UK and European categories". Specifically, aged rye whisky.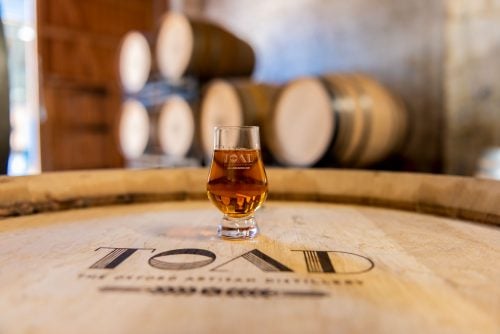 The Oxford Artisan Distillery (TOAD) went medieval on its grains
"There are several things contributing to this trend – one is the truly talented and innovative body of mixologists working today," he says. "Rye is a classic cocktail ingredient, and a bit of a hardcore spirit that has always had a following in the cocktail scene. The other driver is the new and younger talent of the new distillers… pushing the boundaries and bucking the trends that have been set by the industry giants that for so long have dominated the spirits market."
Those choosing to distil rye are certainly discerning in their mission to do so. Team TOAD works closely with archaeo-botanist John Letts to source grains that were commonplace in Britain in the Middle Ages. Its Pure Rye Spirit (which is not old enough to be labelled 'whisky') is triple-distilled from a mash bill of 90% organic 'heritage' rye and 10% malted rye sourced from four local organic farms before ageing, albeit briefly, in an American oak cask.
For TOAD's Mason, the growing interest in British rye represents "an opportunity to redefine a category". "In Oxford, we can use ancient grain, distilled in English stills, and aged in classic European cask like Madeira or Muscat," he says. "When we do this, we create a new spirit, recognisable as amazing rye whisky, but wholly unique."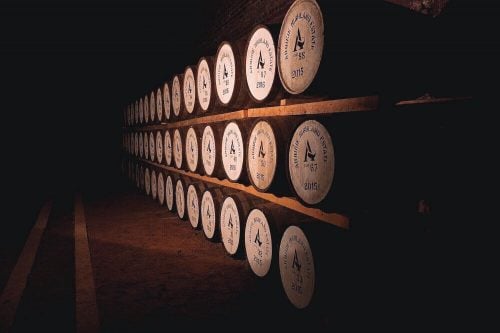 Arbikie Farm Distillery produced Scotland's first rye whisky in over a century
Grain to glass
For Arbikie Farm Distillery, which released Scotland's first rye whisky for more than 100 years last December, this modern-day rye revolution begins in the field. Commercial director Ian Stirling, one of three brothers who founded Arbikie Highland Estate, says growing rye and making whisky from rye in Scotland has "become a lost art".
"There are challenges to both distilling and the growing of rye and this is probably why this grain – in the time of mass production – has disappeared," continues Stirling, whose family have been farming for more than 400 years. "At Arbikie, we grow all of our raw materials on our farm. Once we had decided to make a whisky using rye, step one was to start growing it. As a single-estate farm, we work closely with agronomists and grain merchants to achieve the best variety of rye."
Arbikie Highland Rye's mash bill combines Arantes rye, Odyssey malted barley and Viscount wheat. The mash is fermented 'on the skin', he explains, with all solids being included in the fermenter and wash still: a process that requires "extra effort and very fine attention to detail".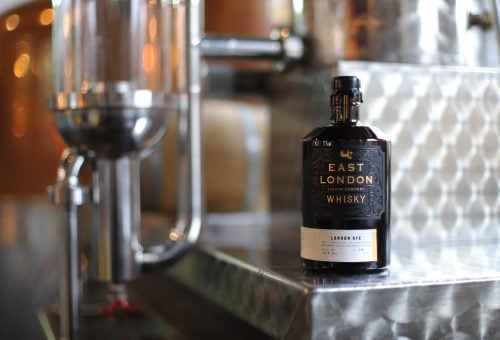 East London Liquor Company (ELLC) joined the English whisky revolution with London Rye
Rye resistance
Arbikie is not the only contemporary distillery making whisky history. Late last year, gin, vodka and whisky distillery East London Liquor Company (ELLC) grabbed headlines with release of London Rye: one of the first whiskies distilled in London for more than a century.
"We're lucky enough to not be constrained by rules on mash bill, cask style, et cetera," explains head distiller Tom Hills. "Since no one knows what kinds of whiskies were being produced previously in London, we have carte blanche to do basically what we want. As we're big fans of rye, it made sense for us to incorporate a grain that we love."
ELLC's London Rye was distilled in a combination of pot and column stills, matured in charred French oak casks, followed by two years in ex-bourbon barrels and one month in former Pedro Ximénez sherry casks. While the inaugural bottling boasted a mash bill of 42% rye and 58% extra pale malted barley, the team at ELLC feel far from tied to the formula.
"We never wanted the rye profile to dominate the flavour of the whisky, and we achieved that through tasting the releases at various ABVs and blends to ensure that the flavour was what we wanted it to be," he says. "Every time we brew or distil we have the opportunity to change our recipe. Over the next several years expect to see different iterations of our whiskies, including single malts, wheat whisky blends and ryes aged in chestnut barrels."
Chestnut barrel-aged rye whisky, distilled in London? Whisky doesn't come any more punk than that. Stick it on a river boat and send it down the Thames.