It wouldn't be Friday without our weekly round-up of all the booze news – you've tuned in to another edition of The Nightcap!
For many people, the work week is coming to a close, meaning there's a well-earned weekend incoming. As you get ready to dig in to whatever glorious weekend-y plans you've got lined up, we've compiled yet another buffet of news from all over the drinks world in one handy blog post. Welcome to The Nightcap, folks!
Here on the MoM Blog, we've followed Annie to Courvoisier as she finds out more about the legendary Cognac producer. We've tapped out toes along to some tasty jams as Kristy checks out the Rhythm & Booze Project. We've enjoyed a spot of Irish whiskey as Henry gets the low-down on Red Spot's relaunch. We've started filling out our Christmas lists as Adam picks out some choice French brandies and festive treats. We've also celebrated heartily as we snatched up a pair of awards at the UK Social Media Communications Awards 2018 – including Best Blog! Yes, you're reading an award-winning blog right now. Somehow makes it feel fancier, doesn't it?
And the booze news continues…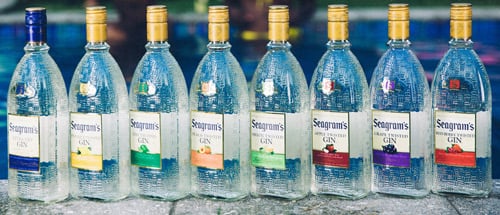 Seagram's changes hands
Diageo sells a whopping 19 brands to Sazerac
Big biz booze news came in on Monday with word that Diageo (off of world's biggest spirits group fame) had sold 19 brands to Sazerac, which owns the likes of Buffalo Trace, Eagle Rare and Southern Comfort. The brands changing hands include Seagram's, Myers's Rum, Romana Sambuca, Yukon Jack, Goldschlager, Scoresby, Booth's and the amusingly-named Piehole, in a transaction that fits into Diageo' vision of focusing on its higher-end spirits. In finance lingo, the deal fetched an 'aggregate consideration' of US$550 million (about £428m), with Diageo making around £340m after all the admin and tax gubbins. "The disposal of these brands enables us to have even greater focus on the faster growing premium and above brands in the US spirits portfolio," said CEO Ivan Menezes. The deal is expected to complete in 2019, after which the proceeds will be returned to shareholders via a share repurchase.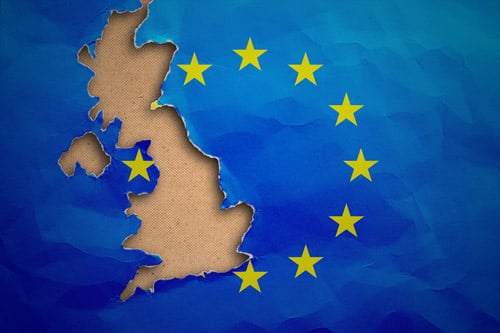 More Brexit news, just want we all wanted…
EVERYONE'S talking about Brexit – even booze types
Sorry, team. We KNOW it's been impossible to escape the 'b' word this week, so we'll make it brief. On 14 November the UK government said it had reached an agreement with the European Union and published a draft agreement re: Brexit – and both the Wine & Spirit Trade Association (WSTA) and the Scotch Whisky Association (SWA) have passed verdict on what they reckon it'll all mean for trade. WSTA chief exec Miles Beale kept his cards relatively close to his chest: "The WSTA, from the outset, has repeatedly said that a 'no deal' Brexit would have a catastrophic impact on our members," he said. "Despite the businesses we represent putting in place contingency measures, as best they can, a "no deal" Brexit presents a multitude of difficulties which are outside of their control. We need more time to digest the proposed deal and we will be watching intently the passage of the Withdrawal Bill through Parliament." Karen Betts, SWA CEO, was a tad more direct, and called the agreement a "positive step". "The provisions set out in the Withdrawal Agreement provide us with a credible foundation on which to build in the next phase of the negotiations, during which a number of critical issues remain to be resolved," she said. "A no-deal Brexit would cause the Scotch whisky industry considerable difficulties and would force cost and complexity into production, distribution and exporting. The Withdrawal Agreement is a compromise, but it is a positive step towards much needed business certainty." Something tells us we're nowhere near the bottom of this one…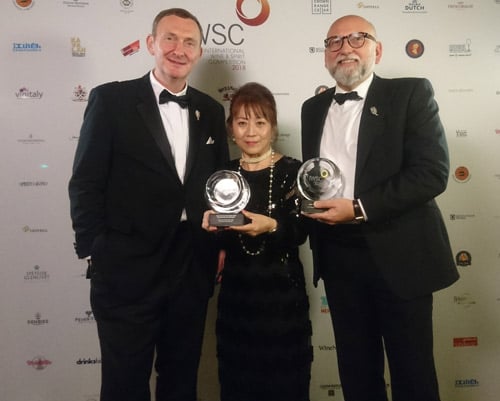 The Kyoto Distillery team took home a big award from the IWSC
William Grant, Kyoto Distillery and Halewood among IWSC winners
While we were dancing the night away at the UK Social Media Communications Awards, across the other side of London town the International Wine & Spirit Competition banquet was under way, naming the biggest and brightest across all things booze. There were winners galore (seriously! Head over to the IWSC website for the many, many victors in all their glory – we're living through a fabulous time of delicious drinks!) some makers particularly stood out. William Grant & Sons (parent to the likes of Glenfiddich, The Balvenie, Hendrick's Gin and Reyka) picked up both the Distiller of the Year Trophy and Scotch Whisky Producer of the Year 2018, while Kyoto Distillery (pictured – and known for its epic Ki No Bi Gin) snapped up International Gin Producer. UK Gin Producer went to Halewood (yep, owner of Aber Falls), and Adnams won Vodka Producer of the Year. Then, fresh off the relaunch of Red Spot, Irish Distillers only went and nabbed Worldwide Whiskey Producer of the Year! Serious kudos to all – we very much enjoy imbibing your creations. Huzzah!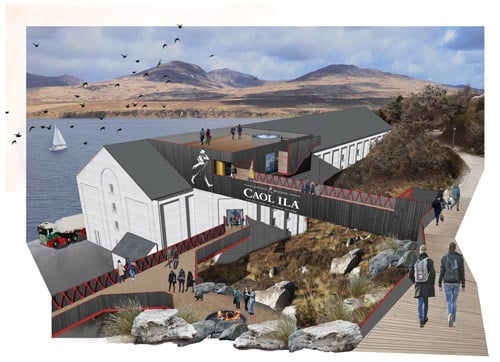 A zazzy visitor centre for Caol Ila is on the way
Plans submitted for fancy Caol Ila visitor centre!
Great news for the whisky-loving Islay visitors of the future! Diageo has submitted a planning application to transform the visitor centre at Caol Ila – and we're excited. If the plans get the go-ahead, a Caol Ila warehouse will be converted into the visitor space, complete with a bar looking out across the south of Islay and over to Jura. A footbridge will link everything to a new parking space further up the hill (if you've been there, you'll know all about that incline), with the whole lot landscaped to keep everything fitting for the stunning surrounds. "We are very pleased to take this important step in the exciting journey to transform our visitor experience at Caol Ila Distillery," said Leigh Aitken, Caol Ila Distillery Visitor Centre manager. "We have had good engagement with local residents and stakeholders on our plans so far and we will continue to work with the local authority and the community as we progress through the formal planning process. We believe this investment will not only be great for Caol Ila Distillery but is another positive addition to the rich visitor landscape of the famous Scotch whisky island of Islay." We'll report back when we hear the outcome of the planning application!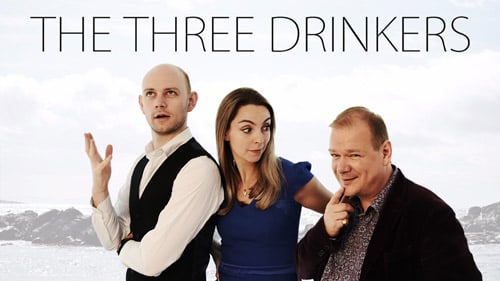 The Three Drinkers crew
The Three Drinkers stumble onto Amazon Prime
Considering how popular booze is, it seems remarkable that there is so little of it on the telly. Now, jumping into a massive gap in the market comes a new series on Amazon Prime called The Three Drinkers do Scotch Whisky. It features two wine writers and presenters, Helena "Winebird" Nicklin and Adrian "Aidy" Smith, and whisky expert Colin Hampden-White. There is an educational element, but as you can see from the trailer they don't take themselves too seriously. Hopefully there won't be any of that holding the glass up to the light nonsense (come on, we've all done it). Four 30 minute episodes have been made in which the Three Drinkers attempt a spot of coopering, take part in the Highland Games at Inverary (insert joke about tossing cabers), and by the looks of things, have a fair amount to drink along the way. The series will be available from 26 November and it looks like just the sort of thing best enjoyed with a nice dram in your hand.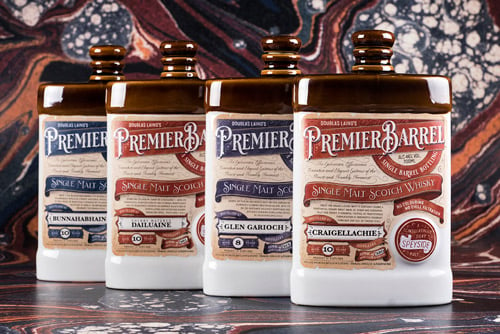 Douglas Laing's Premier Barrel gets a handsome redesign
Douglas Laing unveils rebrand of Premier Barrel Single Cask range
Top independent bottler Douglas Laing has announced that it has updated the packaging of its Premier Barrel Single Cask series. The aim was to modernise the range that was first introduced 2008 whilst still honouring its traditional and artisanal charm. The original premium ceramic decanter features a new hand-drawn label on parchment paper complete with eccentric yet romantic rhyming tasting notes. Furthermore, each expression has been conveniently colour coded according to the Scotch region it hails from. Red labels indicate Speyside, while blue designates Islay, for example. Each bottle is packaged in a wooden gift box reminiscent of an ancient book. The new-look Premier Barrel will launch with four new bottlings, including Craigellachie 10 Years Old (RSP £65), Glen Garioch 8 Years Old (RSP £60), a 100% sherry matured Dailuaine 10 Years Old (RSP £62) and Bunnahabhain 10 Years Old (RSP £70). Each was bottled at 46% ABV. "Probably perspicacious, provident, prodigiously provisioned proprietors, purveyors (preferably also purchasers) of panache will be palpably pleased by our provisioning of this particularly palatable pedigreed Premier Barrel," said Douglas Laing's chairman, Fred Laing. Try saying that three times fast. The rebranded Premier Barrel will be available from November 2018.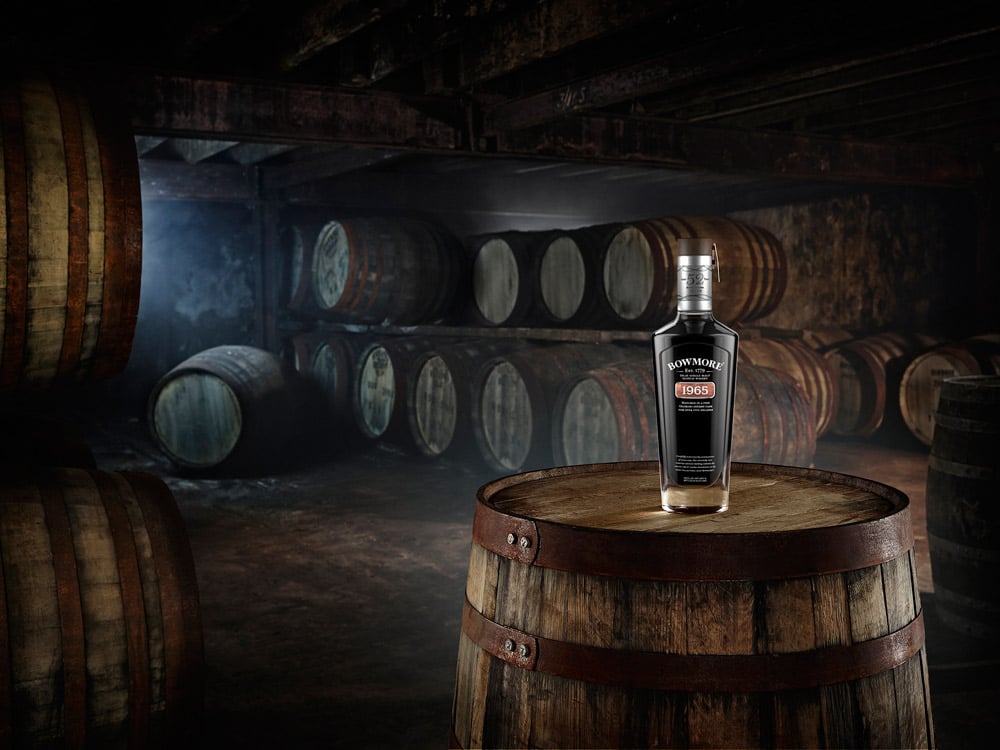 Well old Bowmore? Yeah, go on then.
Bowmore launches 52-year-old, we salivate
Say hello to one of the world's rarest single malts: Islay's Bowmore distillery has announced that it is to launch a 52-year-old expression! That's the good news. The bad news is that it will cost £22,300. We can have a whip-round at MoM Towers but I'm not confident we'd still get our hands on one, in all honesty. The bottling, which Bowmore claims will obtain 'legendary status' among whisky fans, was distilled in 1965 and matured for 52 years in a single oloroso Sherry cask in one of Bowmore's island warehouses. It was bottled at a cask strength of 42% ABV and is said to have notes of 'fragrant fruits, sweet bees wax and intense dark chocolate', with a 'touch of jasmine, dried fruit and apricots'. Bowmore 1965 (the name makes sense really), has already been described as 'one of the most highly sought after among collectors', and is presented in a hand-blown glass decanter and wooden presentation box. "This is the third Bowmore release under my tenancy and is certainly one of the most remarkable whiskies we have produced during my time here," said David Turner, Bowmore distillery manager. "Bowmore 1965 demonstrates the rewards of our meticulous ageing process and showcases the quality of whiskies coming from our talented and dedicated distillery team." Just 232 bottles of Bowmore 1965 will be released globally from December.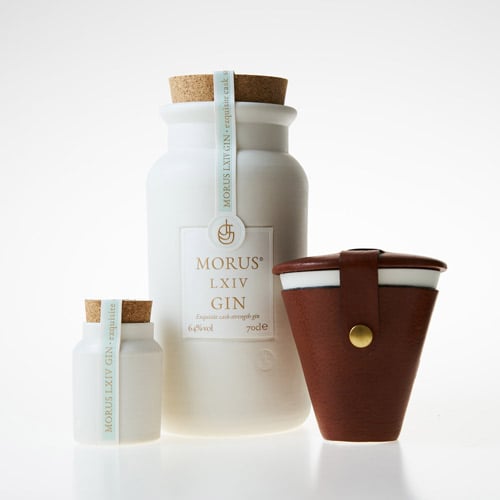 Got four bags of sand on you?
Four grand gin is here
How much would you spend on a bottle of gin? £25? £45? How about £4,000? That's the price of the recently-launched Morus LXIV. With Cognac and whisky, the price comes from age and rarity. So what is it that makes Morus LXIV so expensive? Does it contain diamonds, truffles, or a lost sketch by Van Gogh? Well, those Roman numerals don't come cheap. The numbers refer to the strength, a hefty 64% ABV. The name is also Latin, it comes from Morus Nigra (or mulberry tree to you and me) and mulberry leaves are one of the botanicals. Then there's time (which as we know is money); apparently each batch takes two years to produce. As you might expect it doesn't just come in any old bottle. Instead the producers use "handmade porcelain jars, embossed and polished to a diamond matt finish in distinctive crisp white…" Fancy! Expect the contents to be pretty bloody fancy too as Morus LXIV is made by the people behind the award-winning Jam Jar gin. But still, £4,000? Yikes.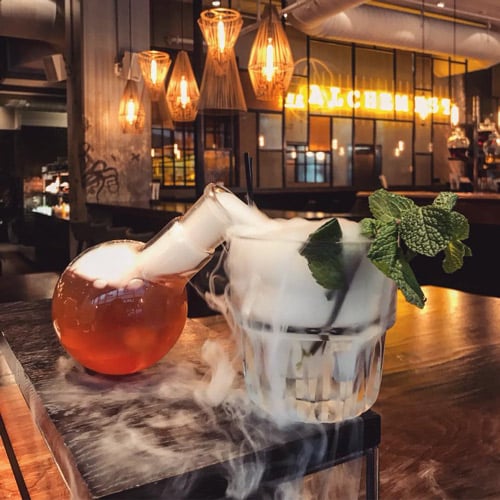 Yeah, science!
London bar offers free cocktails – stampede expected
For one night only, Friday 16th November, London bar The Alchemist is giving away free cocktails to celebrate the opening night of its second outpost in Covent Garden. That's tonight! (Unless you are reading this later in which case I am afraid you've missed it.) The free cocktail in question is the bar's signature serve called The Lightbulb Moment, made from gin, Pimm's, ginger beer, raspberry, lemon and mint. Served with dry ice in a lightbulb, it looks like the kind of thing Dr Jekyll would have drunk to turn into Mr Hyde. There are only 300 free cocktails to give away, so get down early and prepare to use your elbows, or you might have to reach into your pocket.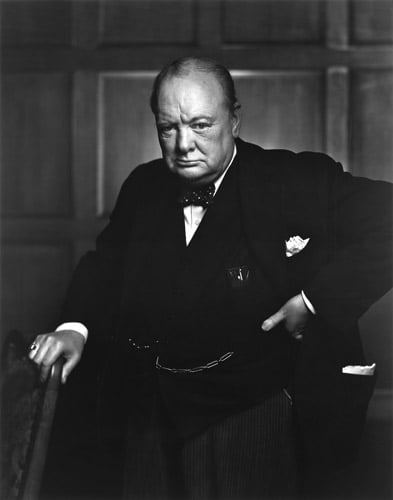 This could be you…ish
And finally… Live like Winston Churchill for a Day
Winston Churchill was fond of the sauce. Famously he would have a pint of Pol Roger Champagne for breakfast (not out of a pint glass, of course) but was also very fond of brandy, Whisky & Soda, and the occasional can of Special Brew (joke). When abroad he would sample the local beverages. Both the Georgian and Armenian brandy industry make much of the Churchill connection. In fact, nobody except Napoleon is used more to market booze. It wasn't just the booze, of course. He loved all the good things in life. Now the Hyatt Regency in London is offering a Churchill-themed day consisting of a room at the hotel, a bottle of Pol Roger (natch), a traditional hot towel wet shave at Truefitt & Hill on St James's Street, Cognac cocktails, and a meal at The Montagu Kitchen inspired by Churchill's old home, Chartwell House. In fact, the only thing missing is a cigar and fractious meeting with Charles de Gaulle…
And we couldn't round off this week's Nightcap without sending congratulations (and a LOT of envy. But mostly congratulations) to Steve Nixon, who has clearly been VERY good this year. #WhiskySanta only went and granted him this week's Super Wish! As such, a bottle of Probably Speyside's Finest Distillery 50 Year Old 1967 – Xtra Old Particular from Douglas Laing is wending its merry way to him. Enjoy! Keep your eyes peeled on Monday for #WhiskySanta's next Super Wish…