Whisky and music go hand in hand. But what would a truly immersive, fun-centric experience look like, sound like and taste like, so that both are equally celebrated? We chat with drinks writer and musician Felipe Schrieberg who is attempting just that. We're all ears.
Press releases fly into MoM Towers on a daily basis. It takes a certain level of excitement or intrigue for us to sit up at really take note. But that was exactly the reaction when advance notice of the Rhythm & Booze Project reached us last month. It goes without saying that we are booze fans. We live it, breathe it, hell, sometimes we even drink it. And the rhythm part also appealed. From obscure hip hop to '90s pop, there's nothing we like more than a light boogie of an evening.
So what exactly IS the Rhythm & Booze project? According to the bumf, it's a "unique combination" of live music and whisky drinking "through gigs, tasting events, and multimedia content". Expect a blend of "hypnotic grooves", "wild energy" and "irresistible showmanship", and whisky, don't forget the whisky. It all kicks off in London on 23 November.
We needed to know more. So we got Felipe Schrieberg, whisky writer (you might have seen his scribblings in the likes of Forbes), musician and co-founder of The Rhythm & Booze Project alongside bandmate Paul Archibald, on the phone to find out…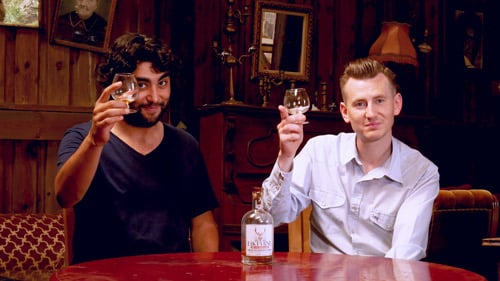 Felipe Schrieberg and Paul Archibald!
MoM: So, how exactly are you going to mix music and whisky together?
Felipe Schrieberg: We want to try and pull off many different things under one brand. And it's to gig because we're working musicians and it's what we like doing. Our launch in London will be us doing our thing. In the past I ran a tasting series in Edinburgh using local musicians to kind of mess with the taste of whisky, to enhance the taste experience as well. That was good fun and I have every intention to start that up again next year under the Rhythm and Booze brand. But, on top of that, we want to combine music and whisky in funny ways. We want to look at really going nuts. We've got a major distillery on board with whom we're going to collaborate to create the first ever bass drum made out of a Scotch whisky cask! And we'll make a mini documentary about the making of this thing. And then we'll also do a video of us playing it live in a song. Something that we're also working on is doing a show at the Edinburgh Fringe incorporating blues music and whisky. We don't quite know yet what shape it will take, but it will be one of the most ambitious projects ever done that aims to create a theatre show using whisky.
MoM: So will you be telling the story of whisky? Or immersing people in whisky (not literally of course) as you tell a story?
FS: I wish I knew the answer to that question! We're exploring different angles. One idea was 'let's make this the ultimate guide to whisky', so you're at this show and you're going to learn all about appreciating whisky. But in the meantime we also have some killer blues music playing in a cool, immersive way. We're now not sure if we're going to do that. If our strength is music, maybe we should focus more on the idea of music and make it the ultimate blues and whisky tasting instead. So rather than go for the 'edu-tainment' angle, you go more for the 'this is the best blues'. People far back have been combining blues and whisky but no one's ever done it like we have. We're both professional musicians; Paul's got PhD in the history of jazz drumming, I've been performing for ten years. And especially with my experience of producing shows at the Fringe, we can pull out something that we believe is special. But we still have no idea what we're going to do! It's using performance to make whisky magical. And it can be through video content, which is a form of performance in itself, it can be through a theatre show, it can be through a gig. But no one will perform with whisky quite like we do, or at least that's the ambition.
MoM: So it's an ongoing project, it's not just a show, or a gig, or the tasting?
FS: We want to have a crazy idea and then see if we can pull off that crazy idea without worrying about whether it's right or not. And to be able to keep ourselves open to working across any kind of performance arts, so to speak. Let's say we've billed ourselves as a band, then what are we doing running a more formal whisky event? Why should we shut ourselves out from that, especially because we like doing it? The idea is that by making it about performance we can keep ourselves flexible and work on a crazy variety of projects. Maybe it will be very different in a year's time in a few years' time. But for now, that's what we are aiming for.
MoM: The first event in London on 23 November, how long did that take to come together? When did you start thinking: 'we're going to do this'?
FS: Probably a couple of months ago. Every year we go to Feis Ile and we drink a lot of whisky and play gigs. But because we're on Islay and Islay's so cool and everyone's feeling good, they'd turn into these sort of insane barnstormer gigs! It's like 'well, why can't we take what we loved about that experience to what we do in general as musicians?' Let's book a cool London venue and do just that. And we'll even bring the whisky! So that's the idea. We had a test in Edinburgh back in February and now essentially it's about trying to make it a more regular thing that we can take to different places. That's that's what this London event is about.
MoM: Which comes first: the music or the whisky?
FS: You've got to make sure both are what they need to be. We've been playing for a while so we've got our set of songs that we can lay down, and we're working on new stuff all the time. We expect there will be a fair chunk of 'whisky beginners' who like the sound of a 'blues and whisky' night out, so we'll make sure there's a solid supply of whisky that covers like a variety of flavours. We'll have maybe five or six different whiskies on offer. And I'll do a quick thing in the beginning describing what we've got and then it's up to them to just simply try the different ones as the night goes.
MoM: It seems that just enjoying whisky is a piece that's been missing. A lot of tastings are very structured and focused on taste and education. It's rarely about fun.
FS: I think a way that the industry has been trying to [create fun] has been through cocktails and doing all these whisky cocktails, and it's so cool. Personally, I don't buy into the cocktail stuff that much, to be honest. I think just get yourself a glass of good whisky and just enjoy! Then if the goal is to just enjoy then create a situation to which that can be enjoyed. And if you want to find out more, make sure that information is accessible. Because yeah, there's definitely a time and place for geekery and I certainly love it, but there shouldn't be fear in simply creating a situation where you don't have to say anything about the whisky, just serve it! I guess that's what we're trying to do with this specific one.
MoM: Is it only Scotch whisky or would you chuck in an American whiskey, something from Taiwan, India, Japan?
FS: Oh no, we'll throw anything that we like. We have to like it! If it's interesting and we like it, we'll serve it. Scotch whisky is our thing, that's what we know best. But there's a lot of amazing stuff happening all over the world, why on earth should we ignore that?
MoM: If it's tasty we'll get it on the programme. How did Paul [Archibald – Rhythm & Booze Project's other co-founder] get into whisky?
FS: Paul likes to drink it! That's essentially it! He focussed on music and his career and his PhD with music; whereas I actually went hard on creating a professional outlet for myself with the whisky, he just simply drank a lot of it! But he certainly knows his stuff. Also, he's very charismatic and he dresses impeccably – so he's the fashionable half! Never mind the fact that he's a phenomenal drummer.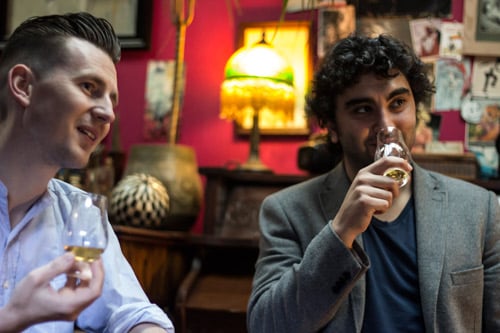 Team Rhythm and Booze Project
MoM: What's your main ambition for the Rhythm and Booze Project?
FS: It would be cool if whenever we have an idea, that we're just a phone call away from being able to execute it. That would be the dream. Obviously we're a new project and first you've got to do stuff that proves that you can do what you promised. And we still have many more things we'd like to do, and that takes time. In a few years' time I'd like to get to the point where if we have an idea of doing something weird we know what it would take to be able to do it, and then just simply lay it down. And we want to be able to go up to Scotland on a regular basis, we want to be able to go up to different cities on a regular basis. I'd like to see [an event in] London minimum once a month, if not twice a month, and to look at different kinds of events. Maybe a bluesy night of chaos, but then also we can use local bands to do a more holistic whisky tasting as well.
MoM: Awesome. Thanks for chatting us through it all. See you at an event soon!
The first London Rhythm & Blues Project takes place The Harrison, King's Cross, London on 23 November, tickets £45 per person. For more details, you can click right here!