To celebrate the rebirth of Red Spot whiskey, we descended into Mitchell & Son's cellars deep beneath the streets of Dublin for a trip back into Irish distilling history (and we got to try the whiskey, obviously.)
Jonathan Mitchell from the family-owned wine merchant described the relaunch as "the biggest day of all, we've had orders for Red Spot for two years." We were at the historic Shelbourne Hotel and from there we walked to Mitchell & Son's old cellars beneath Fitzwilliam Lane to try the long-awaited whiskey. The family has been in business since 1805 but their whiskey story starts in 1887 when they began sending empty casks of port, sherry, Malaga and Marsala to the John Jameson and Sons distillery at nearby Bow Street to be filled with spirit. This would have been made from a mixture of malted and unmalted barley, triple-distilled in a giant pot still.
These casks matured in Mitchell's bonded cellars. At the time Jameson didn't bottle whiskey, it was entirely in the hands of businesses like the Mitchell's. According to Jonathan Mitchell, after 5 to 7 years ageing they would daub the cask with a coloured spot according to its ageing potential; red was the top designation. It was in the '20s when these whiskies began to be marketed using this system, with Green Spot being the best known. Bottles carried both the name of Jameson and Mitchell & Son. Jonathan Mitchell described Green Spot as a "cult whiskey"; it was the in-thing for fashionable Dubliners to drink. Samuel Beckett was an enthusiast.
Fashionable and delicious
But Irish whiskey was in decline. Whiskey bonding (maturation and bottling by independent merchants) died out in the 1960s. Jameson closed in 1976, and production moved to Midleton. Green Spot survived, now distilled and aged in Cork to the original specifications, but the other Spots had already been discontinued. At one time Green Spot was the only single pot still whiskey available, a last surviving link to Ireland's glorious distilling past. It was only made in limited quantities, and very hard to find outside Ireland. Irish whiskey lovers would ask friends to bring a bottle home from Dublin.
Thankfully the dark days are over. Irish Distillers reintroduced Yellow Spot in 2012 to great acclaim, and the whiskey world has been salivating at the the thought of the return of the top spot. Kevin O' Gorman, master of maturation at Midleton, told us that they were fortunate in having "good records for original recipes." Though according to Carol Quinn, archivist at Midleton, it is "not a replica, but inspired by Red Spot of old, it's a whiskey for the future".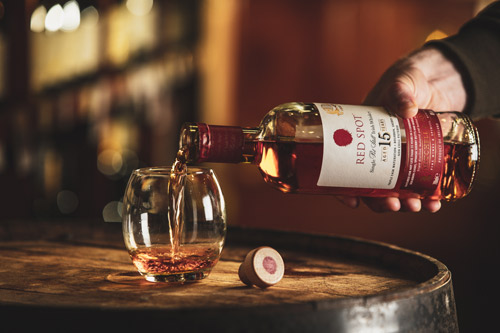 Red Spot Returns
The new Red Spot is a 15 year old made up of three parts, aged separately and then blended. The first two elements spent their life in oloroso and bourbon casks respectively, whereas the final component spent five years in bourbon barrels before being transferred to Marsala casks in 2004.
At 46%, it's an opulent drop, that sweetness from the fortified wines really comes through on the nose with toffee and dried fruit. On the palate it has that classic creamy pot still texture with flavours of honey, toffee and cinnamon, plus some fresh peachy notes. Kevin O' Gorman described it as "a bold whiskey that packs a punch, has incredibly rich flavours and an extra-long infusion of fruits and spices on the finish that provides a truly unique and colourful ending."
We tried it alongside the Green Spot (NAS but contains whiskies between 7 and 10 years old) which is distinctively fruity with green apple notes, and the delectable Yellow Spot (12 years with some Malaga wine influence) which is all crème brûlée and cinnamon.They were all very different yet recognisably from the same family. There's also two special Green Spots: one finished in Château Leoville-Barton Bordeaux casks for 24 months; and one in Napa Zinfandel casks from Château Montelena.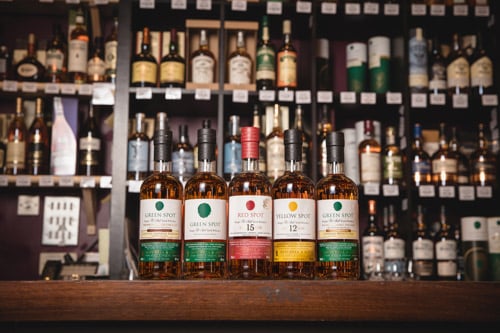 Red Spot, reunited with its siblings
But that's not the end. There's still one more to go, a Blue Spot that was originally a 7 year old whiskey. Do Irish Distillers have any plans to release it? O' Gorman said that they "look forward to one day completing the full Spot Whiskeys range." So we'll take that as a yes then.
Red Spot is now available in Ireland for €115 and will be available in Britain, France, and the US early next year.