We're delighted to announce that we did the double at the UK Social Media Communications Awards 2018 – #WhiskySanta claimed Best Social Media Campaign, while this very blog was named Best Blog!
Last night we attended the UK Social Media Communications Awards 2018 at the Montcalm Marble Arch, where the best and most innovative use of social media (and, well, communication) across all industries was rewarded with shiny trophies. Your fave online retailer was among the winners. Twice. Oh yeah.
The first of these #SoMeComms awards was in recognition of that loveable, supernatural, omniscient, red-coated, heavily-bearded, festive being. Congratulations are in order for the one and only #WhiskySanta, who won the award for Best Social Media Campaign! We hear that he's tremendously thankful and was happy for us to pick up his award on his behalf, seeing as he is a little preoccupied this time of year what with giving away £250,000-worth of the finest spirits to all you lovely drinks fans! In fact, over the last 24 hours he's offered an extra gift with 99.5% of all orders, as well as granting wishes on social!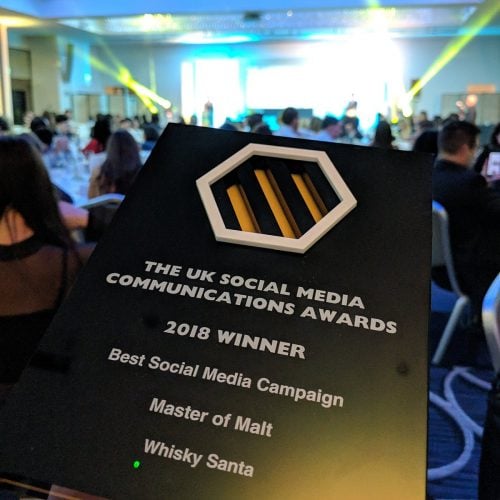 Best Social Media Campaign – #WhiskySanta
But #WhiskySanta wasn't the only winner on the night. The award for Best Blog was also awarded to… er… the thing you're reading right now. The Master of Malt blog. It's official. This is the best of the blogs. The trophy says so. This is most incredible and humbling news. We are very grateful to all you lovely readers who keep us honest and ensure we keep on delivering the kind of über-nerdy-booze-content, filled with awful puns, dubious pop-culture references and rad gifs, that apparently wins big shiny awards.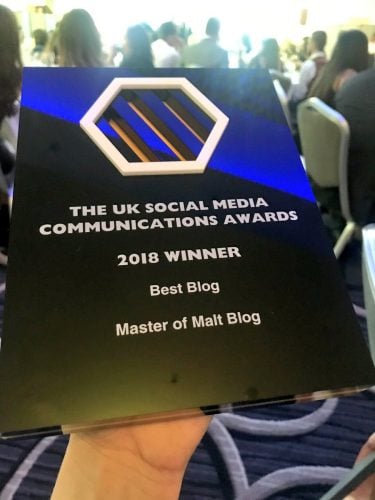 Best Blog – Master of Malt Blog (eek!)
It's always a thrill to be recognised in such a manner (a pair of tremendous trophies, did we mention that?) and we are determined to keep on giving everything we've got to make sure that our wonderful customers are happy and that we remain at the forefront of drinks retailing.
Now, if you'll excuse us, #WhiskySanta is about to stop by and we forgot to restock the mince pie cupboard, so it's all hands on deck… Onwards and upwards!