Highland Park launches new Viking Soul packaging for their 10 Year Old, 12 Year Old and 18 Year Old core range
New Highland Park Valkyrie, made with around 50% fully peated stock, to replace Highland Park Dark Origins
100% bourbon cask matured Highland Park FULL VOLUME to replace Highland Park 15 Year Old
At a global launch that took place in Denmark, Highland Park recently introduced new packaging that will be rolled out across their core range, their new brand positioning as "The Orkney single malt with Viking Soul" and further special editions. Nods to Norse mythology have, of course, been commonplace from the distillery for many years, but now that they've gone 'full Viking' let's delve a little deeper into what it's all about and what (if anything) this all means for the celebrated distillery's beloved whisky.


A peek at Highland Park's new Viking Soul core range packaging (pic of the 12 Year Old below).
Now, I could tell you in great detail all about how we travelled to Copenhagen, visited the Viking Ship Museum in Roskilde, made our own Viking coins, ended up being taken to a Viking feast at a Viking house by horse-drawn carts, watched some Vikings fall out and fight to the death, and then saw the dead Viking king's funerary ship go up in flames. It was all great fun. Instead, I'll try to offer some explanation of how we got to the point where the word "Viking" is going to be on the new-look Highland Park 12 in a larger font than "Single Malt". This will involve me predictably meandering into a bit of history, but bear with me.
I'll also take a look at the new release, Highland Park Valkyrie, which has nothing whatsoever to do with Tom Cruise attempting to assassinate Hitler. Instead, think Wagner's 'Ride of the Valkyries'. [I'll just wait here until you stop thinking about Robert Duvall in Apocalypse Now…] Ready? Right, Valkyries (or 'choosers of the slain') were the female spirits who chose which of the Vikings who died in battle would join Odin in Valhalla. Yep, more Vikings! Finally, I'll look at another new release that's on the horizon, FULL VOLUME (apparently you have to shout it), which has nothing to do with Vikings at all.

Orcadian Vikings
Back in 2009 Highland Park released a whisky named after 12th century Orcadian Earl Magnus, the Earl of Orkney to whom St. Magnus Cathedral in Kirkwall (about a mile from the distillery) is dedicated. Highland Park's own 18th century foundation story, meanwhile, revolves around the illicit activities of one Magnus Eunson. Now, you'll notice that Magnus isn't the most Scottish-sounding name…
Earl Magnus' full name was Magnus Erlendsson and the cathedral was founded by his nephew, and fellow Earl of Orkney, Ragnvald Kali Kolsson in 1137. Magnus' grandfather, meanwhile, was Thorfinn Sigurdsson aka Thorfinn the Mighty, also an Earl (or should that actually be Jarl?) of Orkney. You may recognise these names from Highland Park's more recent Warrior Series, which features the likes of Svein, Einar, Harald, Sigurd, Ragnvald, Thorfinn and Christian I, all characters who influenced Orkney's history. Indeed, Norwegians started settling on the Orkney and Shetland Islands from the very beginning of the Viking Age and Orkney was ruled by Norse Jarls by c.900 AD, with Orkney still under the rule of the King of Denmark, Norway and Sweden as late as 1490. Even today, 30% of Orkney's population has Scandinavian ancestry*. When Highland Park say that they're Viking, they do so with reasonable justification.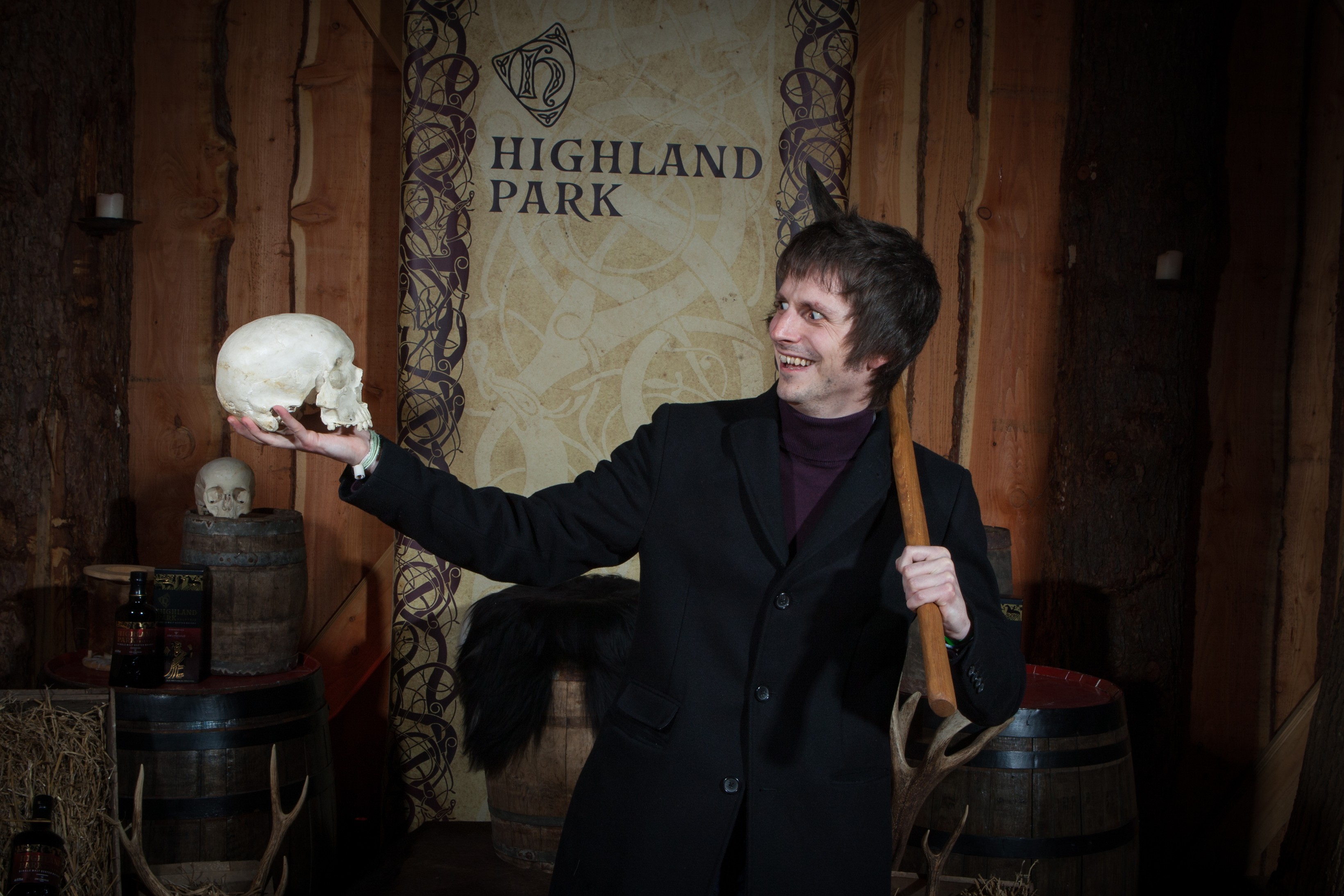 Me looking a little too believably insane as I turn my trip to Denmark into an impromptu Shakespeare crossover
Orkney even has its own historical Norse saga, the Orkneyinga saga, written down in 1230 and featuring the characters above as well as the likes of Thor popping by, fighting a serpent and accidentally splitting an island in two with his mighty hammer Mjölnir (it's not all strict historical fact). That may put the more mythological releases we've seen since 2012 such as The Valhalla Collection (Thor, Loki, Freya and Odin) as well as Ice and Fire into some context.
Through other special editions you can almost track the progress of the Viking Age as well as Highland Park's adoption of increasingly Viking branding, again starting back in 2009. The 12 year old cask strength Scandinavian exclusive, Hjärta ('heart' in Swedish), saw the distillery reconnecting with Orkney's Scandinavian roots. Scandinavian Heart isn't a million miles away from Viking Soul, is it? There was also the aforementioned Earl Magnus, which would be followed by Saint Magnus and Earl Haakon, rooting us in Orkney's Norse history (although still not overtly Viking). From Orkney, the Vikings travelled on to the Faroes, Iceland (where much of the surviving Norse sagas were recorded), Greenland, Newfoundland and mainland Canada. Hence, travel retail releases named after the Viking who famously landed in the Americas several centuries before Columbus – Leif Erikson – and a type of longship used for all this getting about – Drakkar.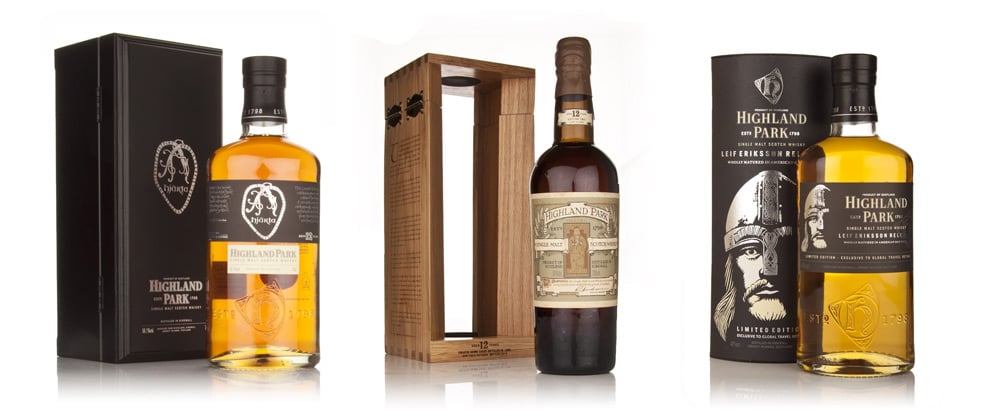 Tolkien-tastic Scandanavian (2009) -> Orkney Viking as medieval Saint (2010) -> full-on Viking (2011)
So I think that's 19 increasingly Viking whiskies mentioned so far, released over the course of an eight year period. It was only a matter of time before they got to the core range really, wasn't it? It does rather beg the question of why they want to be the Viking whisky, of course, although the answer isn't too taxing.
First and foremost, it obviously gives the Highland Park brand a point of difference that will also stand out on the shelf, based on Orkney's authentic differences to mainland Scotland and natural affinity with Scandinavia. Vikings are also undoubtedly very 'in' these days for a couple of reasons. On the one hand, there's the dirty, dangerous Game of Thrones / The Hobbit factor, bringing Norse-influenced fantasy to the forefront of the mainstream, as well as programmes such as Vikings and The Lost Kingdom. Possibly more important going forward, however, is the gentler, more civilised cultural side with transferable links to modern adventure, noble virtues, the hygge (say hue-guh) phenomenon and Scandinavian countries regularly being named the happiest and best places in the world to live. '21st century Vikings', if you will. Hence, "with Viking Soul", rather than simply "Viking whisky".

Highland Park's Core Range
The distillery's core range is having a "with Viking Soul" packaging and branding shake-up, including sub-names for each expression. Highland Park 12 Year Old will also be known as Viking Honour, Highland Park 18 Year Old will also be known as Viking Pride and the Highland Park 10 Year Old that's available in some markets will also be known as Viking Scars (presumably for the Scar boat burial discovered on Orkney as well as their lasting influence). Important things first: the liquid isn't changing and the age statements are staying. The 18 Year Old will, however, carry a batch number from July onwards. The new 12yo bottles should appear on the site very shortly, with the 18yo following in the next few months.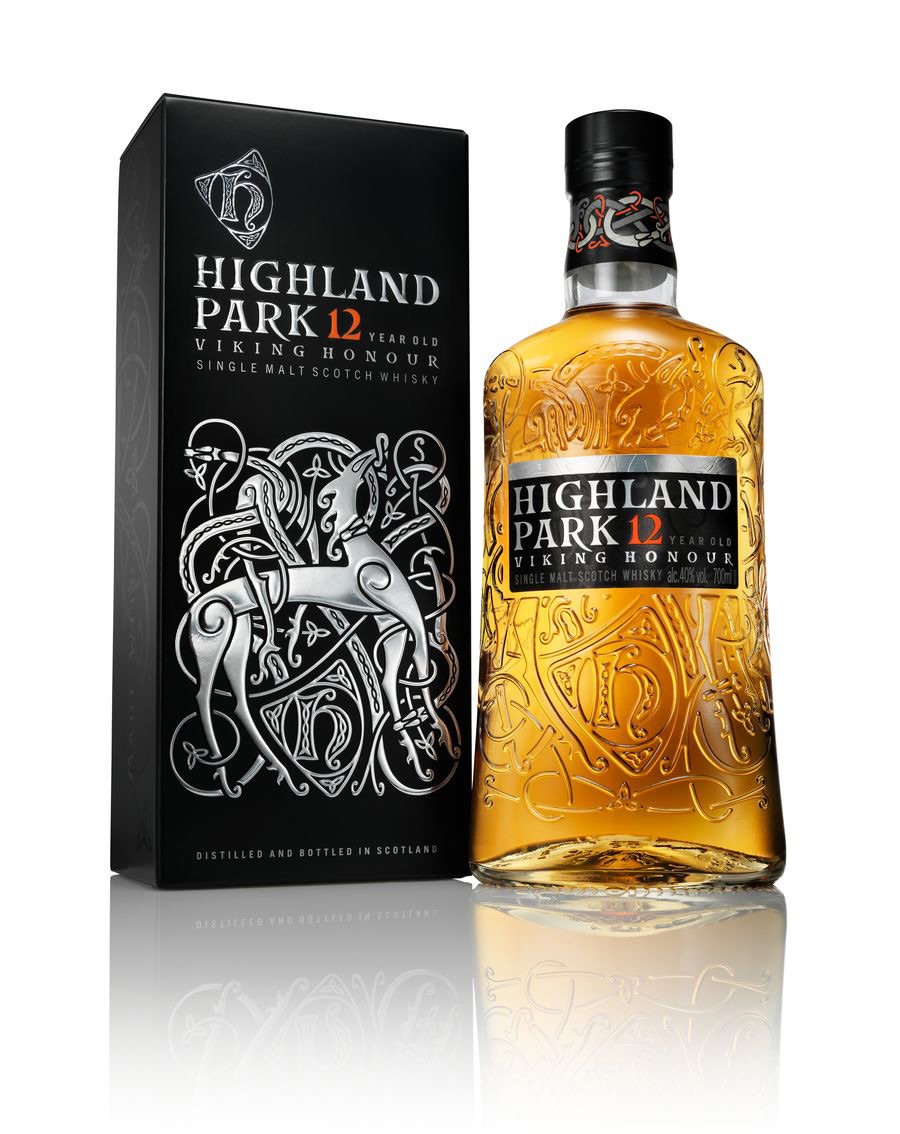 The new Highland Park 12 Year Old packaging (it will now also be known as Viking Honour).
To their credit, Highland Park have avoided the obvious stereotypes with the new bottle design. As Brand Director Jason Craig explained, they didn't want "horny helmets, axes and Kirk Douglas in the 1960s Hollywood film The Vikings" (the sort of thing, dare I say it, that you find at the Up Helly Aa Viking festival in Shetland each year). Instead, after lots of research, the design was based on carvings at the stunning Urnes Stave Church in Norway. It's like an engraved Viking sleeve tattoo that wraps right around the bottle. Expect some of the older expressions to receive their own new Viking packaging in due course.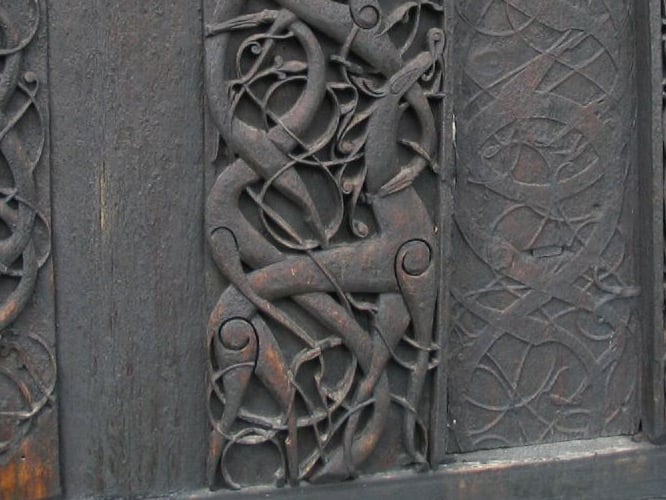 Highland Park's inspiration: wood carvings from Urnes Stave Church.
Highland Park Valkyrie
The latest special edition, Valkyrie, will sit between the 12 and 18 Year Olds, replacing Dark Origins in that position within the range. Dark Origins was launched back in 2014 and was matured in 80% first-fill Sherry (European and American oak) casks, but the parcel of casks set aside for this has essentially been exhausted. Despite that, it should still be available in the UK for the next few months. There is a certain overlap in the flavour profiles of Dark Origins and Valkyrie, but Valkyrie uses fewer first-fill casks, less European oak and uses some bourbon casks. Valkyrie has an ace in the hole, however, as it's made with around 50% peated stock!
Highland Park have their own floor maltings, of course, and use aromatic Orkney peat (providing classic heather smoke notes very different from peat elsewhere). Usually – by which I mean for every single release in recent memory – the peated malt is mixed with unpeated malt that's bought in (at a ratio of 1:4) before mashing. Some stock of 100% peated malt spirit has been laid down, however, and this is the first release to use it. This also explains the higher proportion of American oak used for this release as Master Whisky Maker Gordon Motion felt the peat can fight with the Sherry, especially the European oak. Valkyrie is the first of three releases made in partnership with Jim Lyngvild that will be called the Viking Legend series. We'll have to wait and see whether it's one of the others in the series, but it's only a matter of time before we see a 100% peated Highland Park special edition!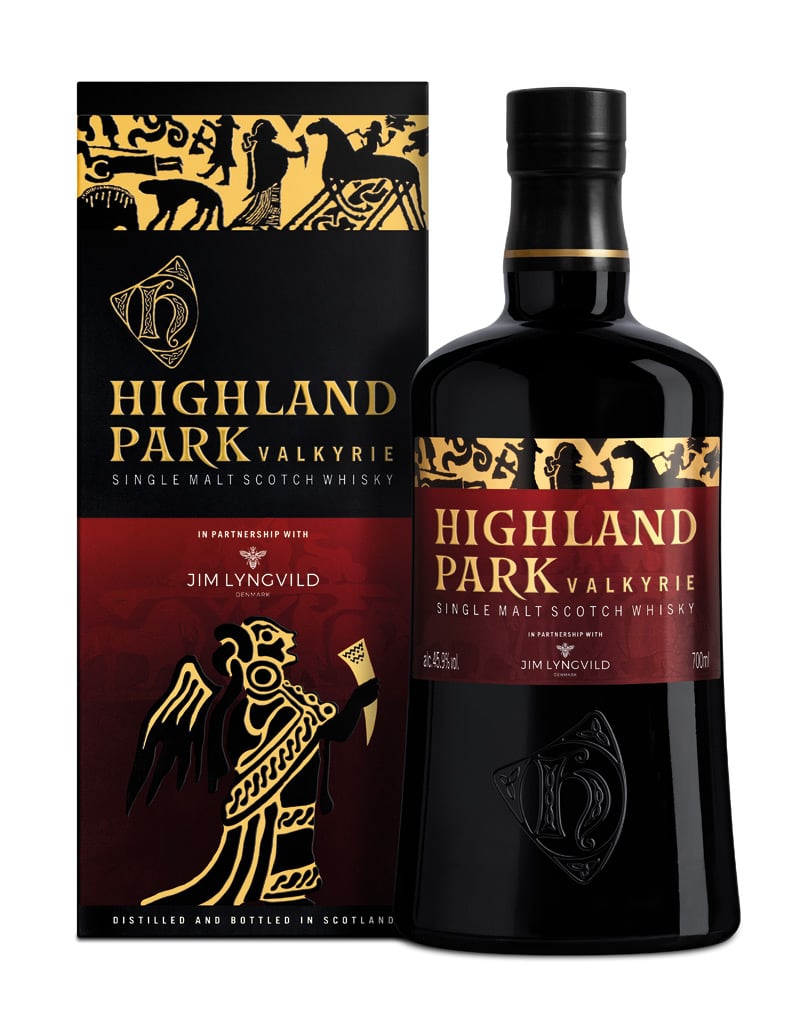 Highland Park Valkyrie – 45.9%
Tasting Note for Highland Park Valkyrie:
Nose: Chocolate and some nutmeg off the bat before the smoke develops, balanced by dried apricot, plum and, increasingly, zesty orange too.
Palate: Plump dried fruits are complimented by vanilla, dried apple and waves of smoke and wood spice.
Finish: Liquorice and more fruit too, plus a return of some chocolatey notes.
Overall: More pronounced smoke than you'd find in a regular Highland Park is definitely there, as can be expected, but it but never threatens to dominate proceedings – this is no chimney of a dram, far from it. The smoke is always balanced. A chocolatey character is shared with Dark Origins, which it's replacing, but the richer end of Dark Origins' first-fill Sherry character makes way for the smokier influence here. Enjoyable stuff, I look forward to revisiting this in my own time shortly.
Wings of Orkney
by Jeppe Nothlev – Helium Bar, Copenhagen
50ml Highland Park Valkyrie
15ml Amber Vermouth
5ml Pedro Ximénez
Stirred and garnished with two dried apple 'wings', caramelised with brown sugar and liquorice root
I'm going to have to try and explain a little about Jim Lyngvild at this point, who Highland Park are partnering with for the Viking Legend series. He's a Danish designer, fashion commentator, author, brewery owner and former Guinness World Record holder for the number of Ferrero Rocher he could eat in a minute (7), who says he can track his ancestry right back to the Viking age. The family tree in his house – a wooden Viking compound within which he spends 2 months of each year living as a historic Viking – contains colourful figures such as Harald Bluetooth (a man clearly well ahead of his time) and Ragnvald Eysteinsson, who may well have been the very first Jarl of Orkney back in the 9th century. For Valkyrie's design, he drew inspiration from the Stora Hammars stones, a Viking Valkyrie pendant, "Wagner, but not too much Wagner, and a whole lot of Jim!"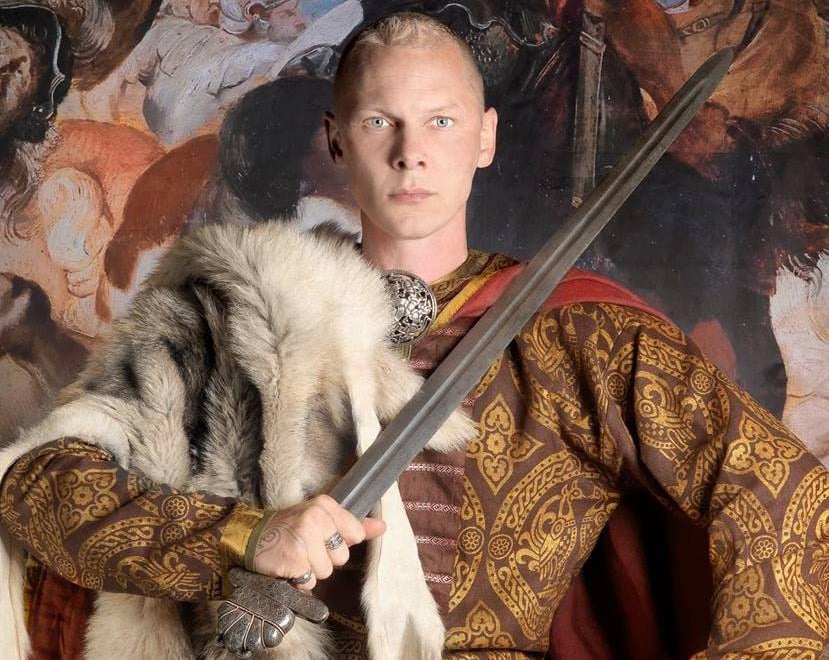 Jim
FULL VOLUME & A Note on Special Editions
Another special edition you can expect to see shortly is Highland Park FULL VOLUME! A departure from the Viking branding, FULL VOLUME is music themed – drawing a comparison between the whisky blender and a sound engineer – and it's 100% (hence, full volume) matured in bourbon casks. "Hold on", we hear you cry, "what's with all these bourbon casks – I thought Highland Park were all about Sherry casks?!" It's true that in recent years we've had the 100% ex-bourbon cask Freya, the predominantly bourbon cask Ice Edition and that the new Valkyrie above also has a bourbon cask contribution, but here are a couple of impressive stats to put your mind at rest about this. Firstly, of the 40,000+ casks Highland Park have maturing, only about 2% are ex-bourbon. Secondly, Edrington (who also own Macallan, Glenrothes and the Famous Grouse blend) claim to purchase 90% of all the Sherry casks used by the Scotch whisky industry, as well as having full control of the wood and wine used. So, whilst you may hear about a lot of special editions, their focus very much remains on their traditional style.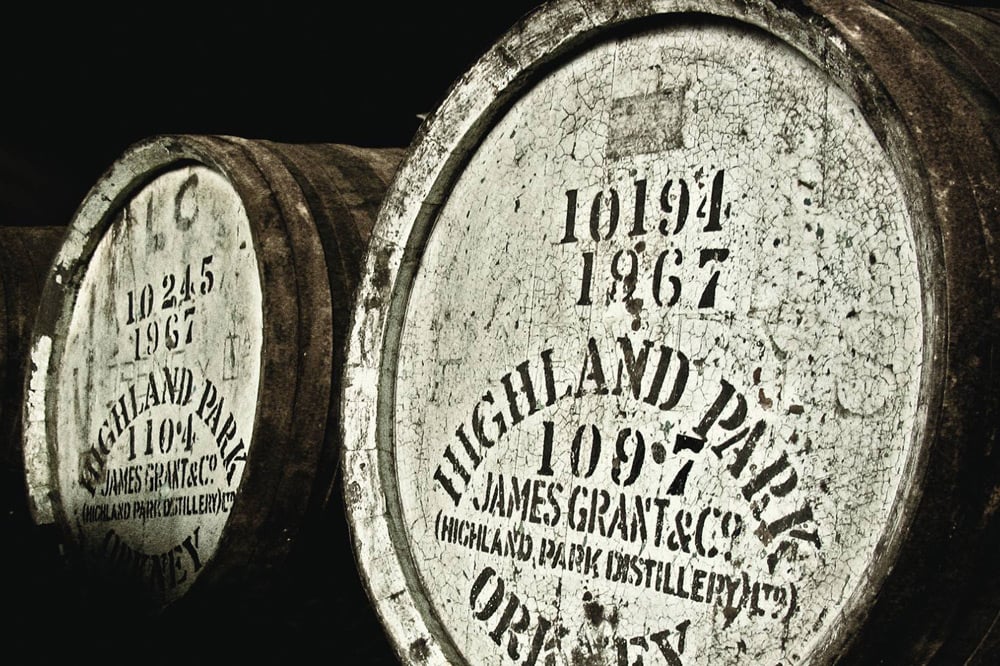 Sherry casks: one of Highland Park's Five Keystones
The distillery does have reasonable stock of bourbon cask matured whisky laid down in the late 1990s, however, which is where FULL VOLUME comes from. The whole point of all these special editions, of course, is that they do offer something different for a year or two at a time. As Gordon Motion told me, "Heavily peated isn't Highland Park style, but we've done it, and we seem to be getting good reviews from it so it will continue. Bourbon casks, again are not the Highland Park style – we released single casks years ago which were bourbon casks and decided 'No, no we're not going to do that', but actually now we're going 'Hell yeah, let's do it! Go on, let's try something different.' We've got an opportunity of stock there that can be used for this: limited release, once it's gone it's finished, then we'll go and look at something else."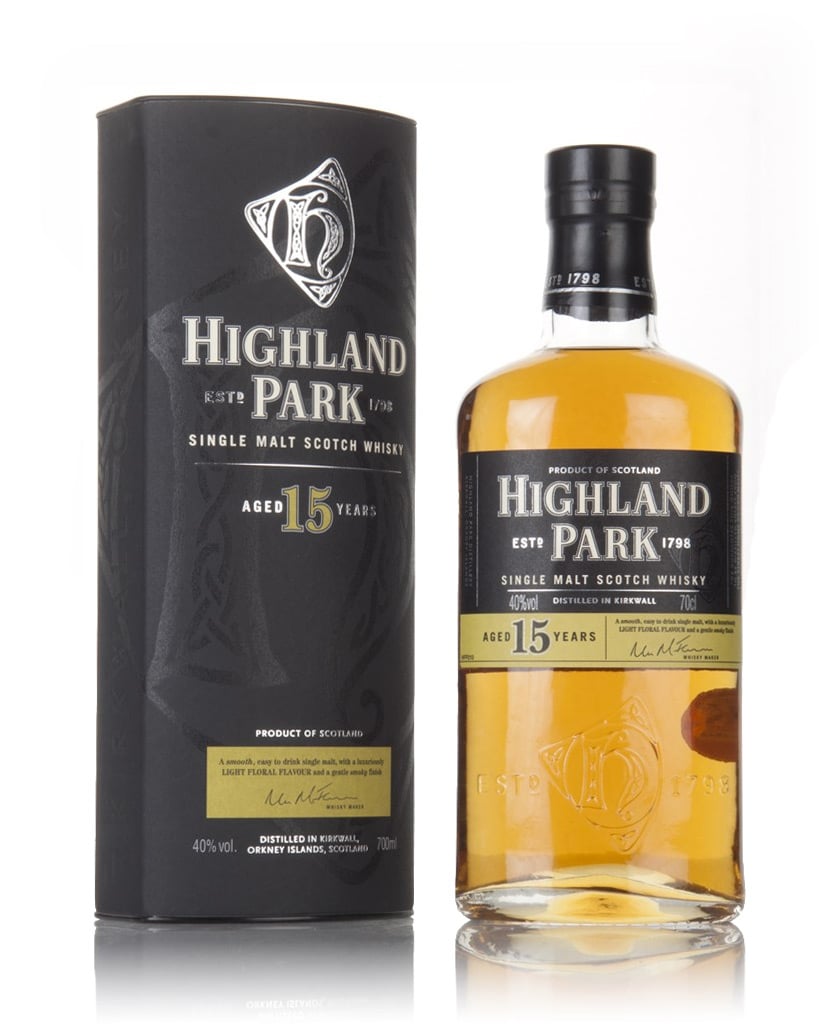 Highland Park 15 Year Old is being discontinued
One piece of news that may disappoint some fans is that Highland Park 15 Year Old is being discontinued. FULL VOLUME will actually take its place in the range, sitting between Valkyrie and the 18 Year Old. The 15 Year Old actually started as something of a special edition itself back in 2007, but has since been considered part of the core range for many years. That said, it's always been part of an 'alternate Highland Park range' along with Highland Park 21 Year Old, as they both have a far greater American oak Sherry cask component compared to the 12, 18 and 25 (this was part of what made them possible as they didn't put too much pressure on stocks required for the more European oak driven expressions). The 21 Year Old appears to be going nowhere for the moment, but new stock of Highland Park 15 Year Old (at the time of writing still available here) hasn't been produced since mid-2016.


Jake


* Highland Park told us that 1 in 3 Orcadians have Scandavian DNA, but naturally I like to look into these things myself. Studies suggest that an impressive 30% of Orcadians are direct descendants of Scandinavian men or women (essentially, Viking families). By way of contrast, it's as high 44% in Shetland, but only 15% on the Western Isles where the contribution is also predominantly only from men. On the mainland it's lower still (6-11% regionally, with Scotland right at the bottom end of that), despite Danelaw then Viking rule of England with Cnut et al. in the 9th and 10th centuries as well as earlier migrations of Angles and Jutes who were also ethnically Danish/Scandinavian. So there you go, in case you were wondering.