It's time for another one of #WhiskySanta's patented Super Wishes, and he's got a cracker for you today. And some seriously fancy whisky.
I was sent a meme the other day that really gave me the giggles. Do you know what a meme is? Of course, you do, you're all 'digital natives.' Well, I don't use the internet much, no need as I'm omniscient and also have a really loud voice. Anyway, someone showed me a meme featuring David Bowie and Bing Crosby doing their strange duet of Little Drummer Boy with the following words on:
'David Bowie: "You look a bit down in the dumps, Bing. What's wrong?"

Bing Crosby: "My inflatable bottom has gone flat."
Bowie: "Do you want to borrow my rubber bum pump?"
Bing: "Rubber bum pump?"
Bowie: "Rubber bum pump."'
Ho ho ho! Anyway, it certainly made me laugh. Right, where was I? Ah yes, another Super Wish as part of my £250,000-worth of delicious gifting for you lucky folks! Well, it's something rather good, of course. From a Speyside distillery that still has a traditional floor maltings. Can you guess?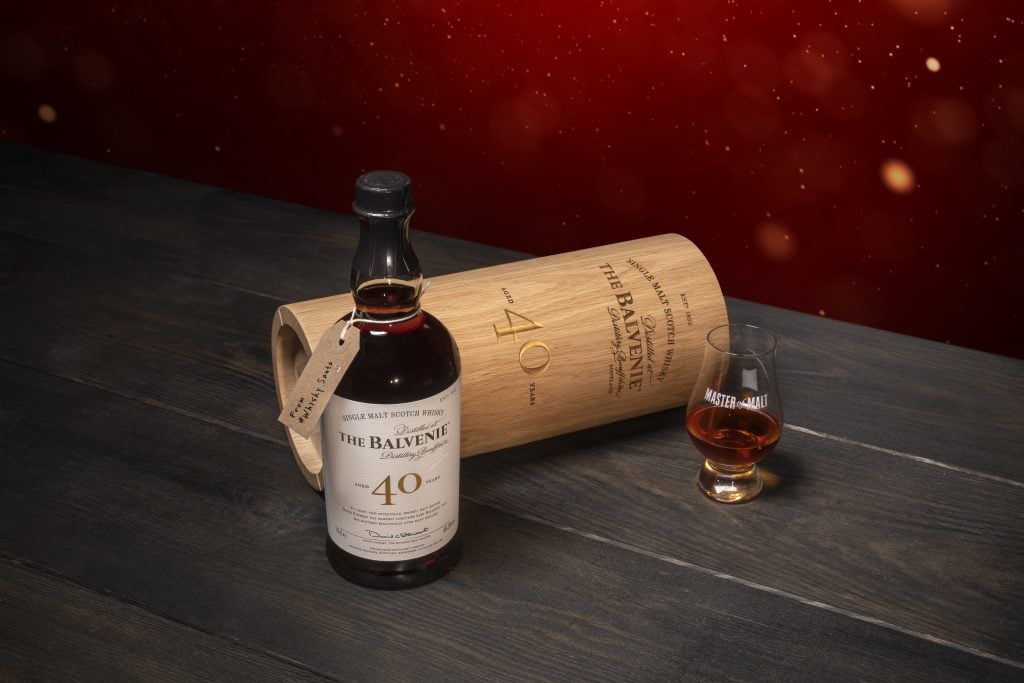 It's The Balvenie 40 Year Old!
Here's a distillery that needs no introduction for MoM customers. I know that you love the classic 12 Year Old DoubleWood and are partial to a drop of the 14 Year Old Caribbean cask but you probably haven't tried this Super Wish. It's an annual release produced from a small selection of ex-bourbon and sherry casks chosen by David Stewart. No, not that chap from the Eurythmics, that's Dave Stewart. This is master blender David C. Stewart MBE, no less. This particular version is bottled at 48.5% ABV. It normally sells for around £3,400 a bottle but I am giving one away free to one lucky MoM customer. It's what I do. I am #WhiskySanta. 
So how do I get my hands on this elixir of the gods? Well, I'll tell you. It's easy peasy: simply visit the product page, hit the 'Wish' button, and a box will appear to guide you to a pre-populated Twitter or Facebook post. Hit publish and Robert's your father's brother! If Instagram is your platform of choice you can post on your feed there too, just be sure to use the #WhiskySanta hashtag. This is very important. As the people at MoM are not omniscient beings like me, they work using hashtags.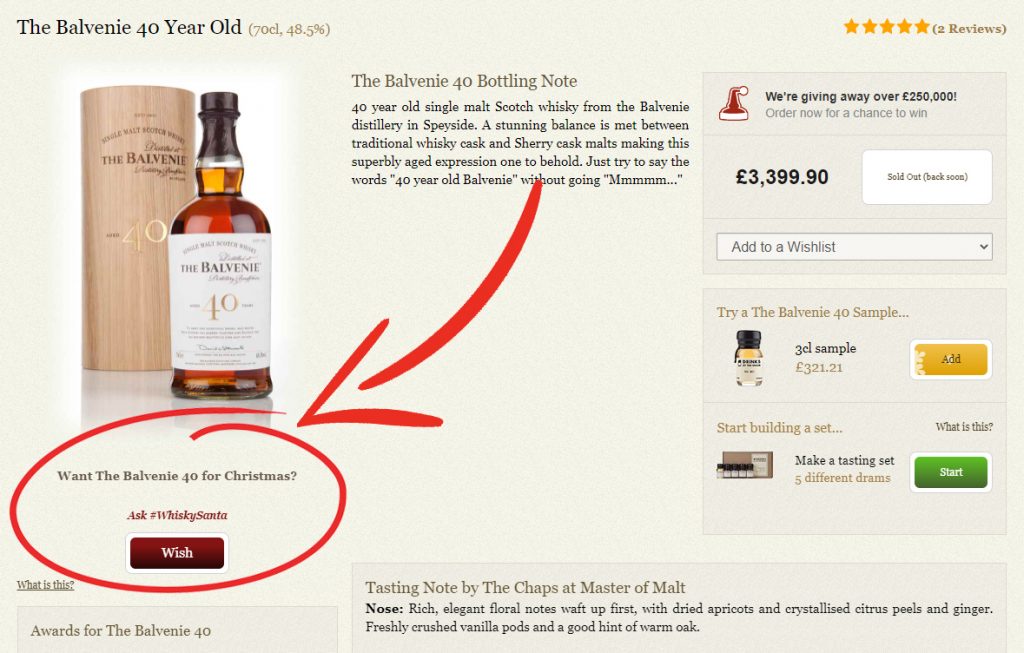 Good luck! Maybe you'll be the one toasting in the New Year with a bottle of Balvenie 40 Year Old. Anyway, must dash, so much stuff to do, like finish putting together my Christmas playlist. You have to have some Slade but maybe I'll put in some more obscure choices like I was Born on Christmas Day, by Saint Etienne and Tim Burgess from the Charlatans. It's a banger. Naturally, I'll include a bit of Bing and Bowie, "rubber bum pump, rubber bum pump." Now I've gone and set myself off with the giggles again. 
Hee hee hee! Sorry, ho ho ho! See you on Monday!
#WhiskySanta