Happy Friday, team! Summer is ON (at least here in the UK) and there's a certain football match on the agenda tomorrow… But before that comes around, it's time to get an update from the world of booze. Bring on The Nightcap!
This week brought with it a new month as well as a whole new cohort of booze goings on – and of course a new Dram Club box for our subscribers, too! We took a sneak peek inside those packs of tastiness on Sunday.
On Monday we looked back to Fèis Ìle 2018 when Kilchoman founder Anthony Wills shared his plans for the distillery expansion project, and got part three of Annie's Bourbon Series – this time it was Rob Samuels from Maker's Mark in the spotlight.
The Glencairn glass has become synonymous with spirits (whisky in particular), and on Tuesday we met the family behind the business. Sales are soaring – it seems we can't get enough fancy glassware to hold our boozes!

On Wednesday Henry gave us some crucial background info on Steven Soderbergh's Bolivian spirit Singani, ahead of running an interview with the actual man himself. Exciting times! We also met apéritif expert Kate Hawkings, who gave us a run-down on all things pre-dinner drinking. Refreshing, flavoursome, and very, very tasty – what's not to like?!
There was some big product news on Thursday: blended Scotch whisky brand Grant's has a new look and a new range, including a peated expression! Speaking of newness, Henry also reported back from a day at UK trade show Imbibe Live – the largest event of its kind in the UK – where all kinds of trends are born or discussed.
And to round off the week, Adam investigated some of the tastiest gins with the most unusual botanicals. If you're looking for some summer drinking inspiration, you know where to start!
Right. Recap done, let's crack on with the rest of the week's spirits news in The Nightcap!
The Dead Rabbit bar suffers 'considerable' fire damage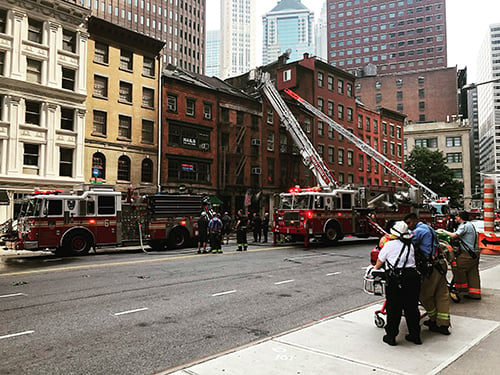 The Dead Rabbit has suffered a fire
Sad news first this week, and renowned New York bar The Dead Rabbit Grocery and Grog will be closed until 19 July following a major fire on its block. Thankfully no-one was hurt, but the bar, which has twice been named World's Best, suffered both fire and water damage during the incident. An employee named on Twitter as Steve discovered the fire and calmly turned off the gas, called the emergency services and got out. The team have thanked the first responders and Steve himself, a "quiet, modest guy – and all-round hero". "Many, many thanks to everyone all over the world who has sent us messages of support. It's truly appreciated," the Dead Rabbit team tweeted. "Things are difficult for us now, and there will no doubt be more difficulties ahead. But we'll be back. After all, The Dead Rabbit was born in a hurricane." We send our best wishes to the team as the reopening process gets under way.
Balblair owner reports 'steady' full-year sales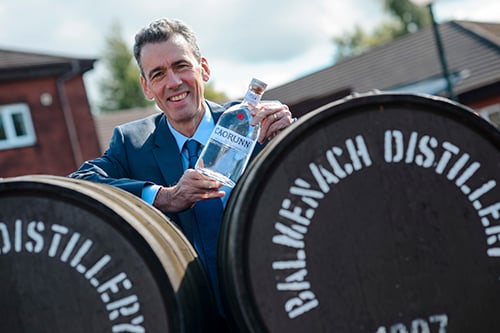 Whisky 'steady' but gin is GO!
Inver House Distillers, the whisky arm of International Beverage that owns brands including Old Pulteney, Speyburn, anCnoc, Balblair and Hankey Bannister, published its 2017-18 full year sales stats this week, and they make for interesting reading. Turnover hit £62.7 million overall (at a "similar level" to the year before), but investment in stock (read: future whiskies) was up 3%, and £3 million was put into a green anaerobic digestive system at Balmenach to cut the carbon footprint there. It's all go on the gin side of things though. Caorunn value sales soared by 34% globally, and by 47% in the UK alone! "These results are as we expected and show that the business is in a strong position and delivering on our long-term strategy to build on our highly successful brands in global markets," said Martin Leonard, Inver House Distillers' managing director.
Prince Charles visits Dà Mhìle Distillery!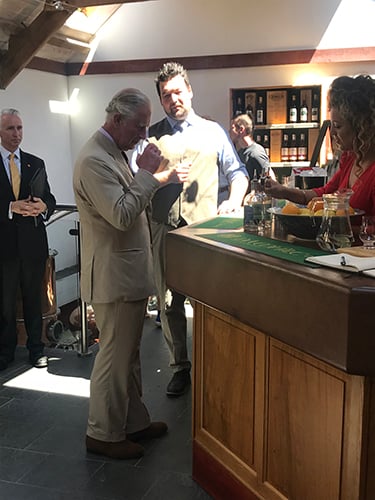 Prince Charles himself up at Dà Mhìle
We had a brush with royalty this week thanks to Welsh spirits producer Dà Mhìle. Not only did the team invite us over for a nose around the premises (a blog post will follow shortly) but also to meet a very special guest… Actual Prince Charles! He popped over to the distillery for a visit, had a quick taste of Seaweed Gin, and then unveiled a wooden wall plaque to mark the proceedings. The future king of England himself also enjoyed a distillery tour with John-James Savage-Onstwedder, Dà Mhìle managing director, before meeting around 30 friends, family and customers of the distillery. And he was on good form, chatting with everyone there and receiving a hamper packed with goodies from the distillery and beyond. After his departure we then chilled out with G&Ts aplenty and a delicious BBQ (pro tip – the distillery's neighbouring cheese farm makes some epic halloumi). Thanks to all at Dà Mhìle for a fabulous day!
New whisky alert: Chivas XV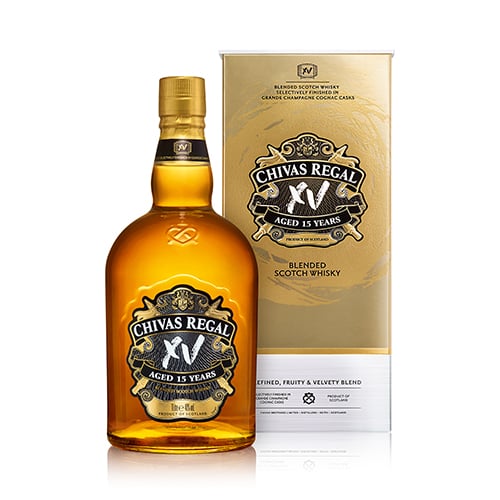 Is it whisky? Is it Cognac? It's (kind of) both!
New Scotch whisky news, folks, and it concerns Cognac barrel-finished liquid! Yes, Chivas Regal has released Chivas XV, a 15 year old blend that has been finished in Grande Champagne Cognac casks. As most spirit fans probably worked out, Chivas XV was named in the style of traditional Cognac classification and is a nod to the age statement on the bottle. The expression is available in two formats to cater for different occasions: a clear bottle with a gold outer carton (intended as a celebratory purchase or gift), and a really rather striking gold bottle. According to the brand, combining aspects of two prestigious spirits was a way to blend tradition and innovation, and to challenge conventions around how and when to enjoy Scotch. "We know that Scotch whisky fans love Chivas' generous house style but are also looking to experiment with new tastes, and find new ways in which to enjoy their favourite spirit," explained Richard Black, global marketing director at Chivas Regal. "A disruptive move for the category, Chivas XV presents a more contemporary side to Scotch, and encourages whisky drinkers to create memorable experiences that live on long after the celebration."
Diageo breaks ground on whisky science centre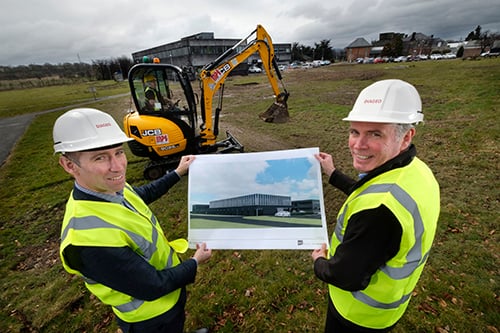 The whisky innovation centre is under way!
Next up: an exciting technical development. Diageo has started constructing its new Technical Centre at Menstrie in Scotland! The £6.4 million build will see it upgrade its whisky blending, science and technology and materials testing teams (which basically means more and better booze down the line for all of us). And the focus isn't just whisky; the centre will work to boost sustainability in manufacturing in general, and there will be a focus on other spirits, too. The new site is being built on some unused land next to an existing tech centre, which will carry on normal operations while the build is under way. "This investment will create new state-of-the-art facilities for our talented team of whisky specialists and scientists to enhance the industry-leading work they do on growing and protecting our business around the world," said Ewan Andrew, director of Diageo's International Supply Centre.
Half a century in the making: Behold The Balvenie Fifty: Marriage 0962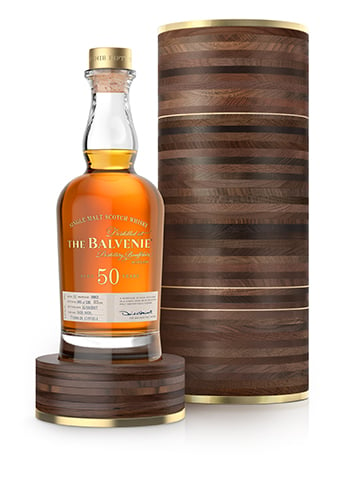 50 years of Balvenie goodness!
Speyside distillery The Balvenie has released The Balvenie Fifty: Marriage 0962, a bottling from the fair hand of malt master David C. Stewart MBE, comprising liquid from four rare American oak casks aged for at least 50 years. Whisky of this age is rarely blended or married, not only due to its sheer scarcity but also because there can be extreme variances of taste, strength and depth after such a long period of time. This makes The Balvenie Fifty: Marriage 0962 (the number corresponds with the month and year Stewart joined William Grant & Sons) an intriguing edition and speaks to Stewart's ongoing commitment to experimentation and innovation. Each bottle is presented in a wooden tube, handmade in 50 layers (48 walnut, two brass), and comes with a brass certificate and a fancy thing called a glorifier inscribed with details of the cask and tasting notes. "Marrying aged whisky stocks is undoubtedly one of the most challenging, yet enjoyable facets of my role as The Balvenie Malt Master," said Stewart. "It's not every day I get the opportunity to work with liquids of such age, so it was a huge pleasure to be able to share it with the world today." The Balvenie Fifty: Marriage 0962 launches in the UK next month.
Barton 1792 Distillery's seven-storey warehouse fully collapses
Remember when we brought you the news that up 9,000 bourbon barrels were lost in a partial warehouse collapse in Kentucky? The remainder of the massive building has now sadly fallen at the Barton 1792 Distillery in Bardstown. Attempts to shore up the warehouse were in vain as the remaining 9,000-or-so barrels also crashed to the ground, many shattering on impact. Distillery owner Sazerac, a Louisiana-based spirits company, said its employees "worked quickly to contain the spill" and that the new runoff had not entered any waterways, according to CNN and WLKY News Louisville. Sazerac was already facing state fines of up $25,000 a day following the initial collapse, and has said that "a mix of various distilled products at various ages" are affected. It's not clear how many barrels can be salvaged, or even what caused the initial collapse. One thing's for sure, it has not been the best couple of weeks for bourbon fans…
Rémy Martin looks to augmented reality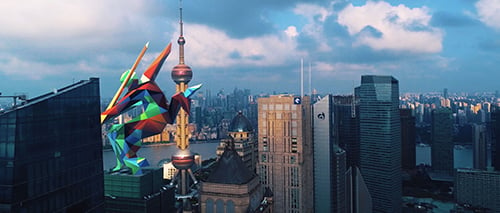 You don't have to be in Shanghai for this to work
Cognac giant Rémy Martin has teamed up with digital artist Matt W. Moore to produce an augmented reality app featuring "Vectorfunk" abstract graphics. Some readers are likely already all over augmented reality but for the less tech-savvy, this might need a bit of explaining. AR (as it's sometimes known) involves downloading an app for your phone (no this won't work on your old Nokia, Dad). Once safely installed, you look at the world through the app as if taking a picture and you'll find yourself surrounded by Moore's strange visuals such as colourful raindrops that fall and splash all over the carpet. Psychedelic, man! According to Moore, the visuals were inspired by the vineyards and cellars of the Cognac region. Rémy has produced a colourful VSOP Limited Edition to tie in with Moore's activity. It's great fun, but if this all this sounds a bit too confusing perhaps just pour a glass of Rémy and chill.
The Lakes Distillery's English whisky predicted to break auction records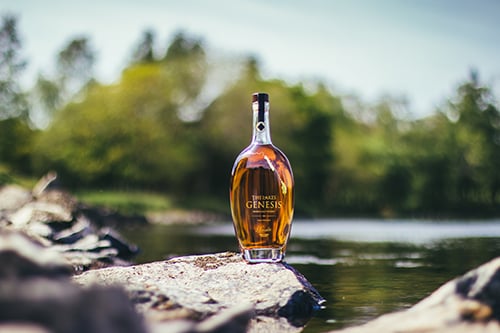 Some seriously fancy looking whisky
A few years ago an English whisky expression would have been the cause of excitement and perhaps a few raised eyebrows, but today a distillery announcing the release of its first aged spirit is not so unusual. The Lakes Distillery in Cumbria is being a bit more ambitious with its first release called Genesis (natch). According to the bumf, the "single malt whisky is intended to be a work of art". Blimey! It's not such an extravagant claim when you learn that whisky maker Dhavall Gandhi is ex-Macallan, so knows a thing or two about making high-end spirits (you can read more about him in our interview here). He also seems to have taken a leaf out of the Speyside distillery's handbook when it comes to selling the product. Only 101 bottles will be released and sold exclusively on whiskyauctioneer.com. Again the team is aiming for the top, predicting a record "for most expensive bottle sold from a new distillery". The bidding ends on 10 July but the price for bottle number 001 is already up to £5,000. Crikey! Watch this space for news on how the auction is going.
BenRiach launches whisky clothing line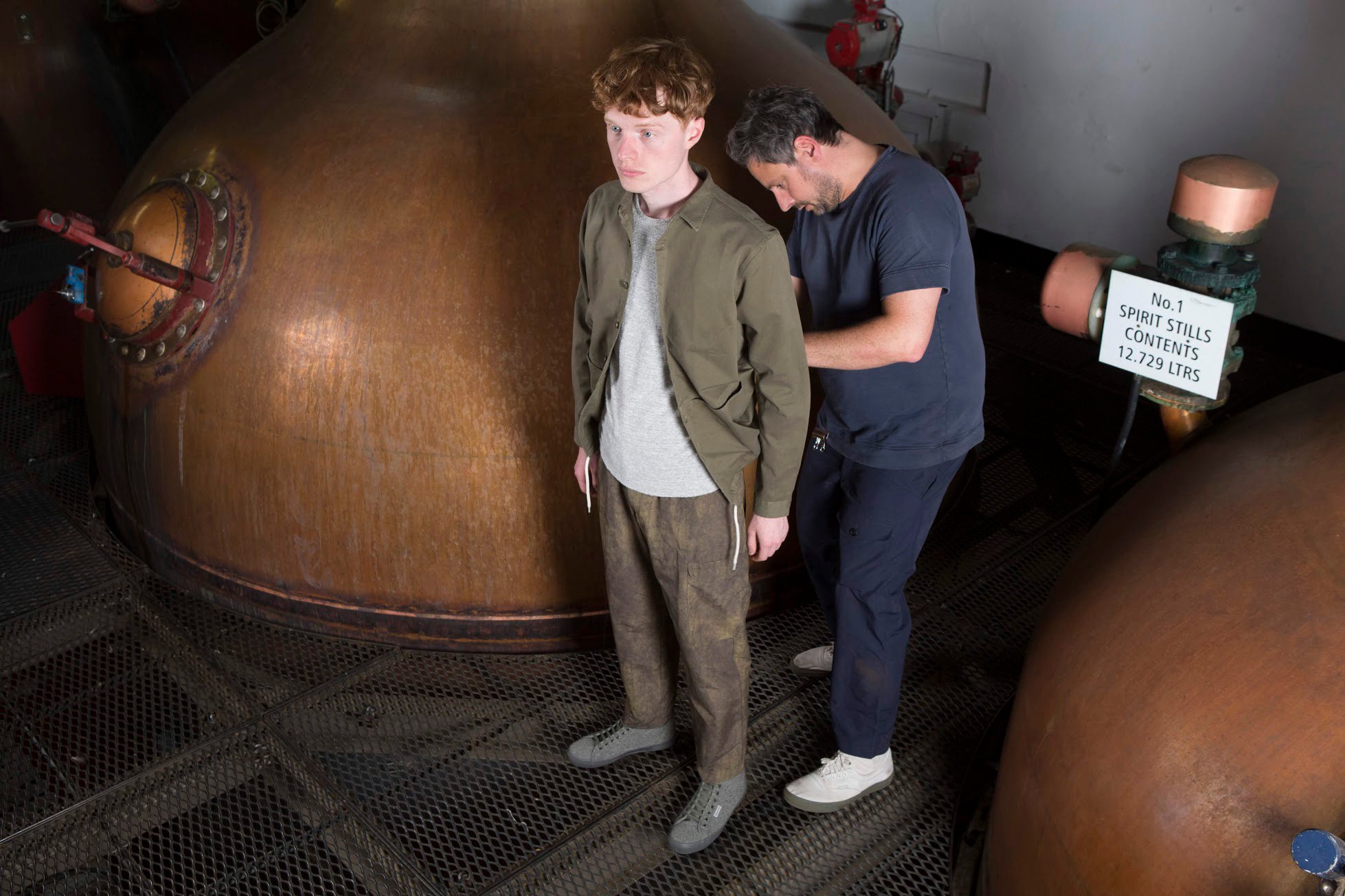 Photo of Kestin Hare and with model Jamie Walker whose hair matches the copper stills beautifully
Speyside's BenRiach distillery has teamed up with a fashion designer to launch a range of clothing influenced by Scotch whisky and the Scottish landscape. Those hoping for a riot of tartan and argyle golf jumpers are going to be sorely disappointed because the designer in question is Kestin Hare, noted for his minimalist pared-back designs (the sort of things you can imagine Finnish architects wearing – not a plaid in sight!). Hare's 2019 spring collection will feature five new items "inspired by the whisky, landscape and architecture of the BenRiach distillery in Speyside". Some items will even be dyed with peat. You can't get more Scottish than that! You'll be able to buy these garments in Hare's Edinburgh shop from early 2019.
Anchorman visits Tomatin distillery!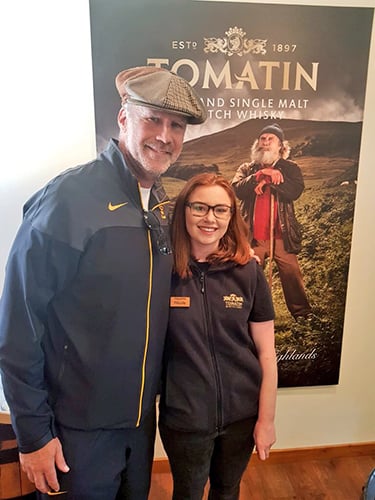 Did you know that Ferrell is a whisky fan?
And finally… it's not every day a Hollywood film star drops by to say hello. As such, the folks at Tomatin had a pleasant surprise when Anchorman: The Legend of Ron Burgundy star Will Ferrell decided to visit the distillery for a tipple and a tour last Friday (29 June). The actor was visiting Scotland on a golf trip and simply did what any of us would do when frequenting that part of the world – take in a fabulous distillery! Ferrell was gifted with a bottle of Tomatin's 18 Year Old single malt whisky and was happy to have his picture taken with Tomatin guide, Nicole Hendry. Louise Taylor, visitor centre manager at Tomatin, said: "We are thrilled that Will Ferrell decided to visit us at Tomatin. He was keen to learn more about Scotch and taste some of the single malts we produce onsite. This was certainly a lovely surprise for the staff at our visitor centre."
That's a wrap for The Nightcap this week, folks. Enjoy the weekend, the World Cup, the Wimbledon!